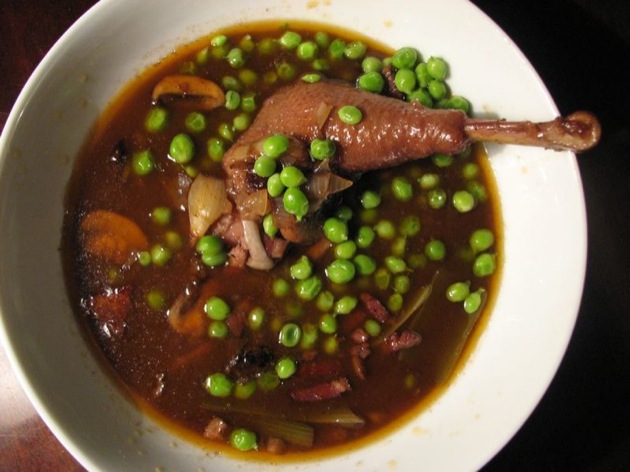 A few months ago I was wandering the poultry aisle at my food coop looking at the bewildering number of options for a roasting chicken.  As the words free-range and humane--proclaimed on every package--began to lose their meaning, I came across a pile of frozen, gangly-looking birds with their long necks still intact.  The label, announcing this new product, read "Amish stewing hens."  "Great for stock!" it advised.
The name "stewing hens" is a name both euphemistic and instructive: they are birds that are done laying eggs, and are no longer useful in that role; since they're old they're also tough, and the only way to cook them is over low heat with lots of liquid—to stew them.  This name convention, perhaps, is to make sure no unsuspecting person tries to roast one in an oven.  A hen's meat is stringy and tough; both breasts are compact and scrawny, together hardly enough for a single portion.  The legs are long and muscular.  You can't roast a hen.  Well, you could--but the result would be close to inedible.
Why bother? A hen has rich flavor to offer if you know how to extract it.  As muscles get older, they develop lots of connective tissue, and a long, slow cooking time is needed to break that tissue down, which in turn flavors the broth around it tremendously.  This is the same principle behind all braised dishes which make use of cheaper tough cuts--while they're not suited to fast preparations like grilling, they are the more flavorful parts of meat.  I used some of my lessons learned from braising short ribs when considering this dish.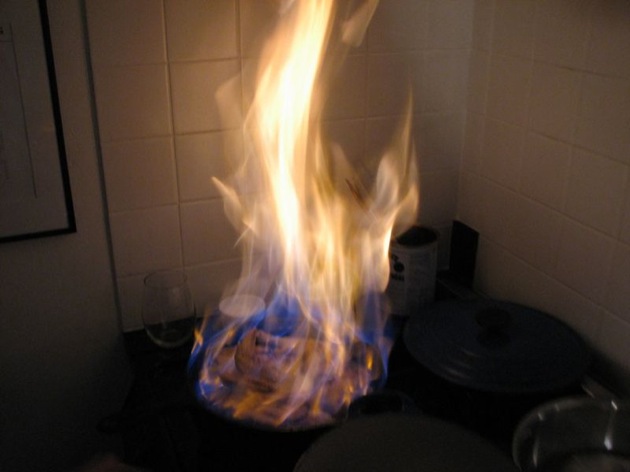 The first time I encountered a stewing hen was at Blue Hill at Stone Barns , an amazing place north of New York City near Tarrytown, which is both a farm and a restaurant.  Everything they cook is not only seasonal, but local--to within acres.  It comes from the farm itself.  The food is so fresh, they're able to serve you young carrots dusted with salt on a stick and that's all they have to do, because it was pulled from the ground hours before, still sweet and fresh, the natural sugars in the carrot not yet converting to starch.  It was the best carrot I've ever eaten, in fact, the Platonic ideal of the vegetable.
Elin and I were eating there last year, and one of the intermezzo courses was a clear shot glass with a tiny orange-yellow orb in the bottom, filled the rest of the way with a golden-reddish liquid.  Our waitress explained that the yellow sphere on the bottom was what Blue Hill calls an "immature egg." They are also termed "unborn," "unlaid," or "embryonic": a still-forming egg still inside the hen when it was slaughtered.  In varying stages upon harvest, most immature eggs have only begun to form a shell.  The ones served to us hadn't hardened, and the future shell was only a trembling, translucent barrier holding the white and yolk together.  The liquid was a hen stock, reduced from gallons down to cups.  Tipping that shot back was a moment I'll never forget; it remains one of the best mouthfuls I've ever experienced.  The egg was more intense and sweeter than a normal egg; the stock was chickeny and richly flavorful.  I vowed to buy a hen the next time I saw one.
The use of immature eggs—something chef Dan Barber wasn't even aware of until recently —is a good metaphor for the hen-stewing enterprise in general: their primary use may be complete, but there's still more to give.  It's rare to come across a hen, though; it's very unlikely it would never happen in a grocery store.  The chickens in grocery stores are very young, often less than 15 weeks old.  They are bred to grow quickly, with large, plump breasts, and are then slaughtered as soon as they reach the right weight.  Their meat is young and tender, suited to quick cooking like roasting.
Traditionally, Coq au Vin is made with a rooster ("coq"="cock") after he'd spent a few years impregnating the flocks and, after a good run, had begun to lack in the trouser department (as Hugh Fearnley-Whittingstall lovingly puts it in an episode of River Cottage ).  He, too, was a tough old bird, and needed the same stewing care to become edible.  The "vin" part is, of course, wine, which makes up a large part of the stewing liquid.  The rest is straight-up traditional French, complete with a boquet bag of parsley, thyme, and bay leaf.  Bacon and mushrooms are always included, and onions are often as well.  Most recipes also call for a bit of brandy or cognac, which gets set on fire.  I used two recipes for the preparation--for the chicken, Hugh Fearnley-Whittingstall's recipe from his Meat cookbook ; for the accompanying mushrooms and braised onions, I turned to Julia Child .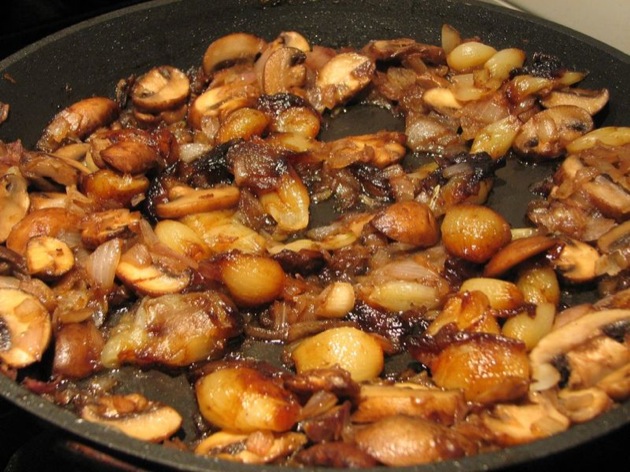 Unfortunately, the dish was kind of a failure.  I didn't really think the whole thing through properly.  We invited a couple friends over for the meal, and casually eating massive hunks of cheese and sopresseta from the Esposito Pork Store, we didn't get started cooking until 8 or 9.  By the time we got our act together and cut everything up and got it seared and into the pot, it was getting late, meaning we wouldn't have much time for the cooking. I had flashbacks to my first experience braising short ribs , when they came out tough, wet, and stringy.  What I learned then is that stewing and braising problems are almost always solved by more time in the oven--which was what needed to happen, and which was the only thing we didn't have.  We were empty-stomached and light-headed, and it was approaching midnight.
Elin and our friend Tory were simultaneously trying to use the kitchen--which isn't too large to begin with--to make Thomas Keller's Tarte Tatin, so we were also fighting over burners and oven temperatures and fearing that the tarte would taste like the aroma of stock-braising pearl onions, which, though it was intoxicating, probably wouldn't suit.  With the tarte coming out of the oven and soon ready for consumption, we checked on the chicken, and it was far from fork-tender.
Reluctantly, we decided to just serve it all up and hope for the best.  I pulled the chicken out from the stew, strained out the vegetables, and cranked up the heat to reduce the broth some.  Then I added the onions and mushrooms cooked separately according to Julia Child's recipe, and we served it in wide shallow bowls, tossing freshly-shelled spring peas which had been cooked in a little butter over everything.  The presentation, at least, was wonderful.
But sure enough, that chicken just wasn't ready.  It was still tough.  The broth was absurdly rich and delicious though, dark and brown like a beef stew, like no other poultry broth I've ever seen or tasted.  I was too full of nervousness and cheese to finish everything, but everyone else slurped down every last drop and sopped up what was left with crusty bread; most of the meat and bones were tossed into a big communal bowl.
Will I make Coq au Vin again?  Absolutely.  I might try it with a spring chicken to see how it differs.  I'd probably make it the day before, not only because most stewed/braised dishes benefit from somepost-cooking time in the fridge, but also because then time wouldn't be an issue.  If you have a recipe that works, I'd love to hear about it.
Coq Au Vin
Adapted from The River Cottage Meat Book and Mastering the Art of French Cooking
For the Coq
1 stewing chicken, 3-4 pounds
1/4 cup butter
1 tablespoon olive oil
8 ounces pancetta or bacon, cut into large chunks
8 ounces onions, cut into quarters
1/3 cup all-purpose flour, seasoned with salt and pepper
4 oz brandy
2 cups red wine
2 cups chicken stock
bouquet garni of parsley stalks, bay leaf, and thyme
4 celery stalks, cut into 1-1/2-inch lengths
4 garlic cloves, smashed
2 cups canned chopped tomatoes
For the Braised Onions
8 to 24 peeled white onions about 1 inch in diameter
1½ tablespoons butter
1½ tablespoons oil
½ cup of brown stock, beef bouillon, dry white wine, red wine or water
Salt and pepper to taste
A medium herb bouquet: 3 parsley springs, ½ bay leaf, and ¼ teaspoon thyme tied in cheesecloth
For the Sautéed Mushrooms
2 tablespoons butter
1 tablespoon oil
½ pound fresh mushrooms, washed, well dried, left whole if small, sliced or quartered if large
1 to 2 tablespoons minced shallots
Salt and pepper
First, preheat the oven to 250 F, and set about the task of cutting the chicken into serving pieces.  This was much harder than it usually is because, as I've now mentioned repeatedly, this was a tough old bird.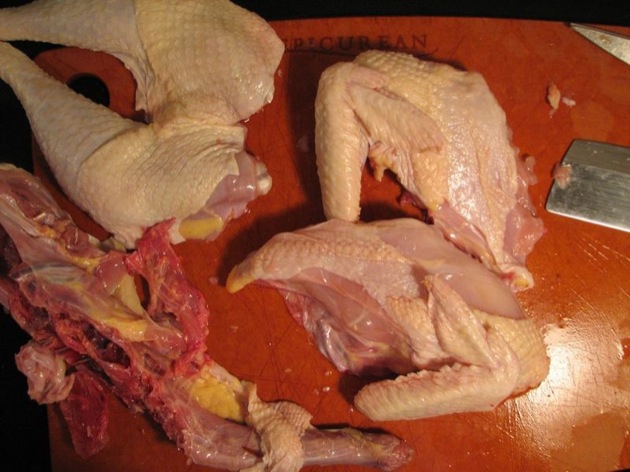 Once this task was completed, in a large dutch oven, sauté the bacon in the butter and olive oil until browned, then remove to a plate. Meanwhile, put the flour in a paper bag and, adding the chicken pieces one at a time, shake them vigorously to coat – remember shake 'n' bake?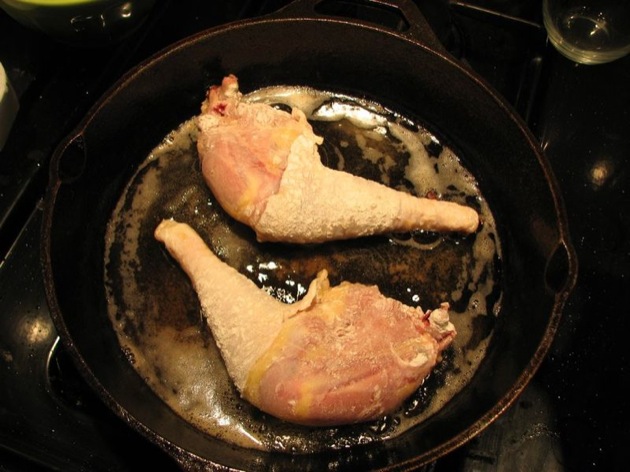 Brown the flour-dredged chicken in the bacon/butter/oil mixture, in batches to avoid crowding the pan so that you get a good sear, then return all the chicken to the pan after they're all browned.
Now, here Hugh asks you to add the brandy and proceed to light it on fire.  He doesn't, however, suggest that you drain off any of that copious fat in the pan.  This didn't occur to me until I had lit it all on fire, and, alarmingly, the fire just kept getting bigger and higher.  I quickly realized that this was not the alcohol burning off at all—this was a grease fire.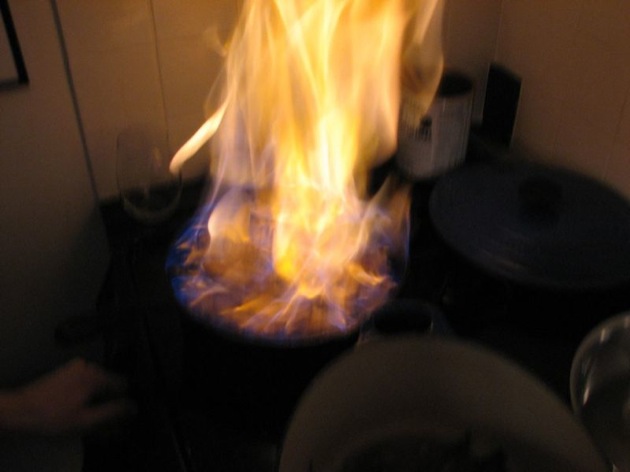 We stamped it out with a nearby pot lid, though it took a while to do so and my heart was racing.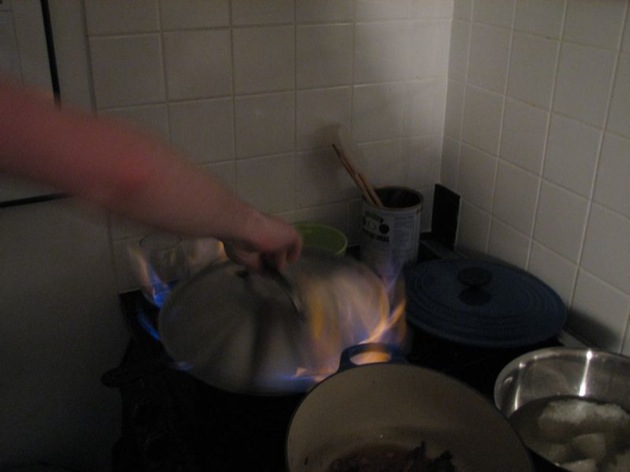 Next time, I'll drain off the fat!
After this, add all the red wine to the pan, scraping up any browned bits, then add the stock, the cooked bacon, the herbs, celery, garlic, and tomatoes (I used tomato paste).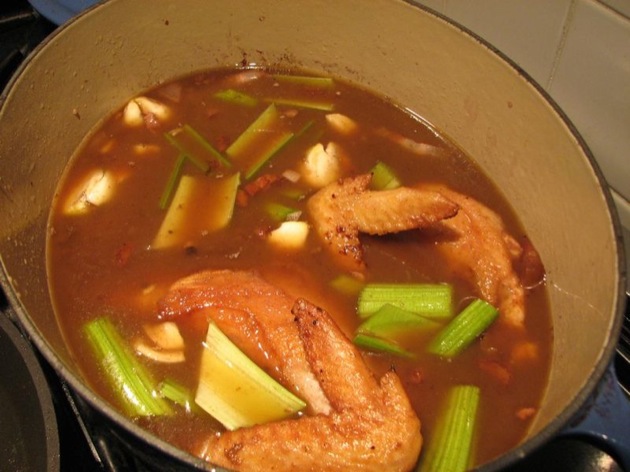 Bring it all to a gentle simmer, then transfer to the oven to stew for 1.5-2.5 hours, depending on the toughness of the bird, or until it's fork-tender.
In the meantime, prepare the onions and mushrooms.  Heat the butter and oil over medium heat in a small skillet, then add the onions and sauté for about ten minutes, rolling and stirring occasionally, to ensure as even-as-possible browning (though this is pretty much impossible)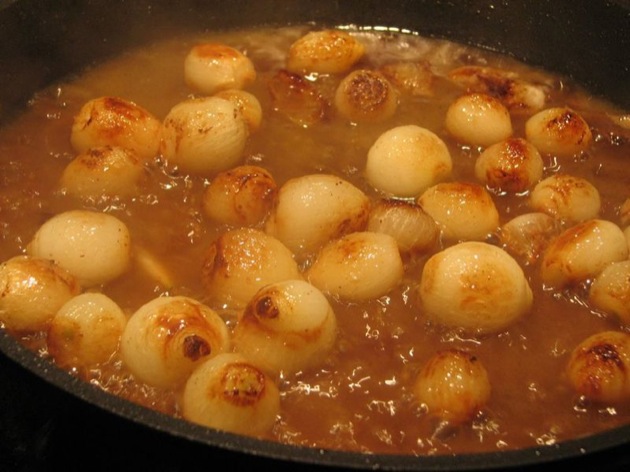 Pour in the liquid, adding some salt if it's not a salty stock, then add the herb boquet.  Cover and simmer over the lowest possible heat for about 40 minutes, until the liquid has evaporated and the flavors are intensely concentrated.
For the mushroom, place a small skillet over high heat with the butter and oil. As soon as the butter foam has begun to subside, add the mushrooms. Toss and shake the pan for 4 to 5 minutes, until lightly
browned. Add the shallots and sauté over moderate heat for 2 minutes. Once cooked, we combined them with the onions for reheating once the chicken was done.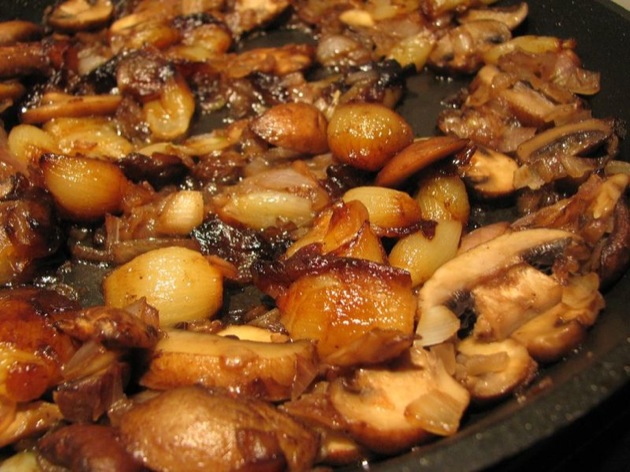 When the chicken is tender, remove the pot from the oven, and taste the braising liquid.  It should be rich, and concentrated enough to coat the back of a spoon.  It it isn't, remove the chicken pieces and strain out the vegetables, then reduce the stock over high heat until it's thick and flavorful enough.
Divide the chicken among shallow bowls, top with sauce, then add the onions and mushrooms.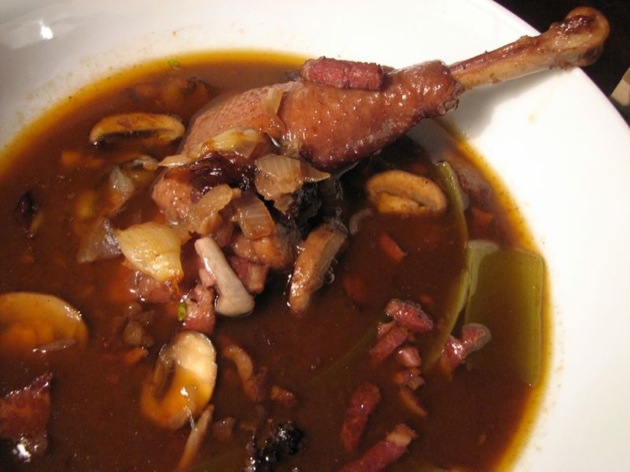 Chicken,
Chicken,
Hens,
Hugh Fearnley-Whittingstall,
Mushroom,
Mushrooms,
Red Wine,
Stew,
Tomatoes,
Wine