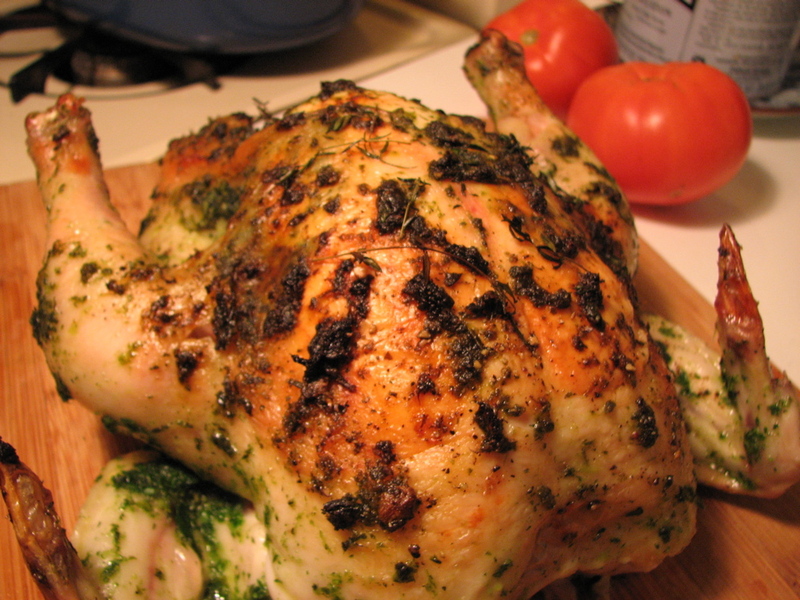 There's a passage in Anthony Bourdain's book of bistro recipes, Les Halles , that goes something like this: "If you can't roast a chicken, you are a sorry, incompetent idiot who should dig his own grave."  Apparently, roasting a chicken should be marvelously easy: throw salt and pepper on that bad boy, put into the oven, and out comes a crisp-skinned, succulent, juicy, hot dinner, twice as good as your average grocery rotisserie. Except, I've never found it quite that easy.  We've roasted chickens before ( including Bourdain's Les Halles recipe ) and subscribed to some extreme schools of thought (like using only the maximum heat on the oven , 500 degrees, or turning the chicken three or four times during cooking) in the hopes of achieving roast chicken greatness: papery, flavorful skin, the dark meat cooked through without a dry breast, the presence of actual flavor so we remember this isn't supposed to taste like frozen, boneless chicken breast patties. Jeffrey Steingarten, in his essay " As the Spit Turns ," is proof enough that roasting a good chicken is certainly not a no-brainer.  He claims, in fact, to have roasted one thousand chickens since 1990, and spends the article in his witty mad-scientist way testing various grills and ovens and spits in order to achieve the elusive crispy skin, the flavorful meat, the overall divine, Nirvana experience that a truly perfect chicken can provide.  His culinary obsessions go as far as opening up the realm of type of chicken used--"Amish, kosher, and supermarket birds, one pound, three pounds, or five pounds each," and as hundred of dollars are spent on machines and gadgets made exclusively for the perfect cooked chicken, something, at some point, shifts: the quest for perfect chicken is elevated to grave importance, something larger than you and I, something cosmic and potentially revelatory.  So I feel like writing about our experiences over and over isn't such a bad thing.  It's still not right, but I'm going to keep roasting chickens until it is. This recipe, from Tyler Florence , is more interested in a perfect combination of French Provincial flavors, a medley of fresh herbs with zucchini, tomato, and paper-thin slices of lemon.  It works marvelously, and the roasting technique is pretty straightforward--400 degrees for an hour or so.  The temperature is important, because any higher and the herbs might burn, and it did result in succulent meat, even if the skin wasn't exactly papery (lots of roasting vegetables alongside give off steam that doesn't help our cause either).  It's a recipe worth trying and, as roast chickens should be, it's pretty easy to pull off.  Perfecting it is another story. Roast Chicken Provencal with Herb Paste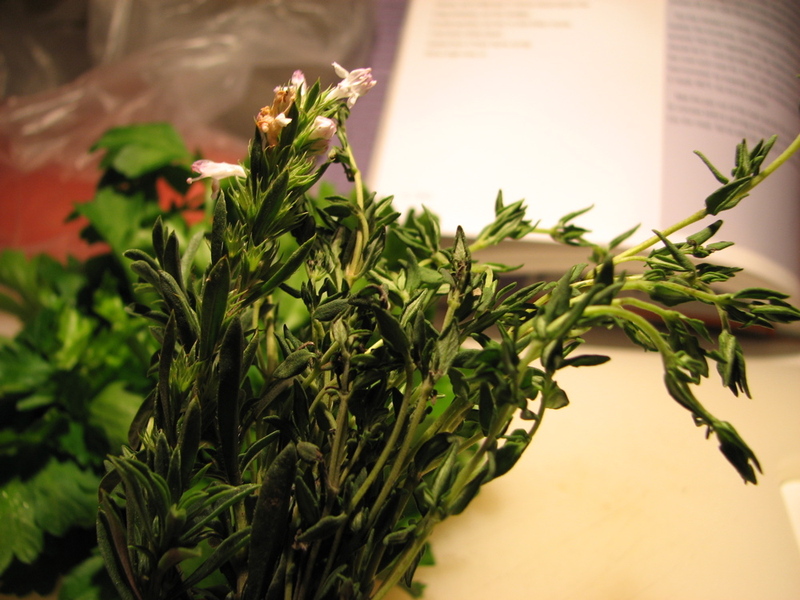 HERB PASTE
1 bunch parsley leaves (plucked from stems)
1/4 bunch fresh thyme
1 bunch fresh tarragon (or other herbs you have around)
4 garlic cloves
1/4 olive oil

salt/pepper

1 3 1/2 lb chicken
1 lemon, cut in half, plus half lemon sliced paper-thin
3 big tomatoes, cut into wedges
4 small zucchini, cut into 1/2-inch thick rounds
1 red onion, thinly sliced
4 thyme sprigs (leaves)
olive oil
Adapted from Tyler's Ultimate First, preheat the oven to 400.  Put all the herb paste ingredients into a food processor or blender, and blend until a paste.  Don't forget to season with salt and pepper.  As far as the herbs you use, parsley and thyme are important, but I also threw in some things I wasn't really sure of, from this little plastic packet of "holiday herbs."  There might have been winter savory in there, not really sure.  They'll all get so roasted it's not all that important.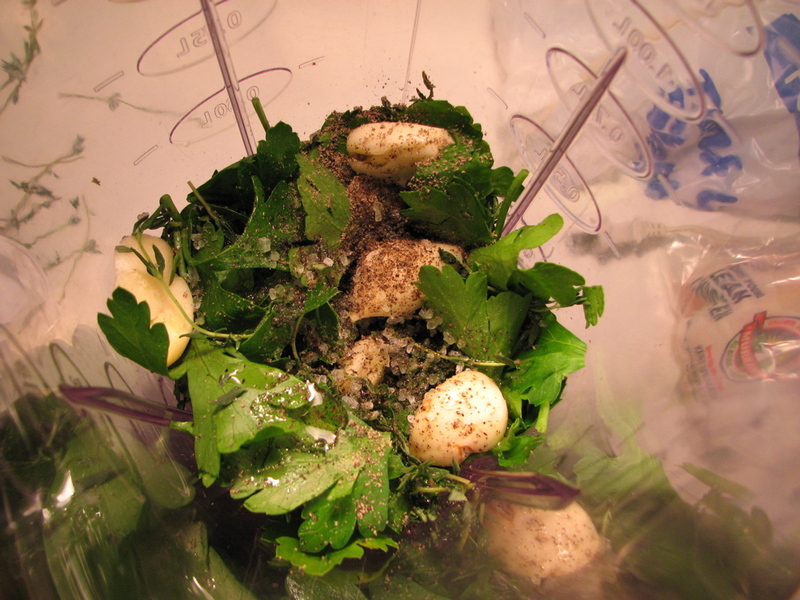 Next, take the chicken and rinse it under cold water inside and out, removing the giblets and and big hunks of fat along the cavity.  Using paper towels to pat it dry.  Season inside the cavity with lots of salt and fresh pepper.  Take the halved lemon and put both halves inside the cavity.  Find a roasting pan and make sure you use a rack--the vegetables will make a lot of liquid and you don't want the chicken sitting in it while it roasts.  Spread the herb paste all over the outside of the chicken, pushing some gently under the skin if you like--but do your best not to split the skin.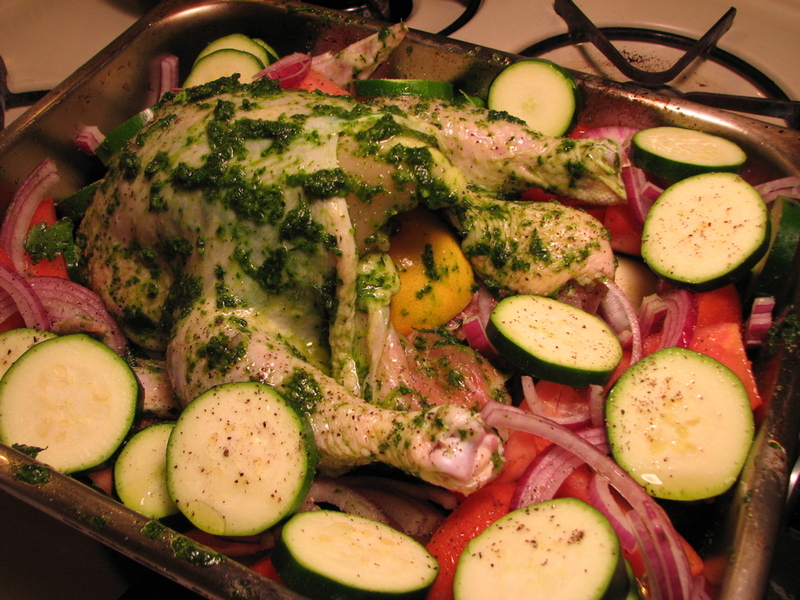 Nex time, I'd use a larger roasting pan (i.e., I'd buy a larger roasting pan) so that the chicken was less crowded.  Scatter the vegetables around the chicken, and don't forget the paper-thin lemon slices--the acidity they provide is essential to the flavor (you'll be eating them rind-and-all once they roast).  Pour olive oil over the vegetables and season well with salt and pepper.  Roast for an hour, then jab the thermometer into the thickest part of the thigh, looking for a temp of 160.  When it's done, pull the chicken out of the roasting pan and let it rest for 10 minutes before carving so the juices stabilize back into the flesh.  Serve with the vegetables.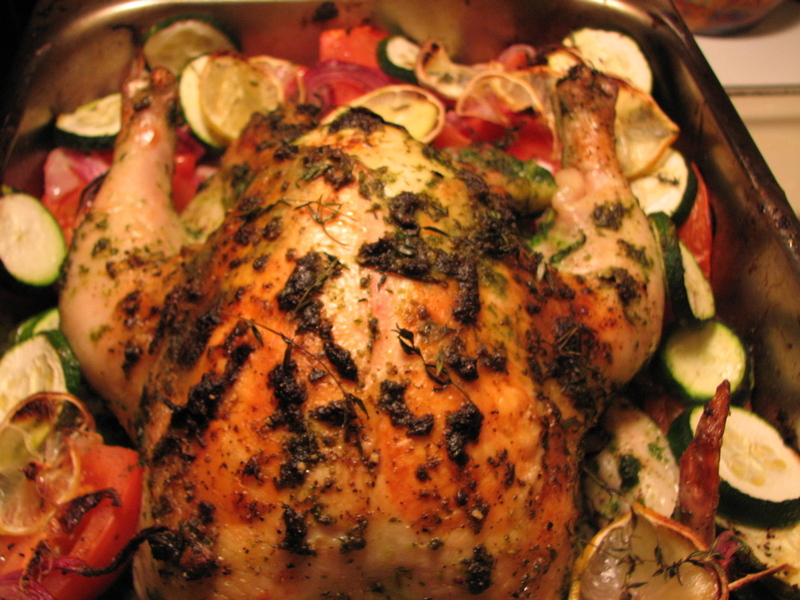 Chicken,
Chicken,
Herbs,
Roast Chicken,
Tomatoes