This pasta is surprisingly light, a delightful characteristic considering the richness of the cream.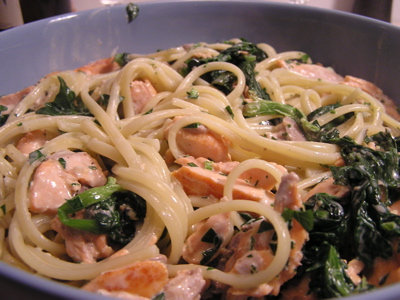 While our enthusiasm for cooking has grown immensely over the past year, we still feel mostly reluctant to toss our recipe books aside and approach the task with our own original ideas and ingredients.  A sense of improvisation comes with confidence, and as the acting theorist Konstantin Stanislavski suggests, cultivating concentration and trusting one's instincts.  Instincts.  We don't do those so good.  See, when you're acting, you might have a bad idea and you get past it, or you break scene briefly and then regain your concentration.  When you're cooking, you bungle a flavor pairing or leave the steak on the heat too long, you end up with some pretty grievous recipes and angry dinner guests.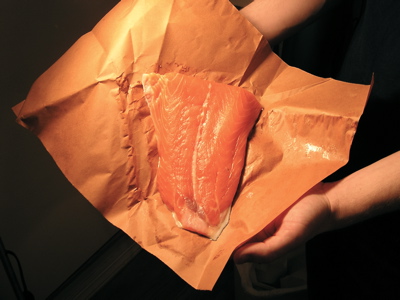 Our idea first came from a desire for some kind of pasta and seafood combination.  Blake suggested salmon, and the Joy of Cooking 's Spinach Fettuccine with Smoked Salmon and Asparagus presented itself.  But things fell apart quickly. Blake indignantly refused smoked salmon.   "You pay like 8 bucks for 4 ounces of the stuff.  It's more like a seasoning.  I want fresh salmon." "Well that kind of screws up the recipe," Nick politely said. "We'll just like use regular salmon and swing it." "That's a different recipe entirely." "Yeah, well this thing called for a pound of asparagus.  Our pee is going to smell for weeks.  I thought you were interested in a seafood -based dish." "Whatever." We were at one of those dead ends where our online and print recipe resources had nothing in the vein of what we actually felt like eating.  We settled on the spinach idea, fresh leaves, and figured the cream sauce was a good direction.  Then we hit the store with no further direction, and ended up with our most satisfying meal in weeks.  It also cost us, we must add, eleven dollars total with half a bag of spinach and a bushel of parsley to spare. We drank a 2004 Leitz Dragonstone Riesling , and nearly exploded in happiness.  The pasta was surprisingly light, a delightful characteristic considering the richness of the cream.  After hearing two wine experts in two days attempt to convince us of the merits of Rieslings, we obliged.  This crisp wine--sweet but nowhere near syrupy--was to our mind the perfect compliment. Pan-Seared Salmon Pasta with Spinach 8 oz salmon fillet 5 oz fresh spinach (half a bag) 1 cup heavy cream Small handful of parsley 3 tablespoons of butter 1/2 pound of pasta (half a box) Zest of one lemon Salt and Pepper to taste Serves 2 (easily doubled to 4). Simple instructions here . First things first, fill a large pot with water, salt it, and turn it on high for the pasta.  This recipe doesn't take that much time, so having the water ready will avoid aimless standing in the kitchen.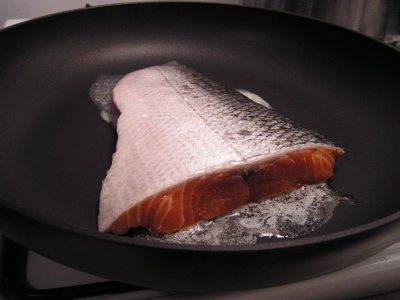 Melt some butter in a pan over medium-high.  Once the butter has completely melted, foams, and just begins to take on a brown shade, take the fish and place it in the pan flesh side down.  Since the salmon is going to be broken up into the pasta, there's no need to splurge for salmon steaks, which run you around twice the price.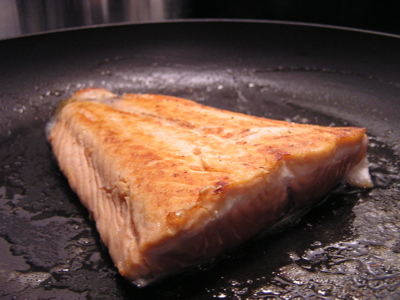 Sauté the fish for 3 to 4 minutes, or until the skin has nice coloring like in this beautiful picture.  Cook for another 3 to 4 minutes until the middle has lost much of its redness.  Don't worry too much, since the fish will be placed into the sauce later in the recipe and will finish cooking if need be.  You're developing a nice crust in this stage.  When ready, remove the fish and place it on a cutting board.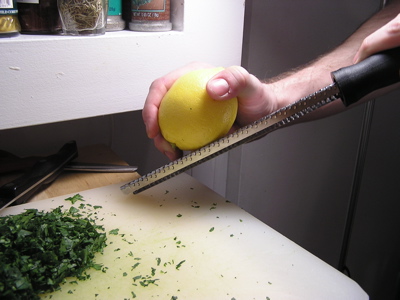 Remove the zest from one lemon.  This can be done in various ways, but we just use a microplane cheese grater.  Vegetable peelers work, too--make sure to use only the yellow skin and not the bitter white layer beneath it.  Finely chop a handful of parsley.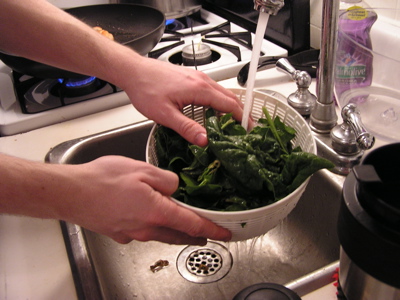 Wash the spinach in a colander.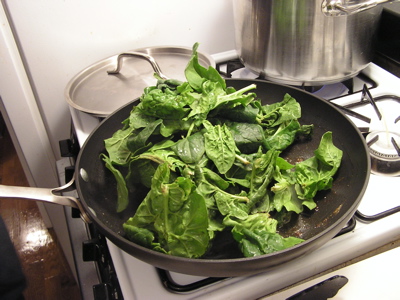 Place a little more butter in the same pan as you cooked the fish, and throw in the spinach.  It will seem like an absurd amount of spinach, but it will dramatically shrink in a few moments.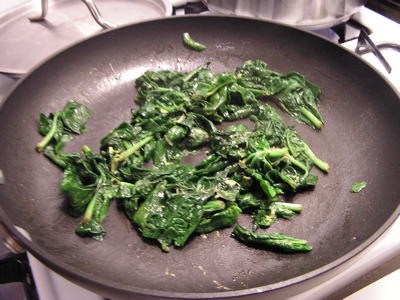 Once it has condensed by half, throw in the lemon zest.   Now is a good time to check the pot of boiling water, as the rest of the recipe will be done in 10 minutes.  If ready, throw in the pasta.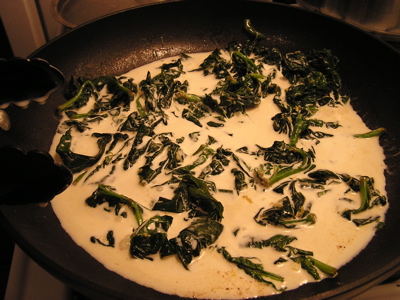 Once the spinach looks wilted, pour the heavy cream into the pan and let it reduce for a few minutes, depending on how far along your pasta is.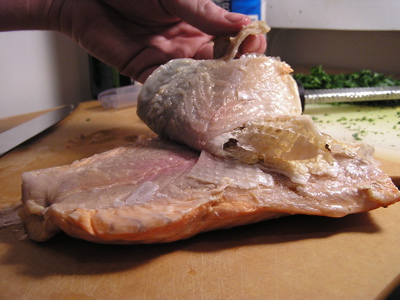 Meanwhile, remove the skin from the back of the fish.  It is surprisingly easy to remove once it has been cooked.  You can use a fork or a knife, but it is honestly much easier to peel back with your fingers.  Get all of it completely off.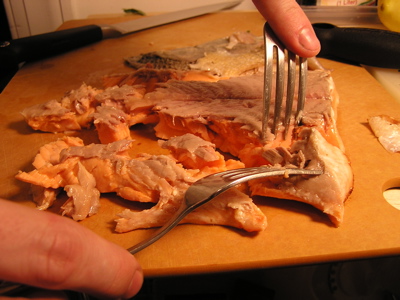 Flake the fish with two forks.  While the meat is tender and can easily be forced apart, try to feel with the forks for the parts that will separate naturally.  This will make the chunks stay together better in the pasta.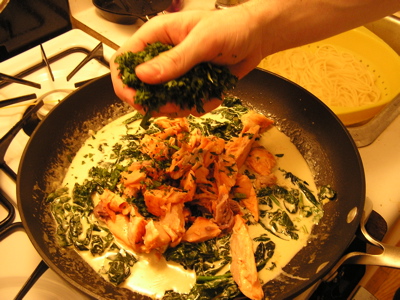 Place the salmon back into the pan, then toss in a whole handful of finely chopped parsley.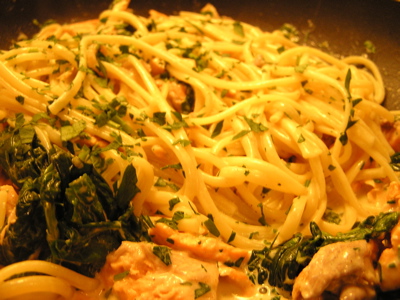 Drain the cooked pasta, and dump it into the pan.  Toss it with a pair of tongs and serve right away.
Food,
Main Course,
Beef,
Cooking,
Food and drink,
Heavy Cream,
Italian,
Konstantin Stanislavski,
Meat,
Mediterranean cuisine,
Pasta,
Pasta,
Pasta,
Salmon,
Salmon Pasta,
Seafood,
Smoked salmon,
Spinach,
Steak