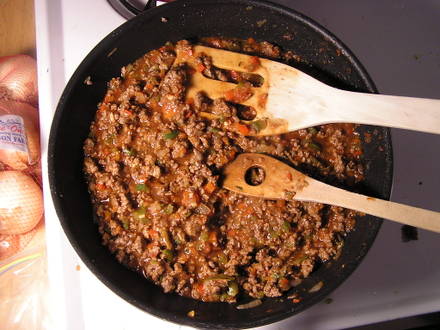 If you were functioning on the subway this morning, you probably saw a steady stream of backpacked kids parading around with wide mouths and unsure stares.  That daze was the stern face of school, the great unknown and the official end to summer.  Standing amongst those kids, I tried remember my own back-to-school feeling, the churning stomach, the moment when I knew it was all over, and that I'd have to enter those classrooms again.
I thought fondly on art class, walking in lines, passing notes, and playing kiss-n-catch on the playground because my classmates and I were that innocent.  Buried amongst those feelings, amidst the deep nostalgia about random school events that were probably much more sinister than I remembered, sits school food.
My classmates and I alternatively ate it and hated it, and yet talked it about all the time.  We studied the calendar, made sure we were ready for pizza, got "sick" when it was meatloaf day.  Here was food that wasn't our parents', wasn't from McDonald's, and didn't look anything like either.  Even as kids we knew that it was bad, yet we ate it anyway.  And strangely, as the time went on, we started to enjoy certain staples of school cafeterias.
Well, here at the Paupered Chef we're going to look back at those old culinary delights, and try to shed new light on neglected food.  You know, in the spirit of school starting.  Because we believe they have more to teach us, and we're always in for a nostalgia trip.  Mr. Sloppy Joe, you're up first.
Let's not resort to name calling or immature songs sung at ungrateful lunch ladies.  We are here to pay tribute to the food that got us through those tough years of life we remember fondly as "school."  Dished out in cafeterias across this fine land--uniformly with an ice scream scoop--sloppy joes have been derided as a hodge podge of cheap ingredients, a slurry of grease that's slopped on plates to kids that did nothing wrong.  But we can remember how excited we were when Mamwich hit that table.  We didn't even have to use all those napkins because we didn't care.  Big blotch of red on our new polo shirt?  Who cares.  Jackie likes Mark.  Big deal.  I just had a sloppy joe and it was awesome.
I looked high and low for the best sloppy joe recipe, which is sort like trying to find the best way to microwave popcorn.  Sloppy joes are kid food because they are so easy.  But as big kids, we could take a little longer, and that's where the Joy of Cooking met me.  The recipe is your basic sloppy joe recipe, with a few highlights like green onions, but nothing is really that revolutionary until we get to the spot that's usually occupied by good ole' trusty ketchup.  The Joy calls for Chili Sauce, which they cover earlier in the book.  This little recipe has some 5 herbs, 14 pounds of tomatoes, and aromatics to boost.  Best of all, it took some 3 hours to cook.  And that made me feel better about myself.  Sure I was making sloppy joes, but I was going to take an inordinate amount of time to do so.  That's what adults do.  We did cut the chili sauce recipe in 1/6, because the sloppy joe recipe only called for a 1/2 cup.
Oh yeah, and this recipe, it's awesome.
Chili Sauce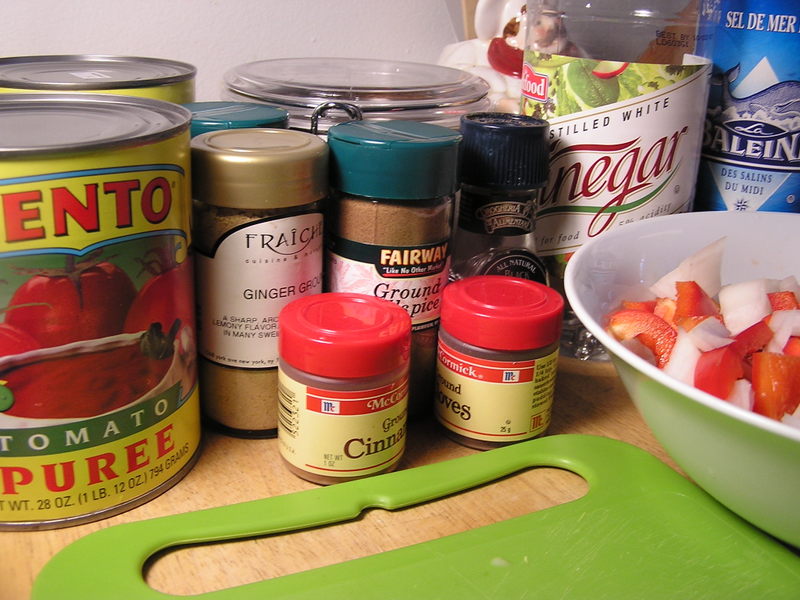 1 1/2 red bell peppers
1 1/2 onions
2-24 ounce cans of tomato puree
3/4 cup cider vinegar
1/2 cup light brown sugar
2 teaspoons salt
1 teaspoon black pepper
1 teaspoon all spice
1/4 teaspoon ground cloves
1/4 teaspoon ground ginger
1/4 teaspoon ground cinnamon
1/4 teaspoon ground nutmeg
1/4 teaspoon celery seeds
Sloppy Joes
1 tablespoon vegetable oil
1 small onion, finely diced
1 red pepper, finely diced
4 cloves garlic, minced
1 teaspoon fresh thyme leaves
1 1/4 pounds ground beef chuck
1/2 cup water
3 tablespoons Worcestershire sauce
1/2 cup Chili Sauce
hot red pepper to taste
6 large seeded rolls
3 tablespoons minced scallions
Both were adapted from the Joy of Cooking .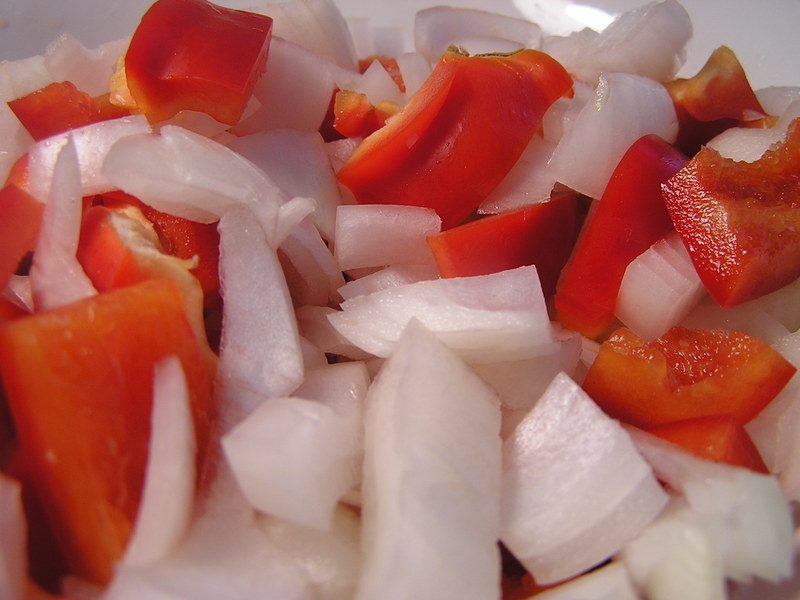 Part 1: The Chili Sauce
Coarsely chop the red peppers and onions, and get ready to finely mince them in either a food processor or a blender.  Those with big bad processors can get away with tossing all the stuff in there at once, but in a blender you'll have to blend them one or two handfuls at a time.  Also, it helped to put a little of the cider vinegar in the blender.  Once everything has been roughly blended, toss it in a pot and along with the rest of the ingredients.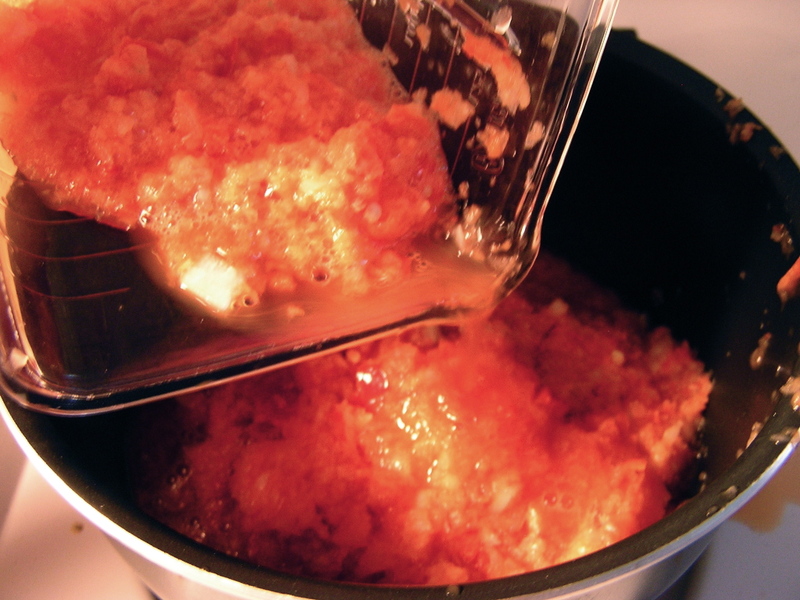 Though I cut this recipe in 1/6, it's still a lot of stuff, so use a big pot.  Turn the burner to medium and let it cook for three hours stirring every 20 minutes or so.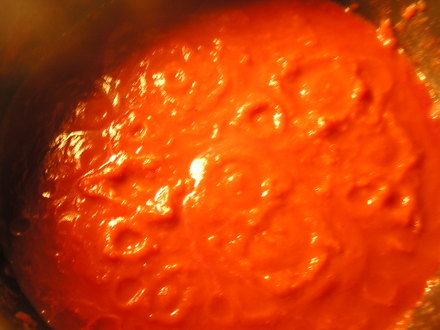 Oh, and be sure to keep the top on because the tomato mixture is feisty and is going to want to splatter all across the kitchen.  I just kept the lid ajar, making sure there was at least some room for the the steam to escape.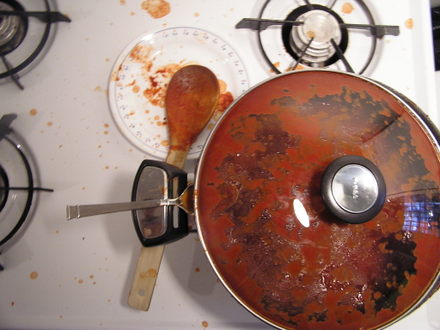 It will still splatter all over the place, but try and keep it contained to the stove and you'll be fine.
When the sauce is nice and thick, about 3 hours, then just turn off the heat and let it sit without the cover.  Once it has come to room temperature you can place the extra sauce in the fridge.  The Joy of Cooking said it would last a month.
Part 2: Sloppy Joes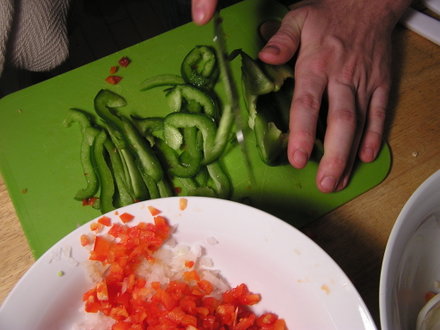 While the chili sauce was inordinately large, the sloppy joe recipe is perfect for a party of four.  Pour the oil in a large pan over medium heat.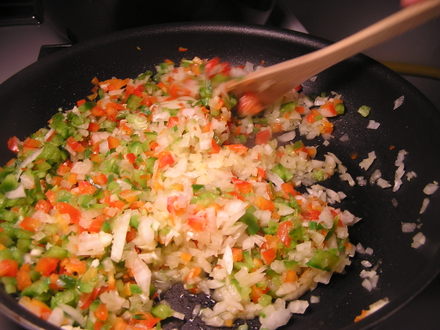 Once it's hot, add the onion, red bell pepper, garlic, thyme, salt and pepper.  Sweat until the onion is soft.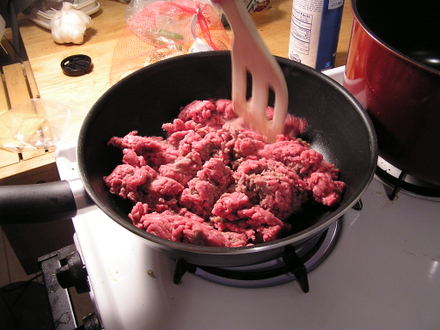 Then, either dump the vegetables on a plate and set aside, or cook the beef in a separate skillet just like us.  Break up the meat with a large wooden utensil and cook over medium high heat until the beef is browned.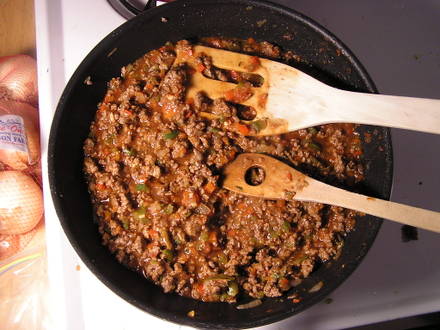 When the beef has browned, drain the fat, then add the vegetables, 1/2 cup of the sauce, the Worcestershire sauce, and the hot sauce.  We gave the hot stuff about 5 shakes.  Let the whole pot simmer for 15 minutes.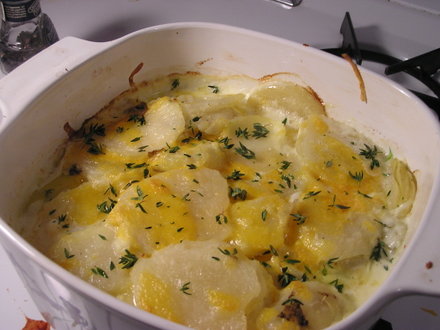 We also made some scalloped potatoes, but any starch would be fine to join the party.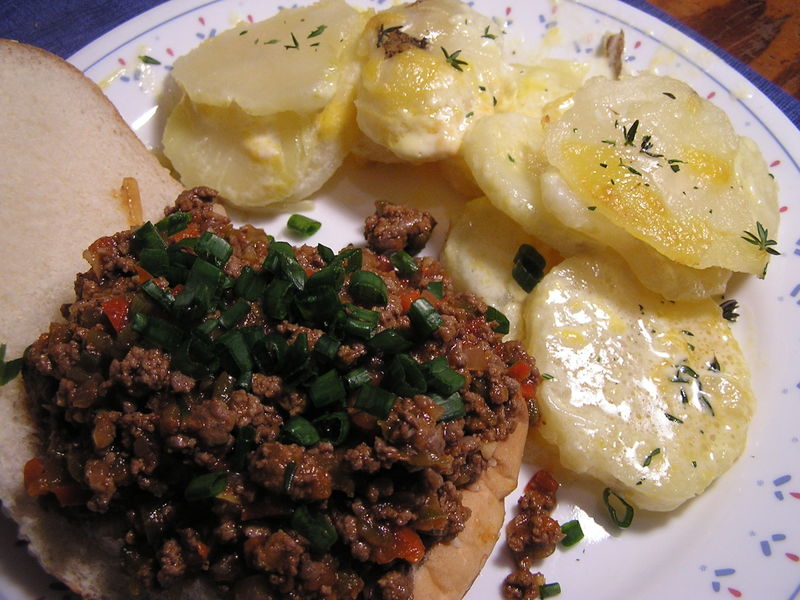 Enjoy the sloppy joes atop of some sesame buns with some green onions and ring with some potatoes of your choosing.
Beef,
Beef,
Potato,
Sandwich,
School Days,
Sloppy Joes