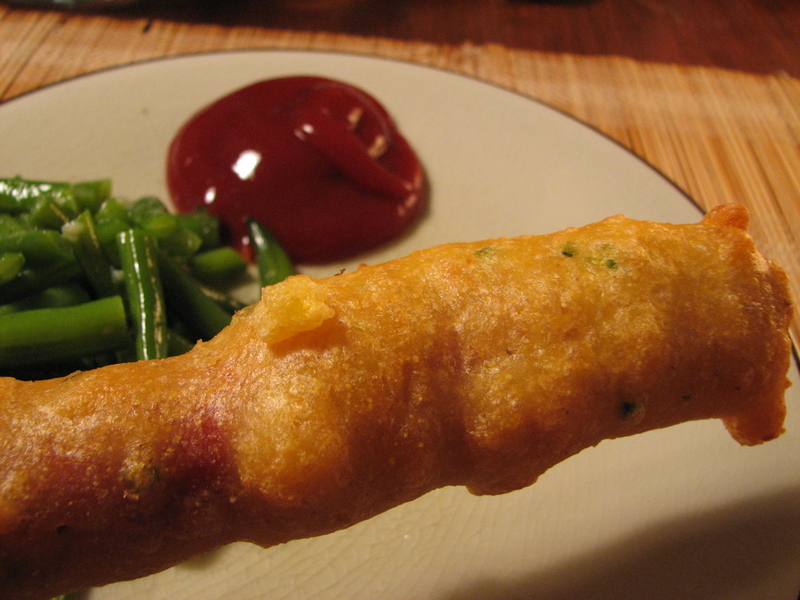 Hot Dogs are the universally pretty-tasty food.  From middle school to college cafeteria dining, the fair ladies in hairnets have always had quite a hard time messing up the basic formula: buy from distributor, boil or steam, place in bun and send the smiling kids off to the condiments line to fight over packets of pickle relish, and who has to end up with the dijon mustard once the packets of preferable classic yellow are gone.  Then that kid would be subjected to "Pardon me, do you have any Grey Poupon" jokes and generally laughed at.  Okay, so maybe that was just me. They're good on the streets of New York "dirty water boiled," they're even better grilled at Gray's Papaya and Papaya King, they're fantastic surrounded by the compelling and kitchsy surroundings of Coney Island--but here's the truth: they all pretty much start in the same factory .  A hot dog, as long as you treat yourself to a decent all-beef with casing, is something a kid can count on to taste pretty darn good.
On the better school days, the ladies of lunch would wander into the walk-in deep freeze and drag out boxes of the invention which made the 1942 Texas State Fair famous: dogs dipped in cornmeal batter and deep-fried in hot oil, eventually on sticks, joining the ranks of popsicles and other unnatural-yet-perfect creations of food on a stick that would enliven the carnivals and minimalls of America.  To a kid, everything tastes better on a stick.  The Texas State fair would go on to invent deep-fried Coca-Cola but nothing would live on like the corn dog. In homage, here a recipe, with a twist or two, to recreate this unbelievably unhealthy and messy masterpiece, which we'll probably never, ever make again but which was worth the effort completely.  If only because, now, we can say we've experienced it the way it's supposed to be experienced, made fresh and not thawed from the freezer.  After a disturbingly long discussion arguing how in the world the commercialized corn dogs get to be so smooth and uniformly shaped, we gave up and layed down with full, satisfied, and slightly upset stomachs. Corn Dogs 1 gallon oil 1 cup yellow cornmeal 1 cup all-purpose flour 2 teaspoons kosher salt 1 teaspoon baking powder 1/4 teaspoon baking soda 1/2 teaspoon cayenne pepper 2 tablespoons (approximately 1 large) jalapeno pepper, seeded and finely minced 1 (8.5-ounce) can cream-style corn 1/3 cup finely grated onion 1 1/2 cups buttermilk 4 tablespoons cornstarch, for dredging 8 beef hot dogs This recipe comes from mad scientist Alton Brown, via FoodNetwork.com .  We began with some high-class Boars Head hot dogs, threading them with leftover bamboo sticks from grill week .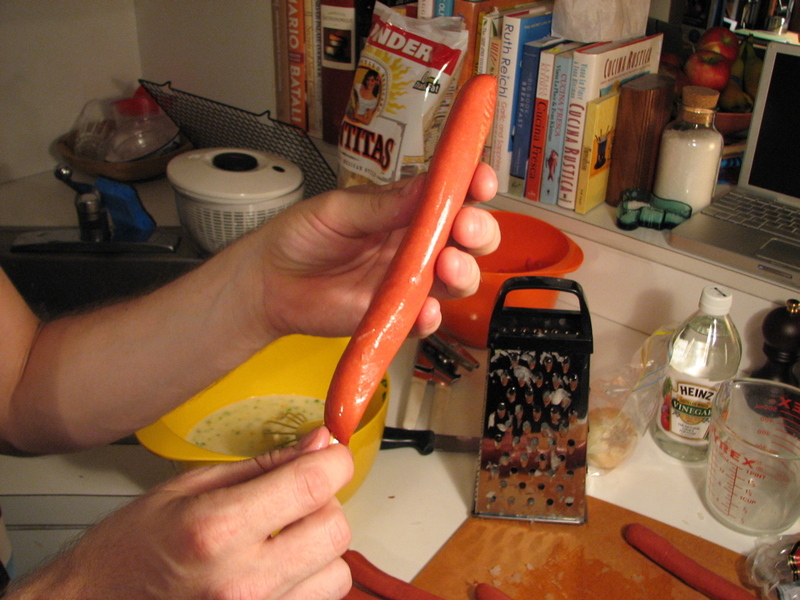 First, start your oil heating in a heavy pan or dutch oven.  Gather all the dry ingredients together, mixing well, and then combine the wet ones in a mixing bowl.  After three bodegas and two grocery stores, we couldn't get our hands on any buttermilk, so we headed to Cook's Thesaurus and learned the handy trick of using regular milk with a tablespoon per cup of vinegar added, which substitutes nicely.  So mix all that in a bowl and combine gently with a whisk.  It should still be lumpy.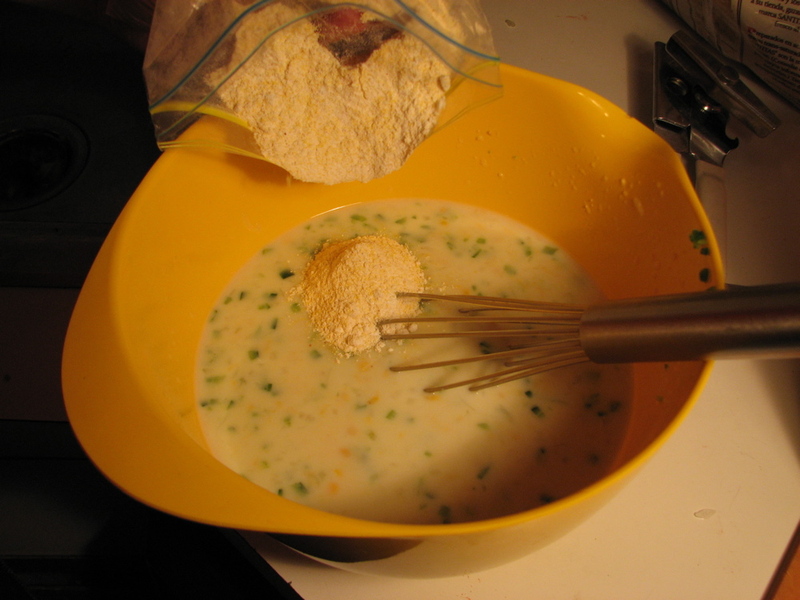 Alton asks to heat the oil to 375 degrees, but we have yet to buy a thermometer and we end up winging it each time we deep fry something.  The best bet it to dollop a little batter into the oil to test it, seeing how quickly it turns brown.  Since the hot dogs themselves need to cook, 3-5 minutes is ideal, so judge from there.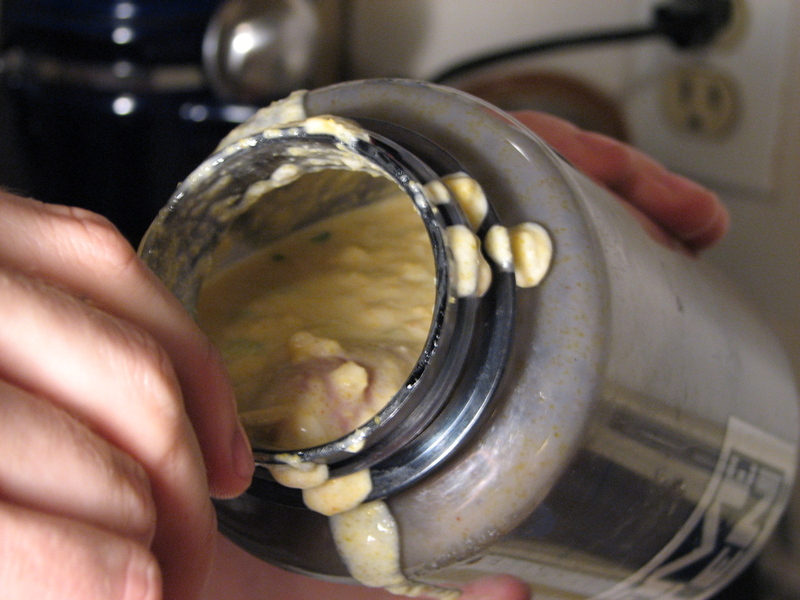 Transfer the batter to a tall glass or container and dip the hot dog into the batter.  Collect as much of it as you can onto the hot dog and drop it quickly but gently into the oil.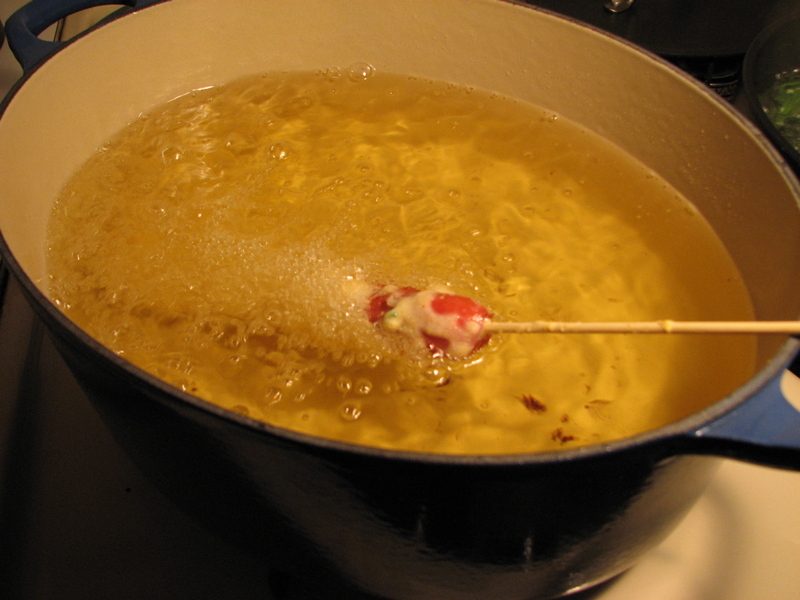 Turn the corn dogs as they cook to make sure they brown evenly, about 3-5 minutes.  Remove to a paper towel or cooling rack and give it a few minutes so you don't burn your tongue, despite the fact that you'll be dying to bite into this thing when you see how it looks.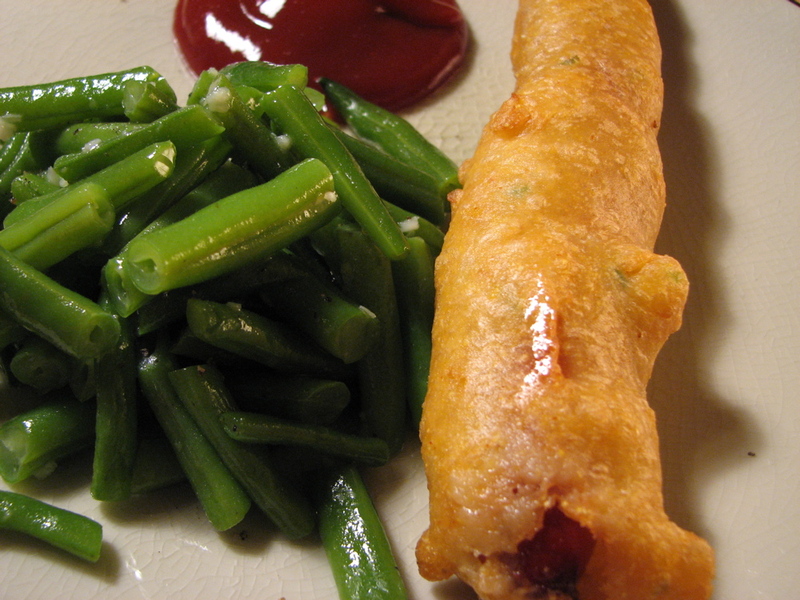 Normally, ketchup is a no-no, especially to my Chicago Style understanding of the hot dog.  But for some reason on corn dogs it's okay.  Probably because they're so unhealthy and unnatural that all rules pretty much get thrown out the window. Verdict: pretty good.  But something wasn't quite there: despite adding flour to the bater to thicken it in hopes of more sticking, there just wasn't enough clothing the hot dog.  Until Abby had the brilliant idea of double dipping and sticking it back in the oil, which we immediatly employed.  Just dip the fried dog with its corn coating right back into the batter, and you'll find that loads of it will stick and fill in everywhere.  Back into the oil while you munch on the green beans to convince yourself that you're eating something healthy.
Now, this is a corn dog.  This is the corn dog of our memory.  The double dip gave the second batch an element of fluffiness, less greasy-feeling, yet crunch and crisp and flecked with little bits of jalapeno.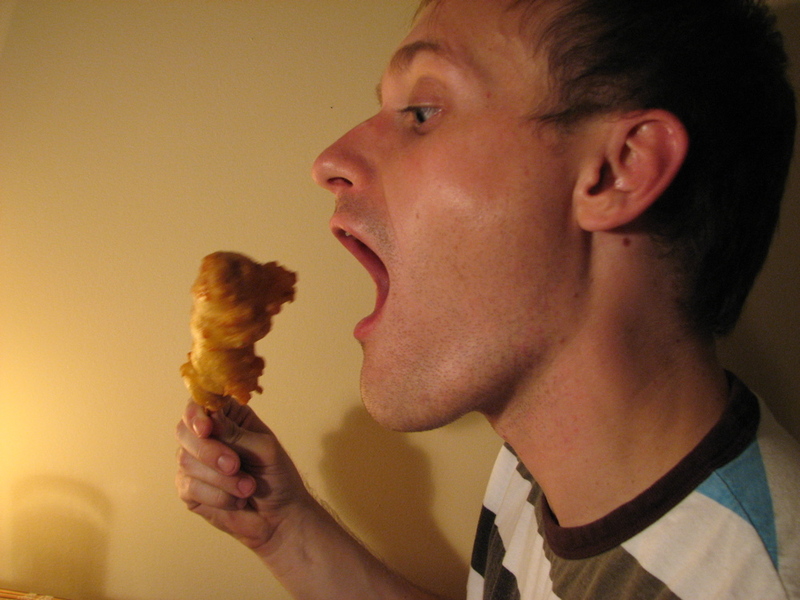 Corn,
Corn Dogs,
Hot Dogs,
School Days,
Uncategorized