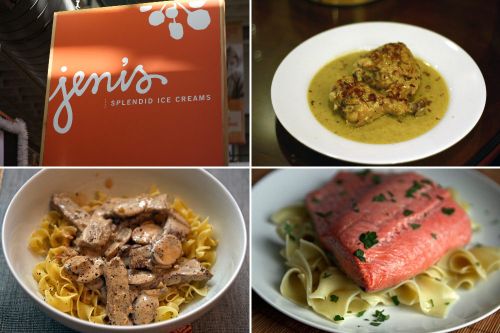 Happy New Year!  We hope your holiday was as food-filled and fun as ours.  Lots of stories to tell, but for for now, here's a little roundup of what the two of us have written over on Serious Eats.
"Dinner Tonight" Column
Quick meals to your table five days a week.
A "deconstructed" Italian sausage pasta, which has Nick raving about fiery chilis and a "crucial porky edge" thanks to bacon.

The classic dish with a sour cream sauce and egg noodles, made in a remarkably short time.

After rich holiday fare, the spicy and citrus-y flavors of a curry are a welcome relief.

"Kimchi can do no wrong."  Enough said.

An argument for gently poaching fish, which turns out a "marvelous and simple" result.

Discovering a vegetable called "sunchokes" though also called "Jerusalem artichokes."
Standing Room Only
A column about the best of Chicago's restaurants--with no seats.
A brief hiatus in Columbus, Ohio from the usual Chicago fare, Jeni's ice cream is perhaps the best in the country.

Though the pizza, fries, and Chicago-style hot dog are just average, the Italian beef at this South Side stand--"gluttonous and messy, fiery from the hot peppers, and impossibly tender--may be the best in the city of Chicago.
Dinner Tonight,
Serious Eats,
Serious Eats Roundup,
Serious Eats Roundup,
Standing Room Only