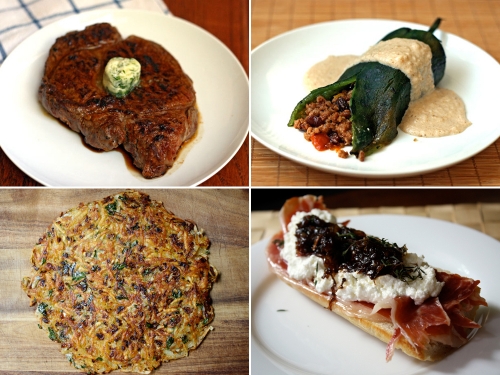 Our weekly roundup of what the two of us have written over on Serious Eats.
"Dinner Tonight" Column
QUICK MEALS TO YOUR TABLE FIVE DAYS A WEEK.
Calabazas Horneadas (Baked Squash, Chiles, and Corn Tacos)
Corn and squash act as the backbone of this classic Oaxacan dish.
Cayenne-Rubbed Ribeyes with Lime Butter
Cayenne kicks up this simple rub for steak.
Open-Face Prosciutto, Fresh Ricotta, and Red-Onion Marmalade Sandwiches
Caramelized red onions help add a sweetness to this sandwich.
Chiles en Nogada
This alternative to chiles rellanos uses a creamy walnut sauce.
Chorizo Hash Browns
Spanish chorizo helps lend a meatiness to this standard dish.
Chorizo,
hash browns,
open-face sandwich,
Rib Eye,
Serious Eats Roundup,
Tacos