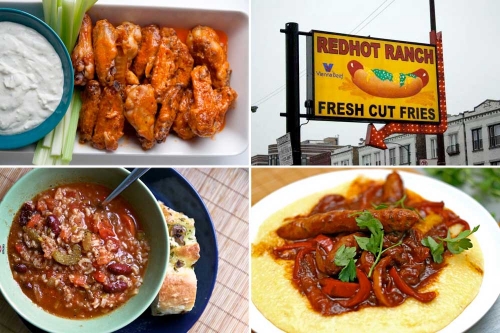 Our weekly roundup of what the two of us have written over on Serious Eats.
"Dinner Tonight" Column
Quick meals to your table five days a week.
Dinner Tonight: Pork Tenderloin Sandwich
This Indiana specialty deserves some attention now and again.
Dinner Tonight: Vegetarian Chili
Let's just call this a vegetable stew with a healthy kick of chili powder.
Dinner Tonight: Cinnamon-Flavored Black-Eyed Peas
Who knew Indian cuisine used black-eyed peas so well?
Dinner Tonight: Pepper and Sausage Ragu with Polenta
This rich and concentrated dish comes straight form Mario Batali's Molto Mario , now on Hulu.
Dinner Tonight: Moroccan Chicken with Kumquats and Prunes
Cinnamon spiced chicken with some tiny little kumquats.
"Taste Test" Column
A column about testing America classics so you don't have to.
Taste Test: Baked vs. Fried Buffalo Wings
Can Buffalo wings be baked instead of fried and still retain all their finger lickin' flavor and crispy skin?
Standing Room Only
A column about the best of Chicago's restaurants--with no seats.
Standing Room Only: Red Hot Ranch
Excellent new "Depression Dog" outlet on Western Avenue with some fantastic fries.
Blackeye Peas,
chicken wings,
Hot Dogs,
kumquats,
Polenta,
Pork Tenderloin,
Sausage,
Serious Eats Roundup