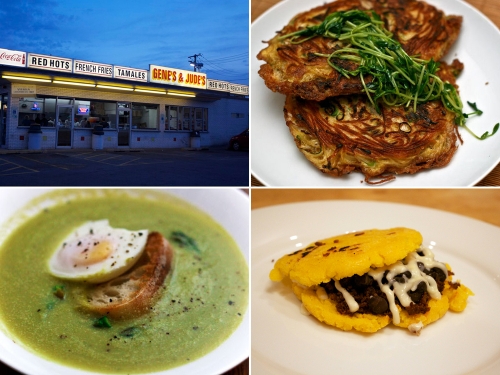 Our weekly roundup of what the two of us have written over on Serious Eats.
"Dinner Tonight" Column
QUICK MEALS TO YOUR TABLE FIVE DAYS A WEEK.
Arepa Sandwiches with Chorizo and Black Beans
These traditional central American snacks are sliced in half and turned into a filling sandwich.
Asparagus Soup with Egg on Toast
This silky soup is perfect for the first asparagus of the season.
Soy-Dijon Chicken Wings
The traditional Buffalo sauce is replaced with a complex mix soy sauce and blue cheese.
Crisp Noodle Cakes
Blake learns to always trust Martha, even with a rice noodles.
Simple White Bean and Pesto Soup
This dead simple soup needs a good strong stock to make it come to life.
Standing Room Only
A COLUMN ABOUT THE BEST OF CHICAGO'S RESTAURANTS--WITH NO SEATS.
Gene and Jude's
For his last Standing Room Only post, Nick visits one of the best hot dog stands in the area.
Asparagus,
Black Beans,
chicken wings,
Chorizo,
Hot Dogs,
Pesto,
Serious Eats Roundup