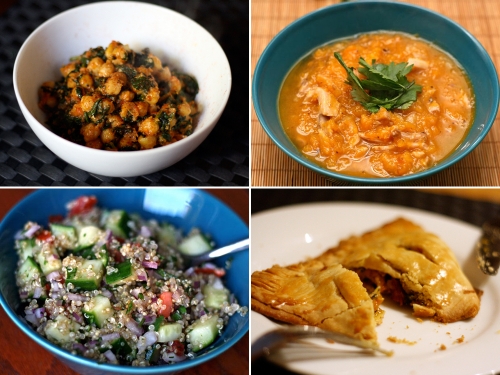 Our weekly roundup of what the two of us have written over on Serious Eats.
"Dinner Tonight" Column
QUICK MEALS TO YOUR TABLE FIVE DAYS A WEEK.
Quinoa, Chickpea, and Spinach Salad with Smoked Paprika Dressing
I picked this recipe from Bon Appétit solely for the smoked paprika dressing.
Roasted Chicken and Butternut Squash Soup
Roasting adds a depth of flavor that simmering will never provide, and it also makes for a low-fuss dinner that tastes like it took a lot more effort than it did.
Moroccan Spinach and Chickpeas
While the dish may look like a regular Indian curry, it has a completely different character. The cumin adds a nice earthiness and the smoked paprika helps perk things up.
Spicy Quinoa Salad
This recipe from the New York Times treats the quinoa much like in a tabbouleh salad, tossing it with lime juice, cilantro, chopped tomato, red onion, and cucumber.
[ Sweet Potato and Gruyère Turnovers ](http://Sweet Potato and Gruyère Turnovers)
While these may not be the prettiest turnovers to ever emerge from an oven, they were remarkably easy to construct.
Serious Eats Roundup,
Uncategorized