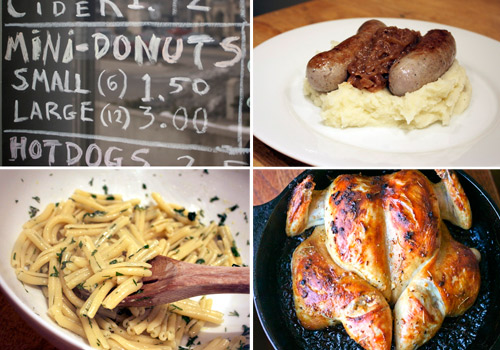 Our weekly roundup of what the two of us have written over on Serious Eats.
"Dinner Tonight" Column
QUICK MEALS TO YOUR TABLE FIVE DAYS A WEEK.
Pasta with Spring Herbs
It doesn't get much simpler than this pasta that comes together while the water is boiling.
Jacques Pépin's Quick-Roasted Chicken
A technique to solve the problem of breast and leg meat cooking at different times produces a succulent roast chicken in 30 minutes.
Bangers and Mash with Onion Gravy
Nick's take on the British classic, which is held together by a rich onion gravy.
Chicken with Pancetta and Sun-Dried Tomatoes
A delicious stew of crisp pancetta and soft, caramelized red onions hit with the bright acidity of sun-dried tomatoes.  Served over polenta, the ultimate comfort food.
Eggplant-Almond Enchiladas
Vegetarian enchiladas that come out meaty and filling thanks to the eggplant, covered with an intriguing sauce with a tinge of heat.
Standing Room Only
A COLUMN ABOUT THE BEST OF CHICAGO'S RESTAURANTS--WITH NO SEATS.
Sil's Drive-Thru
Nick descend on Milwaukee's best mini-donut chain, where they are fried in front of you and emerge soft and delicate, tossed with a bit of powdered or cinnamon sugar then stuffed into little white bags.
Serious Eats Roundup