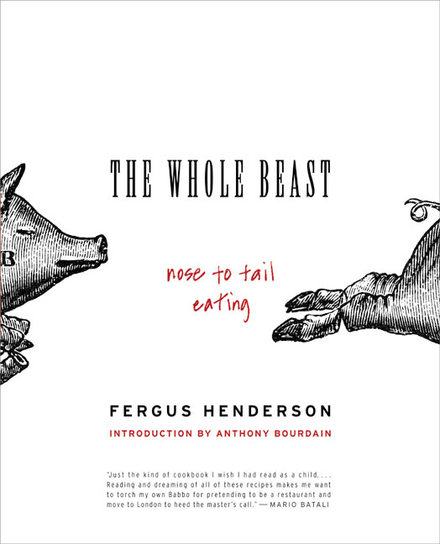 The chef Fergus Henderson, owner of the London restaurant St. John , known for his kooky demeanor and round, large eyeglasses, came to New York this week to commandeer the kitchens of two Manhattan restaurants, Savoy and The Spotted Pig , offering patrons a taste of his nose-to-tail cooking .  Reservations at Savoy went off the offering in two shakes of a pig's tail; the rest were left to fend at the Spotted Pig. By five-thirty, when the restaurant begins allowing people to put their name on a list, the already cramped downstairs was filled with nervous chatter, a handful of photographers, and the occasional roasted pig's head ferried by.
The chef de cuisine's additions didn't stray too far from the usual offerings--the restaurant normally serves unusual cuts and has hung at least a half dozen wall posters of a pig's full anatomy.  But Fergus, who has offered lamb's testicles and squirrels on his menus, brought his famed roasted bone marrow, plus a plate of duck hearts, deep-fried tripe, a pot roast with trotters, and the half pig's head for two ($55), including quivering, molten eyeball and half a jaw.
With the first round of diners seated, the rest waited in happy anticipation, glimpsing Fergus, arms crossed, overseeing the kitchen.  Eighth in line, we sat down at quarter to seven.  In an upstairs room two tables had children under ten, one of whom declared with fists raised, Viking-style, over the eaten head in a vaguely German accent, "Ze pig is delicious!"--to applause.  The other, a girl with blue hair and a pair of drumsticks, wore a t-shirt that read "Propoganda, Filth and Fury" in punk cut-out lettering and munched on a Roquefort-topped burger with shoestring fries (a Spotted Pig classic). A scruffy group of Brit band members chatted with her mother over Old Speckled Hen, picking at faggots, a kind of offal meatball made of livers, hearts, and all the other unusables.
The roasted marrow arrived in its bone with a dish of gray salt, toasts, a tiny spoon, and an untamed mound of dressed parsley.  The color and appearance of pure gelatinous fat, it instead had an earthy, almost fungal flavor and firmer texture.  The Spotted Pig's own fried pig's ear came out as a crunchy sheet beside a dressed pile of greens in lemon juice, capers, and mustard.  The deep-fried veneer crackled and shattered between teeth; the ear itself was a sticky affair that stuck to your molars like Laffy Taffy (it's far better than it sounds).
The Pot Roast Bacon came plated with roasted prune, mashed potatoes and its own trotter-infused jus.  It defined meltingness.  Like all of Fergus's cooking, nothing tasted like an herb or seasoning; it only tasted like the thing itself, made Platonically ideal. The unmistakable taste of bacon with the texture of a roast cooked slowly for days.
At a nearby table, an unfinished pig's head was wrapped carefully in foil, its skin cracking like hardened sugar.  The diner carried it carefully under one arm down the stairs, into the street, and hailed a cab.
Fergus Henderson,
New York,
Restaurants,
Restaurants