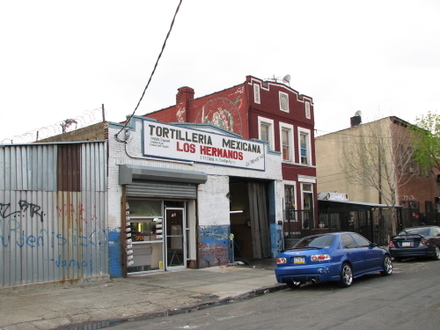 Bushwick, named by the Dutch Boswijk for "town in the woods,"  is no longer a town in the woods—it is a rapidly gentrifying section of Brooklyn southeast of tragically hip Williamsburg.  Once one of the most blighted areas in town after the blackout lootings of 1977--at that time, it was characterized by empty lots, drugs, and arson, and the majority of residents who could leave, left—it is now an uneasy mix of resident Latinos and artists moving further into Brooklyn on the "L" train.  It is also a bizarre mix of factories-become-lofts, rundown buildings, and brownstones in the sections nearer Bed-Stuy and Brownsville.
One relatively well-known restaurant is called Northeast Kingdom , which appears in lists for Brooklyn Restaurant Week and draws the artists and gentrifiers for hearty, well-prepared staples like macaroni and cheese and pot pie, and for its interpretation of the Dutch "town in the woods" theme by attaching deer antlers and tree trunks to the walls (the owners are from Vermont).  Nestled amongst the post-industrial vibe of warehouses and cement, it glows like a warm fireplace.
Thankfully, not all the surrounding factories are truly abandoned and shut down.  Just half a block away is a working tortilla factory, or at least we think it's working—strangely, the boxes of tortillas in the front say "Product of Mexico," but inside are massive ovens, conveyer belts, and dough mixers.  A loose interpretation, we suppose.  A hand-scrawled sign hangs from the ceiling advising of updated prices.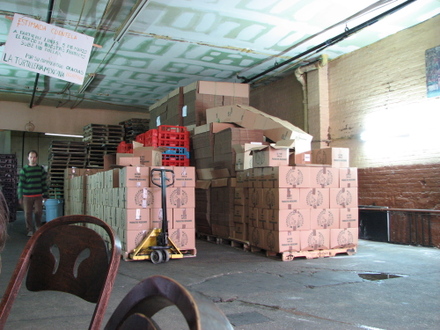 But don't walk too far—look to your left first.  That's a working Mexican "restaurant," which is actually an indoor streetcart with a few battered countertops and refrigerators right out of a restaurant supply store.  Which happens to serve some of the best tacos we've tasted in New York City.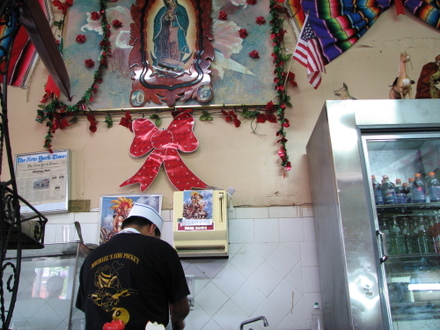 <
Mr. Meehan of the New York Times uncovered this destination last October .  They'll make you tacos, tortas, and an assortment of other concoctions, all made from fresh tortillas, almost all so good they're
a revelation. Unsure of what we were getting ourselves into, we had to catch the single employee's attention three times as we repeatedly ordered more and more food.  He eyed us rather nervously, messed up our order, and acted awkwardly when we tried to take a picture (hence the blurriness).  But no matter—eventually we received tacos full of chorizo and potato or shredded chicken, tortas with a crispy salted beef, other things with carnitas that we can't remember.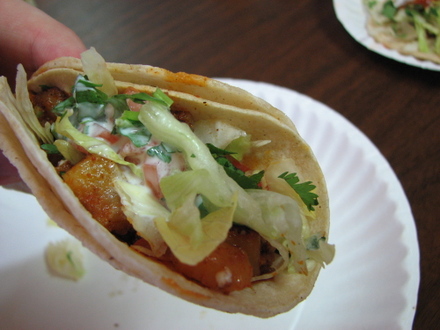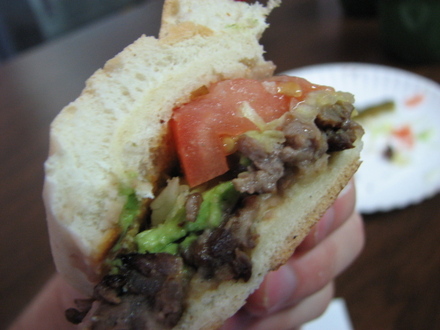 Refrescos (soft drinks) like pineapple, mango, strawberry are available.  Each sandwich is topped with crispy lettuce, tomato, your choice of red or green salsa, and a splash of a mysterious white sauce thinner than sour cream, and more complex.  Limes are to squeeze over everything.  We only mumbled quietly so as to impose little--the place is surprisingly quiet and imposing.  It's very unclear what, exactly, it's is supposed to be--a real restaurant?  Only for locals?  Some person's hobby?  We didn't wait around to find out.  We slipped into the back to use the bathroom, paid far less than one should for food that good, and ducked out the garage door.
271 Starr St, Brooklyn, NY.
Brooklyn,
Bushwick,
Chicken,
Chorizo,
Corn Tortillas,
Mexican,
Potato,
Restaurants,
Restaurants,
Tacos,
Torta,
Tortillas