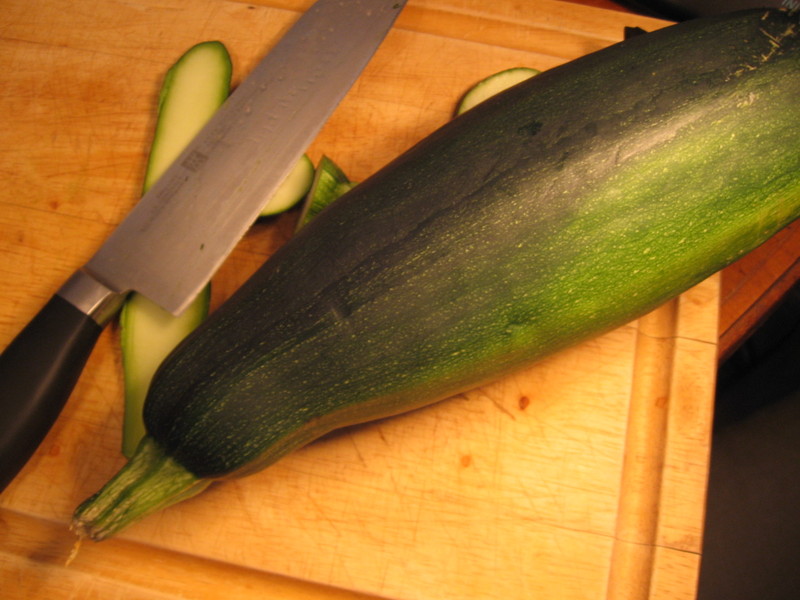 It began when my friend Glen T. Tremaldi, who runs a community garden in Boerum Hill, informed me of his zucchini overstock.  "You should see the zucchinis I picked. The size of your calves," he said.  And he wasn't joking.  They were the size of melons.  Then he related something about a frozen rabbit that was bought some time ago from a butcher on Court St., who had divided it up into serving pieces while it was still frozen, with a saw.  He's been talking about this rabbit for some time, dropping the fact of its presence in his freezer into conversations, waiting for the right opportunity. I called Nick and the wheels began to turn.  Saturday arrived hot and humid, the streets steaming from the monsoon-sized storms that had doused the city the day before.  It was hard to think about anything, except how to entertain one's self without moving a muscle.  Everything was wet and sweaty and sopped.  So we decided to cook a three course Italian feast. Mario Batali via Foodnetwork.com provided the zucchini outlet, called Concia di Zucchini.  As is traditional and popular, the zuchini was sliced and lightly fried in oil, giving it a gentle brown hue while keeping it, in theory, from getting soggy.  It should still have some crispness.  Al dente?  We picked up a couple yellow squash to bring some new colors into the palette.  The whole thing is then served on grilled bread like a crostini or bruschetta.  Here's the full ingredients list:
3 medium green zucchini, about 1 pound
3 medium yellow zucchini, about 1 pound
1/4 cup extra-virgin olive oil
6 medium cloves garlic, peeled and finely chopped
2 bunches fresh basil, cut into chiffonade
2 tablespoons kosher salt
2 tablespoons freshly grounds black pepper
1 porcelain or glass deep dish pie pan
1/4 cup red wine vinegar
Freshly grilled bread
While the zucchini fries, you chop some basil and toss it with salt, pepper, and garlic.  In the end, I'd use about half the garlic that the recipe above called for.  As the zucchini fry, layer them in a dish, sprinkle with the herb mixture, then splash a tablespoon of red wine vinegar over it.  You end up with something like this: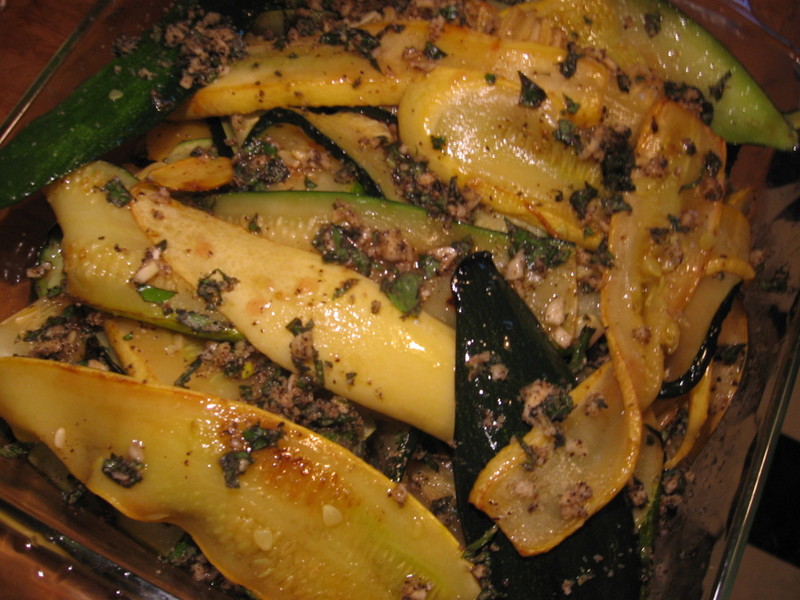 Then it cools in the fridge for a couple hours, marinating. Red-Wine Braised Rabbit with Sage Polenta
2 tablespoons all-purpose flour
1 teaspoon salt
a 2 1/2- to 3-pound rabbit, thawed if frozen, cut into 7 or 8 serving pieces
3 tablespoons olive oil
1 large onion, chopped
2 garlic cloves, minced
2 teaspoons minced fresh rosemary leaves
1 1/2 cups chicken broth
1 cup dry red wine
2 tablespoons coarsely chopped fresh parsley leaves
2 tablespoons minced fresh sage leaves or 1 teaspoon dried, crumbled
1 recipe basic polenta, kept warm
For basic polenta:
4 cups water
1 teaspoon salt
1 cup cornmeal or instant polenta
We moved on to the rabbit which had been defrosting in the fridge.  After taking it out we discovered that the water it was sitting in had leaked into the bag holding the rabbit, creating a strange solution of rabbit blood and water.  So into a saucepan it went, to reduce into a rabbit broth.  Using a recipe from Epicurious.com , we dredged the rabbit in a bit of flour and salt, then seared it to a brown hue.  Next we removed the pieces, sauted the onion until soft, then add garlic and rosemary for a minute or so.  Next we poured in the red wine and chicken broth, plus makeshift rabbit broth, scraping the bottom of the pan with a wooden spoon to loosen all the brown bits on the bottom, which are packed with rabbit-flavor.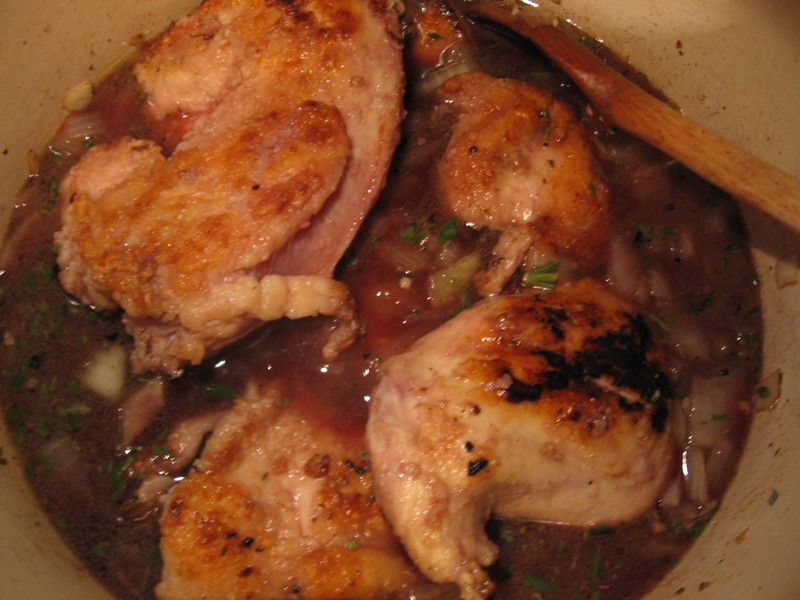 Then we covered it, and let it simmer for around an hour.  The guests relaxed with the rest of the bottle of wine we just used for the rabbit.  But Glen had a crazy idea to start using the frozen liver that had fallen out of the bag.  "We'll make them a chef's surprise," he said.  I figured that, since the the calf-sized zucchini still had a half-hour left to marinate, it was probably smart to serve something to the increasingly anxious/drunk guests. He sauted the liver with a little chopped onion, browning and then chopping it up into a pate-like consistency.  In a second pan a little garlic and rosemary with a dash of salt was heated in oil until fragrant.  We rubbed both sides of the bread with this mixture until coated and placed them in a baking pan.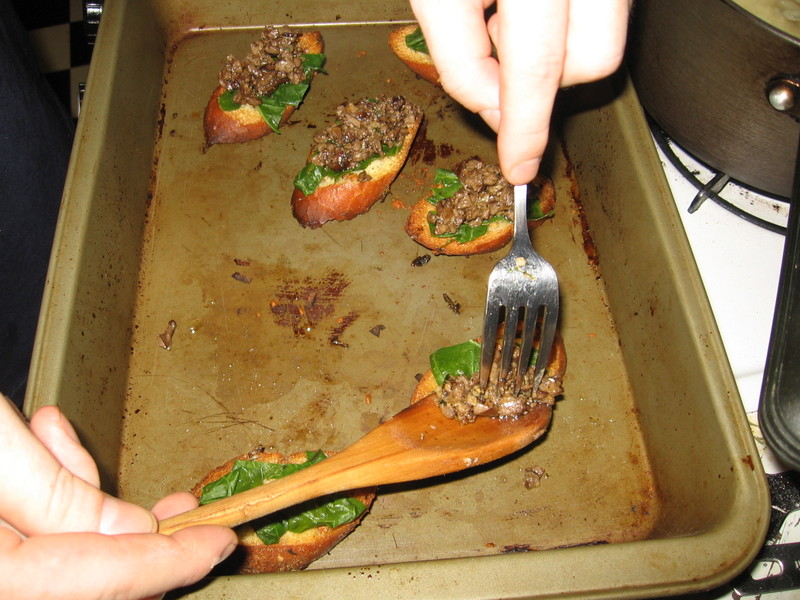 A little cream was added to the liver along with dill, and some homegrown "Zen greens" were blanched in a bit of water.  The whole thing was constructed, then toasted in the oven until just brown, then served.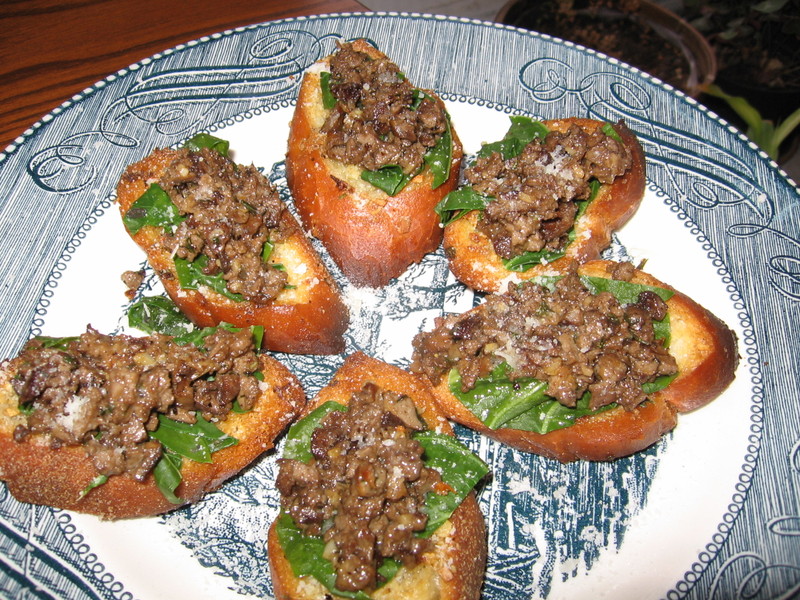 "Compliments of the chef," we said.  "It doesn't even taste like liver!" was the general verdict.  "I have to go make sage polenta" was the response.  Speaking of polenta, it's incredibly easy.  Boil the water, add cornmeal in a slow stream while whisking like crazy to avoid lumps, then hire someone to stand there whisking for around forty minutes.  Actually, were were quite terrible about the "whisk constantly" segment of the recipe, and it turned out quite fine.  In fact, it cooked quickly and then we took it off the heat to sit for almost 40 minutes.  When were were ready to eat, a little water was splashed in and we whisked it like crazy, and it came right back to life. But first, after the chef's surprise, we served the zucchini crostini.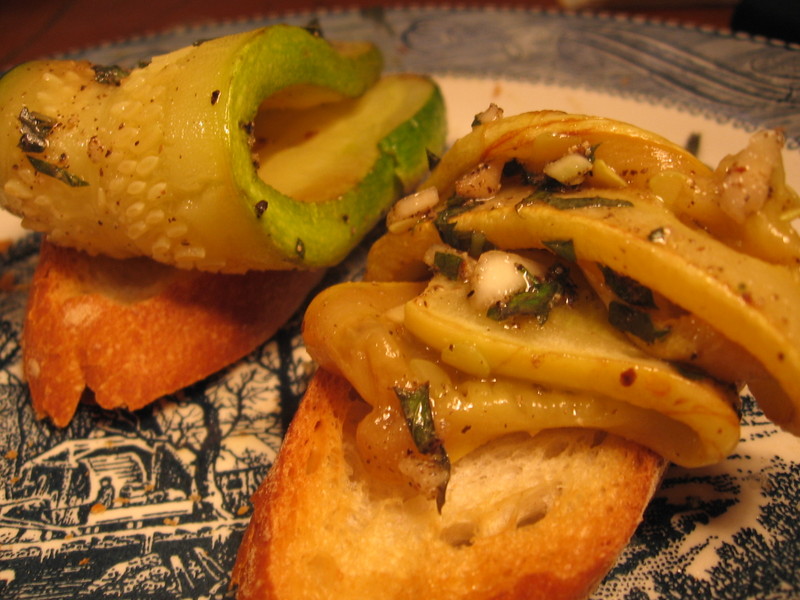 It was rather awkward to eat and serve, and the topping kept falling off the bread, but overall very successful.  Like I said, I'd probably pull back the throttle some on the garlic. We checked on the rabbit and it was still braising.  If we've learned anything from braising , it's to have patience--don't take it off early.  Just let it go as long as you can manage.  So Nick stepped up to the plate for his summer pasta dish, Spaghettini with Checca Sauce , from Giada De Laurentiis of the Food Network:
8 ounces spaghettini or angel hair pasta
4 scallions (white and pale green parts only), coarsely chopped
3 garlic cloves, crushed
1 (12-ounce container) cherry tomatoes, halved
1 (1-ounce) piece Parmesan, coarsely chopped
8 to 10 fresh basil leaves
Salt and freshly ground black pepper
3 tablespoons olive oil
4 ounces fresh mozzarella cheese, cut into 1/2-inch cubes
Salt and freshly ground black pepper
This is an absolutely fabulous dish for summer, when you can depend on lovely fresh ingredients to do the work for you.  All that happens is every ingredient except the pasta and mozzarella is tossed in a food processor to chop, but not puree.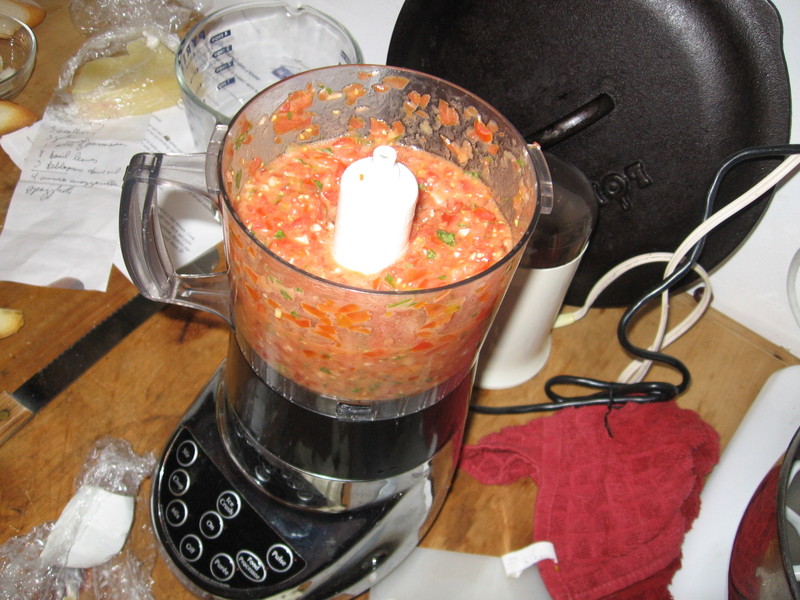 Wait to puree until the pasta is almost done so it's freshest.  Then you put the sauce and fresh mozarella into your bowl.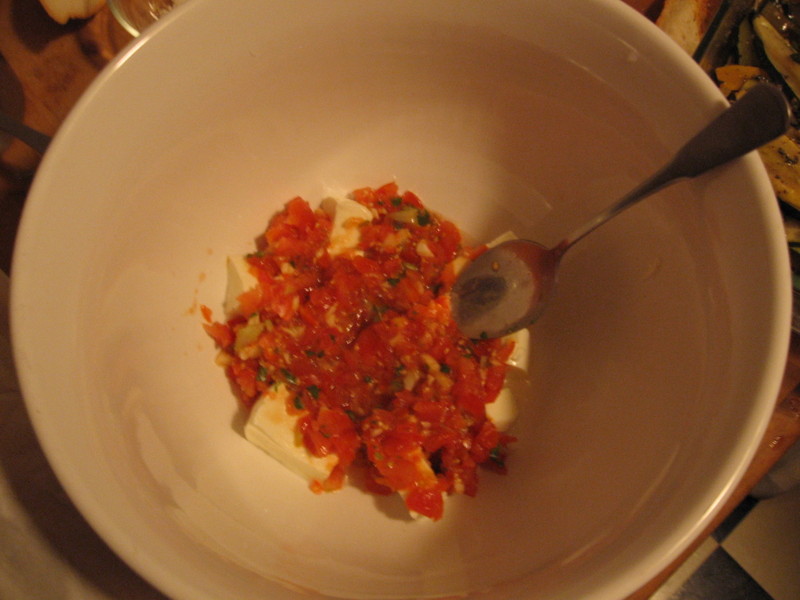 Toss in the hot pasta, top with a bit more parmesan, season, and serve.
By the time we'd eaten the pasta and had a few more zucchini concoctions, the rabbit was just about there.  I resurrected the polenta, stirring in the chopped sage leaves while Glen decided to attempt a removal of all bones from the rabbit, creating a more stew-eque dish to top the polenta.  As he plunged a skewer into the pieces we slid the meat off the bone and confirmed it was indeed tender.  We served it with chopped parsley on top.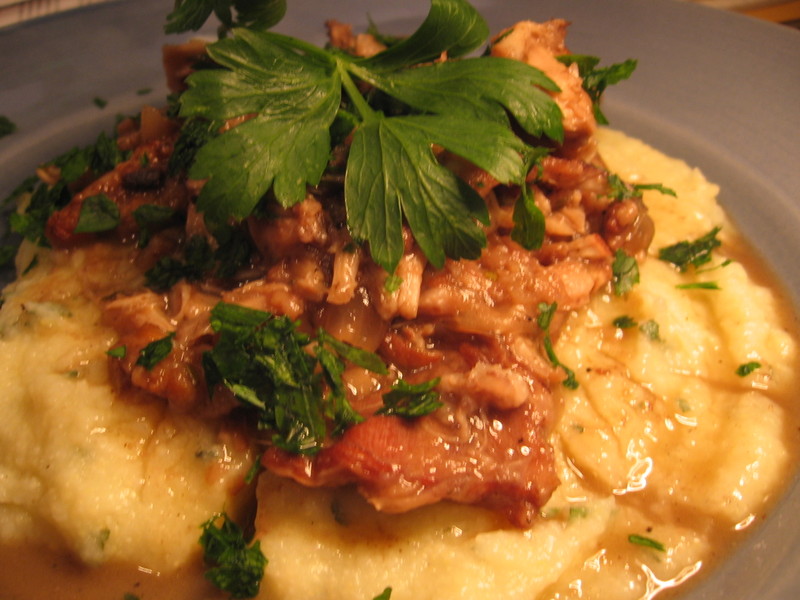 We're almost done.  My girlfriend, Elin, had been working on a equally lovely fruit dessert made with the unexpected ingredient olive oil, adapted from Epicurious.com .
2 pink grapefruit
1/2 a melon (we used a canary melon)
1 1/2 tablespoons extra-virgin olive oil
10 ounces seedless grapes, stems removed
1 teaspoon honey
2 handfuls of raspberries
12 mint leaves, finely shredded
1 cup thick plain yogurt (we used Greek yogurt to cut the sweetness).
The grapes were blistered in the olive oil over high heat, the grapefruit juice was added then evaporated, and after she stirred in honey, bringing to a boil.  The grapes were allowed to cool, and then the recipe is ready.  We found a very interesting, bright yellow melon at the market, a "canary melon," which was firmer than honeydew and also just slightly sweeter.  You mixed in the mint leaves with the yogurt, toss the fruit together in a bowl, and dollop the yogurt on top.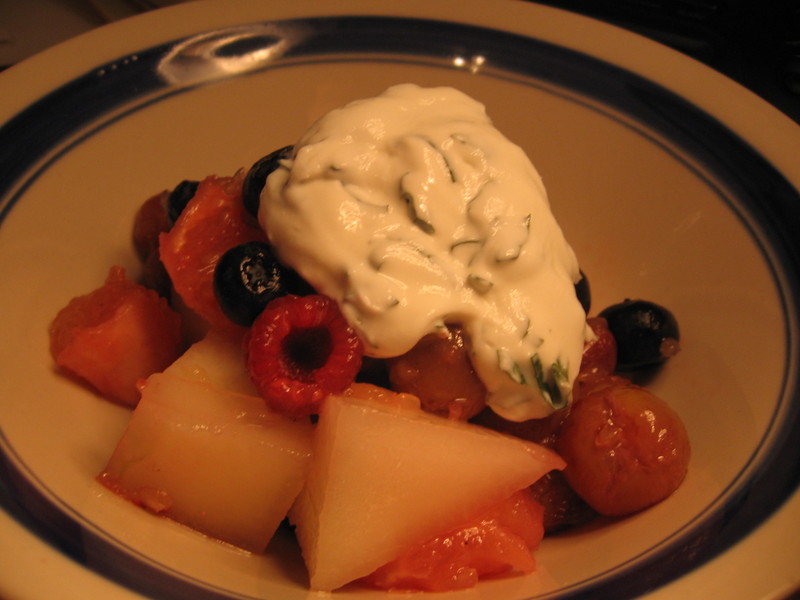 A wonderful summer dessert, the sweetness cut slightly by the yogurt, the olive oil bringing a richness to the flavors.  Everyone was absolutely stuffed, so we popped in La Dolce Vita and half of us promptly fell asleep.
Mozzarella,
Pasta,
Polenta,
Rabbit,
Rabbit,
Red Wine,
Tomatoes,
Wine,
Zucchini