A summer alternative with grated apple and almonds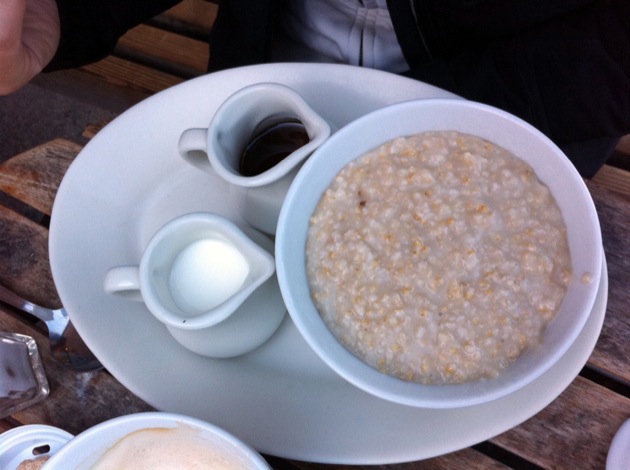 Oatmeal at Cafe Fanny in Berkeley
I think I've always loved the idea of oatmeal for breakfast: it's simple to make, it sticks to your ribs until lunch, and it's economical. I don't always put a lot of time into breakfast, or much thought, save the occasional calm morning of a slow-fried egg on toast or scrambled eggs with chives from the windowsill garden . Oatmeal seems like a good, honest solution. Though I've occasionally had some wonderful bowls of oatmeal in cafes, when it hasn't been gluey, and drizzled with just enough maple syrup and floated with a cream, I've never developed an oatmeal habit. It struck me a few weeks ago when I was in San Francisco, and had what could only be considered a transcendant bowl at an Alice Waters place called Cafe Fanny in Berkeley.
This was Platonic Ideal stuff, the best an oatmeal lover could ask for, each grain its own distinct pearl of flavor, the entire bowl just creamy enough. But all I could think about was a line from one of my favorite comedians, Mitch Hedburg, describing the importance of starting out a comic routine strong and finishing just as well. " ** You can't be like pancakes: all exciting at first, but by the end you're f*ing sick of 'em. "
Obviously, the instant stuff sucks, and though I've read about steel cut oats cooked a dozen ways (in rice cookers, slow cookers, and quickly over high heat morning-of, etc.), I've never been convinced that the hassle is worth it. Maybe you could convince me? Do you have the best way to prepare oatmeal?
In the meantime, I've been obsessed with a recipe that asks the question: But what about if you don't cook it? I found the recipe on Active.com , where it was billed as a great workout recovery meal after exercising. It's based on a creamy concoction of yogurt and milk, with uncooked oats added to it along with grated apple. A healthy mix of carbohydrates and protein, this is actually a pretty good way to start the day. If you haven't fallen for Nick's " salad for breakfast " philosophy, here's another approach to the first meal of the day.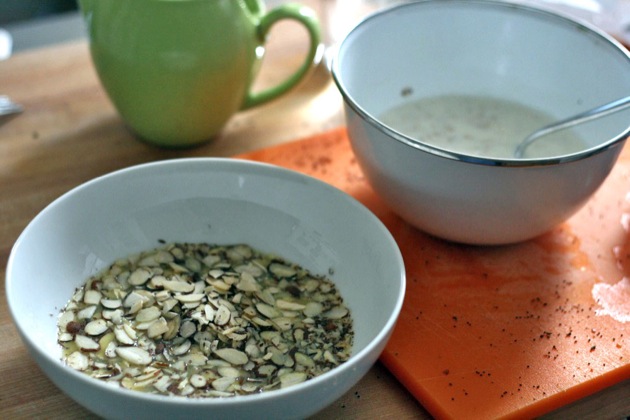 Making this is a matter of mixing the ingredients together in bowl -- yogurt, milk, honey, vanilla extract, grated apple, and almonds all play a role -- and then eating it cold. Just as much as I hate it when oatmeal gets gluey, I love this: smooth, crunchy, and refreshing. Though it's best eaten fresh, I've also made a full recipe and eaten it for breakfast or as a snack throughout the week.
Cold Oatmeal with Grated Apple and Almonds
2/3 cup uncooked rolled oats
2/3 cup 2% milk
2/3 cup nonfat plain yogurt
2 teaspoons pure vanilla extract
1 cup orange juice
2/3 cup chopped almonds
2 tablespoon honey, or more to taste
1 1/2 cups peeled and grated red apples
3 cups mixed berries (fresh or frozen)
1. In a large bowl, combine oats, milk, yogurt and vanilla. Let sit for 5 minutes to soften oats.
2. In a small bowl, combine orange juice, chopped nuts and honey. Grate apple and immediately add to orange juice mixture. Add remaining berries. Stir into yogurt mixture and mix well. Serve chilled.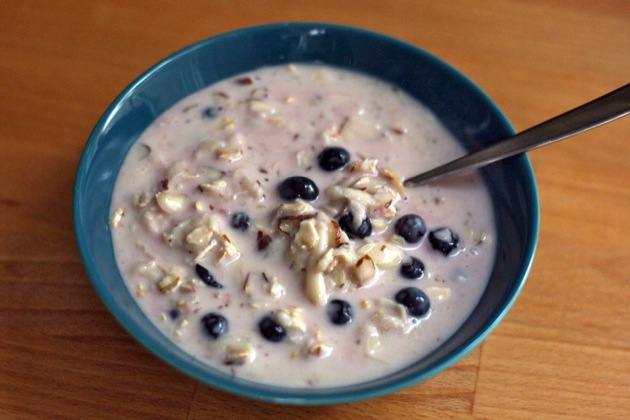 Makes 8 (1-cup) servings
Food,
Vegetarian,
American,
Breakfast,
Breakfast,
Breakfast,
Breakfast foods,
Cafe Fanny,
Cereals,
Food and drink,
Grains,
Mitch Hedburg,
Oat,
Oatmeal,
Oatmeal,
Pancakes,
Rolled oats,
San Francisco,
Staple foods,
Steel-cut oats,
Breakfast