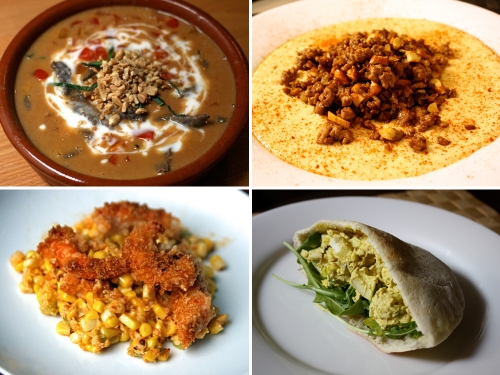 Our weekly roundup of what the two of us have written over on Serious Eats.
"Dinner Tonight"Column
QUICK MEALS TO YOUR TABLE FIVE DAYS A WEEK.
Hummus with Ground Lamb and Almonds
The hummus here is a perfect match for lamb, which is mixed with cinnamon, almonds, and a final sprinkling of smoked paprika. Each bite is tangy, rich, and gorgeously perfumed thanks to the spices.
Crisp Chipotle Shrimp with Corn and Scallions
This one is a little bit Mexican (the chipotle), a little bit French (the gratin-style cooking), and little bit Japanese (the panko-coated shrimp).
Sliced Steak with Roasted Corn Salsa
This is a perfect way to celebrate the season. The steak is just there to help bulk things out. The salsa is the best part.
Panang Beef Curry
The result, if you have all the ingredients on hand, is ready in less than ten minutes—one of the quickest ways to make a very flavorful dinner.
Curried Egg Salad with Arugula and Pistachios
The recipe is basically just chopped-up hard boiled eggs, mayonnaise, and curry powder, but it has a few elements that make it a tad more interesting.
Serious Eats Roundup