Tweaking the classic Chicago hot dog (aka The Superdawg)
Though it pains me to say this, the Chicago hot dog has one little flaw. It's not always an issue, but it's there just the same. Most of the seven toppings which make up a proper Chicago-style Hot Dog can be had at any time: mustard and relish are condiments, celery salt is a seasoning, the sport peppers and pickle come from a jar, and onions can be freshly cut up at any time of the year. No...the flaw is that damned red tomato.
When summer is in swing, that sweet-tangy tomato perfectly caps off each bite. It cannot fail. It's just that tomatoes taste better in season, so for six months of the year they taste mealy and bland .
I'm not the first person to recognize this. The classic Depression Dog in Chicago always forgets about tomatoes, and it somehow works. But the solution I'm interested in has to do with a place in Chicago called Superdawg : The excellent drive-in dishes out a full Chicago dog complete with all the trimmings, with one change.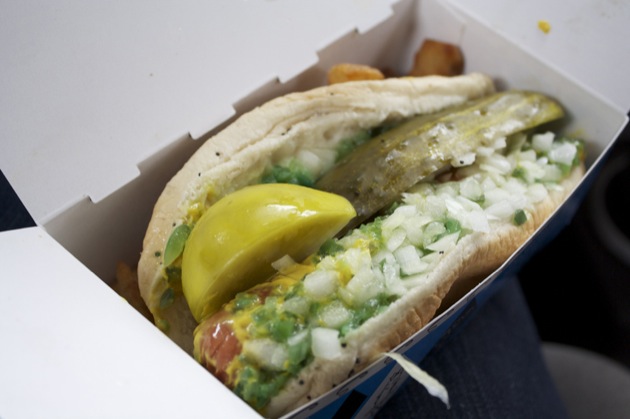 A look inside the Superdawg box.
Instead of a bright red tomato, they use a pickled green one. It sounds ludicrous. Yet somehow it really, really works.
So with the help of Michael Symon, I stumbled on a pickled green tomato recipe uses a flavorful brine that's boiled up in less than five minutes. Stuff the green tomatoes in a jar, pour the brine on top, screw on the lids, and place in the fridge. In a few days you'll have perfect crisp and acidic green tomatoes. They can also last up to a month.
And so, the homemade Superdawg was born.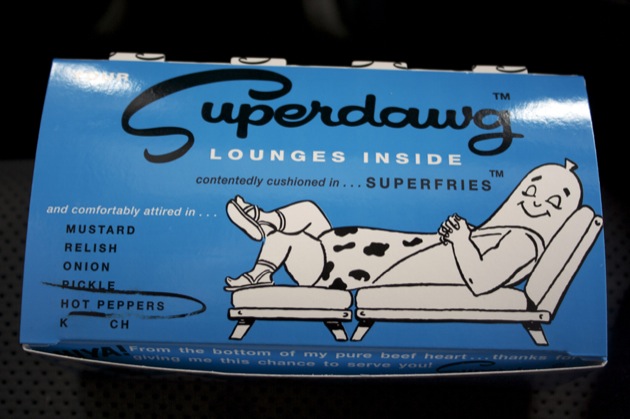 Such a beautiful thing...
The idea struck recently when I somehow ended up with a bag of green tomatoes from one of my wife's coworkers. Though I love fried tomatoes as much as anyone ( especially fried green tomato BLTs ), I needed to figure out a way to convert these into something that I could have around for while.
It's way too easy. The recipe is from Michael Symon's Live to Cook , and like I said, it takes almost not time at all.
They are a great addition to salads and with other grilled meats. But I'm not sure if they've ever found a better home than saddled up with a Chicago hot dog. It's a match I'd like to see more stands in the city emulate.
Pickled Green Tomatoes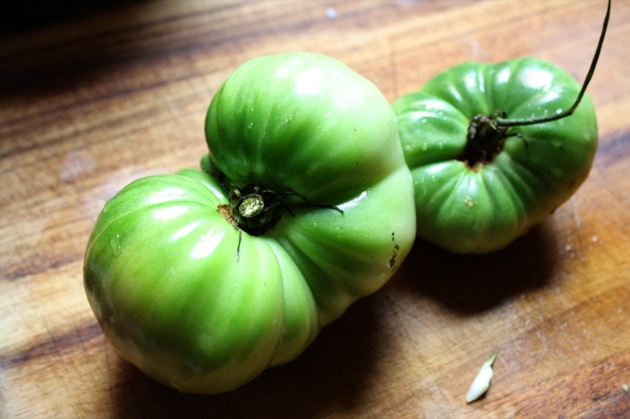 Adapted from Michael Symon's Live to Cook
2 bay leaves
2 tablespoons coriander seeds
2 tablespoons cumin seeds
1 cinnamon stick
1 teaspoon cloves
1 teaspoon ground mace
2 tablespoons black peppercorns
5 garlic cloves
4 cups cider vinegar
1/4 cup honey
2 tablespoons kosher salt
2 pounds green tomatoes, stems removed
First off, for those following along in Symon's excellent book, I made a few slight changes. Because I wanted to add these to a hot dog, I decided to remove the chiles from the original recipe. I'm sure they are delicious, but I figured it'd clash with the hot dog. I also cut them into wedges.
Add the bay leaves coriander, cumin, cinnamon, cloves, mace, black peppercorns, garlic, vinegar, honey, salt, and 1/2 cup of water to a medium-sized sauce pan. Turn the heat to high and bring to a boil. Cook for 3 minutes. Then turn off the heat and set aside.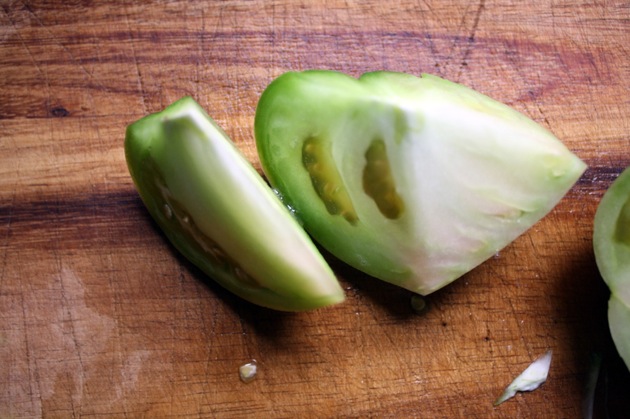 Slice each green tomato into eight wedges.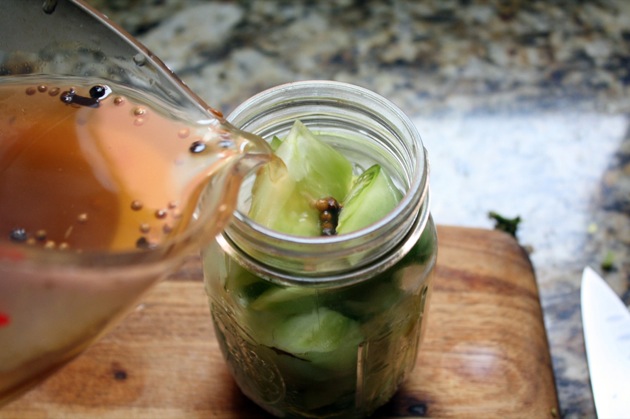 Place in a sterilized jars. Pour the brine on top.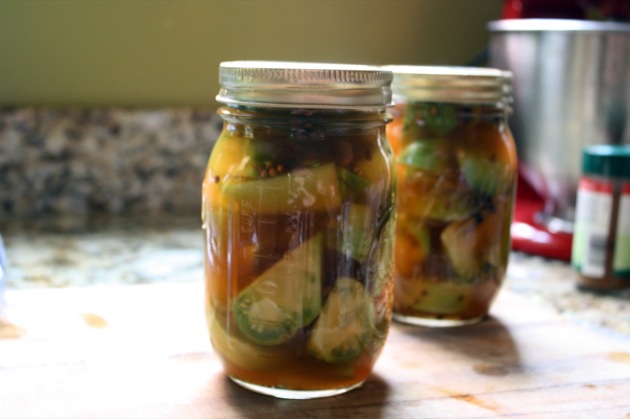 Screw on the lids and stash in the fridge for up to a month. They'll be delicious after three or four days.
The Superdawg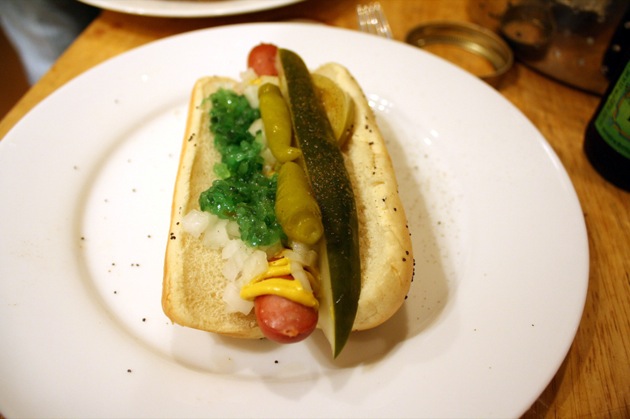 hot dog (I used a natural casing Vienna Beef dog)
poppy seed hot dog bun
yellow mustard
relish
chopped white onion
pickled green tomato
dill pickle
sport peppers
celery salt
Follow this handy guide , replacing the red tomato for the freshly made green tomato. Devour.
Food,
Canning-Preserving,
Main Course,
American,
American cuisine,
Beef,
Chicago,
Chicago Hot Dogs,
Chicago-style hot dog,
Cuisine,
Food and drink,
Food preservation,
Hot Dogs,
Hot dogs,
Michael Symon,
Pickled cucumber,
Pickled Green Tomatoes,
Pickling,
Pickling,
Pickling,
Tomato,
Vegetables