Adventures with buttered toast, ripe tomatoes, and Duke's mayonnaise.
Most people return from the beach with tans; I returned with tomatoes. It was a half-bushel, to be exact, and they were stashed in the back of a car as it wound its way from North Carolina, through the Great Smoky Mountains, and, some 16 hours later, finally to Chicago. Why such extravagant measures for tomatoes?
When it comes to tomatoes, I don't suffer fools, and I simply can't accept sub-par specimens. I shun fresh ones except for a brief three-month span when they are really worth eating. They still aren't ready in the Midwest, but in the North Carolina they were absolutely perfect, and when I finally got to lunch on immaculately ripe red ones for a whole week, how could I possibly stop? I needed a good stash to help me bridge that gap.
Besides knowing that I had to have the tomatoes, I didn't actually have a recipe to use all them, and great tomatoes don't like to sit around on counters for long, as they like to bruise and turn to mush. I needed a plan. I tried all kinds of dishes, including BLTs, salads, tomato sauce, and the like. Along the way I managed to find my new favorite use for tomatoes: the tomato sandwich.
The general consensus is that the BLT is the ideal sandwich showcase for the freshest, in-season tomato. I have nothing against a BLT. In fact, for the past few years I've explored the many variations of the BLT: two years ago it was the fried green tomato BLT ; last year was the BLT with avocado and shrimp ; and a week ago, I even took a page from In-N-Out and attempted a BLT Animal-Style . But a new sandwich has surpassed it in my mind.
Saveur Magazine refers to it as the tomato sandwich , but it's more like a toast, mayonnaise, butter, and tomato sandwich. After I had written most of this article, I realized Kenji from Serious Eats had also fallen under its spell.
That said, this version differs from the Serious Eats-approved one in exactly two ways: First, like all good toast, each side is buttered; second, I used a prepared mayonnaise. We'll get to the first item later on, but let me explain my mayonnaise preference.
We all have that one food product that we love despite overwhelming evidence that it is inferior in some way to the real thing. Whether it's boxed macaroni and cheese, salad dressing, or even sriracha, I bet we all have one. I know I do. It's called mayonnaise, and I like it best from the jar.
Sure, homemade mayo is elegant, easy, and a basic of all seriously focused culinary minds. I just don't love it the way I love Hellman's. But I found out something very important about myself last week at the beach: It turns out I don't love Hellman's more than regular mayo, I apparently love most jarred mayonnaise in general.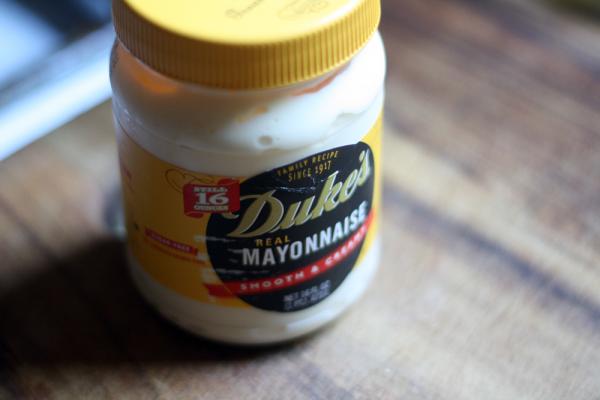 Here is Duke's Mayonnaise. The southern product seems to have little more vinegar tang than Hellmann's and also doesn't contain any sugar. (And yes, I did just take a spoon and sample a little bit of each. I told you I love jarred mayonnaise.) It is perfect for tomato sandwiches.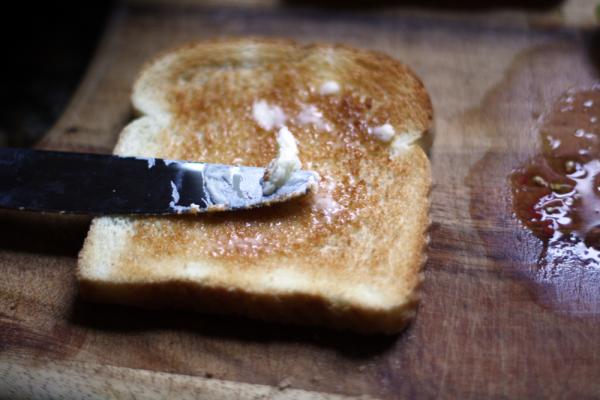 Now, let's talk about the butter. Adding a nice spread of fat to both sides of bread might seem like a ridiculous thing to do, especially when you're about to spread mayonnaise on two of those sides, but it's the final bit of decadence that pushes this sandwich over the edge into the ridiculous category. It is unhinged and unwieldly. Bacon wished it could be so out of control. This is a summer sandwich like no other.
The Tomato Sandwich
adapted from Saveur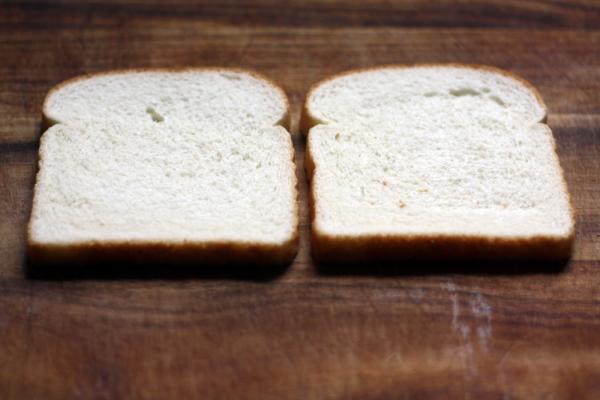 1 very ripe tomato, stem removed, cut into thick slices
2 slices of bread
softened butter
mayonnaise
kosher salt
black pepper
pinch of sugar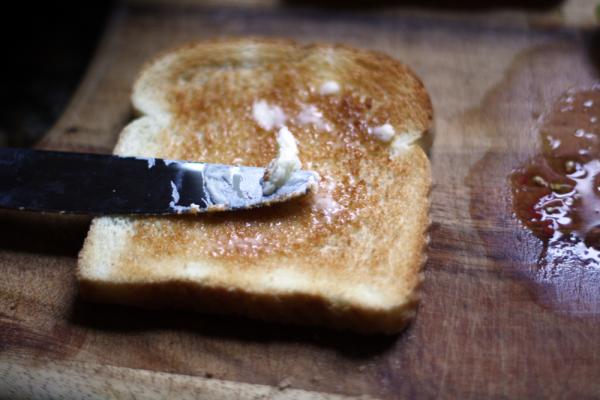 Toast the bread. When done, slather both sides of each slice with butter.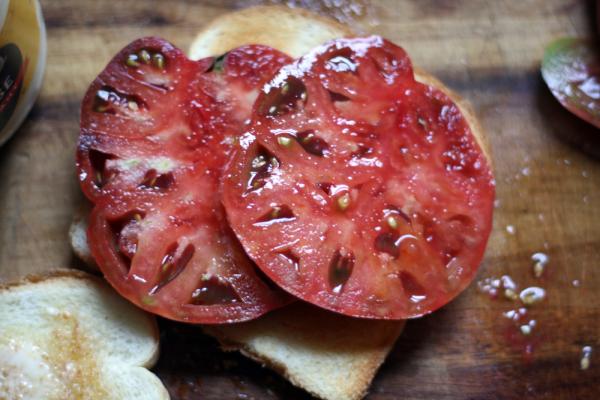 Spread one side of each with mayonnaise. Top with two or three slices of tomatoes. Season with salt and pepper, along with a small pinch of sugar. Top with the remaining slice of toast, mayonnaise-side down.
Slice in half and serve immediately.
Food,
American,
Bacon,
BLT sandwich,
Breakfast foods,
British cuisine,
Chicago,
Diner lingo,
Food and drink,
Fruit,
Mayonnaise,
North Carolina,
Open sandwich,
Sandwich,
Sandwiches,
Summertime,
Tomato