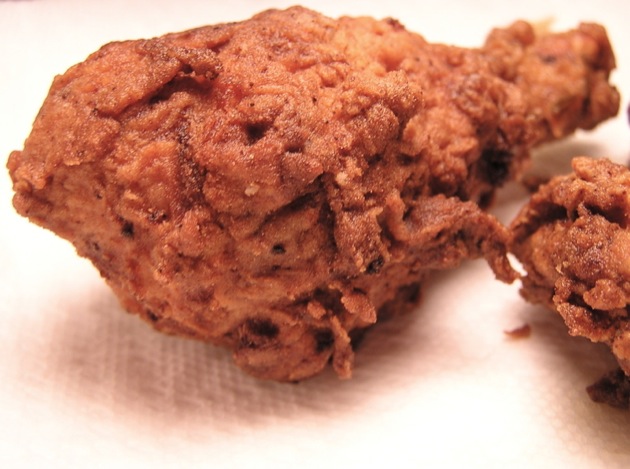 I am not sure where these urges come from, but last week I just had to have fried chicken.  For no obvious reason, I dreamt of perfectly crunchy batter and moist meat.  This was all quite odd.  I've got enough roast chickens stuck in my head around to keep me occupied for months.  But fried chicken?  I can't even remember the last piece of fried chicken I'd ever had.
Instead of heading over to the local fast food joint for a quick fix, I bought a whole bunch of oil and decided to do it myself.  This might sound rather unremarkable.  Fried chicken seems like the easiest thing in the world: bread the chicken and fry it in oil.  But there are numerous techniques, as far reaching and complex as many of the roast chicken recipes we regularly indulge in.  Nearly every fried chicken recipe I looked at had the chicken soaking in some liquid before it ever hit the oil.  But they differed on whether that was buttermilk, or a simple brine.  Should I use corn meal or flour?  Should I double dredge the chicken?
And then there was the question of health.  I can't even remember the last time I had fried chicken, because, whether it is true or not, I consider it unhealthy.   I probably eat a multitude of different meals that are worse for me, and I have no problem eating duck confit, which fries the meat in large amounts of duck fat.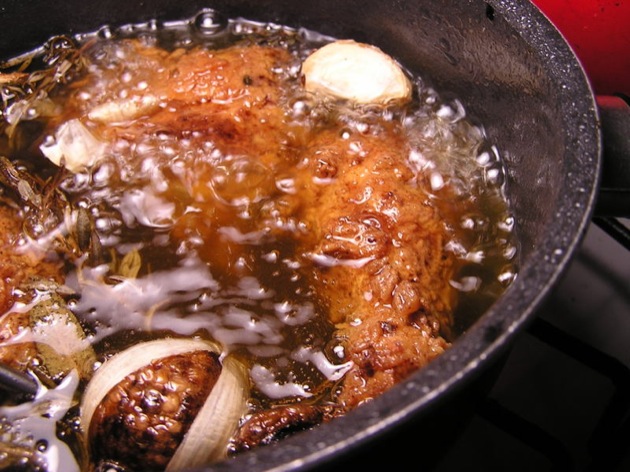 I began to realize I was wrong a few months ago when I was watching TV (I think it was CSPAN.  Yes, CSPAN.). Michael Pollan was the featured speaker talking about his In Defense of Food .  During the Q&A session someone asked him how something deep-fried could be part of a traditional healthy diet - I think he was talking about french fries.  He answered that most traditional fried food is difficult to prepare at home and would only be eaten on occasion.  If eaten only rarely, then eating deep-fried, batter-bound dishes were okay, especially if they were tasty.
I still had concerns.  There are the obvious hazards and safety concerns, but what gets me is the waste.  It takes a lot of oil to fry something, and though there may be ingenious ways of reusing oil, I just don't usually take the time to do them.  Also, it's expensive.  Especially if I use peanut oil, which nearly every fried chicken recipe writer believes.  It costs way more than Canola, and you need a lot of it.
But the urge was still there.  So I just needed a place to start.
That's when I remembered Tyler Florence's fried chicken recipe in My Last Supper .  The book asks some of the best chefs around one simple question: If you could have one last meal before you died what would it be?  Tyler Florence picked fried chicken, and in the back was the full recipe.  This was the one meal he would (theoretically) want before he facing the firing squad.  I figured it would be a great place to start.
His method starts with a brine, uses flour, and double dredges every piece.   What really sold me, though, were the amount of fresh herbs. He adds rosemary, sage, bay leaves, and thyme to the oil to infuse the fried chicken with even more flavor.  I was intrigued.
It wasn't the ultimate fried chicken, but it was tasty.  Tyler's cooking times seemed a little excessive, and, indeed, it got a little too close to burned.  I was hoping for a little more golden brown.  I cut the cooking time for the second batch of chicken from 20 minutes to 17. But I still think there is time to shave off.
The most surprising aspect of the dish is that even though it had a whole slew of seasonings and lots of fresh herbs, it didn't seem to be that well-flavored.  It just felt like a regular flour based batter that had been fried.  I was kind of disappointed.  I had spent all this time on this dish, bought loads of oil, and then ended up with a passable rendition.
But the flavor changed dramatically as it cooled.  All those spices and herbs finally poked their hands up and the chicken took on a lovely, complex flavor.  A final squeeze of lemon juice at the end added some much needed balance.
There are definitely things I'd change, but at least now I'm thinking about it.  Hopefully I don't get too into this and start frying chickens on a weekly basis.
Tyler Florence's Fried Chicken
Serves 4
1 chicken, cut into 10 pieces
quart water
1 tablespoon salt
Wet Ingredients:
2 cups buttermilk
2 tablespoons hot chili sauce
Dry Ingredients:
3 cups flour
2 tablespoons garlic powder
2 tablespoons onion powder
2 tablespoons paprika
2 teaspoons cayenne
salt and pepper
Frying Ingredients:
peanut oil
fresh thyme
fresh rosemary
fresh sage
2 bay leaves
1/2 head garlic
Garnish:
Cut the chicken into the serving pieces.  You'll end up with a pair of the drumstick, thigh, and breast, and then the four wing pieces.  In a large bowl, pour in the quart of water and sprinkle in the tablespoon of salt.   Stir until combined, and then add the chicken pieces.  Refrigerate for at least 2 hours.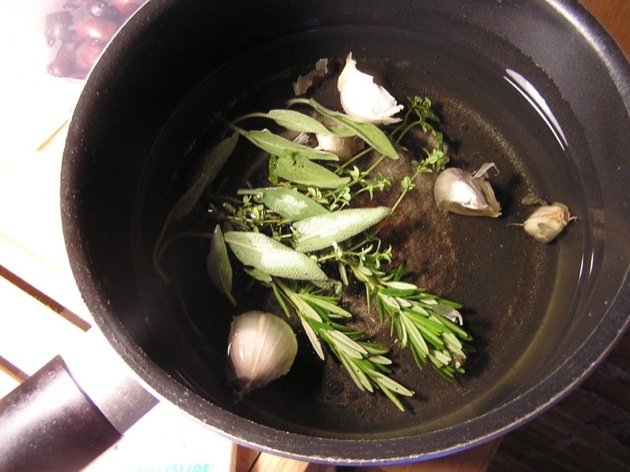 Pour enough peanut oil into a large pot to come halfway up the sides.   Add the garlic, rosemary, thyme, sage, and bay leaves.  Turn the heat to medium and warm until it registers 350 degrees.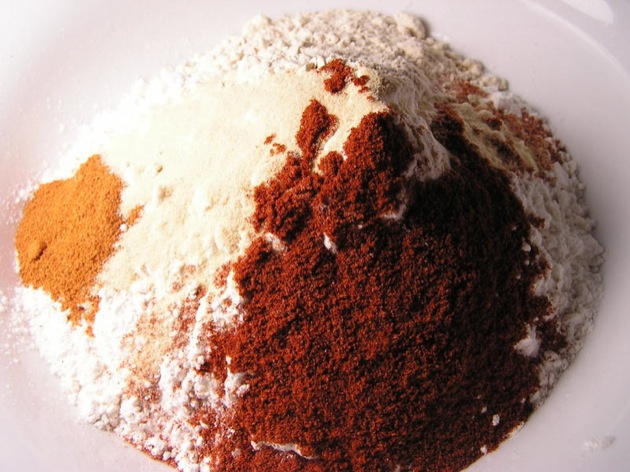 Meanwhile, mix together the flour, garlic powder, onion powder, paprika, and cayenne in a large bowl.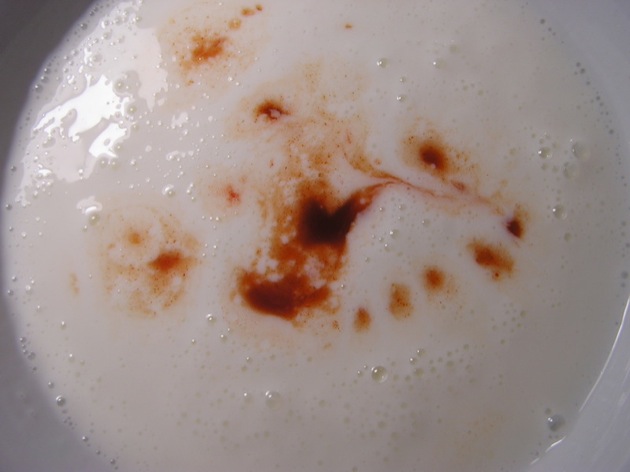 In another large bowl, mix together the buttermilk and hot sauce.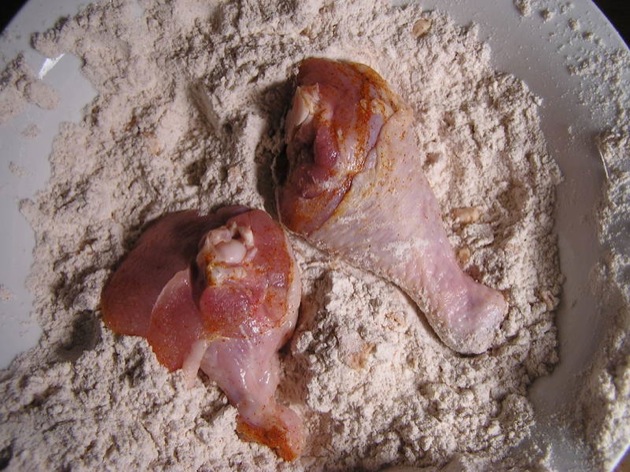 Remove the chicken from the brine and pat dry.  In batches, toss the chicken into the flour mixture.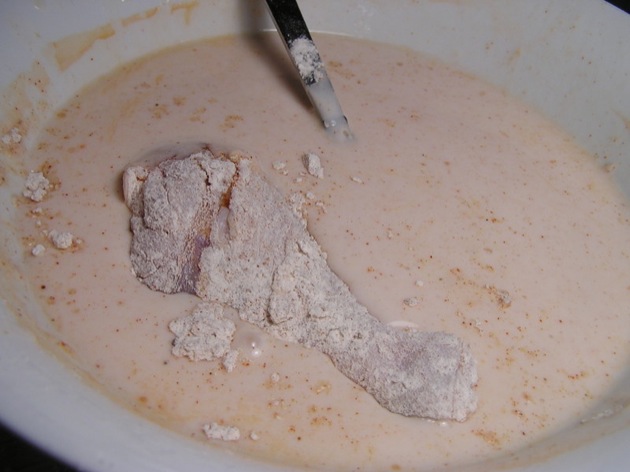 Then carefully transfer the pieces to the buttermilk mixture.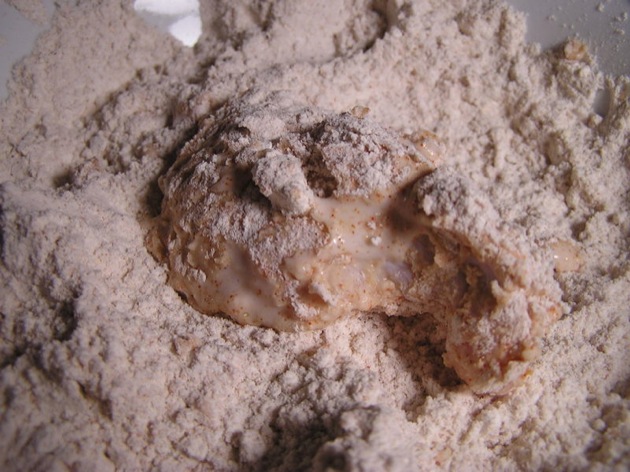 And then finally, back into the flour.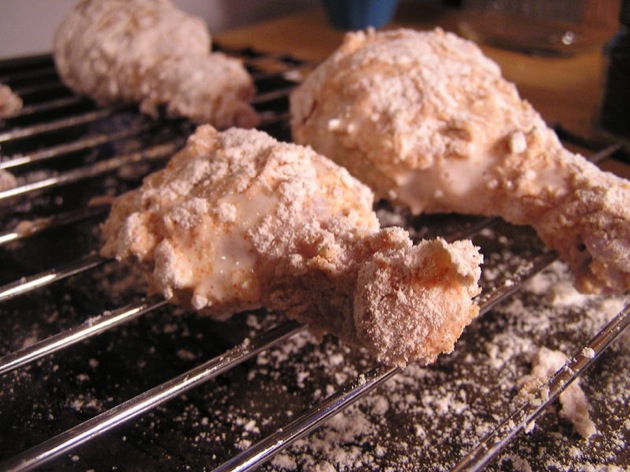 Place the finished pieces on a wire wrack, and repeat the dredging process with the other pieces.  It's kind of a messy process, but loads of fun.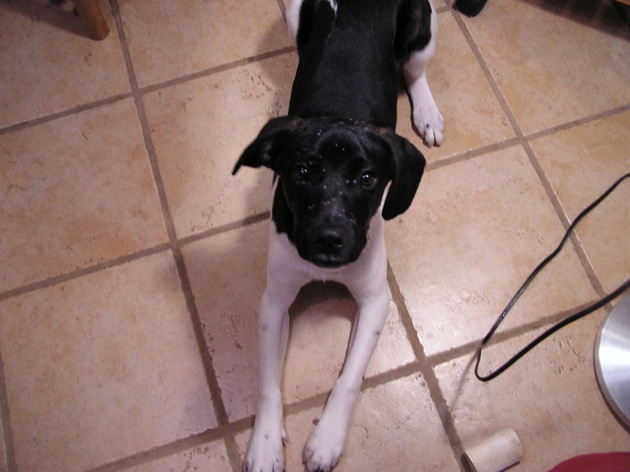 My dog loved it.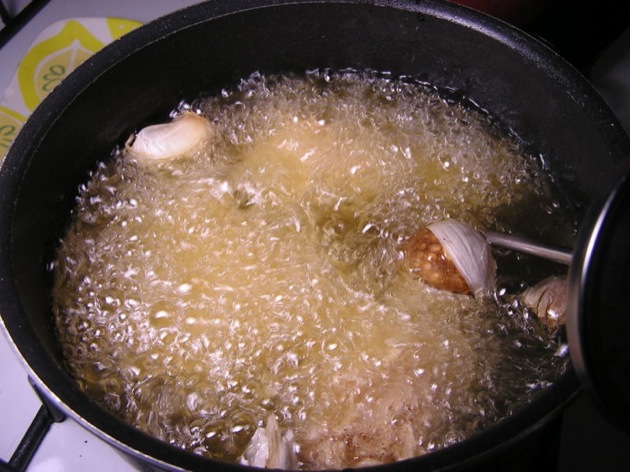 When the oil is nice and hot, add a few of the chicken pieces.  I could only fry a three pieces at a time.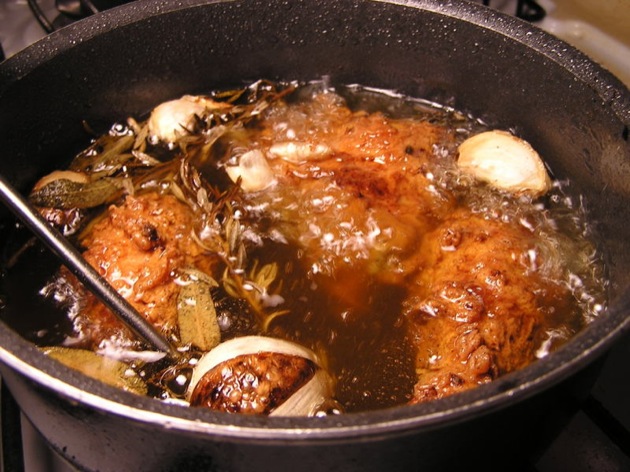 Cook for 20 minutes, turning halfway through.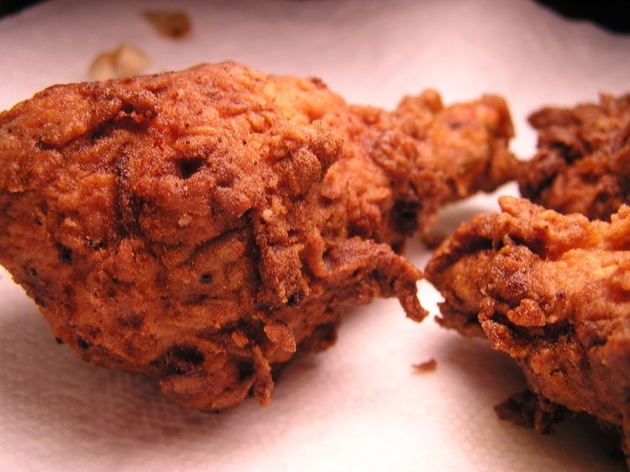 If at all possible, let cool before eating.  And garnish with some lemon.  They really add a great balance to the dish.
I still think they cooked for a little too long, but that could just be me.
Buttermilk,
Chicken,
Chicken,
Fried Chicken,
My Last Supper,
Tyler Florence