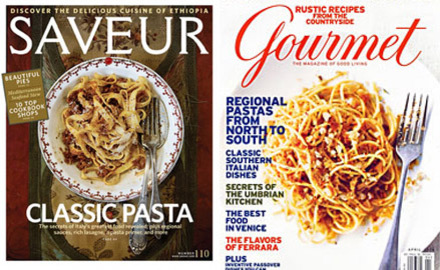 Recently I was talking to a friend about food magazines, who figured I would know of some good ones. I offered the obvious choices— Gourmet, Saveur, Bon Appetit —but she quickly stopped me.  "I've read those," she said.  "They don't really do much for me."
I asked her why, and the conversation ended up being about how bored this person was by the big, storied food magazines that we're all familiar with--apparently, they just aren't edgy enough for her. Sure, occasionally they publish something interesting, and they're entertaining to flip through, but they lack a certain inquisitive charm.
Gourmet and Saveur are excellent magazines in my opinion, and I subscribe to both (I haven't read much Bon Appetit , and I'd like to spend some time with Food & Wine )  I read Gourmet for its recipes, which often turn out well, and usually are relatively interesting and creative.  I learn a lot from reading it about cooking, and walk away with lots of new ideas.  Once in awhile an issue really sings, like their recent award-winning issue on Latino cuisine, which was filled with well-informed, interesting articles (including a piece by the fiction writer Junot Diaz on Dominican food in Upper Manhattan.  Sidenote: if you live in New York, eat at El Malecon at Broadway and 175th st. sometime soon; I think it's transcendent).  It was even bandied about as the best Gourmet issue ever.
Saveur I like even better that Gourmet .  I find the articles a little more substantive and informed.  Their recent piece about the difficulty in describing the taste of fish was wonderful, and this month's story by Nancy Harmon Jenkins about true Bolognese was so thorough and intriguing, I felt like flying to Italy immediately.  I read Saveur for its articles--yet strangely, I find that I often don't cook many of their recipes.
So I like both of those magazines. But they are all still the big outfits.  Sometimes I'm in the mood for something a little less well-known, more local, more quirky. The smaller more idiosyncratic ones, which are, at their best, more humble and interesting that what you get in the polished heavy-hitters.  They're may not all be as consistent a product, but that's sometimes even preferable: rough-around-the-edges can be charming.  Too much consistency and it feels like a brand rather than a passionate collection of writing which stimulates and inspires.
After the jump, I'll talk about the stack of food magazines which I gave to my friend to peruse. I should say that I'm not going to mention Cook's Illustrated --I like them, and though I don't always agree with the results of their testing and tasting, they are unflaggingly inquisitive and passionate about food.  But I found I never really took their advice on much, and hardly ever cooked a recipe.
What obscure food-related magazines do you read?  Or would you make a case for one of the larger outfits?  Leave a comment!

Gastronomica is a fancy academic/literary journal about food, food culture, and food history.  It's edited by an academic, and many of the people who publish in it have Phds and teach at universities. The articles often take some aspect of food--a dish, a cuisine, a bit of history--as a lens to explore other things.  A recent issue featured a long, critical theory piece about aesthetics and American food television; it also featured "Reflections on Stuffed Cabbage."   I've read a short memoirish tale about some vegetarian guy who went to France and decided to eat meat for a week, and analysis of the caterer for the Third Reich.
I buy Gastronomica when something in it catches my eye, but I'm not a subscriber--it's a very expensive publication at $12/pop.  I love that there is an academic journal about food, and that it is taken seriously.  I want there to be respect for culinary history as a field worthy of deep thinking, research, and contemplation.  Gastronomica attempts this, which is exciting.  Some of the articles are cool, some of what they publish is lost on me, but I have a lot of respect for what they're doing.

These little magazines are all over the country, under an umbrella organization called " Edible Communities ."  Each edition is manned by local editors and writers who seek out interesting topics on food, cooking, restaurant-going, and other culinary interests. Edible Brooklyn , edited by Gabrielle Langholtz, is excellent.  Their mission is to "celebrate the borough's diverse food and delicious culture," and they do so by highlighting Brooklyn's increasingly interesting food scene--not just its unpretentious restaurants, but also stories about local ricotta-makers who learned their craft in Italy, about old men who still deliver seltzer to the borough's residents in the same decades-old bottles, about the emerging "underground restaurant" scene unfolding in Brooklyn living rooms across the borough.  I suppose my only criticism is to say that it all sometimes feels scattered, and there isn't necessarily a good consistent voice throughout--but this is easily passed over in light of the genuine enthusiasm that permeates its pages.  And best of all?  It's free.
Diner's Journal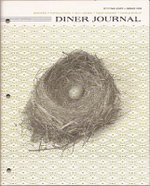 This slim little quarterly is put out by the people at Diner/Marlow & Sons/Bonita , the Williamsburg restaurant group.  I first heard about it from Tom Mylan, a.k.a. Grocery Guy , who frequently writes for them when he's not cutting up Berkshire hogs as in-house butcher.  At $7.50 each, they're steep, and for just a dozen or so pages.  But it's undeniably a beautiful little magazine, each issue creatively designed very differently from the last, and they pack in a lot of recipes.  The articles vary in quality but are more often than not interesting.  It is definitely the polar opposite to something like Gourmet , which is polished and corporate in comparison; Diner's Journal is roughly-hewn, plenty hipster-ish, rooting for the rock star angle of eating and cooking.  Thankfully, it's also sincere and informed.  I enjoy every issue and always buy it right when it comes out--though you can also subscribe.  The wonderful McNally Robinson bookstore in Soho always stocks it (they also stock Gastronomica).
The Art of Eating
---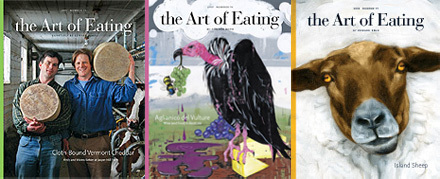 J.R. Norton, writing on Salon.com , described The Art of Eating thusly : "If Bon Appétit is the food media's Newsweek and Saveur is the Economist , then the Art of Eating is the New York Review of Books : sometimes impenetrable, often spellbinding, and never, ever reductive."  I heard about this magazine through Derek over at An Obsession with Food , who admired it before eventually writing for it.  It sounded like a dream come true.  I've only read one issue since subscribing late last year, so it's hard for me to judge very well--but from what I have read, the grandiose comparison to NYRB isn't far off the mark.
The magazine is edited and published by Edward Behr, who founded it some 20 years ago, and who also regularly contributes substantial amounts of its content (his byline also appears under the title on the cover).  It is obsessively researched and dense, beautifully typeset, possessing an urbane, almost New Yorker -ish style, with articles sometimes stretching to over 10,000 words.  And this is not 10,000 words about wine in Italy, or even wine in Tuscany; it's 10,000 words about Aglianico del Vulture (sometimes called the Barolo of the South), taking time to explore the region, its history, its players, its corresponding food, bits of philosophy--and of course, many of its wine-makers.  It quickly becomes the definitive work.  In other words, the subject has been thoroughly outed once Behr is gracefully through with it.  Beyond this, each issue features book and restaurant reviews, plus smaller articles exploring topics from how to butcher a rabbit to an examination of a type of prune in southwest France.
To put it mildly, this is the work of a highly personal, obsessive taste: whatever consumes Edward Behr and other contributors is what will appear in the magazine.  There's no "10 minute mains" section every month for those seeking quick dinners, like in Gourmet .  The articles are not travel-porn pieces about the food in some far-off land, distant but beautiful.  There are no color photographs, in fact. But there are a lot of densely researched, smart, curious articles.  It reminds you that food can be a subject worth thinking deeply about.
Unfortunately, no one I know of sells The Art of Eating ; you have to subscribe.  It's pricey, but not gouging, and, so far, it's the most interesting food magazine I've read, so I highly recommend it.  Actually, my second issue should be arriving any day now, and I've been checking my mailbox religiously.
Diner's Journal,
Edible Brooklyn,
Food Magazines,
Gastronomica,
The Art of Eating,
Uncategorized