Raw, Baked, and Coconut-Grilled
Kale sounds like a boring health food, but if you cook it well it's delicious. It's just that most recipes are too predictable: greens + fat + aromatics + acid.  Kale is a lot more versatile than people give it credit for.
Sure, you can plug in different combinations (kale, olive oil, garlic, and lemon juice is pretty common) and a pinch of red chile flakes is also welcome. Sherry vinegar is especially good, too, and the greens can be replaced by chard, mustard greens, beet greens, you name it. Procedure is to wash the kale, leaving plenty of water clinging to the leaves, heat the olive oil and simmer some sliced garlic (and chile flake if using) for a minute, then add the wet greens and cover until they're tender. They steam themselves then get tender. Finish with salt and acid and you've got my winter mainstay.
But it never hurts to approach it with new ideas.  Kale is a lot more versatile than people give it credit for.  I've been collecting new recipes, and here are three that stand out. Check them out...then let us know  your favorite way to cook it in the comments.
Raw Salad with Pine Nuts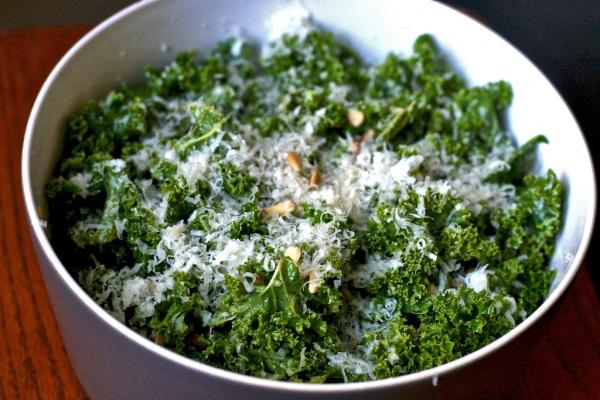 I learned about raw kale salad from my wife, who found it everywhere in Hawaii where it's apparently popular. A copy of Edible Hawaiian Islands came to the rescue with a recipe, which is reminiscent of how they tend to prepare it there: shred the kale into tiny pieces then toss with olive oil, lemon juice, pine nuts, and dried cranberries. It's finished with a ton of Parmesan after marinating for at least a few hours (which gives the ingredients time to break down the kale so it's less woody).
1 bunch kale, stems discarded, leaves torn up
1 cup freshly grated Parmigiano-Reggiano
1 cup dried sweetened cranberries
1 cup pine nuts, dry-toasted in a skillet until fragrant
juice and zest of 1 lemon (to taste)
salt and pepper (to taste)
Combine kale and lemon juice in a bowl and massage the juice into the leaves. Toss in remaining ingredients except Parmesan. Allow to marinate further, at least a couple hours. Stir in Parmesan before serving.
Kale Chips
Kale chips are probably the easiest preparation here, and the most surprising. They serve these at Cafe Spiaggia and I've seen lots of recipes. Basically, you take raw kale, drizzle with a bit of olive oil and flaky sea salt, then subject it to a hot oven for a few minutes. The water in the kale quickly steams off, leaving behind a crunchy, salty chip.
1 bunch kale, stems discarded, leaves roughly torn
olive oil
salt
Preheat oven to 300 degree Fahrenheit. Toss kale leaves in a bowl with olive oil and salt (not too much—just enough to lightly coat). Spread on a baking sheet and bake for 10-20 minutes, depending on the kind of kale used. They're done once crisp and dry.
Grilled Coconut Kale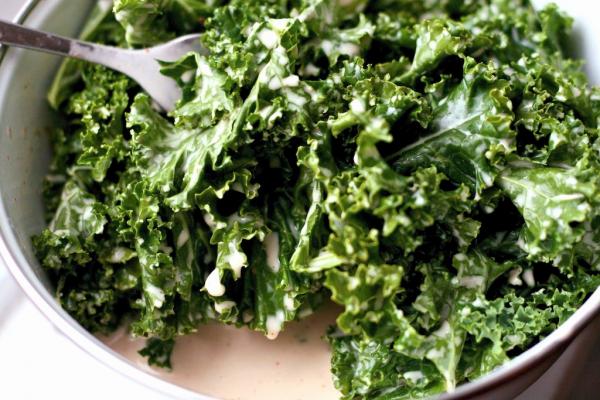 This recipe I found in the New York Times. First you tear the kale up, then dunk it in a marinade made out of coconut milk, cayenne, paprika, salt, and lemon juice. After a few hours it then hits the grill pan, where the sugars in the coconut caramelize all over the leaves, leaving it tender, nutty, and spicy from the cayenne. It's more of a side dish than something you really gobble up alone, since the flavors are intense.
1 bunch kale, ribs discarded, leaves cut into wide strips
1 13.5-ounce can coconut milk
1/2 teaspoon kosher salt
1/2 teaspoon ground cayenne, or more to taste
1/4 teaspon mild paprika
1 tablespoon freshly squeezed lemon juice
Adapted from New York Times .
Combine all ingredients except kale in a small saucepan. Heat until slightly warm and combined. Combine in a bowl with kale leaves, cover, and refrigerate for at least 4 hours. Remove, then grill on a very, very hot pre-heated grill pan until softened and sizzling.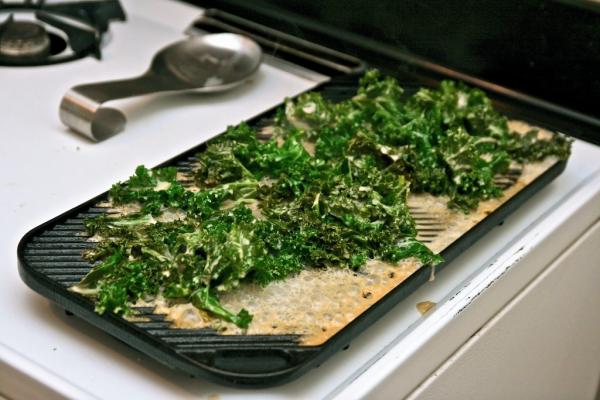 The only problem with this recipe?  It leaves you with quite the cleanup job.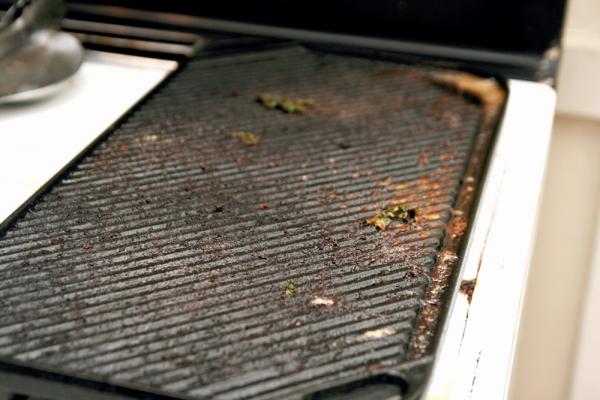 Food,
Vegetarian,
Side dish,
Chile,
food,
Hawaii,
Kale,
Kale,
Leaf vegetables,
oil,
Vegetables