Gourmet calls this the best tuna sandwich they've "ever tasted."
My copy of Gourmet Magazine arrives every month to a sneer and a laugh.  Talk of glorious trips to the ends of the earth, newly opened restaurants in Tokyo, and how to find that perfect $200 pasta maker, doesn't translate well into my cramped, cash-strapped life.  Yet, I read it every time.   Maybe it's my thirst for knowledge, or envy of having loads of disposable cash, but I nod approvingly to absurd roasts, delicate French sauces, and discussions of thousand dollar vintage wine.  Then I usually toss it back on the table and think of something real to cook. But when my eye crossed this tuna gem, I decided to gussy up and get absurdly opulent, albeit for this innocent bystander, the humble tuna sandwich. It wasn't that hard.  I do live four blocks from Park Avenue, and a sweet escape into the tree laden, fantasy land of the Upper East Side is a surprisingly easy 5 minute jaunt.  Finely strapped up in a nicely pressed shirt, I tromped along like I had any real business in the neighborhood, talking emphatically into my cellphone, motioning wildly with my hands. After crossing Madison and Park a half dozen times, I stopped for coffee at Sicaffe, on Lexington and 70th (right around the corner from where Woody Allen just bought his new $20 million plus townhouse), a modern coffee shop where they roast their own beans and make real frothy lattes, as opposed to most of the crap sold in paper cups around the city.  I reviewed the recipe, then popped into Grace's, the Zagat Rated grocery store on 3rd Avenue, for some fine bread.  I was feeling divine, but I had just blown through $12 for a coffee and a loaf of bread, so I decided to slum it for the tuna and head to Food Emporium.   Luckily, they had a decent selection of tuna packed in olive oil (apparently Gourmet finds tuna packed in water a little beneath them), and I was off to the produce store for the final buys. Needless to say, this was not a cheap tuna sandwich, and I savored every bite of it.  The creaminess of mayo is replaced by the bean spread, but it's the citrus of the lemon that gives the sandwich a refined flair. Gourmet calls this the best tuna sandwich they've "ever tasted."  I'm not sure if I can afford to make such a statement. - Nick Tuscan Tuna-and-Bean Sandwiches 1 can of cannelloni beans 2 garlic cloves 2 tablespoon fresh lemon juice 4 tablespoons olive oil 4 tablespoons parsley 2 cans of tuna in oil 1/4 cup of black olives 1 celery rib 2 tablespoons of red onion 8 slices of Italian bread 1 cup of watercress salt and pepper Adapted from Gourmet.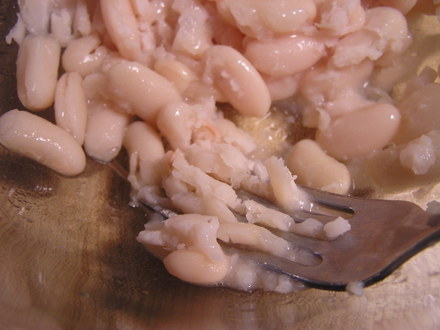 Empty the can of beans into a bowl and mash them up generally with a fork.  Don't make it too much of a paste, but then again don't think too much about it.  In fact, too much has been written about it already.
Finely chop the garlic and parsley and add them to the bowl.  Add 1 tablespoons of lemon juice.  Add some salt and pepper and roughly mix everything together.
Get out the tuna in oil and try and drain most of the oil off.  Place the tuna in a another bowl and flake it with a fork.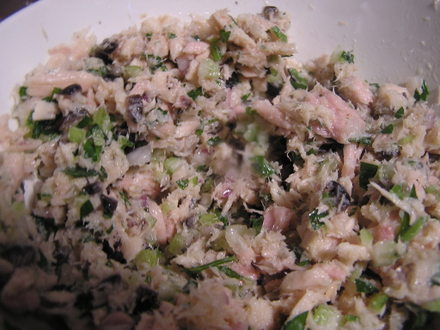 Mince the olives, celery, red onion more parsley, and dump it all in the bowl with the tuna.   Add 1 tablespoon of lemon juice and, once again, mix everything together. Now all that's left is to slice up some bread, pile on some watercress, and sit all nice and proper with a ridiculous sandwich worthy of whatever fine fantasies you can dream up.