1300 Crosby, Bronx, NY
We awoke promptly at 9.  We decided this time to eat some breakfast before we left, slumped down into the plastic bench, and buried our head in books, our ears stuffed with headphones.  The subway didn't emerge from the ground until halfway through our ride into the Bronx, and we couldn't see any traces of the large skyscrapers that grounded us to home.
Much like our trip to Queens, when we exited to the subway, we wiped our eyes and tried to acquaint ourselves to this new land.  It felt old, removed, and isolated from any other place we'd been in the city.  There were lots of happy  people, various diners eating breakfast inside glass windows, and tons of packed-in, normal-looking houses.  It was kind of amazing how dense everything was built, which reminded us we were in a city--but for all intents and purposes, it felt like a nice suburb out of the early 90s.
The walk down Crosby Ave. took over ten minutes, longer than anticipated, and it was quite a brisk day.  When we reached the corner where it was supposed to be, all we saw were houses.  When we looked closer, however, we realized that one of these split-levels was actually Louie and Ernie's.  We crossed the street to make sure the place was really open, but then some guy turned the corner and slipped in, so we picked up the pace and got inside the door.
The counter is directly in front of the door, a humble affair with the oven behind it, reaching distance away.  Connecting the two perpendicularly is a prep table with a bin of cheese and various pieces of dough.  We were greeted with the most enthusiastic "Hello!" we'd received yet in our search.  "Hiya doin' guys!  What can I do you for?"  We ordered four slices and started pulling out money.  "Forget it, guys!  Take a seat and it'll be out.  Drinks are behind you."
We sat amongst a group of policemen in a clean well-lit eating area that felt, well, exactly like a home.  A big window in back revealed an expansive sitting patio, which we plan on returning to in the summertime.  Beautiful light was coming in the window.  In no time our first two cheese slices came out, via a teenage girl presumably of the family, and she cautioned us that it was hot.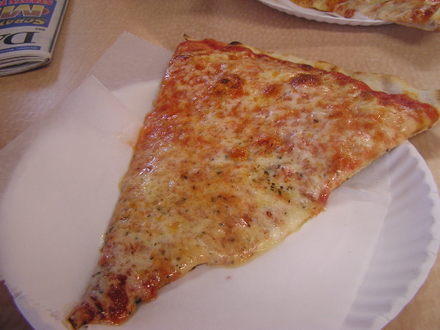 The slices were absolutely monstrous, by far the biggest of the slices we had sampled.  What we kept saying to each other was that this is possibly the most successful, straightforward New York-style slice (i.e. homogenous cheese layer and dried herbs, like Patsy's and not like Lombardi's or Nick's).  We got the sense that the cheese was a combination of fresh and aged mozzarella, aged on top browned in the oven, fresh underneath forming a creamy texture.  The crust was wonderfully thin and just chewy enough, the sauce a bit less sweet than Patsy's.
We both ordered a plain slice.  Nick got a white slice, which replaced the sauce with a slathering of ricotta.  It was creamy but not heavy.  Blake's second slice was an absurd affair, a piece of regular cheese with extravagant, grape-sized hunks of sausage thrown on top.  They kept falling off and overwhelmed it.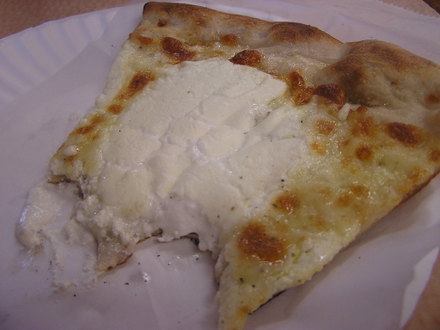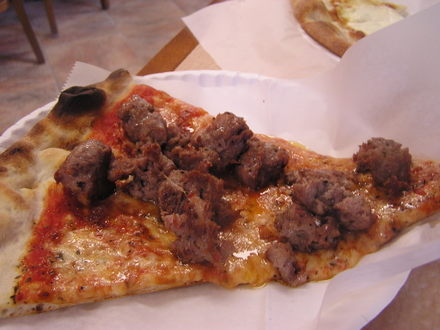 In all we were really impressed, and Blake votes this spot over Patsy's, though it's definite distance away disqualifies it from the casual craving.  The feel of the neighborhood and by extension this pizzeria is very friendly.  A group of friends on a weekend in warm weather, and you've got yourself a fantastic afternoon.  We highly recommend it.
Back to Brooklyn
We finished Louie & Ernie's early afternoon, and we were meeting some friends in Brooklyn who told us that they knew about the "fantastic, totally unknown" pizza place somewhere in Brooklyn that we'd get to by car.  Authentic, interesting, and a historic spot that "everyone had to go to."  We were a little tired of being dragged around the boroughs to questionable establishments.  We knew what we liked.  We knew where to get it.  But we took the subway from the end of the 6 train in the Bronx all the way to Borough Hall, Brooklyn and met up with them.
"So what's this place called?" we asked immediately.
"Um, I'm not really sure, but Stephen knows.  He's bringing the car over.  It's way out there, and this old Italian man has worked there every single hour the place has been open, and he makes every pizza, and--"
"It's called Di Fara's, isn't it."
"Oh yeah!  That's it!"
"Perfect."
And so we came full circle.  The pizza, once again, took over an hour, which this time was less of a novelty and more of a frustration.  And it was just as good as we remember it.
Summing it up
Of course you can keep searching the ends of the city for that mysterious slice, but at some point it all becomes too much.  Pizza is a comfort food, a healing food, something that needs to be eaten quickly and with gusto, and most importantly, with a story to tell behind it.  We just wanted a fantastic slice.  We got that many times over, and we developed an obsession.
In every case, the pizzas we ate made sense in their context. The best places we had visited existed in neighborhoods and were embraced by the locals.  The locals hung out at Denino's not only because the crust is transcendent, but also because it belongs to them.
When people describe the peculiarities of their places, they say how people drive from miles away to get the pizza.  That the lines are long.  The place is small.  But it is the best pizza to be had. It's worth the trip, they say.
When our Brooklyn friends started spouted these familiar lines, we already knew where they were headed.  We could smell Di Fara's already.
New York,
Pizza,
Restaurants