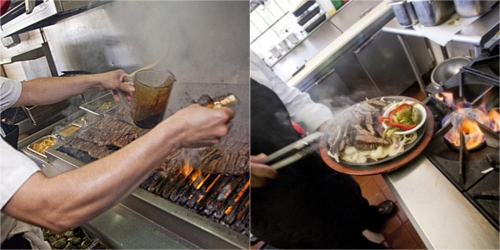 [Image courtesy of Troy Fields and the Houston Chronicle]
Welcome to Wednesday Links. This is our weekly collection of four of the most interesting food links we've discovered in the past week. Enjoy!
Not So Clear Cut
A disturbing tale of what really goes into a plate of fajitas.
The Last Days of Kugelis
The worlds oldest Lithuanian restaurant just closed on the South Side. Sky Full of Bacon was there to record the last days.
Feast: A Video Essay of Food in Film
Set aside 15 minutes and watch this collection of food scenes from film (like Big Night, Goodfellas , and Babette's Feast (I also discovered some I haven't seen, like Tortilla Soup ). "Food is arguably just as alluring [as sex], and in its way, its appearance on screens—and when it does appear, it's often as lovingly lit and framed as a reclining nude—might be even more revelatory and pleasurable, because its appeal isn't solely based on unattainable fantasy."
Golden Rules for a Perfect Restaurant
London's Times critic gives 10 tips for running a successful restaurant, which read more like 10 Reasons Why Opening a Restaurant is a Terrible Idea. "Anybody who opens a restaurant needs their head examining." Still, it's a smart set of honest advice.
Uncategorized,
Wednesday Links