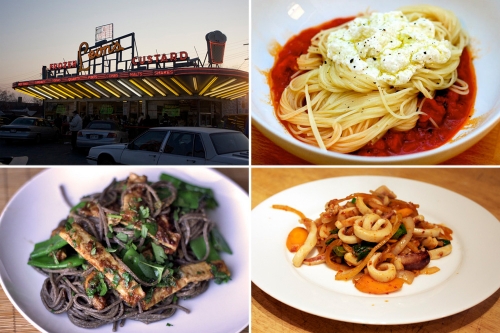 Our weekly roundup of what the two of us have written over on Serious Eats.
"Dinner Tonight" Column
QUICK MEALS TO YOUR TABLE FIVE DAYS A WEEK.
Seared Scallops with Spinach and Arugula
This simple recipe sears scallops over high heat and serves them with a side of spinach and arugula.
Almond Tofu with Buckwheat Noodles and Snow Peas
Blake is not usually into vegan meals like this, but he's won over by the "complex and sweet mixture of almond butter, soy sauce, maple syrup, and sesame oil."
Stir-Fried Squid (Ojinguh Bokkeum)
Squid is one of the quickest and cheapest things to cook, and this recipe keeps things simple by pairing it with a highly flavorful Korean sauce.
Capellini with Fresh Ricotta
Follow fellow Serious Eat's writer, J. Kenji Alt-Lopez's recipe for making fresh ricotta , and then side it with a simple tomato sauce. The result is a creamy, luscious dish that will bring the inner child out in anyone.
Cauliflower-Cheddar Soup
While most of the cauliflower we eat is roasted over high heat, this recipe "retreats back to a time when cauliflower was treated gently and calmly."
Standing Room Only
A COLUMN ABOUT THE BEST OF CHICAGO'S RESTAURANTS--WITH NO SEATS.
Leon's Frozen Custard Drive-In
Nick's last stop in Milwaukee was this classic frozen yogurt stand.
Serious Eats Roundup