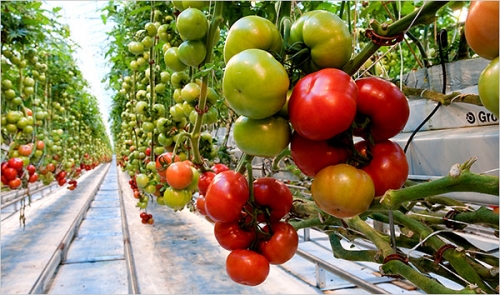 [Image courtesy of Stacey Cramp for The New York Times]
Welcome to Wednesday Links. This is our weekly collection of four of the most interesting food links we've discovered in the past week. Enjoy!
Tasty Tomatoes All Year Long
Is the tyranny of summer tomatoes coming to and end?  Greenhouses the size of multiple football fields are growing tasty tomatoes all year long.
We're Wired to Love Calories
High-calorie food isn't just delicious because it tastes good: on a neurological level our brain is trained to derive pleasure from the calories themselves .  "The brain also receives rewarding input from metabolic processes that have nothing to do with the tongue...Energy is inherently delicious. Because we are programmed to enjoy calories." No wonder Lean Cuisine never tastes right.
Street Food: The Time is Now
The whole street food phenomenon has passed right by Chicago. Time Out Chicago would like to change that.
Documenting ...well me.
Grant Achatz of Alinea thinks food bloggers have gone a little too far. It's okay to take a few pictures of the food, but what if it interferes with other diners?
Wednesday Links