Trust this recipe, and never lose faith: it is actually quite simple, and can be used as a launching point for lots of other inspired ideas.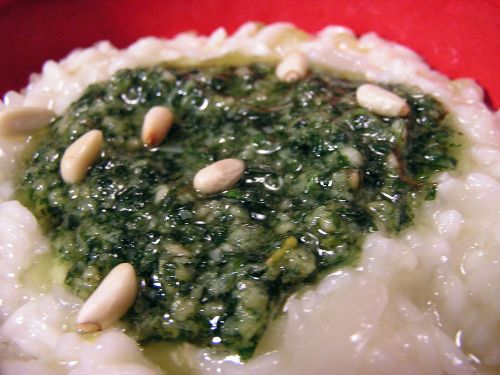 I remember vividly the first time I thumbed through a cookbook with a sense of purpose. I was home on a break during my freshman year of college, and my mom had been relating to me her excitement about a book my sister sent from London.  She excitedly exclaimed that "it had even been autographed."  I smiled and nodded approvingly, unaffected.  It was a cookbook, after all.  My sister worked at a Hyatt in London, and this chef was a proprietor of an award-winning, exceedingly expensive restaurant in the same building.  I took a glance over and saw the title-- The Naked Chef Takes Off by Jamie Oliver.  Naked? Intrigue ensued.
Soon I found myself staring at the gangly English lad who chattered about fresh herbs, gourmet fish n' chips, and heading off to the market, trolley in toe, to get ingredients.  He strips (hence the provocative title that so grabbed me) recipes down to their basics, focusing on herbs to heighten the key ingredients.  Not that we at The Paupered Chef ascribe to any sort of philosophy when cooking--or even talk of such things.   That said, Jamie Oliver's approach makes sense to us.  We do look for recipes that focus on essence without oversimplifying. Which is exactly what I need when I combat one of my most horrifying opponents in the kitchen: risotto.
Nothing quite gets me more riled up than standing anxiously over a pot of risotto, waiting in vain for the mess contained within to congeal.  Risotto is a prickly kitchenmate: it confuses with mixed signals, acts like it's done when it's not, and unexpectedly turns into an abominable mush if left unattended for a moment.  Oh, how I know.  In this entry, we hope to explain and demystify the conundrum that is risotto.
This version demands your sincere, undivided attention and gentle touch.  Trust this recipe, and never lose faith.  Followed carefully, it is actually quite simple, and can be used as a launching point for lots of other inspired ideas.  We suggest making the pesto first, so you can give your whole self to the risotto.  It will reward you in kind.
Pesto
extra virgin olive oil
handful of pinenuts
1/2 clove garlic, peeled and chopped
3 good handfuls fresh basil, leaves picked and chopped
1 good handful freshly grated Parmesan cheese
sea salt and black pepper
Basic Risotto
5 cups of chicken stock
2 tablespoons olive oil
5 tablespoons butter
1 large onion, finely chopped
2 cloves garlic, finely chopped
1/2 head celery (6-8 stalks), trimmed and finely chopped
1 3/4 cups risotto (Arborio) rice
8 oz. (2 wineglasses) dry white vermouth or dry white wine
4 oz. freshly grated Parmesan cheese
sea salt and black pepper
Recipes adapted from Jamie's Italy
Part 1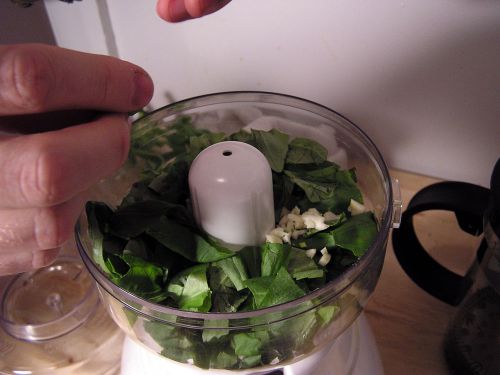 Put the pinenuts on a baking tray (a small ovenproof plate will do) and put them under a broiler for a minute or two--a toaster oven works well--so they heat through and turn a shade darker.   This really helps bring out a deeper flavor.
Put the garlic, pinenuts, basil leaves, a glug of olive oil, and a pinch of salt in a food processor or blender.  Pulse it until it's well mixed--add more olive oil to help the process if needed.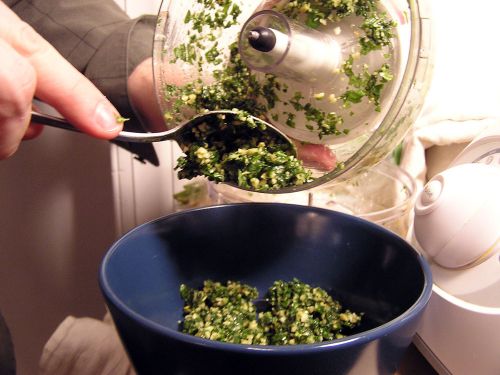 Remove the mixture to a bowl, add half the Parmesan cheese, and begin to mix it gently, adding olive oil as needed to maintain consistency--you need just enough to bind and loosen the sauce to give it an oozy consistency.  Season with salt and pepper to taste, then add the remaining cheese.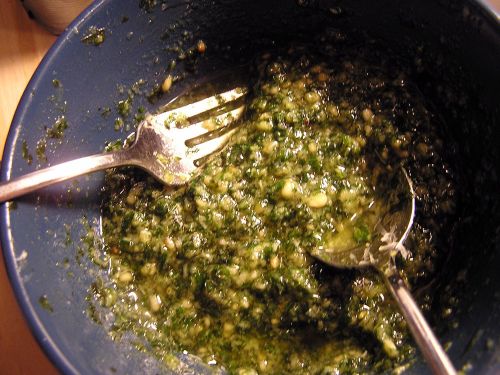 Continue to alternate small amounts of cheese and olive oil until you reach a good taste and consistency.  Set it aside, and prepare yourself for the risotto.
Part 2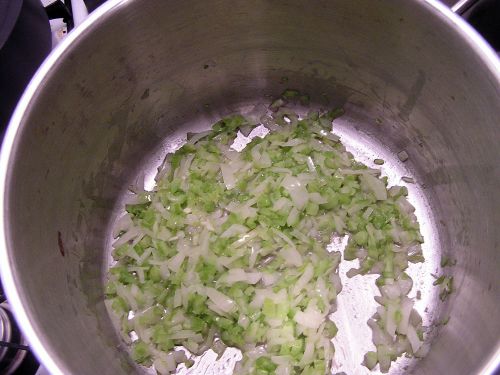 Heat the stock ( click here if you have any questions about what kind to use) in a medium sized pot .  In a separate large pot, heat the olive oil and a tablespoon of the butter on medium-low. Add the onion, garlic, and celery, and cook slowly for 15 minutes until translucent (the onions should not brown).  Because the temperature is low, it will take around 15 minutes, but is worth the wait to give the vegetables a better consistency.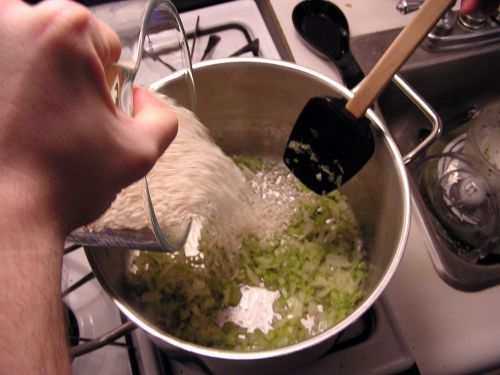 Add the rice and turn up the heat.  Stir it constantly for one minute as it begins to lose its whiteness.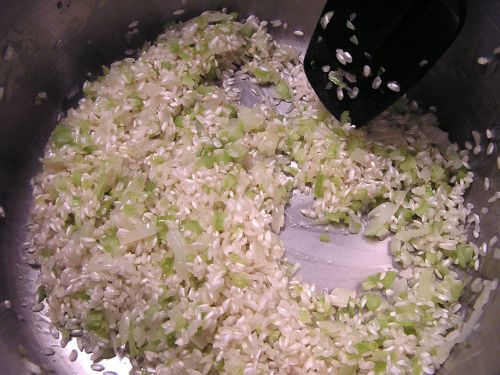 Add the white wine-- we used a dry white recommended highly by our wine guy .  After the steam has risen, waft the aroma (that last bit is not so important to the end result, but very pleasurable nonetheless).  Stir the contents until the rice has absorbed the wine.  Turn the heat down to medium.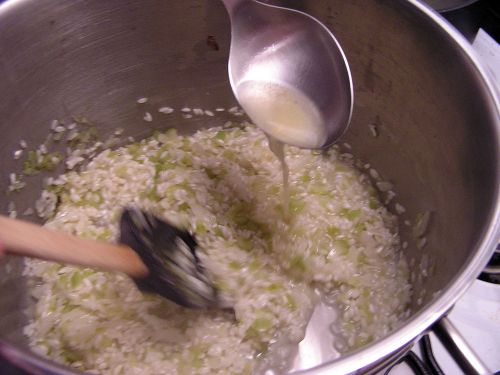 Now you will begin the important process of adding the chicken stock to the pot.  This is the most crucial part of the cooking process and should be treated such.  Get ready.
Transfer one or two ladles of stock into the pot and a pinch or two of salt.  Turn the heat to a simmer--this will ensure that the outside of the rice doesn't cook too quickly.  Stir the rice as it absorbs the stock, waiting to add more until it is almost completely absorbed.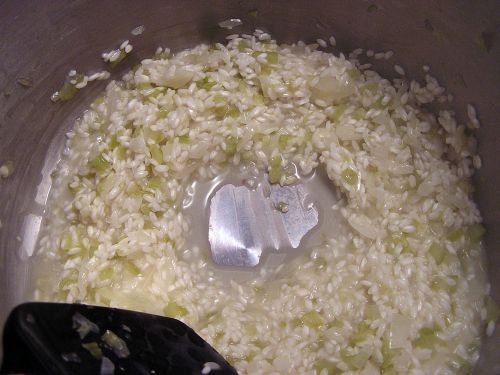 Each step will take between 2 and 3 minutes.  Be sure not to add more stock until you can scrap the pot and see the bottom.
Continue this process, stirring the rice as it releases its starch to make the mixture creamy.  Depending on the heat, this could take between 25 and 45 minutes.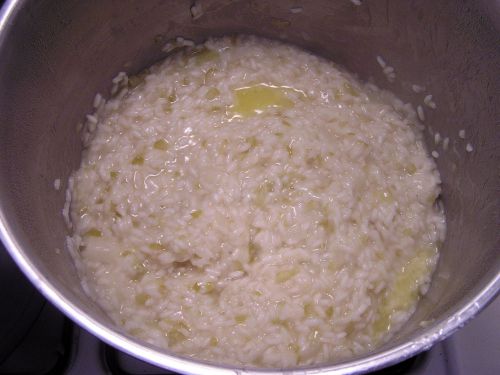 Have faith.  If you start to run out of stock just boil some water. Once rice is soft but retains a tasty bite, remove it from the heat. Add the remaining butter and Parmesan cheese, and stir the contents until they are well mixed.  Pop the lid on the pot and let it sit for 2 minutes.  This adds another layer of creaminess to the risotto.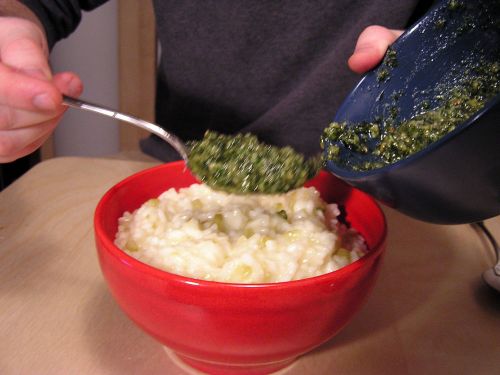 Remove the lid and dish the risotto.  Spoon a healthy amount (we like the word "dollop") of the pesto on top, along with some extra toasted pinenuts and fresh, torn basil. Breathe easy. Eat well.
Food,
Vegetarian,
Main Course,
Chef,
Chicken Stock,
Condiments,
Cuisine,
Food and drink,
Italian,
Italian cuisine,
Jamie Oliver,
London,
oil,
Parmesan,
Parmigiano-Reggiano,
Pesto,
Pesto,
proprietor,
Rice,
Rice,
Risotto,
Risotto