Nick:
A Paupered Week in Flatiron
Part 1 Part 2 Part 3 Part 4 Part 5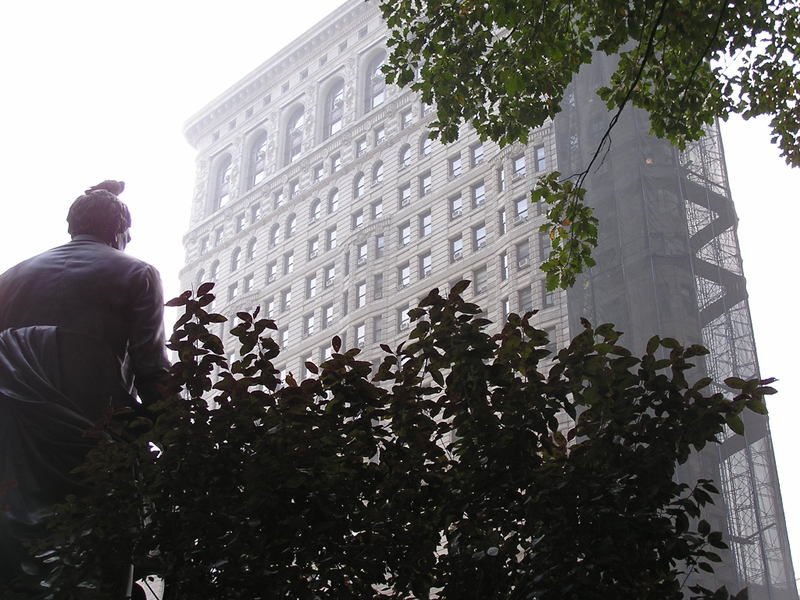 I miss Flatiron.  Of all the neighborhoods in Manhattan that I dearly, truly miss, this one has to be first.  I suppose that was because I walked through it everyday for about a year trying to find something new to eat.  I knew every street corner, every bodega, and every cart.  I had a whole hour walk anywhere I could.  The only caveat was that I couldn't spend that much because I was dreadfully poor.  It was a minor problem, which led me to some crazy places for some suspicious food.
And I think this post really paid tribute to the hidden gems, the places that weren't featured on many best of lists.  They are just solid, delicious places, that make unique food.  And since everything else in New York is written about, it felt write to praise the lunch spots that had made me so happy throughout the year.
Pasta Carbonara Part Deux: Simpler, Heartier, and Less Healthy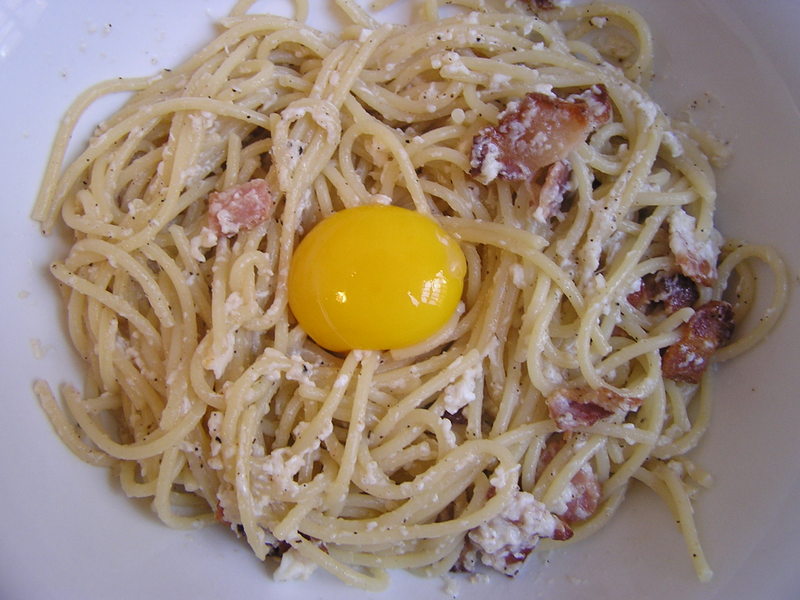 This changed everything.  I don't think I've ever made the same recipe more than once or twice all year long.  But this one...I'm holding on to.  I suppose it's eggs-and-bacon feel to the dish, that warm comfort of breakfast foods at dinner time.  But I adore this dish, and make it repeatedly.   It all has to do with the raw egg yolk coating the pasta in luscious goodness, something I'd never have done before.
Cheese Making Part 1: 30 Minute Mozzarella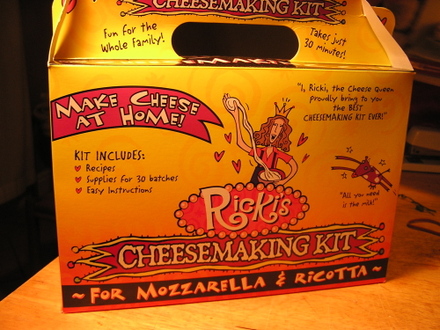 I made a lot of wonderful things this year, from Shrimp Etouffee to real Texas Chili , but this is the only time I was completely surprised by the result. Making cheese never even occurred to me as a reasonable thing to do until this summer.  I think I always knew it could be done, but suspected that there was some technique or machine needed to do it right.  And then I had a ball of mozzarella in 30 minutes.  It got me
back in the old Paupered Chef mode, ready to tackle ridiculous activities with complete blind enthusiasm because they could be done. It's why I'm currently curing a whole side of salmon, have duck legs submerged in salt ready for duck confit, and why I'm eating duck crackling right now like some people eat popcorn.  I just get so excited about learning as much as I can and eating what comes of it.
Blake: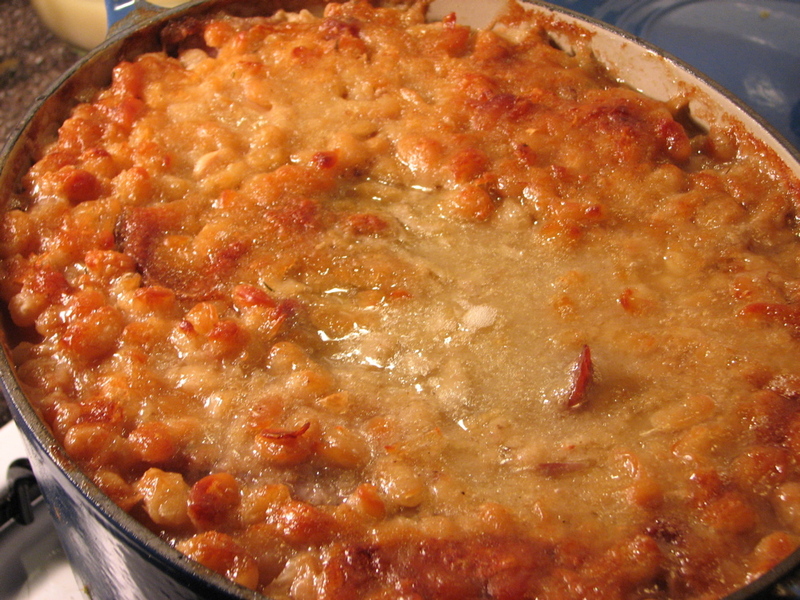 The culmination of days of work, from making duck confit to simmering beans with the skin of a pig, this was among the most intensive cooking projects I've ever embarked on.  I did it completely alone, while Elin was off on vacation in warmer climates, as the cold Brooklyn wind was whipping around, snow was falling, and the world seemed dormant.  As one commenter put it, I was aiming for Peasant Perfection, going to the greatest lengths possible to ensure authenticity.  It ended up being a lesson, because I had gone, quite frankly, a bit too far.  There's a reason we don't line a cassoulet pan with pig skin anymore, and that's because we have a technology on our dutch ovens that's called enamel, so nothing sticks.  But despite all that, spending three days alone with a pile of books and a heap of ingredients, with a butcher nearby, was immensely satisfying.
Cooking in a Bag: Cod with Mussels and Saffron-infused Wine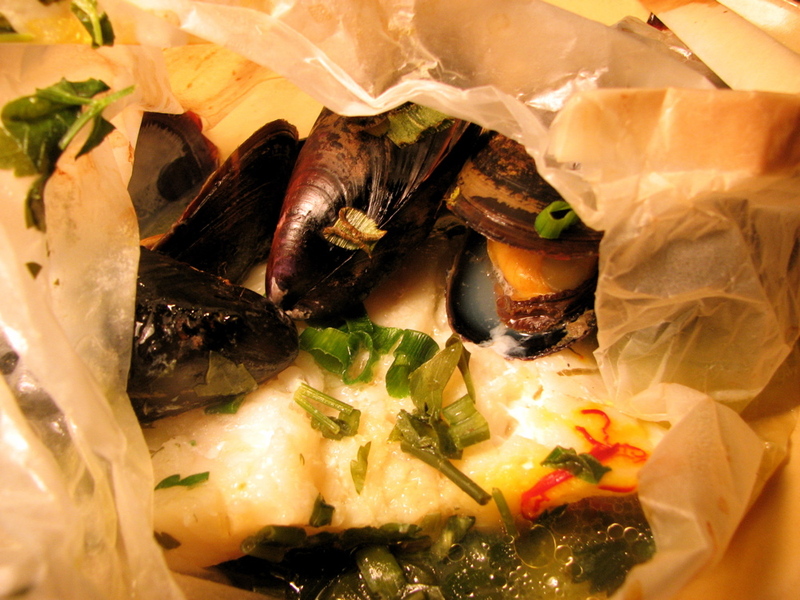 It was while writing this post that I came to terms with what motivates me to keep cooking.  I realized that after a year or two of going from knowing very little to having a grasp of the basics, it was time to reflect: might I get bored with this?  Why do I continue?   But I quickly realized that the more I know, the more I realize how much I don't know.  The world of food is vast, uncharted, and no matter how well you know something, there's always something more to learn.  It was a moment to reaffirm the pleasures of the kitchen.  Cooking is a strange hobby that's impossible to shake: unlike, say, building model airplanes, it's very difficult to lose interest, because out of necessity one eats three times every day.  So the hobby is constantly fed.  Quite literally.

Table For Two: Fergus Henderson at the Spotted Pig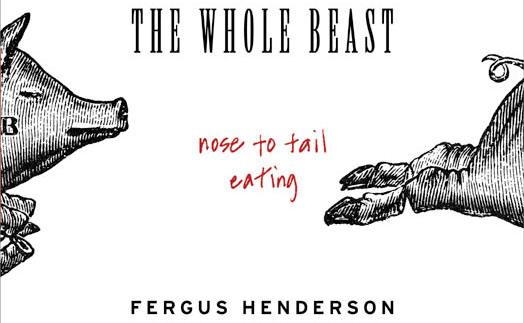 It's always fun to write about eating out--we don't often do so, unless it's during travel or if the meal was so exemplary or unusual that we can't help it.  This isn't that kind of snarky restaurant review food blog; most of what we say is enthusiastic and positive.  It was a privilege and an honor to eat Fergus Henderson's cooking--the man is an icon of our food generation.  His enthusiasm for all parts of an animal, a form of respect for its life so that nothing is wasted, is inspiring.  I had a lot of fun telling this in the form of a New Yorker Table for Two writeup and it remains one of my favorite meals ever, and certainly the most unusual.
Best of 2007,
Best of 2007