Searching for the perfect Voisilmäpulla, I encountered beautiful design and large tufts of dill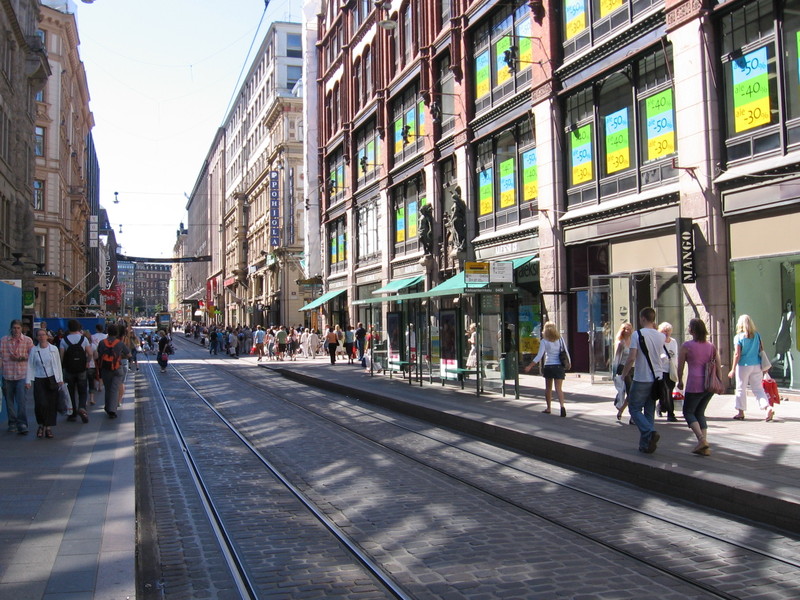 When I arrived into Helsinki Airport, the Finnish sun had been out for close to five hours: it was 8:02 in the morning.  My bag came out of flappy rubber slats onto the belt and I sailed through customs, exiting the terminal onto a pristine pavement platform, a group of bus lanes. Everything was strangely silent.  There were four other people waiting for buses, each squinting gently at the white sun.  A cool breeze brushed by and I rubbed my eyes, prepared to face the day with only a couple hours of plane-sleep to guide me.  I slipped on some earphones, unnerved by the silence, and put on Architecture in Helsinki , to see if they made more sense in their namesake town (not hometown, however; they're Australians). The bus arrived exactly on time and I was greeted in nearly accent-less English.  An automated voice, speaking in Finnish then English, informed me kindly that we would be making one stop at the Scandic Continental Hotel, followed by the city center.  As we passed through the outlying city streets their emptiness became even more apparent, and I couldn't shake the feeling that I was in some sort of California beach town: pale yellow and pink buildings, incredibly sunny, breezy. My girlfriend, Elin, met me in the city center, by the train station designed by Eliel Saarinin , who her mother wrote her dissertation on.  After leaving our bags at the cute hotel, went directly to a place which is, in itself, almost reason enough to visit Finland altogether. Fazer.  Pronounced Faht-zer.  Maker of glorious Finnish pastries.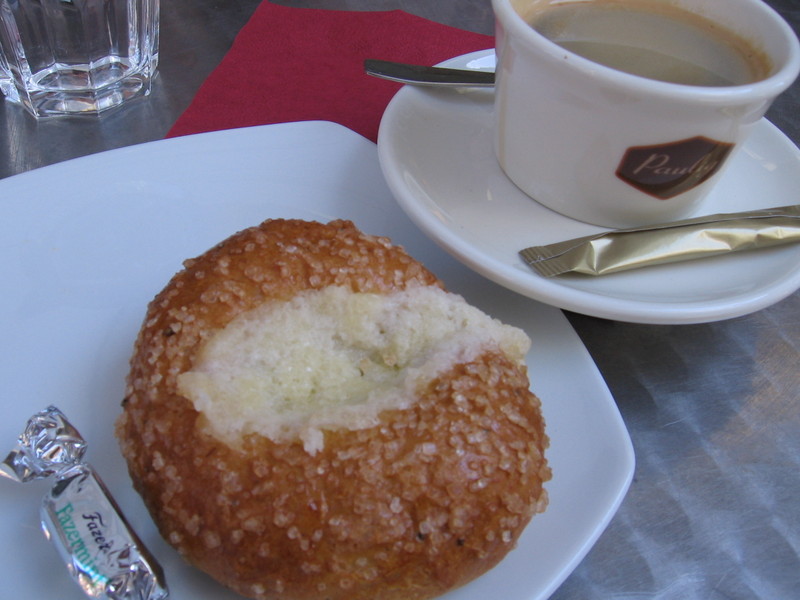 Voisilmäpulla.  Voy-silmah-pooh-lah.  Literally, Butter-Eyed Bun.  They're rolls, baked to perfection in dense and never too yeasty batter, loaded with a gentle sweetness and the spicy-sweet magic that is cardamom.  Have you ever had cardamom?  You should shake it into your next baking project, right away.  Once they bake for a little, some sort of equally magical butter-sugar mixture is concocted, which has a wonderful aftertaste of vanilla.  It's pushed down into the center of the roll and I think the whole thing is brushed with a sort of egg-white glaze.  Then they toss some rock-sugar on top and bake it for a while longer, until it the butter-sugar carmelized only gently.  Then they sell it to you for a whopping two euro twenty (here's a secret, though: go across to the take-away counter and you get the same rolls for 1 euro).  Add to that what we decided was the best coffee in Helsinki (the Finns, per capita, drink more coffee than any other nation according to some statistics ) and you've arrived.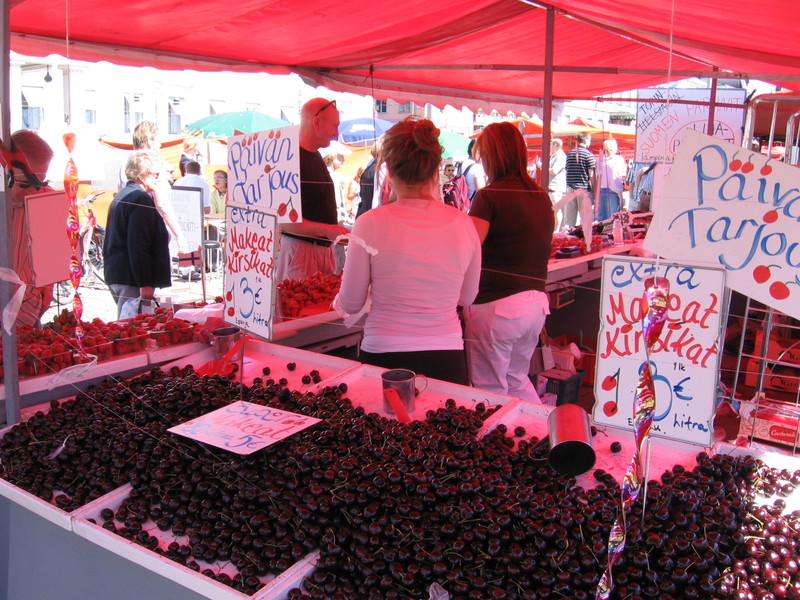 Next, we visited the market, which sets up shop along the harbor where the ferry and cruise ships dock.  It seems everywhere you\'re standing in the city you can see water, and the rest of the country is populated by lakes, which are very important to Finns.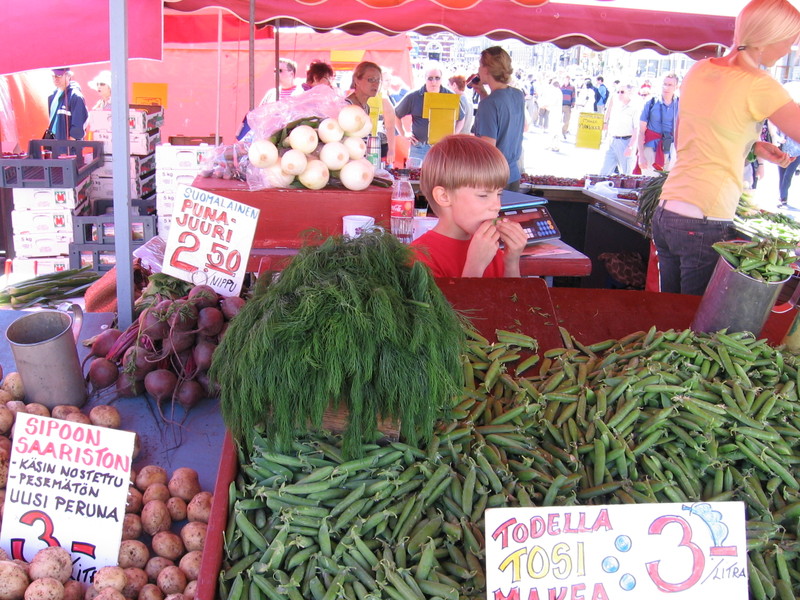 Check out the tuft of dill in this picture (dill is a huge celebrity in this part of the world)—it looks one of those mop-like small dogs.  We ended up with a bag of so-so sugar snap peas and then sat down at a Piirakka stand, a food that you find all over this area of the world that is basically a meat pocket, in this case deep-fried.  A suitable jet-lag breakfast.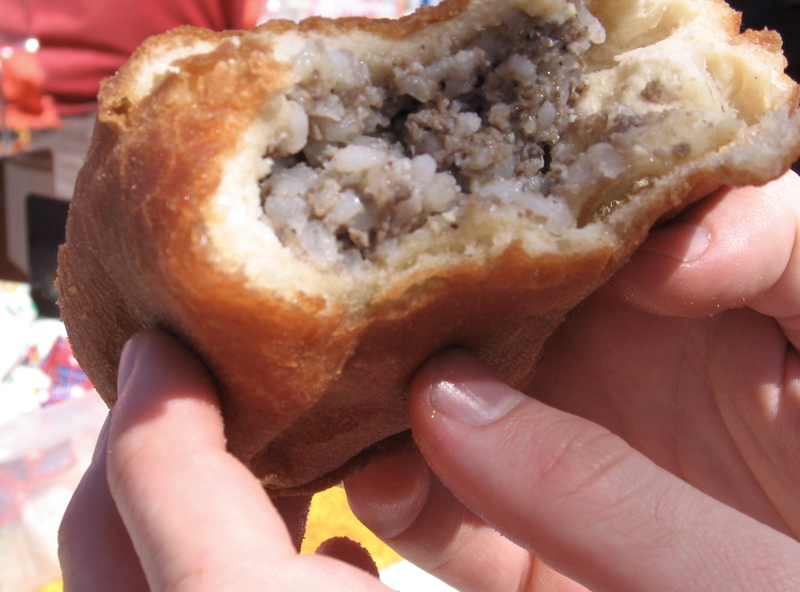 The same woman has been running this piirakka stand since the late 1960s, feeding us masses for 3 euro or so.  Her coffee, an essential addition to the experience, was quite excellent.  She operates in an orange tent in the first row of huts off the sightseeing boat docks. After succumbing to a bag of delicious red cherries for the road, we headed to the Kiasma art gallery , designed by the American architect Steven Holl , where a selection of contemporary artists filled five floors.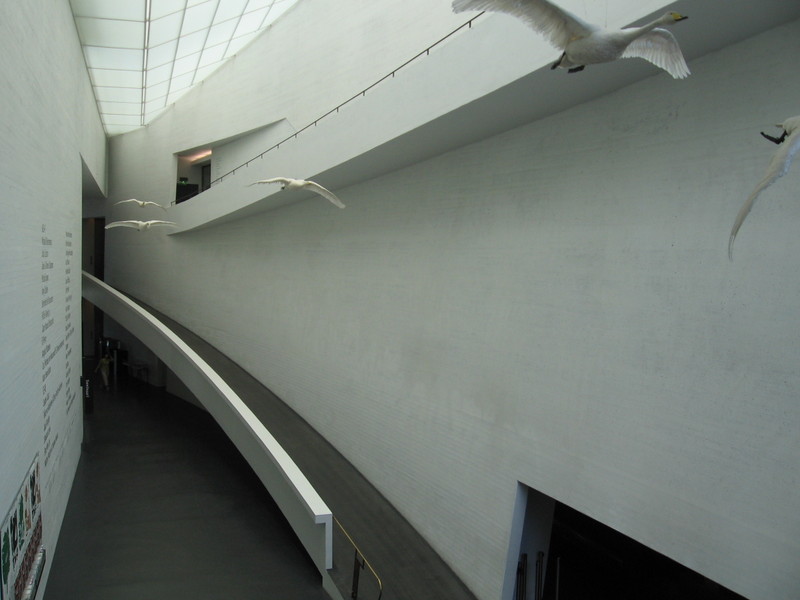 A wonderful installation called "Solidity in Stability", by the Finnish artist Maaria Wirkkala required one to remove his or her shoes before entering an eerily-lit room with a floor that was not only hand-gilded in gold leaf, but also completely unmoored from the walls around it.  In other words, it shifted back and forth while the walls and a large boulder in the center stayed stationary.  It was very unnerving.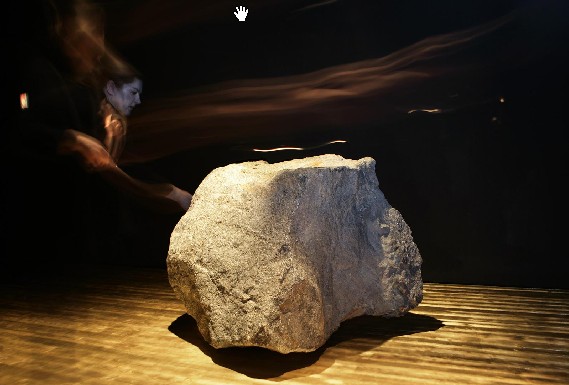 The Danish artist Jesper Just also had a film installed, called "Something to Love," which was a haunting, stylized short work involving an old man running through an minimalist, industrial building hallway, and encountering, by accident, an attractive young couple in passionate embrace, who don\'t notice him as he begins to weep openly.  It was sort of powerfully sentimental with almost no concluding answer or explanation. After perusing the gift shop we retired to the outdoor terrace next to the fountain with...yes, of course: two more Voisilmäpulla.  Really, you can follow these rolls all over the city.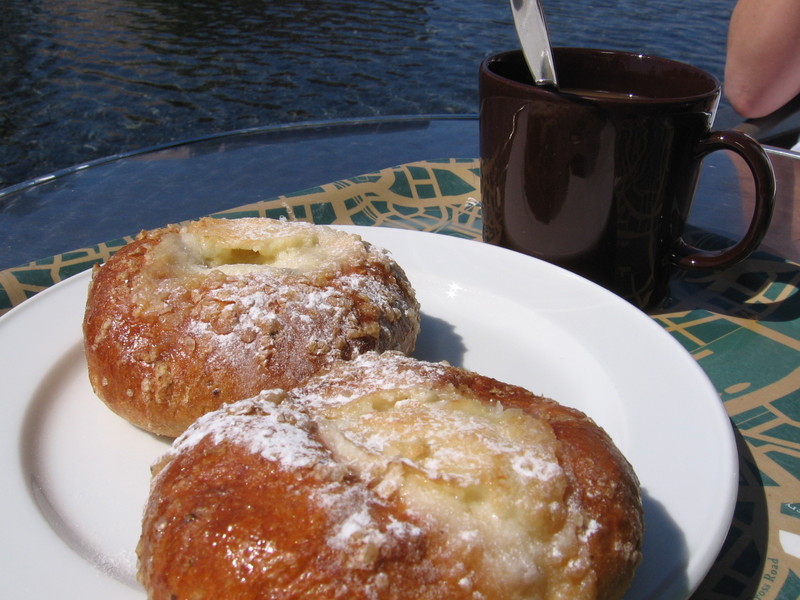 These were dusted with a fine confectioner's sugar and had more of a doughnut feel to them, though far less sweet than your average American pastry.  We enjoyed them in full sunlight with coffee, which began to soothe my lethargic museum head, on top of jet lag and strange solar patterns (the sun sets at midnight, rises before 5 am). And, onward.  Our next outing was at the esteemed department store, Stockmann, but don't you dare pronounce it like an American.  Stoke-mahn.  We had a gander at the gorgeous Iitala merchandise, especially the wondrously simple Teema collection designed in 1952 by Kaj Franck .  I bought a t-shirt that says "Suomi", which is the native name for Finland, then we descended to the grocery, where we picked up another Voisilmäpulla along with another traditional baked good, the karjalanpiirakka.  Please don't ask me to type that again.  Also, I don't know how to pronounce it.  It's a little pocket of rye (?) crust filled with a rice porridge kind of concoction, then baked.  It's savory, not sweet, but tasty nonetheless, if a little bland.  I'm sure there are better ones to be had that we didn't find.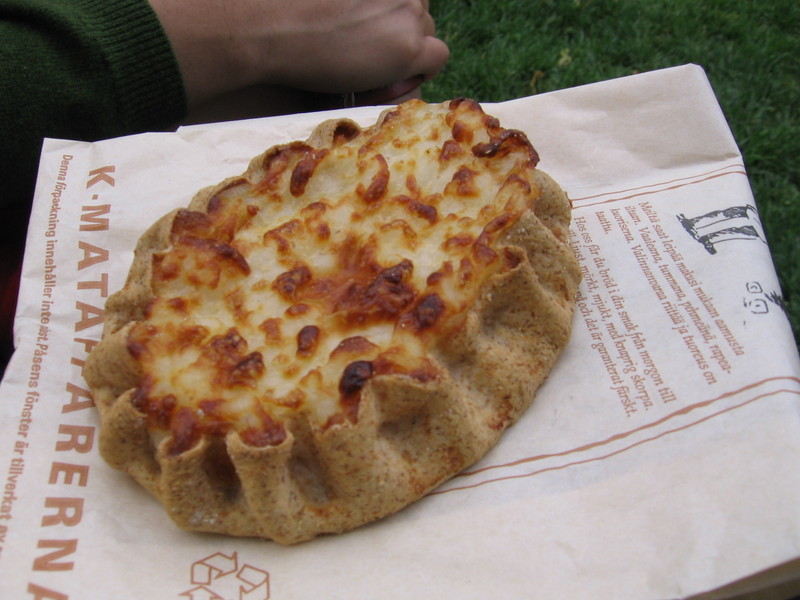 The Stockmann version of the Voisilmäpulla was less exhilarating, probably because it came from a department store.  A little drier and a little sweeter, it lacked the subtlety.  We brought the rice-thing (I told you I wouldn't type that again) into the park along Etelaesplanadi st., next to a group of Finns drinking a pile of  beers and the pigeon who stands perpetually on the general's head, so to speak.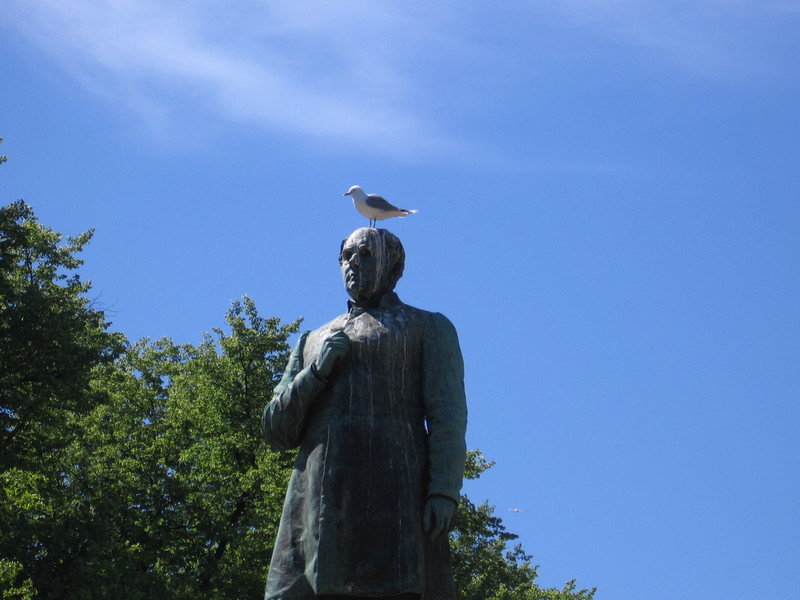 We also had a baguette, cheese, olives, and a couple apples. Next, to the Temppeliaukio church, also known as Churck of the Rock, because it is built into solid rock, half-exposed day by a series of skylights.  There was a service happening (in English) so unfortunately I couldn't take any pictures, but there are many available online on Flickr .  It's a remarkable place, peaceful, wonderfully designed like so many things in this city.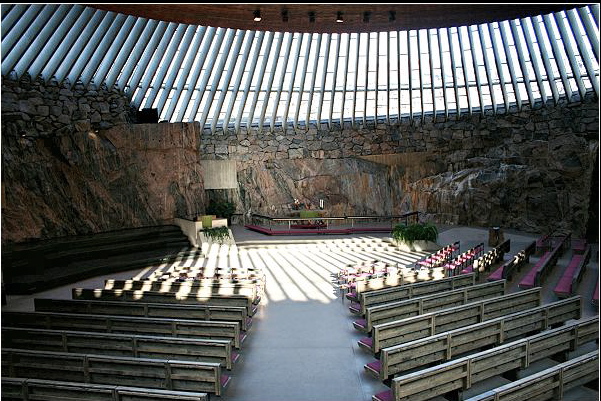 Well, we were quite hungry after that, so after a nap at the hotel we headed out for dinner, where we took a risk on a Tex-Mex looking place that was written up as the best of its kind (when you have a hankering for fajitas, you just have to entertain it).  Turns out it was pretty lousy, not worth, well, writing home about.   So I'll write about our meal the next night, inserting it into this day so as to create a better story.  We had the good sense not to eat that this place: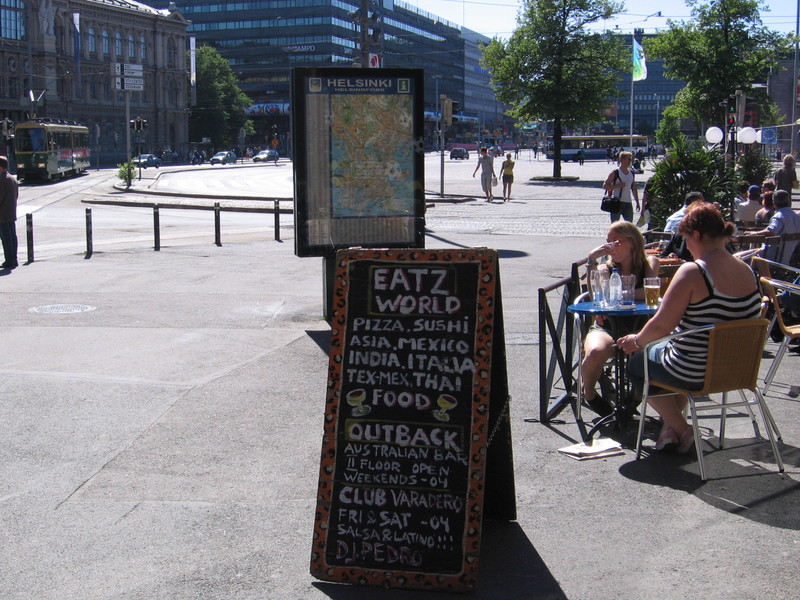 Notice: Pizza, Sushi, Asia, Mexico, India, Italia, Tex-Mex, Thai FOOD . And it's a club.  Something tells me this is not a genius chef doing fusion, but rather an average chef cooking really mediocre versions of everything.  Jack of trades, master of none?  Anyway, we found an "authentic" Finnish place (read: touristy) which turned out well.  I ordered the Summer Sampler and Elin ordered white bait fish, and it didn't become clear until the little buggers arrived that she had, indeed, ordered bait for dinner.
On my plate, clockwise from left: smoked white fish, rye bread roll with meat filling I can't remember, marinated vegetables, goat cheese (hard to see in the back), slow-cooked lamb, creamed mushroom salad, brined herring.  The fish was the highlight by far, both varieties, the mushroom salad also quite good, the lamb a little tough but flavorful.  I love meals where you get a bunch of things and you get to pick at it in whatever order you choose. Though the time was approaching 10pm, it was still light out, a long time until sunset.  Even then, there never really seemed to be a sunset, just a dusk and a little period of dark, before the sun started rising again.  For us, it meant more time to eat, since the daylight says: "Stay up later!  Why not?"  So, stomachs full of baitfish and mushroom salad, we passed on traditional Finnish dessert at the touristy place and began to walk back to Etelaesplanadi, a quintessential European-looking street with cafes and shops, that leads to the harbor.  We had a light and airy slice of pie and two cups of tea.  Served, of course, on the Teema Iitala plates and mugs we'd been looking at earlier.  Here they are in action.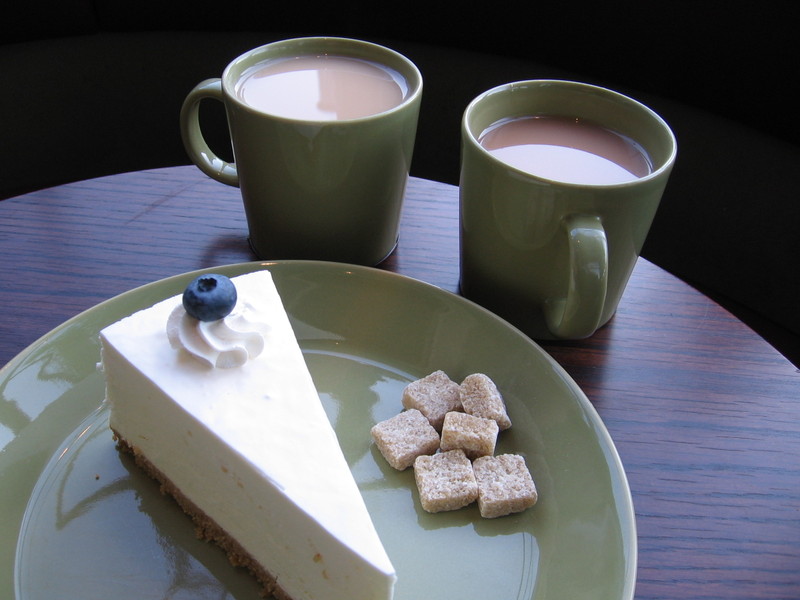 But, it was still light out!  Who could go to bed in conditions like this?  So we began to walk again, and though I can't remember if we consciously made the decision, our feet shuffled down cobblestone streets, back to our homeland, the highly civilized and unmatched maker of Voisilmäpulla, where we began the day.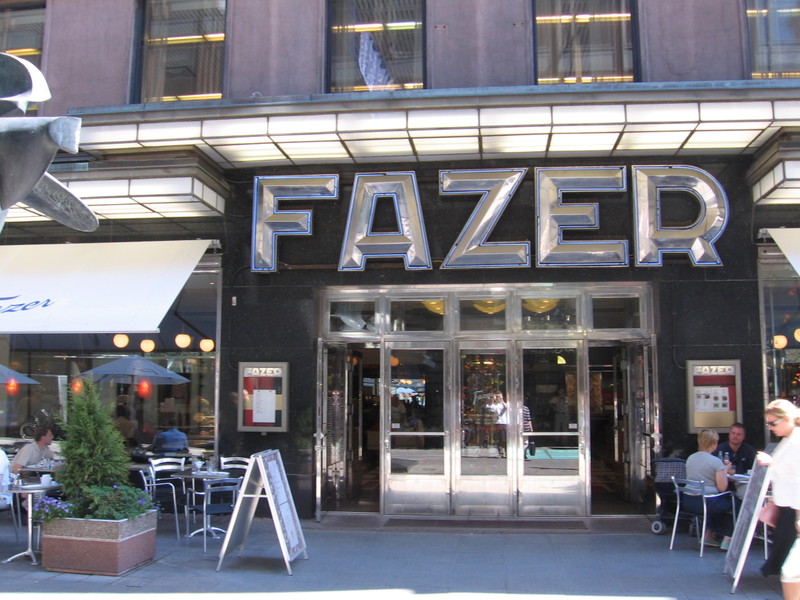 The gaudy sign, of course, lets you know that this place is a winner already.  It's a silver monstrosity, totally ridiculous in its size, kitschy yet totally tasteful and appropriate.  This time, we bought a couple extra for the walk home. After Finland, it was off to Tallin, Estonia via ferry, where there are more things to recount, mostly what we ate.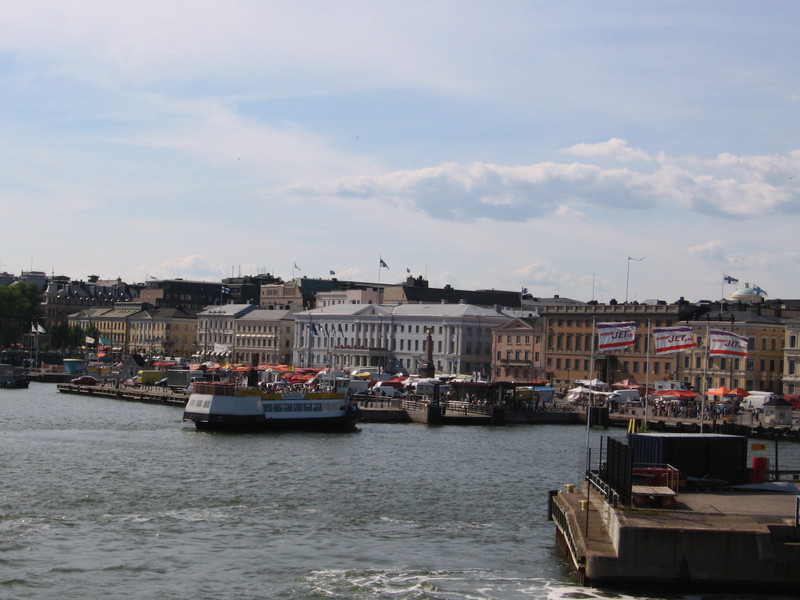 Travel,
California,
Cuisine of the Midwestern United States,
Eliel Saarinin,
Elin,
Finland,
Finland,
Finnish cuisine,
Food and drink,
Helsinki,
Helsinki,
Helsinki Airport,
Human Interest,
Pastries,
Person Career,
Pulla,
rubber,
Scandic Continental Hotel,
Upper Peninsula of Michigan