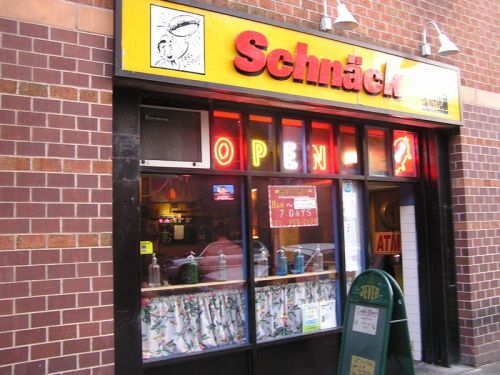 It saddens me to point out that Schnack has closed.  What is detailed below is a great restaurant.  Hopefully they will reopen someday.
Like many, many people this week, Blake and I had better things to do.  He's living the good life traveling around Northern Europe right now, eating voisilmapulla and trying to get around in Estonia with only a passable pronunciation of three words.  And I spent the whole weekend packing up shop and moving out of our humble tenement on the Upper East Side apartment.  It's off to the land of houses, churches, and kitchens large enough to fit three people: Brooklyn.  West of the BQE, in a little spot called Carroll Gardens West, Red Hook, or Columbia Street Waterfront District, depending on which Realtor you talk to, I've been unpacking for three days and not getting much cooking done.
I'm sure I'm going to miss Citarella, Fraiche, and my favorite wine shop in the world, In Vino Veritas , but I'm ready to dive into Brooklyn, and just one block away from me is a whole row of restaurants I want to explore.
We've already reviewed Bouillabaisse 126 and sipped margaritas atop Alma, but Schnack, home of the infamous beer shake , was what I wanted most after a hard day of moving boxes around.  I had grown to appreciate a well proportioned burger through my burger quest , and Schnack's small ones seemed like the perfect balance.
I walked in to the empty store expecting to be pounced upon by the closest waiter eager to have someone in at the lull 4 o'clock hour.  Instead I am greeted with a "sit where you want" while my tall jean-strapped server leaned on one of the tables watching CNN.  He's countering every word that pours out of Wolf Blitzer's mouth about illegal immigration with witty political statements about how different things are in Canada.  Then he turns to me and asks my stance on deporting millions of people as another waiter, this one Hispanic, wanders out of the kitchen and gets involved.  Now I'm in the middle of heated debate about illegal immigration with a Canadian and a Hispanic waiter.  I have not seen the menu.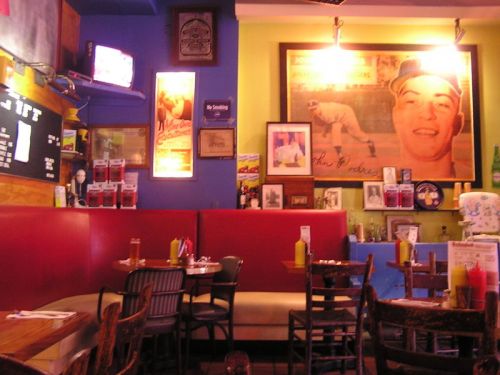 I ask the waiter what his favorite thing on the menu is, and he says the double cheeseburger because it has the perfect ratio of meat to bun.  I am not starving, and not knowing how small these tiny burgers were, I order one double cheese thinking that will be enough.  (You can put a whole load of toppings on these burgers, and they can quickly turn from slightly expensive burger to the smallest $8 burger in the world.  But it's best to keep it simple anyway.  A little red onion and cheese go a long way.)
Maybe it was the summer air, but I was completely at home with the lazy afternoon atmosphere of this Brooklyn joint.  A passersby dropped in because she saw her friends in the window.  The cook walked through the restaurant to get a breath of fresh air.  Schnack feels much more like a bar than a White Castle.  In fact, it eerily recalls the Lower East Side institution, Max Fish with its vibrant color scheme and even more colorful characters.
I get comfortable before the food even came.  This is a location where you could just hang out for a while, order a beer shake and enjoy the day.
That the burgers are perfectly thin and still juicy, with a toasted bun and crisp red onion littered on top, seems an after thought.  That is until you've scarfed it down in three bites and have to order another one.
Schnack
122 Union St.
Brooklyn, NY 11231
Brooklyn,
Burger,
New York,
Restaurants