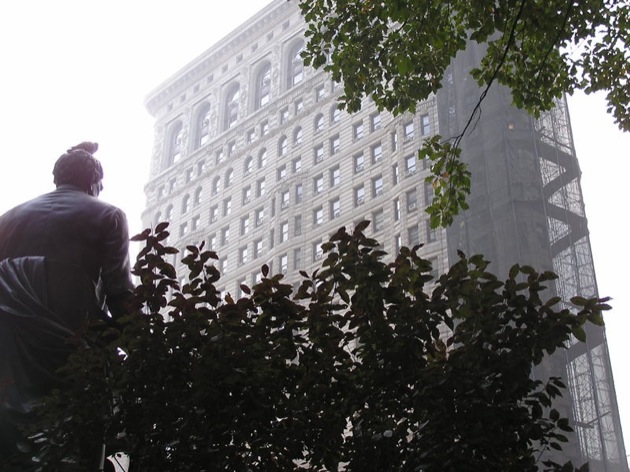 It didn't start off as a quest.  I had a job in the Flatiron section of Manhattan and I needed to eat cheaply.  I'm not much of a brown bagger, and soups don't always interest me, so I began to search for the best places to find a meal for around $5.  It became an obsession.  See, Flatiron and the eastern part of Chelsea have some of the finest restaurants in the world, but they are far from cheap.  Like Midtown, many of the best lunch options cost more than most people would spend for a fancy dinner, so there is a dearth of affordable options for someone on as limited a budget as I am.  Or I guess I was.
This is my last week working in the neighborhood. While even last week I was cursing the options around my neighborhood, I am now suddenly nostalgic and want to visit my favorite five.  But this post isn't really for foodies, or tourists in search of a true New York experience.  This is really for people exactly like me, who want to eat good, interesting food that won't use up half the paycheck.  Because if you are willing to spend $10 a meal in this area, there are unlimited bounty of pressed paninis, sushi, bowls of hearty soup, enormous burgers with sides of fries, and some delightful Indian food with extra spice.  But eating lunch for around $5 in Manhattan requires some kind of lunacy.
Here is what I found.
There are many great options that didn't make the list either because they were too far away (Manhattan Heroes), a tad too expensive (Chennai Garden), or that I just got burnt out on (Rainbow Falafel).  There are also the usual suspects for the neighborhood that won't make this list. Eisenbergs is a great deli that we've covered before.  Though I didn't end up going that much because it was hard to eat for under $5.  I also wish I could have eaten at the Shake Shack more, unfortunately it has some of the longest lines in New York.  I usually could only squeeze in when it was cold outside, or when it was raining.  I probably only went once every two weeks.
The places I'm visiting are unsung places, ones that wouldn't normally deserve writeups, and ones, for the most part, that don't deserve a special trip.  These are tried and true lunch spots, and if you happen to be around you should think about stopping by.  I'll be writing about new places all week.  In fact, this is probably the most exhaustive examination of average food around this area that you'll ever find.   Poor professionals, this one is for you.
One common theme was that I tended to frequent ethnic eateries the most.  It's hard to find a burger in this city under $6, and diners usually have very little under $10.  But ethnic restaurants cater to a crowd that is less likely to wear ties, and where you'll have to belly up to a bar with people who speak very little English.
Great Burrito looks like a disaster the moment you walk by.  It's not very clean, and as soon as you walk in you'll notice they sell not only Tex-Mex food, but also pizza, usually a true sign that bad things await.  But this place is different.
The food is served on great big colorful plates, and these aren't your normal tacos.  There is no ground beef, no cheese, no mounds of iceberg lettuce.  Most have guacamole sauce, some fresh tomatoes, and padded with two tortillas.  The roasted pork, or Al Pastor, is far from authentic, but it's tasty.  As is the chorizo.  The tostados are nice too, and a little more filling, though not as fresh tasting.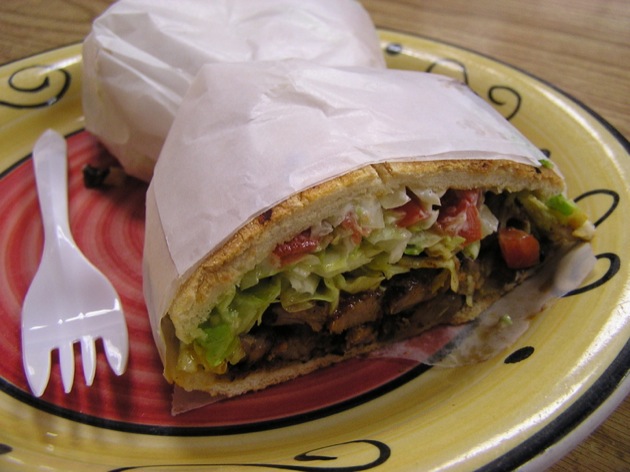 The true find here is the torta, a sandwich slathered with beans, topped with meat of your choice, and lettuce and tomato, and then pressed and wrapped in paper to keep everything from falling out.  You're given a plastic fork to clean up what will fall.  Some always does.  The al pastor is good, but the beef tongue is better.  If you bring a water, this $5 represents one of the finest ways to eat cheaply in the neighborhood and not walk away hungry.
Chipotle , just around the corner has fresher ingredients, and Uncle Moe's is definitely cleaner.  But they are both more expensive and not nearly as much fun.  And this is light years better than most of the Mexican places around the neighborhood, trying to be like Taco Bell.  I've never had the pizza, but many people order it.  I've just never had a reason to pass up Tex-Mex as interesting as this.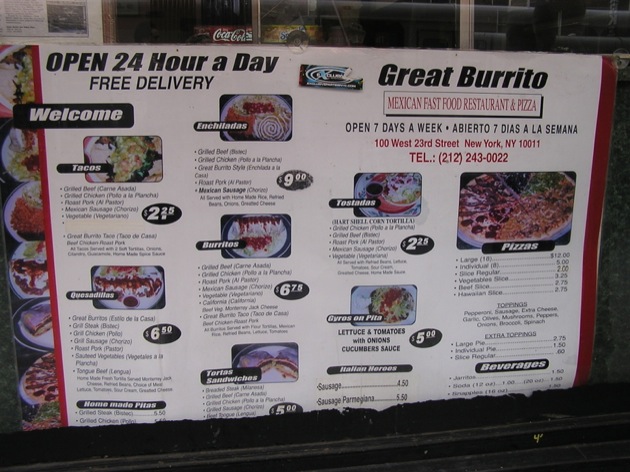 The Great Burrito
100 West 23rd Street
Have any Mexican places around the area you think are good, too?  Let us know.
Flatiron,
Manhattan,
Mexican,
New York,
New York,
Restaurants,
Restaurants,
Torta