_ Check out Day 1 to figure out why Nick is spending so much time on lunch spots in Manhattan . _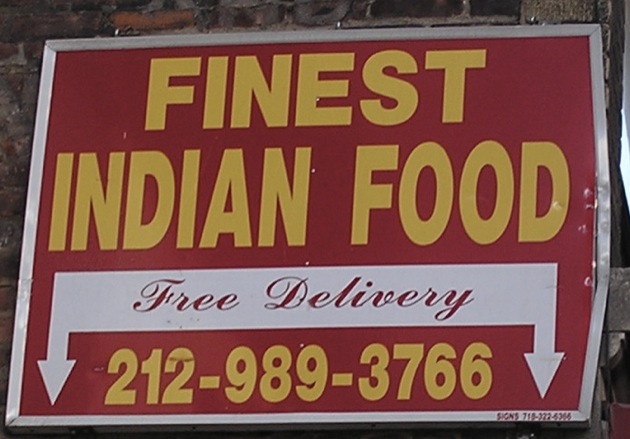 Good, cheap Indian food should be a relatively easy find.  Some 10 minute walk away is Murray Hill, a neighborhood that is also affectionately known as Curry Hill.  During lunch, a stretch along Lexington Avenue becomes packed with yellow taxis attempting to find a parking spot.  The idling cars sit with steam pouring off as the drivers pop in and grab a quick bite before heading back out on the road.  Some are nice sit-down sort of places, but most try to cater to the transient crowd.  Those are the ones I looked for.
Unfortunately, I've never found one I liked.  What you usually get is overly greasy and timidly spiced, not to mention that they usually cost more than the $5.  I honestly haven't found anything cheap on the curry row that I've felt the need to return to for lunch.  If you are willing to spend more there are places.  I particularly like Chinese Mirch , which is sort of a Indian-Chinese fusion.
What I learned is this:  The better finds are on side streets, and the cheapest way to eat deliciously spiced food is always to shun the meat.  I got into Chennai Garden on 27th street, an all vegetarian restaurant with a buffet line of brightly colored, fresh tasting fare that was never greasy and always flavorful.  How bright green the sauces are!  But it was a relative extravagance.  Its $6.95 cost was prohibitive enough that I only ended up going every month or so.  I highly recommend it, though.  There is also Dimple , a little sit down place that specializes in chat, or little vegetarian plates.  I had some intense potato dish, whose name I can't recall, that was great.  But the portions are small, and I always left with a tad bit of hunger deep inside.  I resigned myself to only indulge in Indian once in a while, content to pay a little more for a place that was actually worth it.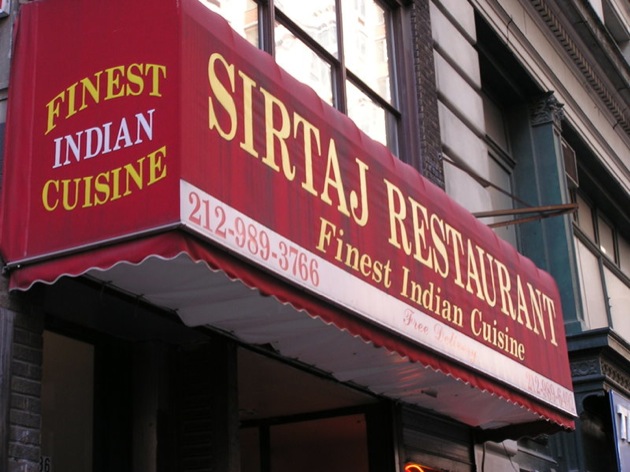 So it's fitting that I found Sirtaj last week.  Between Broadway and 6th on 26th Street, it's a little off the Curry Hill path, and fortunately, very close to me.  They have all your usual staples of Indian fare--you'll be able to get chicken curry--but it's their vegetarian options that are worth the revisit.  Especially their Navratan Curry, which is light, slightly tangy, and surprisingly filling.  And since the dining room is sparsely decorated and lined with ugly tables and mismatched chairs, there are always tables.  They even have free water.  And the Navratan curry?  It's $5.  I've been four times in the past two weeks, and I still haven't exhausted it.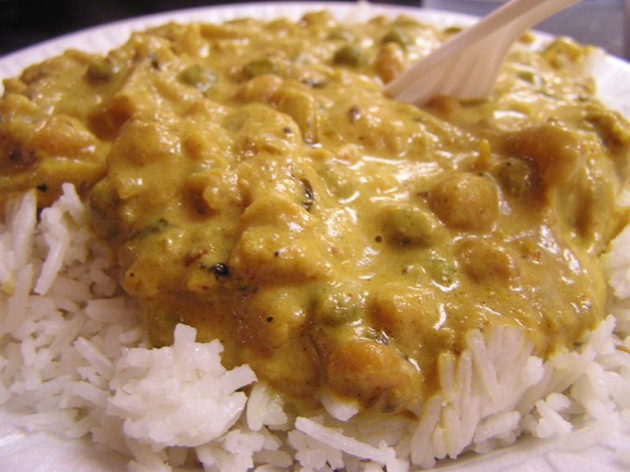 Sirtaj
36 West 26th Street
Flatiron,
Indian,
Manhattan,
New York,
New York,
Restaurants,
Restaurants