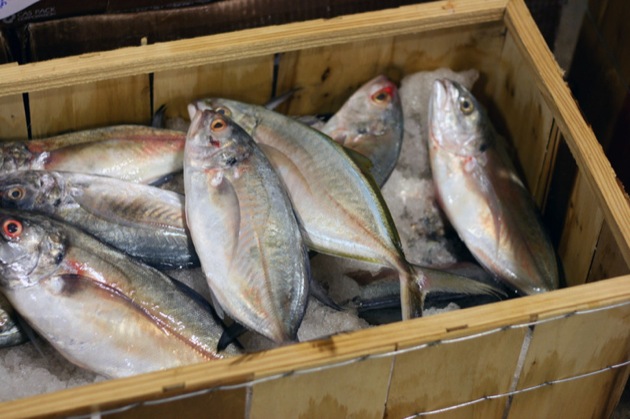 My last post about the Fulton Street Fish market covered its history, including corruption and mob connections, leading up to the 2005 move from lower Manhattan up to Hunts Point in the Bronx.  This post is about our actual experience in the market: how it functioned, what Hunts Point is like today, and a few good eats in the area.  While in Hunts Point we met a few fish buyers, ate in 24-hour coffee shops, and were invited personally to "the greatest strip club in Hunts Point," the subtly-named Triangle .
Hunts Point itself is an unusual corner of New York City, a neighborhood traditionally known for high crime and low income.  It is separated from the rest of the Bronx by the Bruckner Expressway near a complicated interchange of the Triborough Bridge and the Hutchinson River Parkway, which leads upstate. Red Hook, Brooklyn, a more well-known neighborhood where recently, New York City's first IKEA was built, has many parallels to Hunts Point: both are coastal New York peninsulas without subway access, cut off from the rest of their borough by highways.  Robert Moses, the man who transformed New York with his palatial vision of a future of the Automobile, built both, along with skeins of highways that crisscross and slice up all five boroughs of New York.
In the early 1960s, the cross-Bronx expressway was completed, which plowed through the South Bronx displacing and sometimes destroying neighborhoods, and has since been blamed for much of the Bronx's economic deterioration and decay. The portion of the expressway isolating Hunts Point from the Bronx wasn't completed until the 70s. By 1977, " the Bronx was burning " and President Carter, visiting the trash-littered, bombed-out section of the borough, declared it the worst slum in America.
Today, gentrification and a safe New York has filtered into Hunts Point and the rest of the South Bronx.  Hunts Point has remained a very poor and industrial neighborhood, with pockets of residential areas amongst the industry, and the the trifecta of wholesale meat, produce, and seafood markets make it the largest food distribution center in the world. When we arrived at 4:00am, the sun was still a dim bulb on the horizon.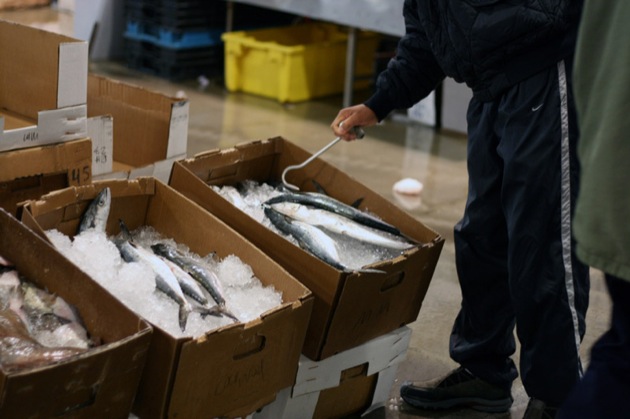 All three markets on Hunts Point are open, to some degree, to the public, as long as you pay a toll to park. In our sleepy and eager state, we pulled into the first driveway we found that said "Hunts Point Market," which turned out to be not the fish market, but the meat market instead.  Since we'd already paid a $5 toll, we drove in circles inside past trucks carrying beef, chickens, goats, and pork.  Inside the gates were a series of nondescript brown boxy buildings lined with unloading docks; most of them had semis backed into them.  Eventually, seeing no way to enter the market and eager to see the fish before it got too late, we pulled away.
The fish market was a newer building, and both cars and trucks were parking and pulling away.  We recognized many of them, such as a truck from Citarella and another from my local fishmonger Fish Tails (in Cobble Hill).  It was suddenly clear that this was how a fishmonger operated: by driving up to Hunts Point every morning, buying the fish, and driving it back.  I hadn't thought through exactly how this would otherwise work, but I supposed the fish was delivered to each store.  This might work for a grocery store interested in the same 50 chickens or pork chops delivered each day: meat is a commodity, fish is more complicated.  A fishmonger doesn't order the same thing each time around; it depends on what the fisherman has, how much volume, and how fresh.  There's an irregularity to fish dealings that meat (and industrialized produce) lacks.
We parked and eventually found a way into the market after circling the building.  Once inside,  the temperature immediately dropped to refrigerator levels.  The warehouse itself is a high-ceilinged corridor lit by fluorescents, with fish sellers lined up along each side.  The floor is clean and concrete; everything is bright white and sparkles like new.  The offerings were on display in boxes and trays, and ice spilled onto the concrete floor.  Remarkably, there was little to no fishy smell.  At the back of each stall was a window or counter for settling up.  The center aisle was full of forklifts ferrying fish to and fro.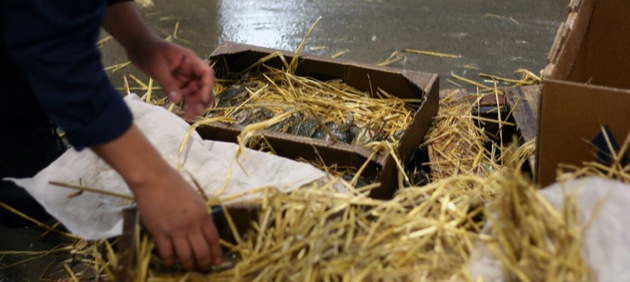 The seafood, of course, was stunning: we saw blue crabs stored in hay, whole sharks, a fish-gutting assembly line (at the rate of 1 fish every 3 seconds), and a worker butchering an entire tuna into 4 glistening, body-length red fillets.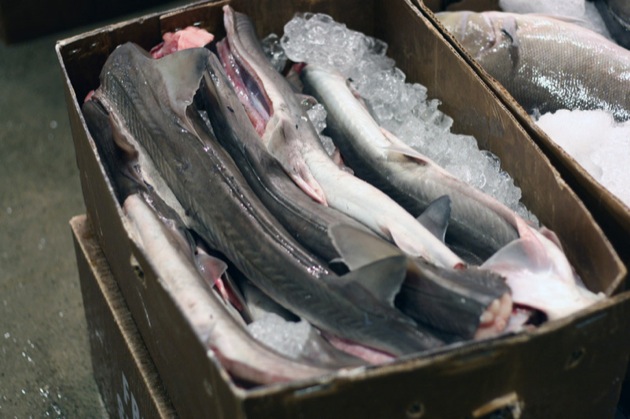 For awhile, nobody paid us much attention, and it seemed foolish to try to strike up a conversation at that early hour with men so busy and devoted; the market doesn't present itself immediately as a tourist attraction.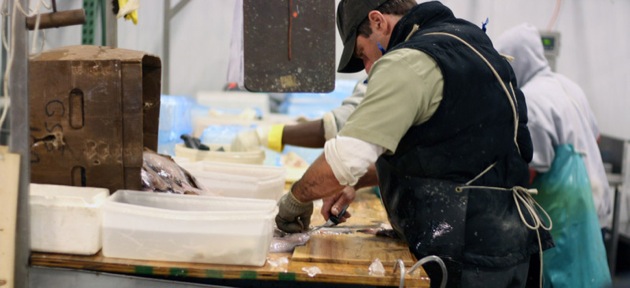 So we just started to take photographs, until eventually someone started yelling at us.  "Hey you!" I suddenly heard behind my back.  I froze, wondering if I'd broken a rule by photographing the fish.  Would we be gutted ourselves with one of those hooks everyone was carrying around, used to tear open boxes and plunge into the gills of a fish to lift it for inspection?
"Take my photo instead!"
We whirled around to see a jolly man who began to dance and pose on a stairwell while the rest of the workers laughed.  I lifted the camera to my eye and snapped a shot.  Then he came down and we each posed with him; he seemed to quite enjoy it.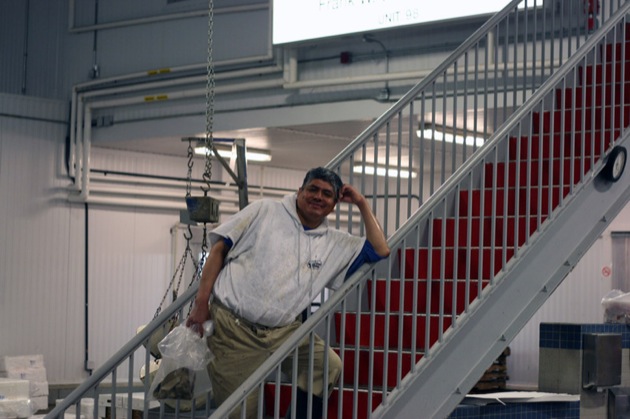 After that, we relaxed and talked to anybody that would look us in the eye. We went around to inspect those beautiful tuna fillets, many of which were affixed with little yellow post-it notes, indicating that they'd been reserved for different restaurants: one for a sushi place, another for a steakhouse, a third for a market.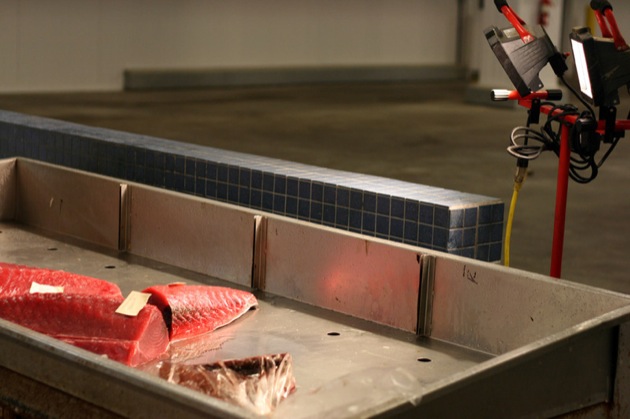 The most talkative and friendly of the lot were the guys at Blue Ribbon (not affiliated with the restaurant), who are a longstanding presence at the market, since 1931.  They are well-known as the exclusive suppliers to Le Bernardin ; their fish was some of the most beautiful at the market, especially their red snapper, and they claimed that their stuff is the "cream of the crop." Who wouldn't say that about their own product? Still, it could hardly be contested.  A fellow named John picks out the best of their daily product and sets it aside for Le Bernardin every morning.
As far as we could tell, buying fish would have been possible (it would have been fun to engage in a little price haggling).  In other words, a special license wasn't necessary.  But Matt and I were also keen to seek out the nearby produce distribution center and try out some of Hunts Points restaurants, especially a well-publicized spot called Mo Gridders that serves up barbecue while you wait for your oil change.  As we left the light was beginning to rise over the horizon, and we pulled out, picking up two sugary coffees from a coffee shop nearby (they don't ask whether or not you want cream and sugar--it just comes that way). Seeing signs for the produce market, we veered into a driveway and pulled into our third tollbooth of the morning.  The tollbooth women eyed us suspiciously, then suggested that we pose as produce buyers to be allowed in.  With a receipt that identified us as seeking tomatoes, we parked and wandered in.
Immediately, the contrast to the fish market was apparent.  The jolly friendliness was replaced with a sort of scowling suspicion.  Filthy trucks idled as pigeons circled overhead, looking for scraps.  We walked down the hallways full of every kind of produce imaginable, piled next to discarded boxes and empty aircraft shipping cartons.  The vibe was decidely against taking any pictures; there was an undercurrent of hostility.  In fact, wandering around that place was enough to make us want to restrict all future produce shopping to a farmer's market. Granted, in a city the size of New York this kind of industrialized distribution is necessary, but we sure didn't like it.  The place was dingy and splattered with pigeon poop.
By the time we left the produce market it was nearing 7am, and we were hungry.  We considered buying the famous broccoli rabe and Italian sausage sandwich at Fratelli's, which is adjacent to the sugary-coffee donut shop, but instead set off up Hunts Point Avenue hoping for Mo Gridder's barbecue at the oil change spot instead.  On the way, we were yelled at walking across the intersection of Oak Point and Hunts Point Avenues and a boisterous black guy came running over, like we were old friends.
"Have you gents been to the Triangle yet?!" he inquired.  We recognized the name: it was the flashy-looking strip club next to Fratelli's.
"Are they open at this hour?" Matt called back.
"What time is it?"
"It's seven in the morning!"
By that time we had crossed the street to have a civilized conversation. He went on to regale us with his story of visiting with 20-some men and the various favors they were given; when he finished, I think he expected us to turn around and go banging on the shuttered gate.  Matt nodded earnestly, and gave him a sidelong smile.  "I'll tell you what. If we visit a strip club this morning, we'll definitely make it the Triangle."  The man seemed genuinely satisfied with that answer.  He gave us a knowing smile and headed back into his auto shop.
Further up the road we found Mo Gridders--the doors were open for business, but it was rather quiet.  We found some guys in the auto shop to inquire about the barbecue, but unfortunately, the pork wouldn't be ready for hours.
Disappointed, we headed up to Randall Avenue, where we'd read about a Spanish coffee shop serving excellent Pernil (roast pork), Randall Restaurant .  Matt and I both ordered the pork, which came with a mountain of white rice and a cup of soupy red beans.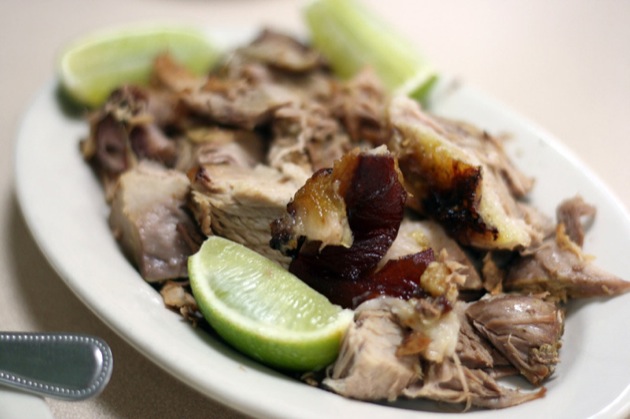 I've had better Pernil, but at that time of morning, after a long morning at the markets, nothing could have hit the spot more.  We doused everything heavily in lime juice and ate ravenously. The restaurant was full of workers eating "lunch" at 7am.
Stomachs full, we waved goodbye to Hunts Point.  It had been a fascinating morning, and we could hardly stop talking about the Fulton Street Fish Market--how friendly and spirited the place had felt.  What was interesting was the attitude of the workers at the fish market: they really seemed to care.  When we mentioned to them how remarkable a place the Fulton Street Fish market seemed, they nodded and agreed without hesitation. "Yeah, you're right."
We speculated why this was, and came up with the idea that fish selling has a vibrancy to it because of the unexpected nature of the product. Though a butcher or meat distributor can depend on receiving whatever product he orders or receives from a farmer, this is less true of the seafood seller.  Sure, there are fish farms -- but there is also the mystery of what the ocean will offer up that day.  This helps prevent a the ennui of regularity.
The second reason probably has to do with the fact that all the fish is dealt with in whole-beast state, i.e. the product comes in as a whole animal, often live.  Nobody is ordering or selling the equivalent of pork chops. Though fish are less sentient than a whole cow or pig, there is regardless a deeper respect that is necessary when you're seeing the whole animal.  It's harder to commodify it.
Matt and I, in our sleep-deprived state, talked seriously about working for a fish monger and coming up to Hunts Point every morning to buy fish. We asked the guys at Blue Ribbon whether there was an apprenticeship program for restaurants.  There was something deeply inspiring about the place.
Bronx,
Fish,
Fulton Street Fish Market,
New York,
New York,
Seafood