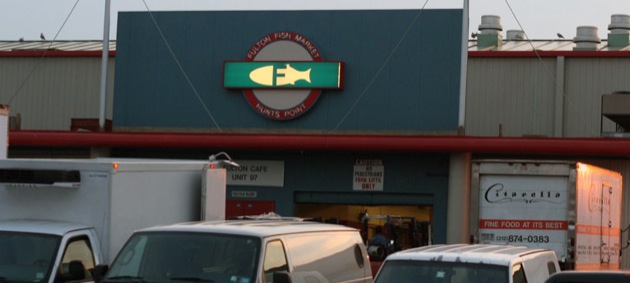 If you walk around Manhattan, it often seems like more than half of the stores are restaurants, most of them busy and stuffed with people.  It doesn't take much thinking before one wonders how all that food gets into the kitchens to feed them all.  And not just the dining-out set: what about grocery stores?  And bodegas.  And butchers.  And fish mongers.  The sheer quantity of food moved around the city every day is breathtaking.  How does it all happen?
Much of it originates in Hunts Point , a scrappy peninsula in the South Bronx that bulges out from the borough like a hernia.  It's quasi-industrial, with a few housing projects, apartment buildings, and parks.  There is an expansive collection of strip clubs, too many auto shops to count--and the largest food distribution center in the world.
Along with my friend Matt, I recently woke up at 3:30 on a Friday morning--willingly--to visit Hunts Point, specifically the Fulton Street Fish Market .  When we arrived, the trash-littered streets were cast with harsh fluorescent shadows, and Food Center Drive rumbled with the vibration of semis hauling food in and out.  Overhead, passenger jets landing and leaving LaGuardia Airport screamed and reverberated off the runways just across the Bronx River.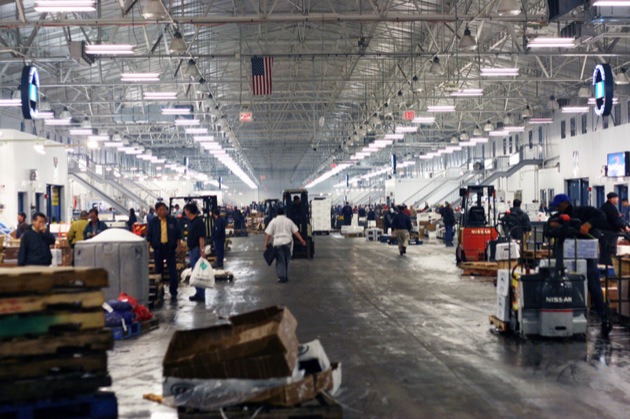 Together with the Fulton Street Fish market there are two other distribution centers in Hunts Point, dealing in produce and meat .  But visiting the fish market is the most stimulating and exciting.
Restaurants receive their produce and meat from many sources--you can often spot chefs at the Union Square greenmarket picking up vegetables, and it's not impossible for a restaurant to set up a direct relationship with, say, a pig farmer in upstate New York to source high-quality pork.
But seafood is different--without a distribution center, where the freshest seafood from all over the world can be gathered in a central location, a restaurant would have a heck of a time of it dealing with fishermen directly all over the globe.  For this reason, even the fanciest restaurants come to Hunts Point for their fish.
The market is housed in a massive, refrigerated warehouse, where inside there are dozens of sellers who display their wares on ice and in boxes; every morning buyers for restaurants, fish mongers, and grocery stores arrive to select seafood, bargain for its price, then drive it to their respective establishments.  Well over a hundred million pounds of seafood travels through the market every year, and the fish market alone is the largest in the United States.
The fish market only recently arrived at Hunts Point; from 1822 it was housed in downtown Manhattan on the East River, near where the Brooklyn Bridge reaches Manhattan, steps from Wall Street.  Strangely, just like the lower Manhattan location after the 1950s, the current market makes no use of its waterfront location--no shipments of seafood are delivered by boat, and instead come in solely by truck.
The history of the original Fulton Street Fish Market is winding and corrupt. It is also a story of survival against all odds--through 4 major fires , flooding, and the September 11th terrorist attacks, the conditions hardly seem to have mattered: the fish was always sold.  New York depends on the Fulton Street Fish Market, and the market has not let New York down.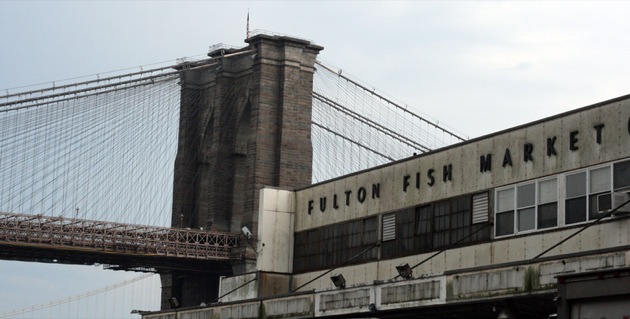 At some point in the 1930s, the market succumbed to corruption , and for over half a century it was infamous for mafia meddling. The racketeering and extortion at the fish market was brutish but well-engineered; the mob carefully calibrated each stage of the process to extract and extort money.   Fish dealers had to jump through a series of hoops in their dealings with mob-controlled companies just to operate and sell their fish to New York.
It's also sometimes comical.  Here is how the average fish sale proceeded: first, corrupt loading companies, who had commandeered city-owned parking spaces, would charge high rents to the trucks delivering fish.  Once that rent was paid, other separate un loading companies had to be paid to transfer the product out of trucks and into the market, because they had exclusive rights to this task--in other words, no one was allowed to carry their own product from their own trucks.  If a seafood delivery company did not properly pay or bribe the unloading companies, the workers at the unloading company would purposely slow down, causing fish to warm and deteriorate.
Within the market itself, leasing space to sell was hard.  Mob-owned leases were exorbitantly sub-leased, often to multiple vendors at once, breaking city rules (in 1994, for example, 170 wholesale companies operated in a space with only 60 official tenants--and the rent for those 60 tenants had not been raised in 13 years because the city was reluctant to sign new leases with Mob-tainted businesses).  Phantom companies would arrive, rack up large accounts, then disappear.  Most likely, the market was used for laundering money -- like in the early 1980s, when a group of armed men forcefully.
For many years, uninterested in confronting the corruption, the city left the task of regulating the market to the Federal government, which was mostly unsuccessful--they lacked a vested interest.  The openly corrupt market operated for years in a valley between city and federal oversight; when the corruption periodically became public, prominent mob figures were arrested and charged, but soon replaced with other family members, and business went quickly back to shady as usual.
Future Mayor Rudy Giuliani , then a Manhattan Federal Prosecutor, took the first major stand against the mob, declaring a federal racketeering suit against the commercial center as a whole .  Later as mayor, he proposed major shifts in lease distribution, seeking background checks for companies and employees and proposing a city takeover .  Shortly after this announcement in 1995, the historic Fulton Street market suspiciously caught fire ( its 4th major fire in its history), largely destroying the building housing the fish portion of the market.  Many financial records were lost, which would have been critical to investigations.  For months afterward, fish sellers set up shop on the sidewalk, scrambling to sell fish before it spoiled .
Eventually, a proposal was floated to move the market to Hunts Point, where produce and meat distribution centers had existed for decades already.  This idea was not very popular, despite the incentives of easier truck access and a refrigerated warehouse (the original Manhattan location was an open-air market, so the fish was simply on ice).
In late 2001, long before the new warehouse was built, the fish dealers got a taste of being in Hunts Point, when the market was moved there temporarily due to 9/11 aftermath.
A New York Times article describes the lot in Hunts Point as "a polluted brownfield and a dumping ground for batteries, house paints and other toxic materials."  It goes on to quote Joe Centrone, a "cantankerous cigar-stained salesman for Arrow Seafood, who is known around the market as Joe Tuna. 'We're getting slaughtered. None of the customers can find us up here, and even if they could, this ain't the nicest neighborhood in New York.'
Despite the resistance and reputation of Hunts Point, Giuliana was successful, and the new warehouse in the Bronx was built where the market was eventually moved altogether in 2005--housed under stricter city oversight and complete refrigeration, which met new Federal regulations and made the fish fresher.  This is where it operates today, and I'll tell you all about it in the next post.  Hunts Point, though still scrappy, seems to have taken a step forward from its batteries and house paint days.
Update: Read the second part of the post about the actual market visit here .
Fish,
Fulton Street Fish Market,
New York,
New York,
Seafood