Make pulled pork at home.
Apple City Barbecue Pulled Pork Sandwiches
Day 1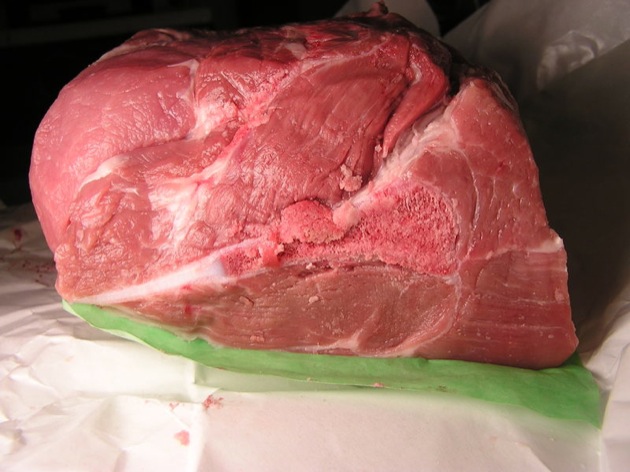 1 pork butt (4-6 pounds), preferably with the bone-in
Prick the pork butt all over with a fork.
Magic Dust: AKA the Rub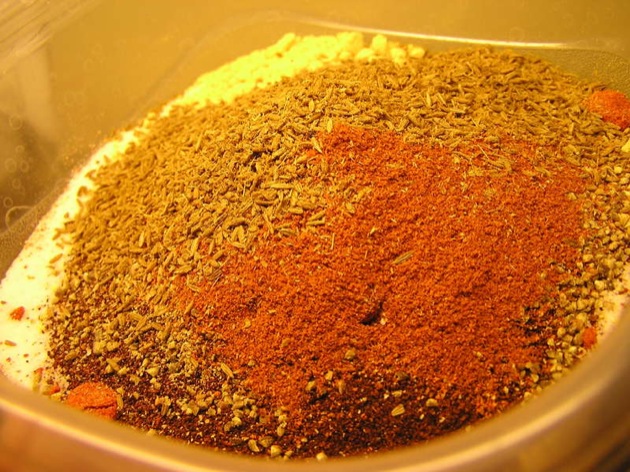 1/2 cup paprika
1/2 cup kosher salt
1/4 cup sugar
2 tablespoons mustard powder
1/4 cup chili powder
1/4 cup ground cumin
2 tablespoons ground black pepper
1/4 cup granulated garlic
2 tablespoons cayenne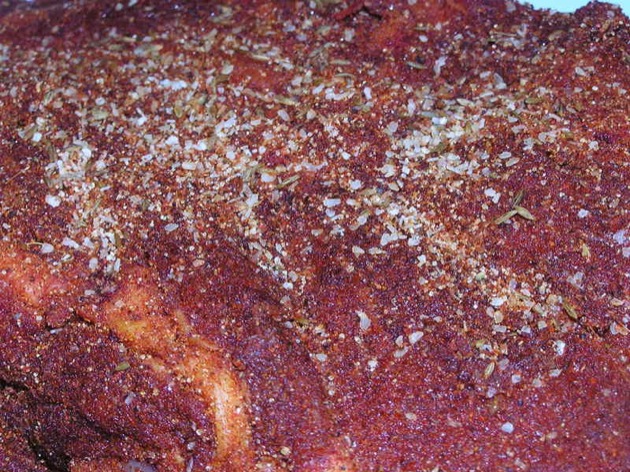 Mix all the seasonings together in a bowl.  Rub the mixture all over the pork butt.  You certainly won't use all of it, probably about half.  But do make all of the magic dust.  It goes well sprinkled on just anything, especially roast potatoes.  Just make sure the whole piece is covered.  Then place it in the fridge and let it sit for at least 4 hours, or like me, just let it rest over night.
Day 2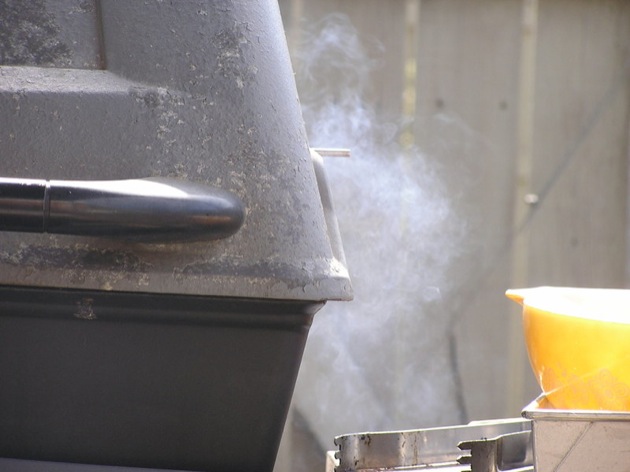 There are 2 dozen odd ingredients in this massive recipe, but the hardest part by far is the actual smoking.  It is not an easy thing to do.  It requires constant attention and patience.  But I did learn some great tips from Mike Mills.
The most important tip I learned was that the heat cooks the meat and the smoke flavors the meat .  This doesn't sound that revolutionary, but I just had never thought about smoking like that before.  The smoke had nothing to do with the cooking of the meat, only flavoring.  I had always thought that smoked meat was cooked by the same element that produced the smoke.  And while that occasionally does happen, it does not have to.  This meant I could smoke on a gas grill.  All I had to do was maintain a temperature between 225-250 degrees Fahrenheit for the desired time.
This also meant I could theoretically cook a whole pork butt with the flavors of the magic dust and the mopping sauce in the oven and made some pretty good pulled pork.  But then I wouldn't have had the flavor of the smoke and I wouldn't have had barbecue.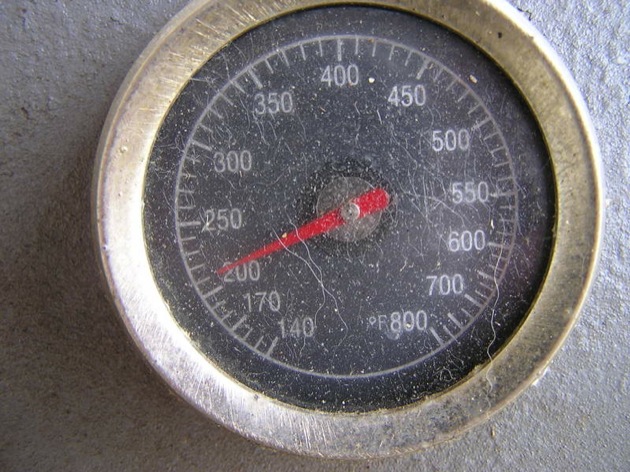 I would use the gas grill.  Well, it's not mine.  It's my brother-in-law's.  I maintained the temperature by turning one of the burners to medium-low and leaving the other two burners off.  After about 15 minutes with the cover shut I had the perfect temperature.
If it got too hot, I'd open the top.  If it got to cool, I'd turn the heat up.  That part was simple.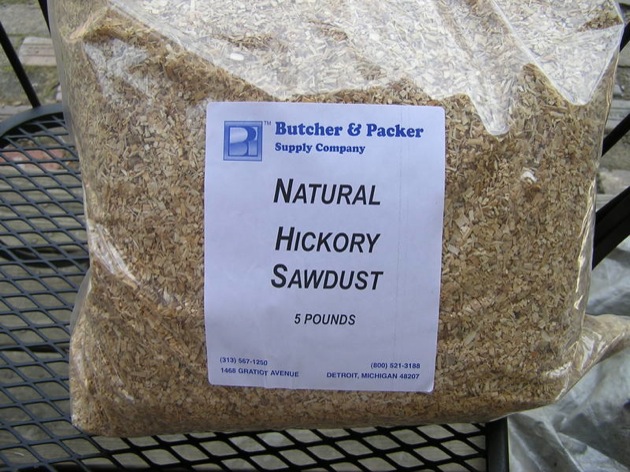 Getting wood to smoke is not.  After reading around I decided to use hickory sawdust, which I purchased from Butcher and Packer .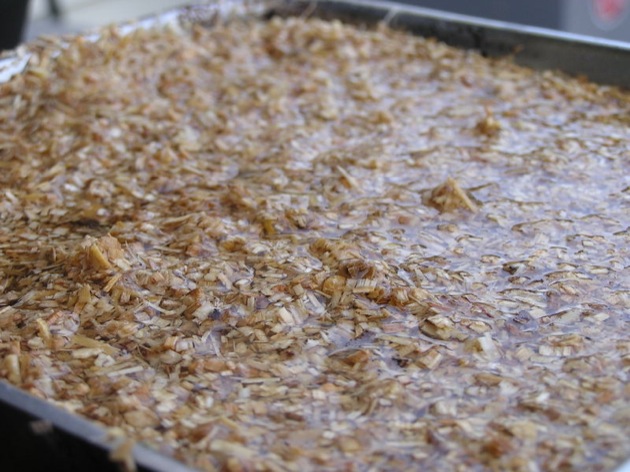 As I wrote during my bacon post, I had a little problem getting the smoke started .  It takes time.  The method I settled on was the same that Michael Ruhlman suggested in his version of the pulled pork in Charcuterie .  I soaked the sawdust in water for thirty minutes.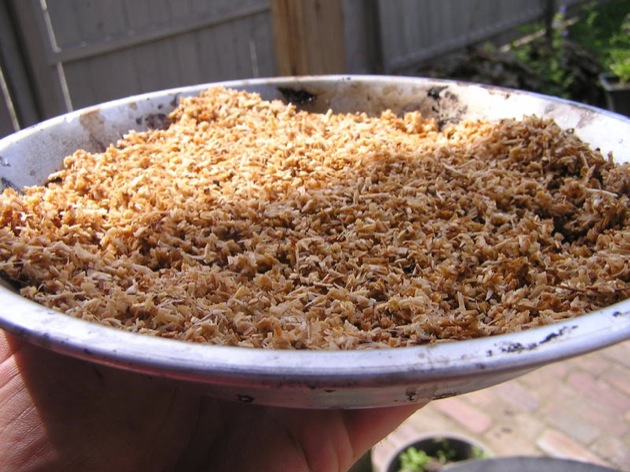 I drained the water, then placed it in an aluminum pie pan.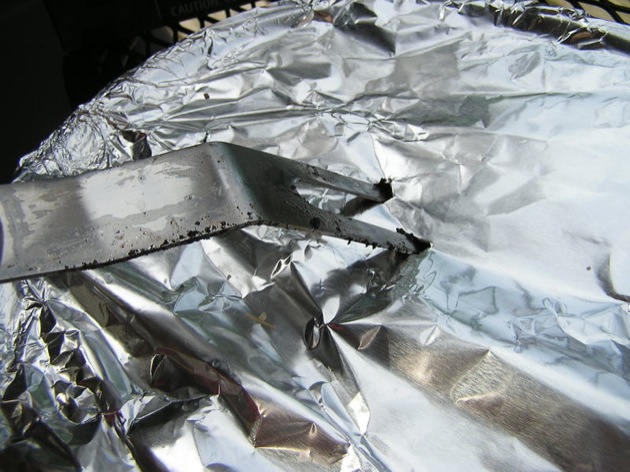 I covered that with aluminum foil, and poked holes in it.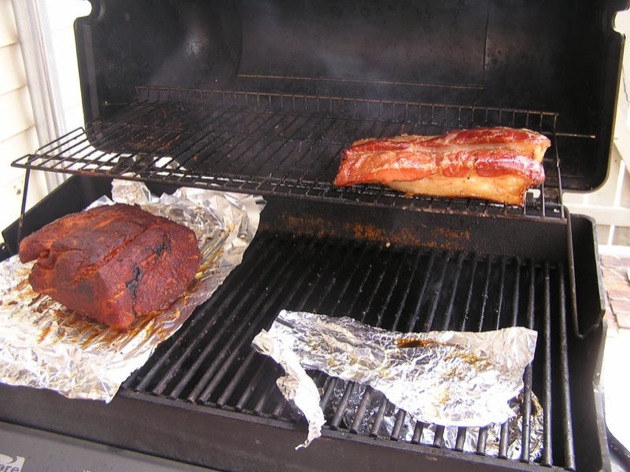 Then I set it directly over the burner (I had to remove the grate to do this).  Turned the heat to medium-high, and let it sit for about 15 minutes.  After some smoke started to come out, I turned the heat back to medium-low, and then immediately went about prepping the next batch of sawdust.  The smoke lasts for about 30 minutes.
Once I had the temperature right, and the smoke began to flow, I set the pork butt on the grill on top of some aluminum foil.  I worried a little about whether the fat that dripped off the pork should fall right on top of the grill.  I have no idea whether this is what one should do or not.
Anyway, with the meat is on the grill, I prepared the mopping sauce.
Mopping Sauce
1 quart apple cider vinegar
1 cup water
3 tablespoons vegetable oil
2 tablespoons kosher salt
2 tablespoons chili powder
2 tablespoons sugar
1 tablespoon cayenne
Combine the vinegar, water, oil, salt, chili powder, sugar, and cayenne in a large sauce pan.  Turn the heat to medium, and cook until everything has dissolved.  Remove from heat, and let cool.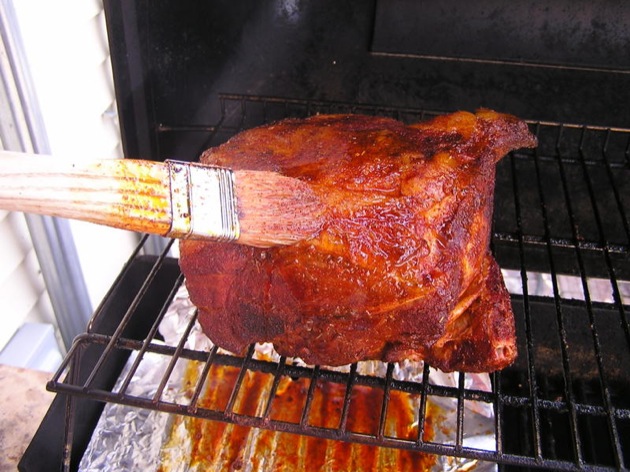 Start mopping the meat with a brush starting at the 1 1/2 hour mark.  Then mop it every 30 minutes after that.  Every time I mopped I also moved the pork around just to make sure it was cooking evenly.
All that was left for the next 5 to 6 hours except for constant care, prepping the sawdust, and mopping was to make the barbecue sauce.
Apple City Barbecue Sauce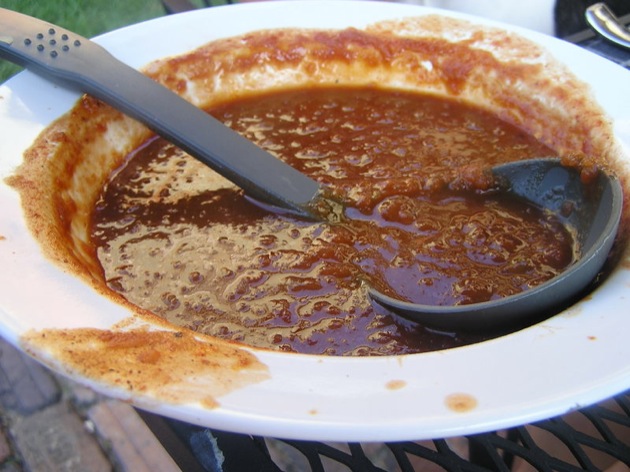 1 cup ketchup
2/3 cup seasoned rice vinegar
1/2 cup apple juice
1/4 cup apple cider vinegar
1/2 cup packed brown sugar
1/4 cup soy sauce
2 teaspoons prepared yellow mustard
3/4 teaspoon garlic powder
1/4 teaspoon ground white pepper
1/4 teaspoon cayenne
1/3 cup peeled and grated apple
1/3 cup grated onion
2 teaspoons grated green bell pepper
Combine the ketchup, rice vinegar, apple juice, cider vinegar, brown sugar, soy sauce, mustard, garlic powder, white pepper, and cayenne in a large sauce pot.  Turn the heat to medium-high and bring to a boil.  Then add the grated apple, onion, bell pepper, turn the heat to medium-low and simmer for 15 minutes.  Stir often.
Almost There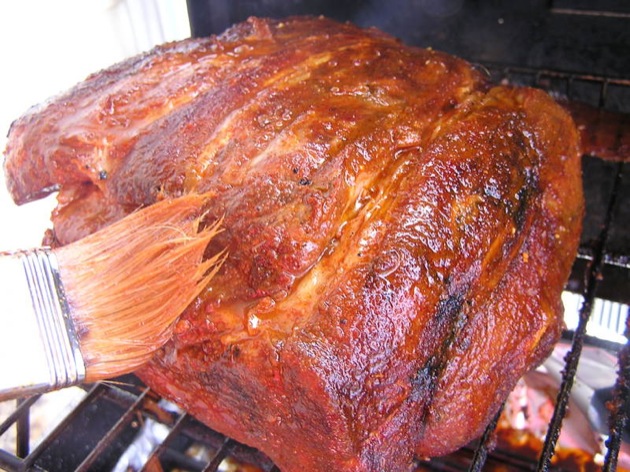 The pork needs to reach a minimum temperature of about 165 degrees, and more like 180 before the meat will be perfect to pull.  Mike Mill gives a approximate cooking time of 5 to 6 hours.  I started measuring the temperature about 4 hours in, and ended up cooking it for right around 6 hours.
About 15 minutes before it was done, I brushed the meat with the barbecue sauce instead of the mopping sauce.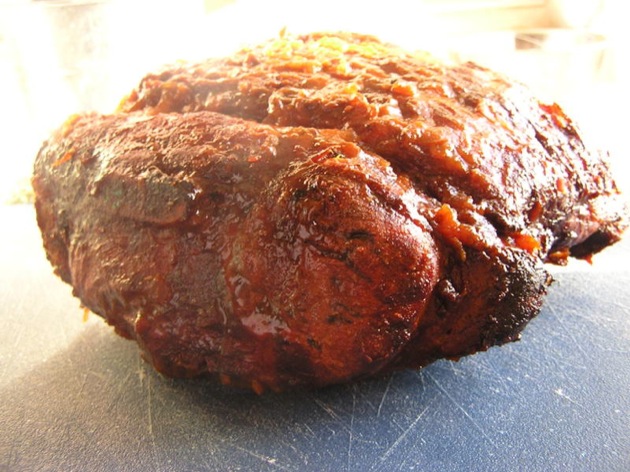 Then I removed the meat and let it rest for 15 minutes.  This is really hard, too.  Just look at it!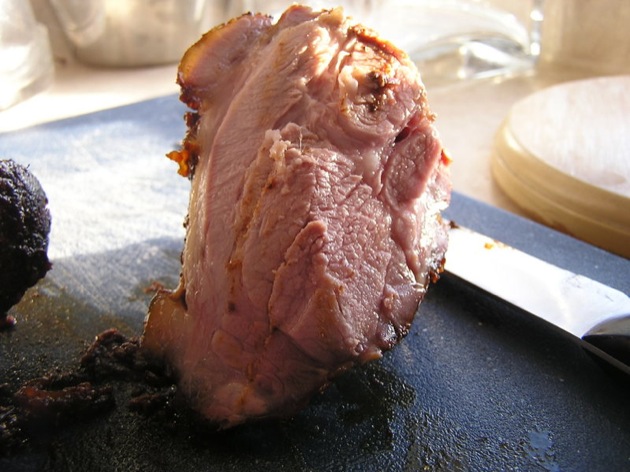 Then it's just a matter of slicing and pulling.  I sliced off a huge hunk and then used to forks to pull the meat apart.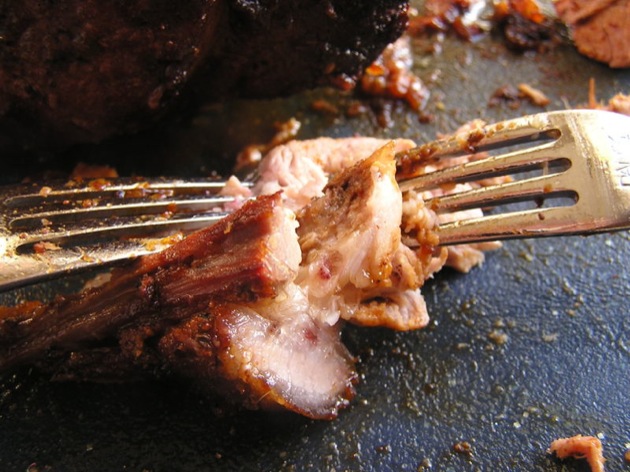 It was fairly easy.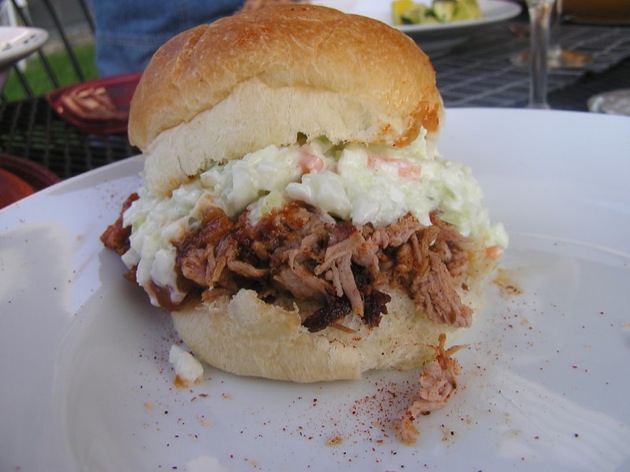 Then it's a matter of eating.  This part is easy.  I piled some pulled pork on a bun, topped it with the barbecue sauce, a little coleslaw, and a sprinkling of the magic dust.  Then I sandwiched it with the top part of the bun and dug in.
Food,
American,
American cuisine,
Barbecue,
Barbecue,
Barbecue sauce,
butcher,
Coleslaw,
Cooking,
Food and drink,
Michael Ruhlman,
Mike Mills,
Mike Mills,
Peace Love & Barbecue,
Peking pork,
Pork,
Pork,
Pork Shoulder,
Pulled pork,
Regional variations of barbecue,
Sandwich,
Sandwich,
Sauce,
Smoking,
Smoking,
Smoking