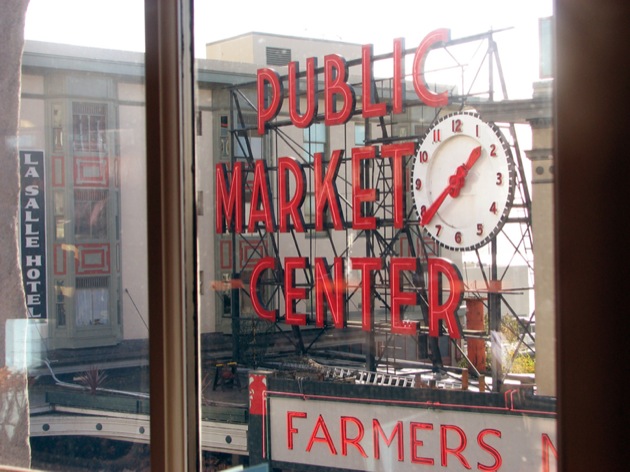 The one plan we made before we arrived in Seattle was hang out in Pike's Place Market, a giant, touristy market on the waterfront that specializes in seafood.  Though other places were recommended, we only had a day and didn't want to miss it.  We also wanted to eat lunch there, and it quickly became obvious where we would eat: a place called Matt's in the Market, the unanimous recommendation given to us.  Hidden above an unassuming stairway, it's an airy, light-filled space with an open kitchen, trendy waitstaff, and a straightforward, well-prepared lunch menu. During dinner, things apparently get fancier with tablecloths and such, but we walked into a loft-like space with wooden tables and very little pretension.
Having fully returned to a regular diet of coffee , the first thing we did was order some, which came in a giant French press full of rich Cafe Vitta, the coffee from a well-known Seattle chain.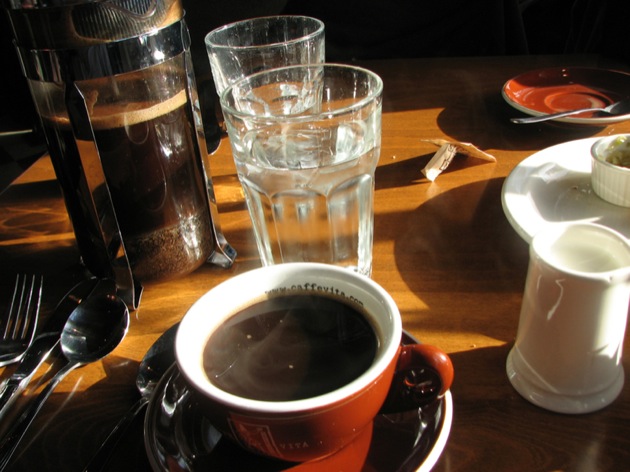 Elin and I ordered a "Butter Lettuce Wedge Salad" to start, which came with a cava vinaigrette over crispy pancetta, smooth avocado, and lumps of mild bleu cheese.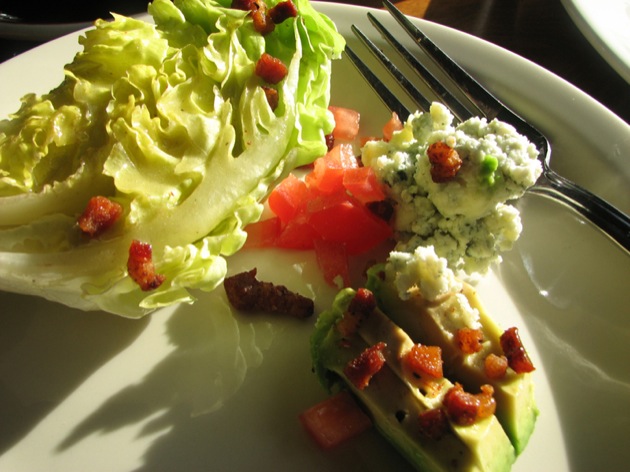 Everyone ordered sandwiches, the most enticing option.  I achingly passed up a seared tuna with wasabi crust sandwich for a grilled pork tenderloin with spicy peppers, caramelized onions, and melted oaxaca cheese.  Two lamb burgers were ordered, and a grilled eggplant concoction with a not-basil pesto, melted cheese, and roasted tomato.  Or was it pepper.  Who can remember these things.  All I know is that it was the best sandwich among us, which isn't something I can ever remember saying about a vegetarian's meal choice.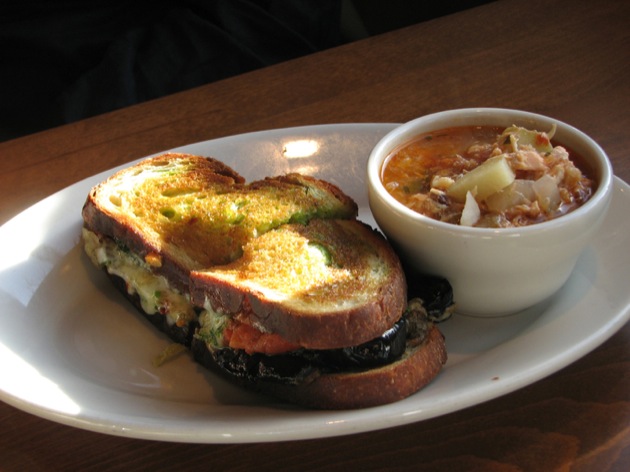 All the soups came with crab chowder with potato, a brothy, clean-tasting soup.  With a full belly and a caffeine buzz, we set off in different directions to saunter through the market.  Though shuffled would be a better word--it was the most touristy food market I've ever seen, and nobody seemed to be familiar with sidewalk etiquette.
I say it like I'm not a tourist myself. But I've unfortunately developed a New Yorker's attitude when it comes to public walking space .  There are rules.  Don't stop in the middle; get yourself off to the side. Don't unexpectedly change directions.  Check your blind spot before suddenly veering in a direction other than straight. And please, never, ever stop abruptly, think about something, then unpredictably change directions and go straight back in the direction you just came from. You're going to run into someone--and they're already impatient at your indecision.  Rule of thumb: if doing the same thing in a car on a highway at 60 would get you killed, avoid.
We walked by giant fish being thrown about, long lines for freshly-cooked donuts, a Russian pastry shop, the original Starbucks coffee location, and a cheesemaking storefront where we sampled fresh cheese curds.
The produce selection was vast, and, most notably, extremely organized.  Have you ever seen green onions presented like this?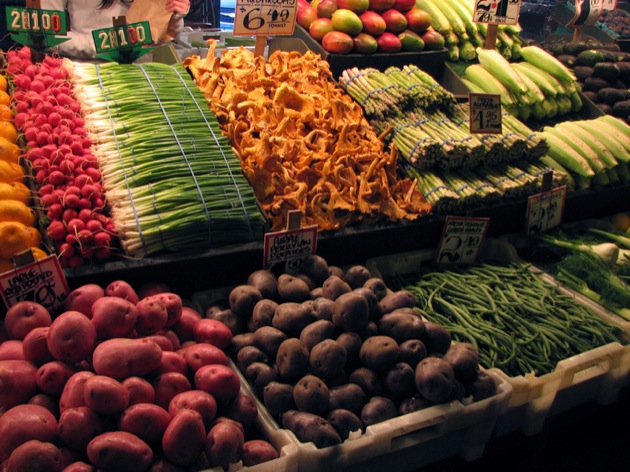 I'm curious: do any Seattle people shop at this market, or is it just a touristy destination?  Granted, we were there on a Saturday afternoon, and it was very warm and sunny.  But I don't know if I could handle this place on a regular basis, and I live in New York City.  Is it more low-key during the week?
Itching to see more of Seattle, and with the sunlight fading fast, we walked down to the Olympic Sculpture Park, a gorgeous park built on what used to be a decaying industrial site.  It's a remarkable experience in landscape design: you walk in and feel acutely aware of every angle, every play of light, each slope of the grass and curve of the art.  With the sun setting and casting sharp shadows across the park, it was a real experience.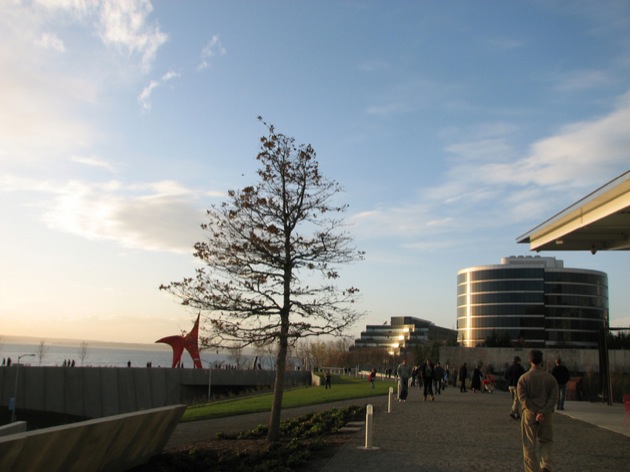 The highlight was probably the Richard Serra piece, a marvel of rusted steel plates many feet tall. It was a
different experience seeing his art outside with the blue sky above, rather than indoors at MoMA, where I've seen it until now.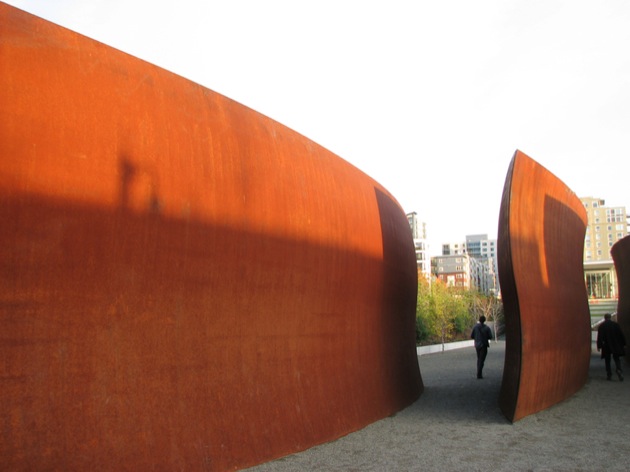 I also recognized a piece by Roxy Paine, who also did the metal trees now standing in Madison Square Park: one of my favorite pieces to look at while waiting around for a Shack burger.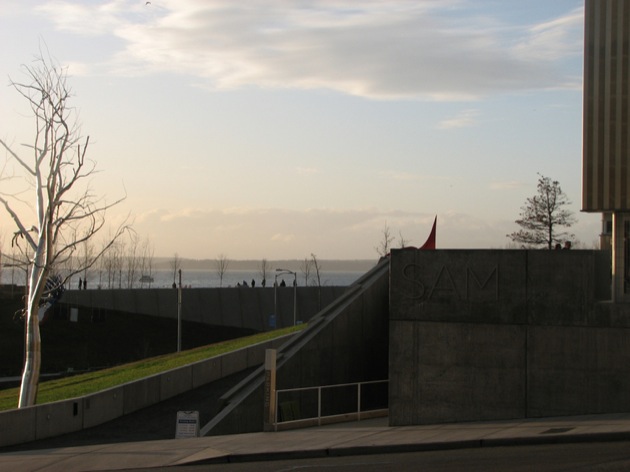 With the sun setting, we piled into the car and drove to the Seattle Library, another cool piece of architecture, then through some sections of Capitol Hill, across highway 5, where the scenery changes from scrubbed urban upscale to a grittier, more lived-in vibe.  We parked in a neighborhood that Jill used to live in but hadn't see in years, then literally just walked down the street until an interesting bar or restaurant presented itself.  That place turned out to be Smith , a kind of pubby spot with stuffed animal heads on the wall, long wood communal tables, and golden light.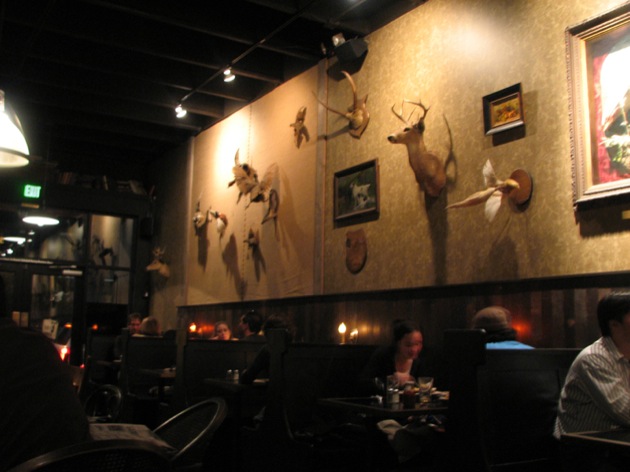 It turned out to be a fantastic choice: they had roasted bone marrow on the menu, plus duck tongues and some normal fare like sweet potato fries.  Best of all, they had Bulleit bourbon at the bar, perhaps my favorite whiskey.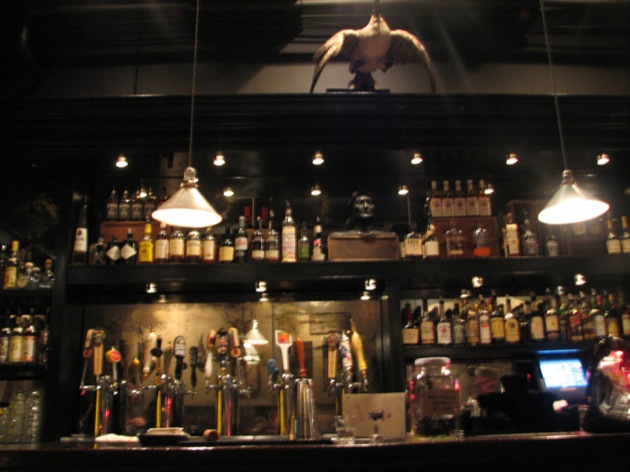 We ended up with the sweet potato fries which came with an herbed mayonnaise, Poutine, a Montreal dish of pomme frites with gravy and melted cheese curd, and, of course, the bone marrow-- have it once , you don't have a choice but to order it again.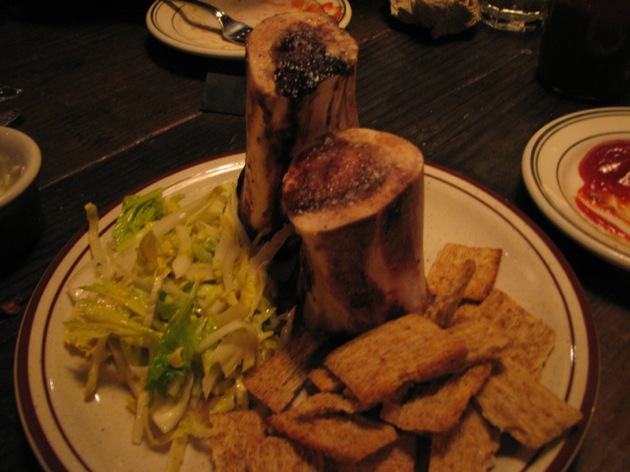 Jill, a vegetarian, was a real sport as we spread the unctuous marrow on triscuits and exclaimed its revelatory gustatory properties.  (Don't forget, there were also animal heads nailed to every available wall).  The poutine was great--you don't see it often on menus--and the sweet potato fries crispy, creamy, salty, delicious.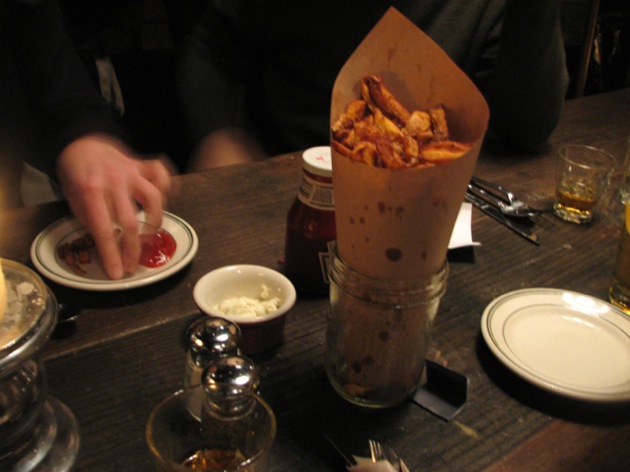 We were about to leave town when we remembered a place known for "perfect" Cuban sandwiches called Paseos . It was on the other side of town, but it ended up being a good chance to see the University of Washington neighboorhood.  Except when we finally got there...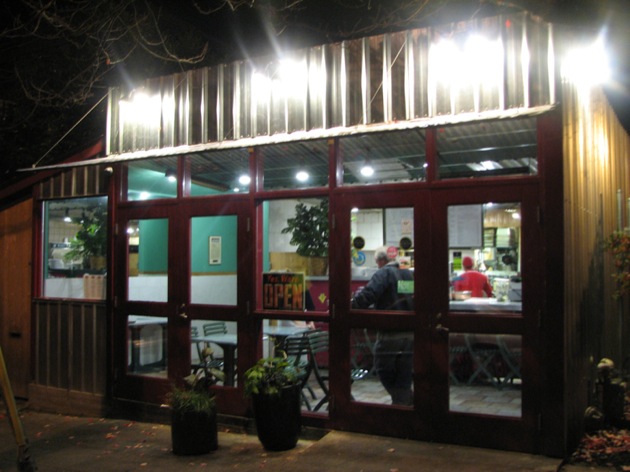 We were dismayed to find the following sign.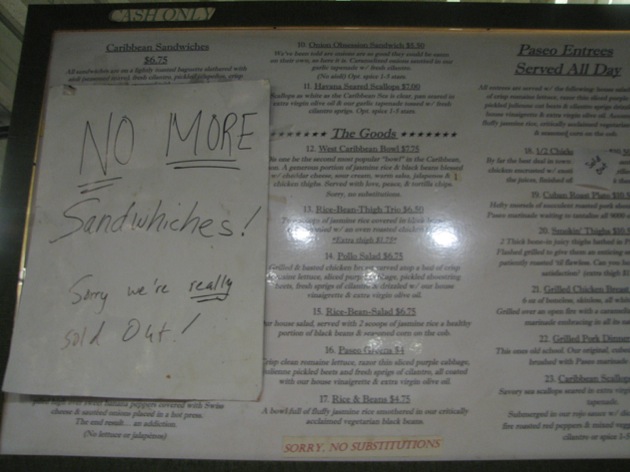 Despite the sign, I pressed.  "You're really sold out?"  There was very little sympathy. "When did you run out," I asked.
"Oh, bout 4pm"  I looked at my watch; 9:48.  "Sometimes they last until 7 or so," she offered.  I hung my head, ordered some rice and beans to go ("award-winning" vegetarian version), and slipped out.  I guess it's a weekend thing, the sandwiches running out.
The way I see it, you've got to leave something undone so you have a reason to go back.  Or at least that's what I tell myself.
Markets,
Seattle,
Travel,
Travel