Killer tacos and no-corn-syrup Mexican Coke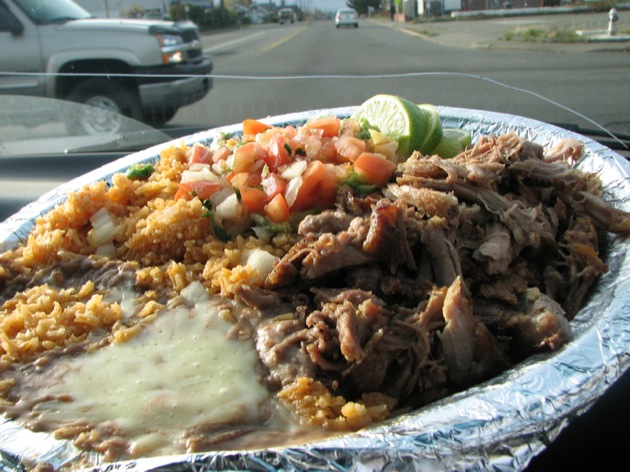 With the time change and a long flight ahead of us, we have to leave by 4pm just to arrive home in New York at midnight (Correction: arrive in Newark.  I'm never doing that again).  With a morning left and having had scarce time to explore Olympia itself, we asked Scott exactly what to do with the remaining hours.  "Well, there's this Mexican taco truck," he said casually.  And it was decided.
We first went to the market to kick around, met some local Olympia people (Scott, it seems, knows everyone.  You could say that he's "kind of a big deal."), and then headed for the cart.  We crossed our fingers that it would be parked in its usual place--and sure enough, there it was.
Our mouths watering in anticipation, we ordered four tacos to begin: chicken, pork, bean, and beef tongue.  Then we looked down at the case full of chilled Jarritos soda, and noticed this.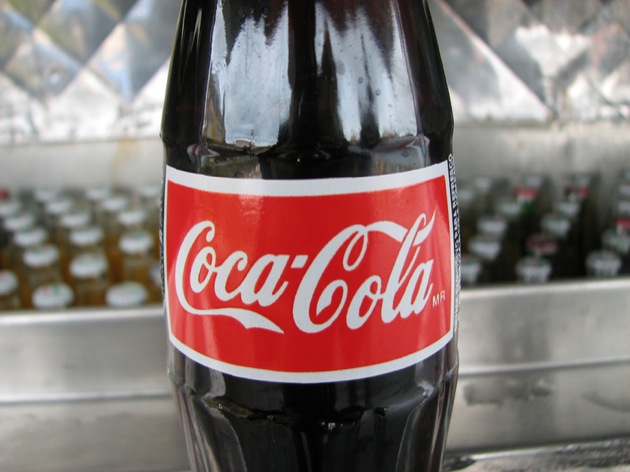 That is a true Mexican Coca-Cola.  Which, if you're in the know, is something quite special indeed.
This is what Coca-Cola used to taste like before they switched to High Fructose Corn Syrup (though Coke corporate steadfastly claims that there is no taste difference).  In Mexico, where corn is revered and therefore not grown in awfully large quantities and put into every processed food possible (see the first part of Michael Pollan's The Omnivore's Dilemma for the full story), they continue to use real sugar cane.  This was my first Mexican Coke, which is not easily imported and therefore hard to find. It was delicious.  Just a cleaner taste.  None of that teeth-coating syrupyness you get with your typical soft drink. Still extremely sweet but a fuller, more dimensional taste.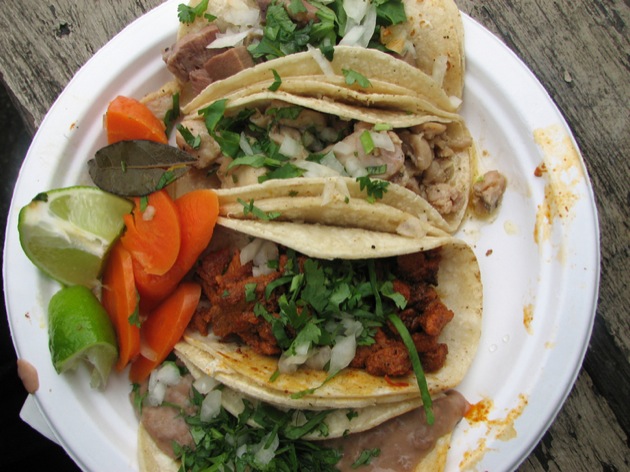 But the tacos!  The tacos were good.  Tongue was soft and tender, the chicken moist, pork a touch spicy, the beans creamy and savory.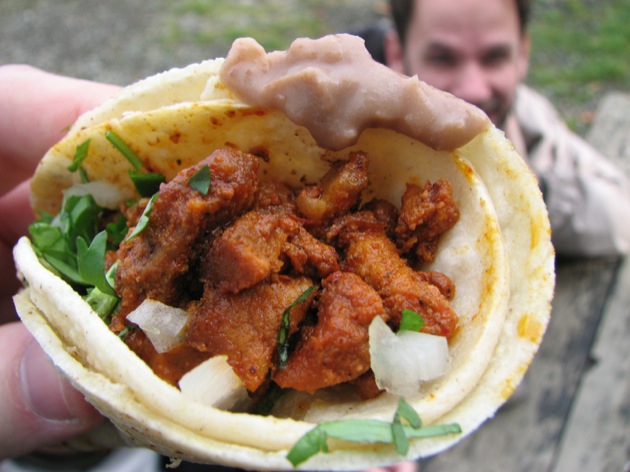 They were wrapped in double tortillas and topped simply with cilantro and chopped onion.  A spicy liquid salsa was handed to us in a squirt bottle, with pickled carrots and lime slices on the side.
But this, of course, was not enough Mexican--not with the shortage we knew we'd soon be facing once returning to New York.  "I know about some carnitas on the way to the airport that will pretty much melt your soul they're so good,"  my uncle Scott suddenly stated.  It was like he knew the power he had over us.  With just an hour left before needing to check in, we arrived at Vuelve a la Vida (I'm not sure if this is the actual name; it's the only thing I can find via Google.  We were so harried I forgot to take note).
Inside it was bustling, and almost every table had a bucket of ice and Coronitas, the little Corona bottles.  Soccer was on the TV, people were hooting, families were eating, and a large banner in the restaurant said "Viva La Revolution: No Chips & Salsa."  We knew this was going to work out.
We eventually found someone to place an order to go: a pound of Carnitas (for Scott's friend), and a Carnitas dinner plate, served with a stack of tortillas, beans, cheese, guacamole, salsa, plus a tamale with red pork.  Into a bag it went, into the car we went, and off to the airport we drove.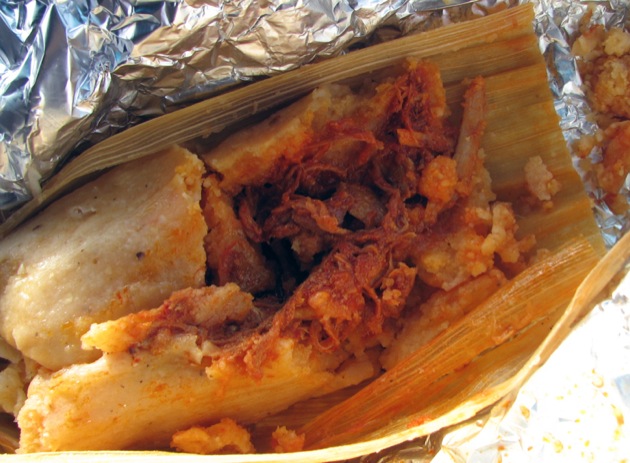 The tamale was full of succulent, spicy pork surrounded by a mold of well-salted cornmeal dough.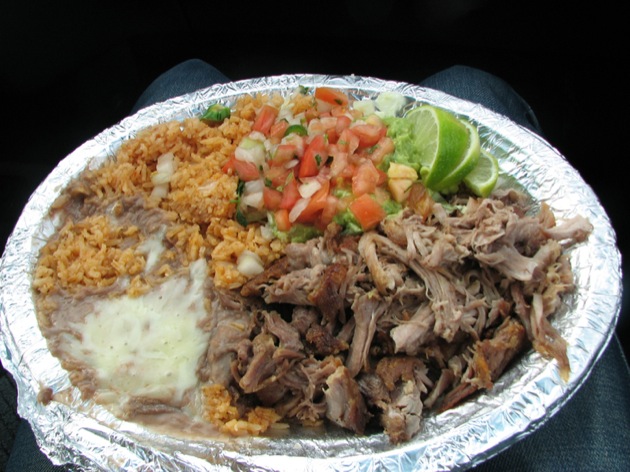 The carnitas--tender yet crispy--got stuffed into piping hot tortillas and topped with whatever could be scooped up with a fork.
We'd finished off everything we could be the time we arrive at Seattle's airport, and donated the remaining tortillas to Scott's friend who would be waiting in anticipation for her carnitas.  Then we checked in, passed security, and stepped onto the plane smelling like spicy pork.
Travel,
American cuisine,
Carnitas,
Carnitas,
Coca-Cola,
Corn tortilla,
Cuisine,
Cuisine of the Southwestern United States,
Cuisine of the Western United States,
food,
Food and drink,
Mexican cuisine,
Mexico,
New York,
Newark,
Scott,
Seattle,
Seattle,
Seattle-Olympia,
Taco,
Tacos,
Tamale,
Tortilla,
Travel