Manhattan. 1 day. 9 Restaurants.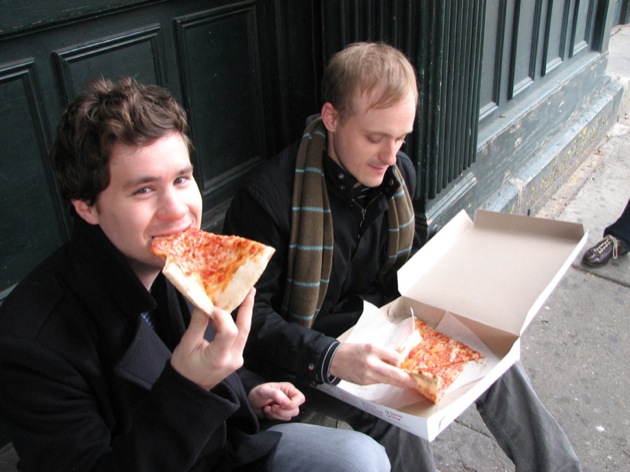 I hadn't been to New York since my exodus in July and I returned with a plan.  I wasn't going to waste any moment visiting attractions, or seeing a Broadway play.  I lived there for two years, so it felt right to walk back in and get to what I spent most of my time doing: eating.  And with the Paupered Chefs reunited for the first time in half a year, it really wasn't that hard for our minds to go racing all over the place.
Though it felt kind of sacrilegious, I didn't want to spend the trip huddled in a kitchen cooking, even if that's what we do best.  I wanted to be in the city, amongst the crowds, seeing as much as I could.  So I needed a quest, an adventure, a reason to spend time marching around the city.  I called it Gorgefest Saturday .  It's my dream lineup of Manhattan's best affordable food.  There are some things New York just does better.  But I didn't have much time.  All of these food fantasies had to happen in one afternoon.
It broke down like this: 4 hours.  9 restaurants.  2 skinny men.
It began in East Harlem, at the very tip of this map, and some of the best pizza in the world.
Location 1: Patsy's Pizzeria , 2287–91 First Ave.
The furthest location away, and the home of one of my favorite slices.  I adored it from the moment I first bit in about a year and a half ago with old Upper East Side roommate Max.  Oddly enough, the curbside dinning experience is entirely more pleasant than the attached restaurant, which is poorly staffed and unbelievably slow.  No, the way to eat is to walk in the take out side, order a slice, and sit out right in front.
We've talked about the pizza before .  It needs no explanation.  But for someone who hadn't had a New York slice for months, it was astonishingly good.  How could a place with such meager ingredients makes something like this?  It wouldn't be the first time I'd be surprised.
Location 2: Saigon Banh Mi Bakery , 138 Mott St.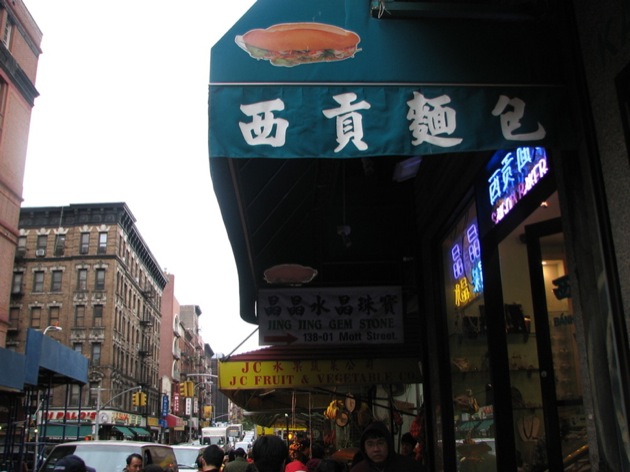 With the one far-field stop out of the way, we hopped on the six and made our way slowly to Chinatown.  About thirty minutes later we emerged onto Canal Street and into a thick crowd of people and finally made our way to Mott Street where an awning with a simple sandwich marked the store.  I'd been dreaming of a bahn mi sandwiches ever since I had a measly one in Columbus about 3 months ago.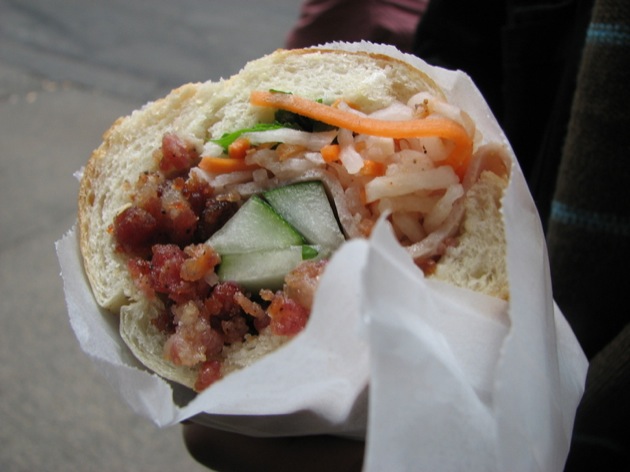 The Ohio version had loads of lunch meat padded with a few pickled carrots and cilantro.  The New York version flips that ratio, stockpiling a nice bunch of pickled vegetables, anchoring it with some crispy roasted pork and a slice of pate.  It comes on a crusty french baguette nearly as long as my forearm.  It's a revelation and an absolute feast.  It costs $3.25.  Even though we split it, my half is enough for a light lunch.
It is also served in the back of a jewelry store, one of the odder eating experiences in the city.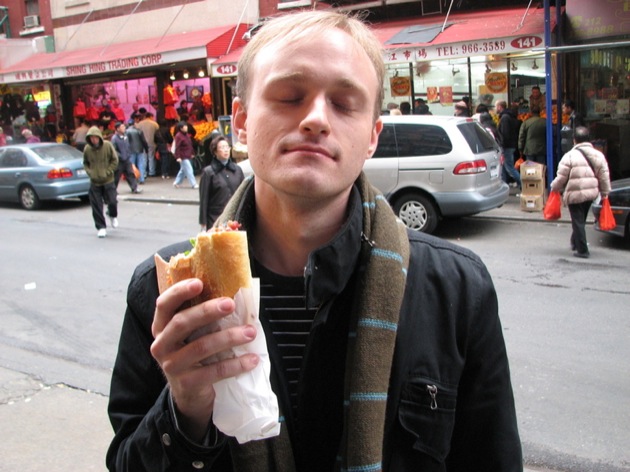 It's about now that I start to lose all grip on reality.
Location 3: La Taza de Oro, 96 Eighth Ave.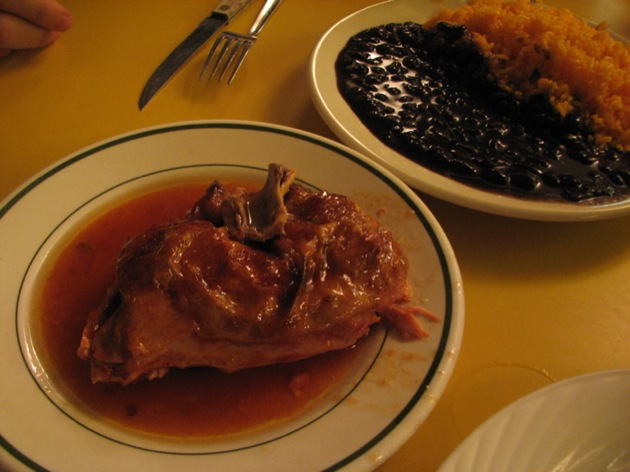 Oh the Roast Chicken!  Blake and I have been meaning to talk about this Puerto Rican lunch joint for well over a year now.  When we both worked in the area, we met up there as often as we practically could afford to.  It was all because of the roast chicken.  We tried to branch out to the steak and onions, or fried pork chop.  But we always came back to the succulent roasted chicken with it's red-orange sauce.  Sided with some black beans and yellow rice, rinsed with vinegar and a little hot sauce, this was a purely gluttonous lunch, and still, to this day, the best roast chicken I've ever had.
It also provided a logistical challenge to the proceedings.  Those two plates pictured above were one order.  Even though we split everything, it was starting to add up to more food than we were comfortable with eating.  Not that we didn't finish every last bit.
Location 4: Gray's Papaya, 402 Sixth Ave.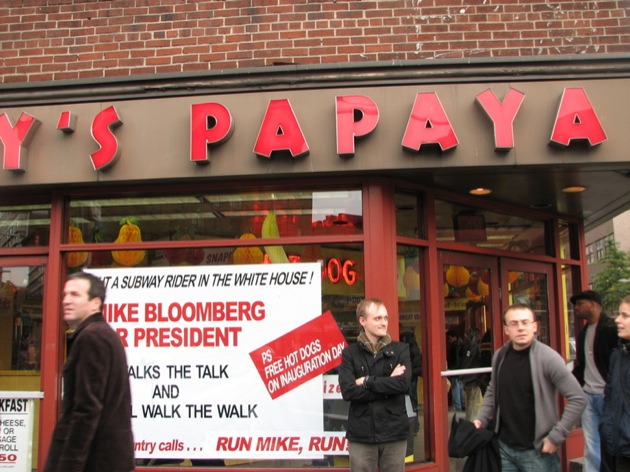 My belly began to get suspicious as we set off to what I consider to be the premier Papaya dog.  It was a beautiful moment.  I miss being able to pop into a papaya location and score a dog in less than a minute.  But while I missed the familiar papaya location, I didn't really miss the dogs.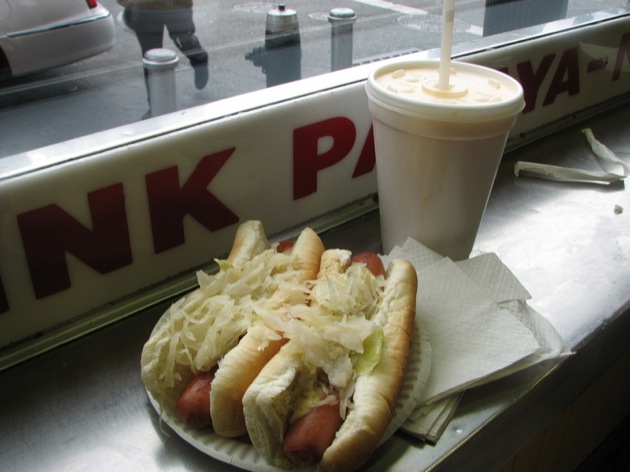 You can get great hot dogs in Columbus.  I've had them a few times, and even celebrated my puppy's first day with a round of hot ones .  But it was fun to be back in the crowds, standing at the counter, sucking on a
papaya drink.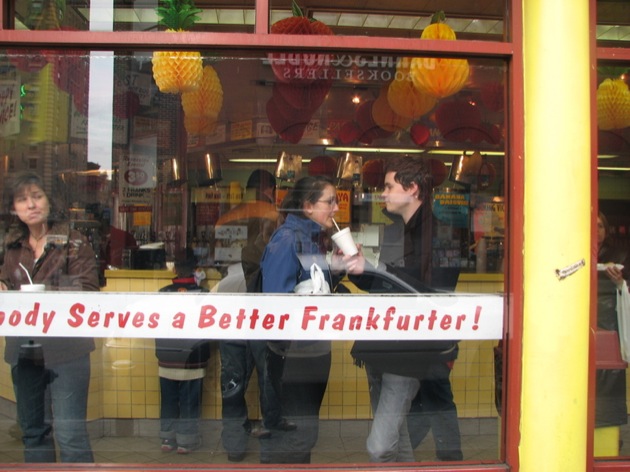 Blake and Elin obviously felt the exact same way.
Location 5: Pommes Frites , 123 Second Ave.,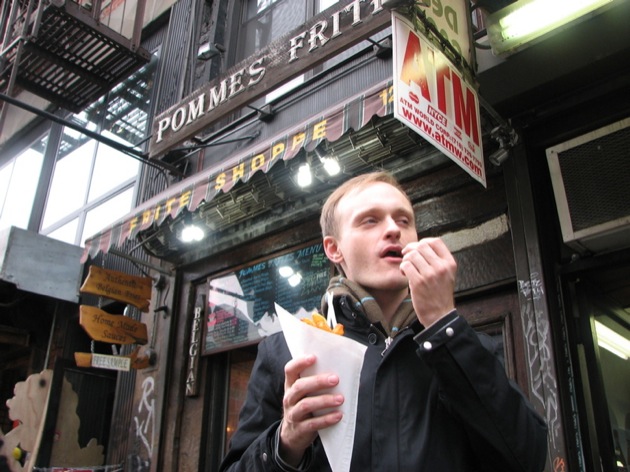 The walk to Pommes Frites was welcome.  We stopped into the Strand for a brief reprieve, and by the time we had walked deep into the East Village my stomach was just stuffed, and not ready to burst.  The absurdly small locale serves one thing: thick cut french fries with 20-odd sauces available for the dipping.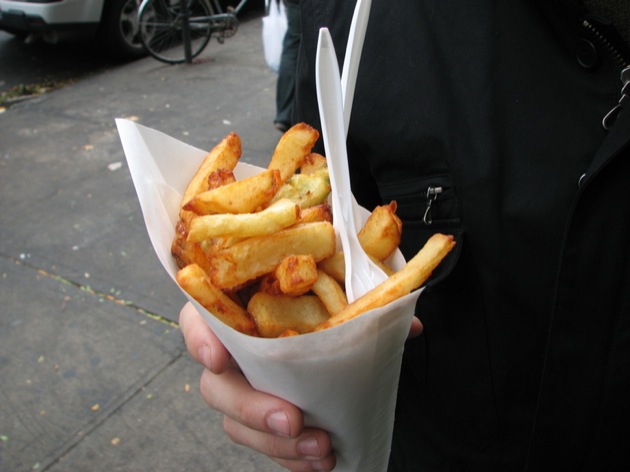 I've probably had these maybe a scant three times, and I wasn't exactly craving them.  God knows Ohio has their fair share.  But these represent the Platonic ideal of the perfect fry, and I thought it important to be reminded what fries could really be.  And they were delicious, especially the really crispy bits towards the bottom.  But by now we realized that if we were going to make it through the day we would have to throw some stuff away.  Even though we were close to the end, we tossed it in garbage can made the long walk up to Madison Square Park.
Location 6: Shake Shack , Madison Square Park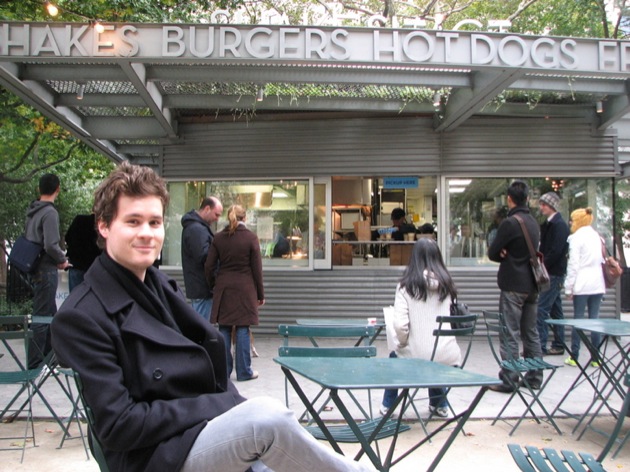 My god, you'd think it'd be easy to make a cheeseburger.  But I can't find a single place in Ohio that comes even close the sublime perfection that these casually tossed out creations have.  I'm not kidding.  I've written a lot about these little burgers , but for some reason I keep coming back to them.  I do love the Corner Bistro, but this one means the most to me.  And because we went at 3 p.m. on a Saturday, there was no line.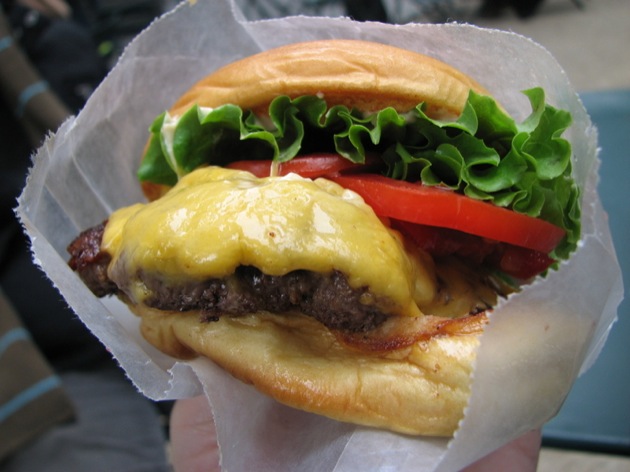 She was as beautiful as the first day I laid eyes on her.
Location 7: Street Food, Madison Avenue between  28th and 29th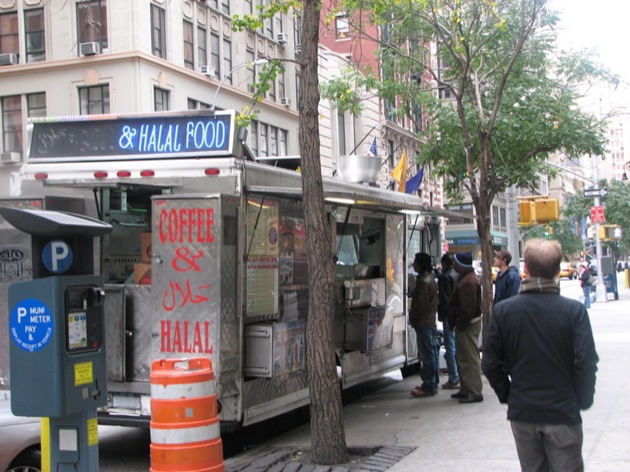 Things were getting ridiculous.  I didn't mean to have all the junk food sandwich lumped together - hot dogs, french fries, cheeseburgers - and now we were going to jump off the deep end.  Chicken and rice from my favorite street cart.  The moment I walked up to it's line, something was amiss.  People were yelling at the cooks.  They were out of eggplant.  It took me about ten minutes to get a meal that usually took 30 seconds.  I was not pleased.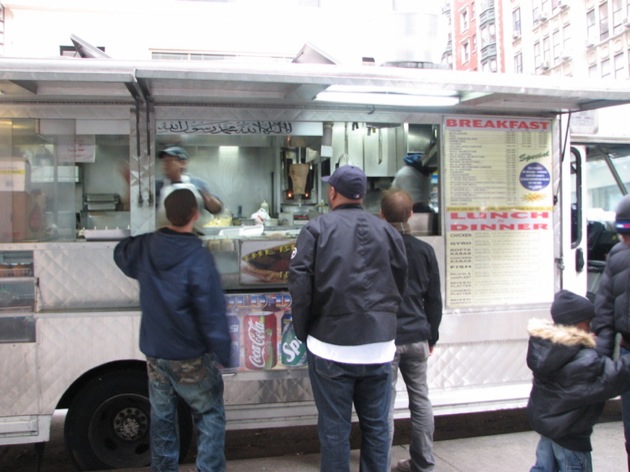 I've also written about this place before. But more than any other place, I was worried that it wouldn't match up with my memories.  I craved this sincerely for months.  How could a little cart on Madison Avenue send me into fits?  It couldn't be good.  But oh how I was wrong!  The chicken was perfectly tender and flavorful.  It makes most other street carts look silly.  Though we couldn't quite finish the enormous portion, I was happy to at least get a glimpse of what I used to eat only a weekly basis when I lived here.
Location 8: Woorijip, 12 W 32nd St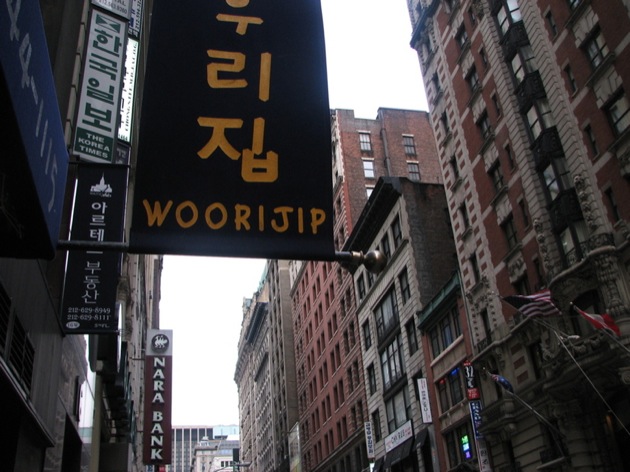 Kimchee...how I love thee. It's powerful, addicting stuff, and I haven't been able to find good versions of it in Ohio.  I'm not sure why.  So it seemed only natural that we'd stop by here to get a small bite.  It's pickled cabbage, after all, and a nice retreat after the meat and grease onslaught.  We could have eaten as much of this stuff as we'd like.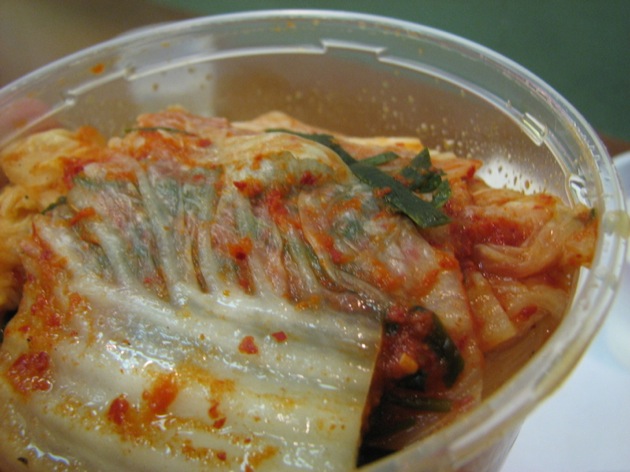 It's more of a side dish, though, so we only took a chop stick or two.  But it came in a handy plastic container, and we took it home to have some more later.  But it cleared our stomachs, and made them feel slightly more ready to tackle the final challenge.
Location 9: Katz's Delicatessen , 205 E. Houston St.,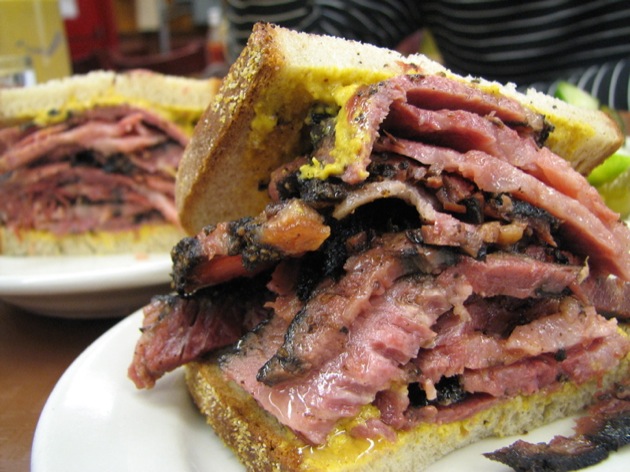 Wounded but not defeated, we set out to the Lower East Side for one last stand.  It wasn't going to be easy, for we saved the most ludicrous mission for last.  It was time for Katz.  Now, I've never even attempted to finish a whole pastrami sandwich by myself.  Splitting one would be the normal thing to do when I was absolutely starving.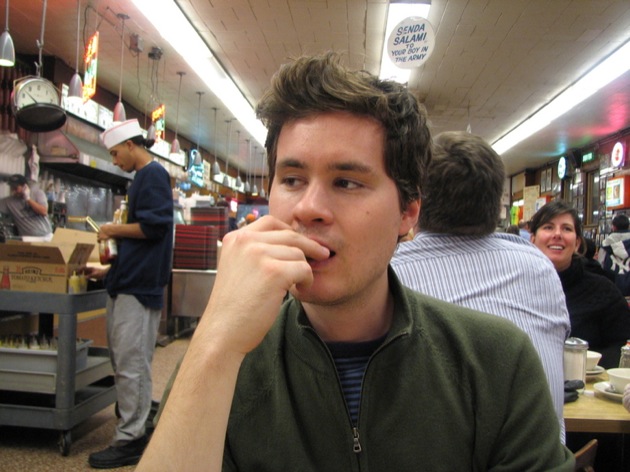 And Blake and I were not starving. 8 restaurants down, 3 1/2 hours in, and with one unbelievably large sandwich standing between us and triumph.  We'd had pizza, a Vietnamese sandwich, roast chicken, hot dogs, french fries, a cheeseburger, chicken over rice, kim chee, and now this: perhaps the greatest pastrami sandwich in the world.   And when you've got something this spectacular in your way, it is easy to make room.  We doused it in extra mustard, and even ordered a side of pickles just to help it go down.  It took about 20 minutes to be able to fit the food in, but it was done.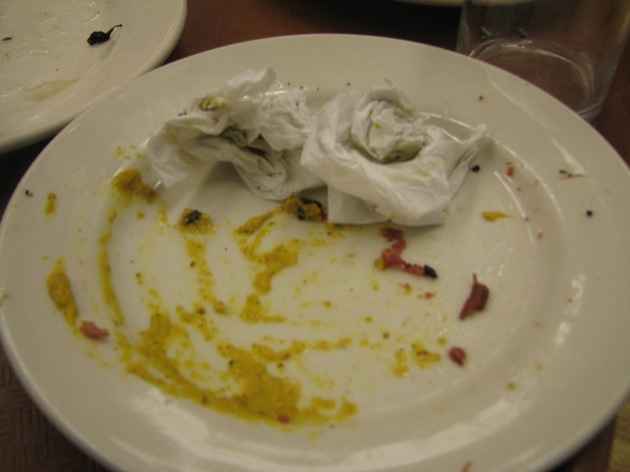 And suddenly Gorgefest Saturday was over.  I don't even want to attempt to figure out how many calories we downed, or how much money we spent.  It was a ridiculous mission, and one that should only be attempted every six months or so, if only for health reasons. But I couldn't think of a better way to get reintroduced to the city.
Because I'd fallen in love with the city because of food.  It sounds kind of lame, but it was the main reason I got out of my neighborhood and explored places I probably never would have wanted to go.  I can think of countless times when Blake and I would head deep into the Bronx for Pizza, or to Queens for a Korean grocery store.  It's what got me excited about living there even when I as curled up in a 5 by 12 box of a room making no money at temp jobs.  It's inspiring stuff and worth spending an afternoon stuffing my face to see up close.
Travel,
Banh Mi,
Blake,
Business,
Canal Street,
Carts,
Chicken,
Chinatown,
Columbus,
food,
Fries,
Hot Dogs,
Kimchi,
Korean,
Manhattan,
New York,
New York,
New York,
Ohio,
Pastrami,
Pizza,
Roast Chicken,
Saigon Banh Mi Bakery,
Shake Shack