Though Blake announced his move to Chicago about a month ago, and even updated folks about his recent rental in Bucktown, I can personally vouch that he is not here. Believe me, if he were just down the block I'd be pestering him to take more pictures of his food. I know he spent months in an apartment that didn't have a stove , but come on! I have been absolutely trouncing him this year on PC posts. (It's 32 to 20 right now, for those counting at home.)
But I do have to admit he has a pretty legitimate excuse this time around.  He just got married to his long time girlfriend, Elin.

Befitting an obsessive foodie, the meal was absolutely incredible.  It was simply a celebration of the bounty of the Midwest. Heirloom Indiana tomatoes, prosciutto from La Quercia in Iowa , and fresh vegetables grown by a local farmer.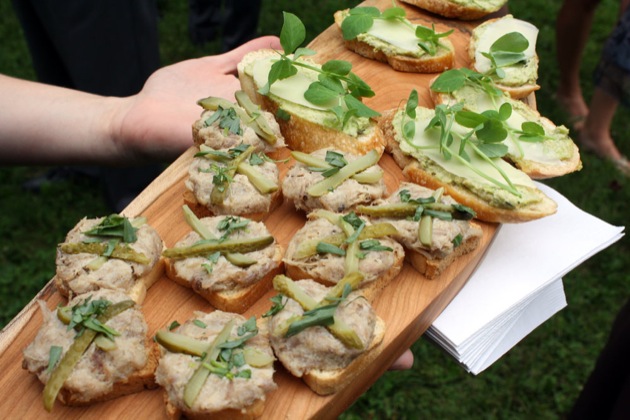 Possibly taking a cue from me , he also personally created one of the appetizers.  He made a fatty spread of pork rillettes, which I overdosed on in the first 15 minutes.  From there everything in the night gets a little hazy.  I do partially remember the steak, which was served absolutely rare and topped with shaved Parmesan, and something about fregola.  I was so focused at the table, I don't think I bothered to talk to many of the guests.  But I was assured there was dancing and joviality.
So Blake is going to be busy while he and the Mrs. get their much deserved time off.  And I assure everyone that I will bug the living daylights out of Mr. Royer when he returns in hopes that he will once again write about food.  We miss him.
Announcements,
La Quercia,
Pork,
Prosciutto,
Rillettes,
Wedding