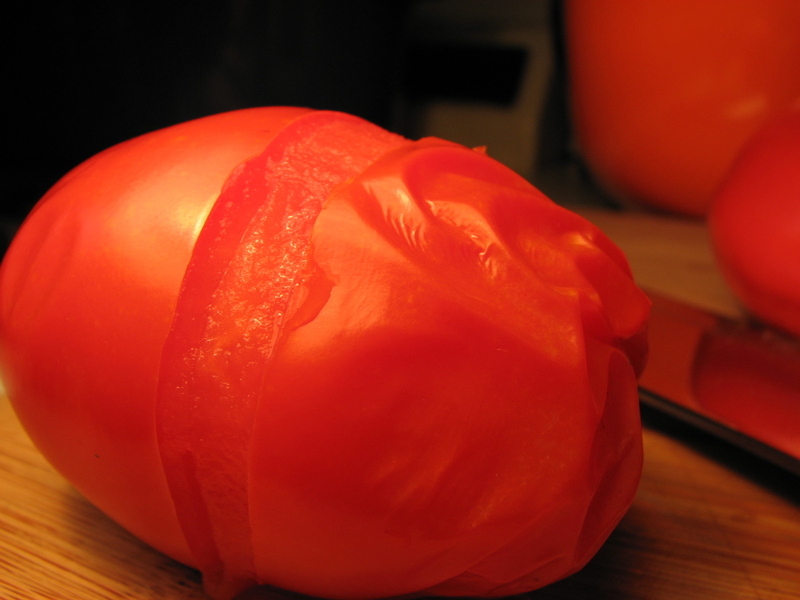 Traditionally, I've wondered why farmers' markets are so expensive.  It's almost a given that the price per pound for things can reach double what you'd pay in a grocery store.  It doesn't make any sense to me: we're cutting out lots of middlemen, the farmer and I, by communicating directly with one another.  There's no shipping the tomatoes halfway around the world, no large distributor that's taking a cut from the deal, no grocery store that marks things up to pay its employees and rent.  So how come things cost more? I'm still not certain.  But I like what Deborah Madison has to say on the subject :
There may be more efficient ways to shop than going to the farmers' market. But the experience rewards us in so many ways that we somehow not only make time for our farmers' markets, but we become very devoted to them. Farmers' markets have everything to do with our quality of life, from the experience of community that we find there, to the satisfaction of buying directly from those who grow our food. They also strengthen our local economies by keeping money turning within them, and they allow us to make a vital connection to our landscape, the season where we live, our local history and food traditions. Becoming devoted to our farmers' markets can deeply change us.
That's a tall order, and I don't feel quite that connected to a sense of community (not yet), but I like the philosophy there.  Some days I think the prices are all jacked up because we're in New York City and we can pay it.  But underlying all of this is the idea that you've got to pay a little more for ethical foods.  Somebody who's selling at a farmer's market isn't the same kind of farmer who's mass-producing and selling to giant distributors--you're buying from the kind of farmer who takes more care, employs more hand labor than machinery, is likely organic, and isn't cutting ethical corners.  Plus, the food is going to be the freshest you can find.  So shopping at a farmers' market is a twofold endeavor of supporting a local community and also encouraging ethical, organic farming techniques. And, of course, the best of both worlds is when you catch a good deal, like you can now at the end of tomato season.  This recipe comes from one of my favorite Italian cookbooks, Cucina Rustica , which had the recipe for the very first post on this website.  Very quick and easy and a perfect embodiment of the beautiful Italian simplicity of using just a few ingredients and making sure they're of the freshest quality. Penne al Pomodoro Arrichito Penne with Enriched Tomato Sauce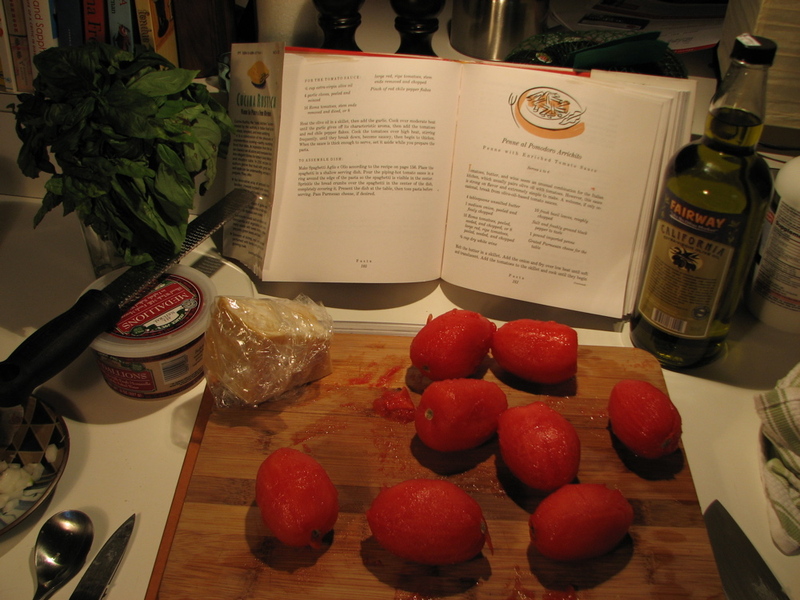 4 tablespoons unsalted butter
1 medium onion, finely chopped
16 Roma (or 8 regular) tomatoes, blanched, peeled, seeded, and chopped
3/4 cup dry white wine
15 fresh basil leaves
1 lb penne or linguine
Freshly grated Parmesan
Salt and freshly-ground black pepper
Adapted from Cucina Rustica . Bring some water to a boil then add the tomatoes carefully.  Let them blanch for 30 seconds or so, removing with a slotted spoon to cool on a cutting board.  Pour the remaining water into a larger pot, filling with enough additional water to cook the pasta, and turn to high for a boil.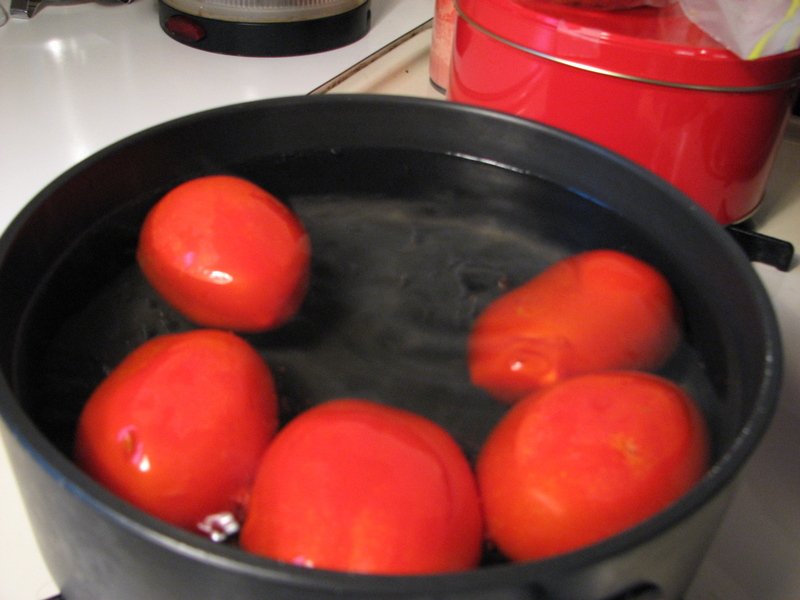 In the meantime, melt the butter in a skillet, adding the onion dices to saute over low heat until they become soft and translucent, but not brown. Once the tomatoes have cooled enough so they don't burn your fingers, use a small sharp knife and run it gently around the equator of the tomato, just enough to split the skin.  The two halves should slip off the tomato with a little pressure between your fingers.  Once skinned, cut the tomatoes lengthwise and pull out the seeds over a bowl, discarding with the skin.  Chop the remaining tomato flesh and add to the skillet.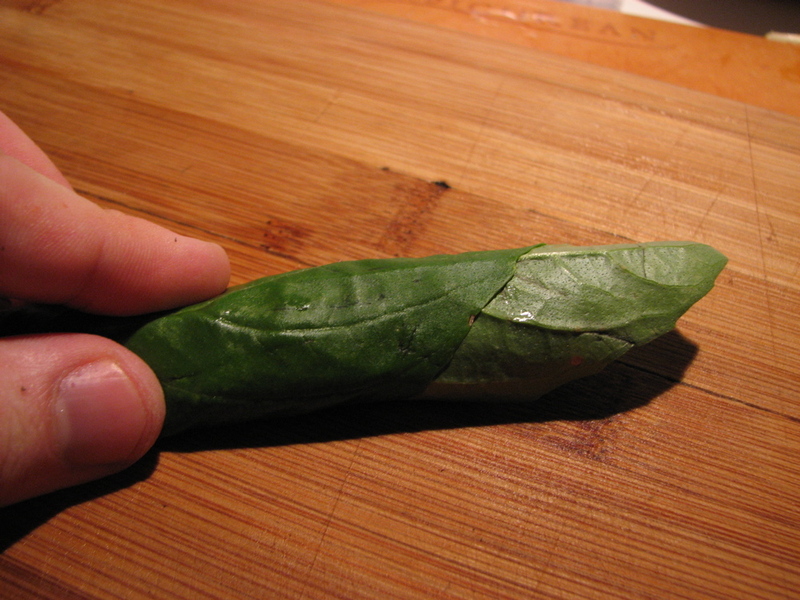 Stack the basil leaves and roll them together lengthwise, then cut across thinly to chiffonade into little confetti-looking strands.  Have a look at the tomatoes; they should be turning saucy and releasing juices.  Add the wine to deglaze, the basil, then season with salt and pepper.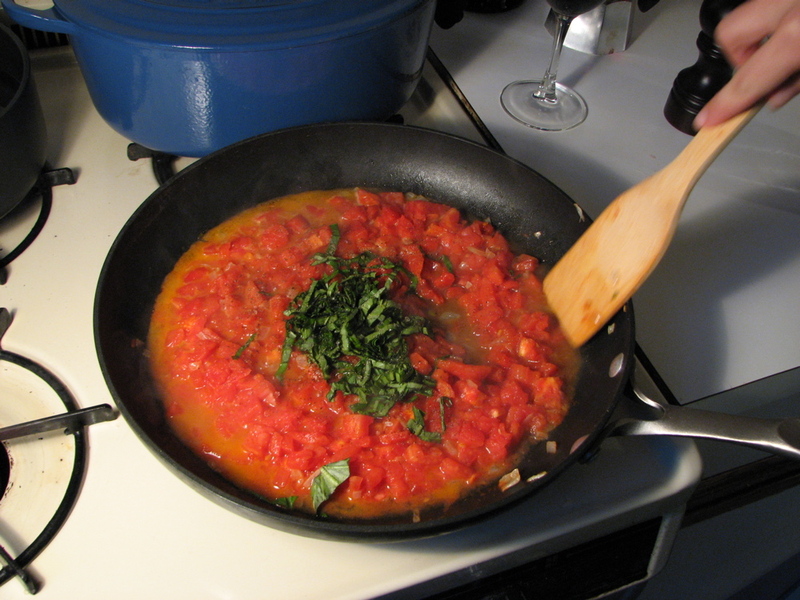 Let the sauce cook and thicken until it begins looking like this: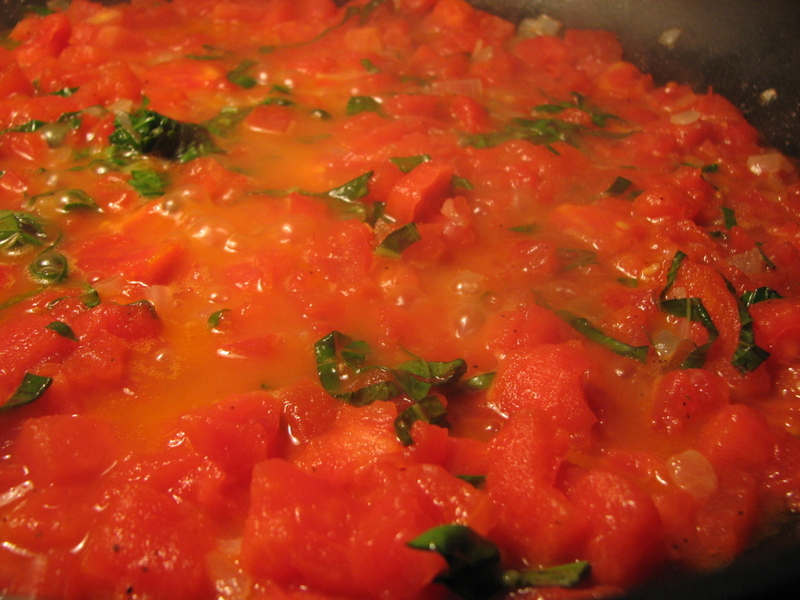 Cook the pasta until it's almost al dente , but not quite ready (still with too much bite).  Drain, but reserve some pasta water first in case the sauce has become too dry.  Add the drained pasta to the sauce and stir it until coated, letting the pasta absorb some of the tomato water and finish cooking.  Serve immediately with fresh Parmesan at the table.  Voila!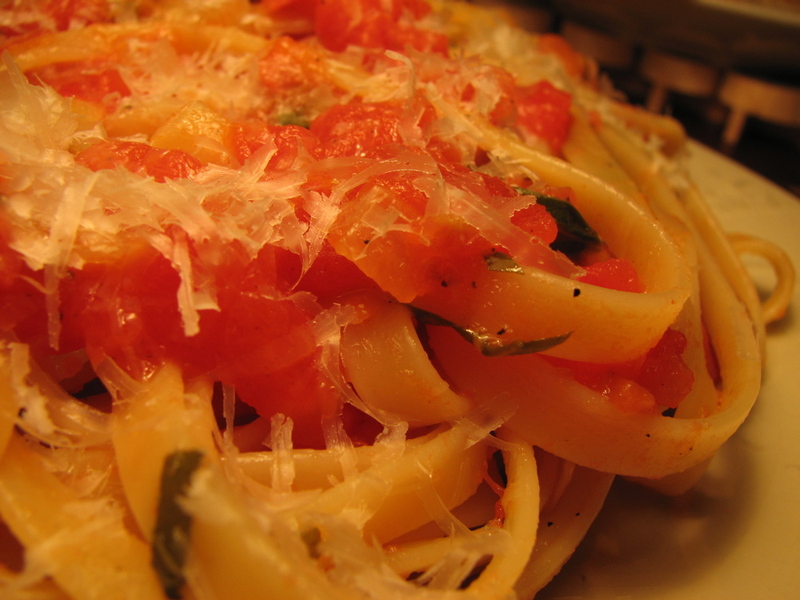 Pasta,
Pasta,
Tomatoes