Lard is the secret to this Mexican classic.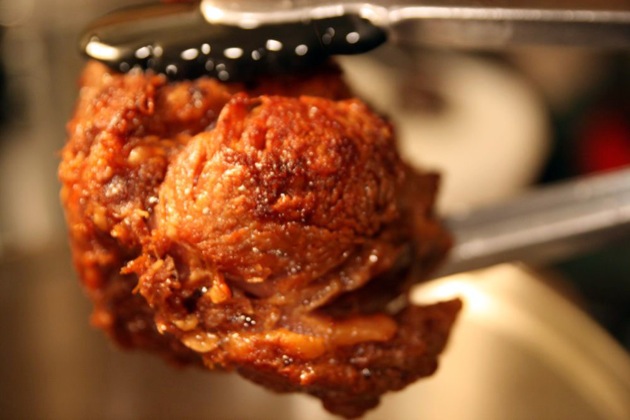 By the time I fished the three pounds of pork hunks from the lard and stacked them on the cutting board,far more guests had arrived than I had originally planned.  It was a New Year's Eve party, but I thought dinner would just be an intimate gathering of 5 or so, and then we'd meet up with more friends later in the night.  But apparently my calls for meeting up later meant that they should come over right then and make me nervous.  I was also sick...but I tried not to let anyone eating the food know that.  I was trying to be brave.
See, Blake and I were together for the first time since he had skipped across the pond to Estonia.  I figured I'd fatten him up on some delicious Mexican food, which he says is really bad or non-existent over in Northern Europe.  Yet I worried no one would fatten up on anything.  I feared I was possibly very close to making the one grave sin a responsible host should never make: Not having enough food.  I also worried, rather selfishly, that I'd wouldn't get my fair share.
Carnitas (chunks of pork shoulder that have been slowly cooked until golden brown, slightly crispy, and very tender) are worth the greed.  Especially these very authentic ones.  To supplement the lack of meat, I started the appetizers real early.  I made Blake's famous blended guajillo salsa , my pumpkin seed speckled one , and a tomatillo salsa which I figured would go well with the meat.  Elin whipped up a batch of her famous guacamole, which quickly marinates the onions in lime.  But I was still scared.
When we confirmed the menu a few weeks previously I didn't know how many people would be coming but I did know exactly which recipe we would use.  Melanie Dunea's My Last Supper is littered with some tempting recipes.  It consists of very famous chefs describing their perfect last meal on earth.  But I've been eying Rick Bayless's contribution since I first picked up the book.  For his send off, he'd throw a canritas feast, which he insisted on frying slowly in pounds and pounds of lard until golden browned and crispy.  I had never had enough courage to buy pounds of lard, but for a party I figured it was time.
I couldn't find much precedent for this cooking technique anywhere else on the net.  Nearly every recipe first boiled the pork or slow roasted it in an oven.  I actually did the latter last year while using Dave Lebovitz's very good recipe .  But if Bayless recommends something, I usually follow.  This also just sounded more absurd, more reckless, and had the potential to be truly extraordinary.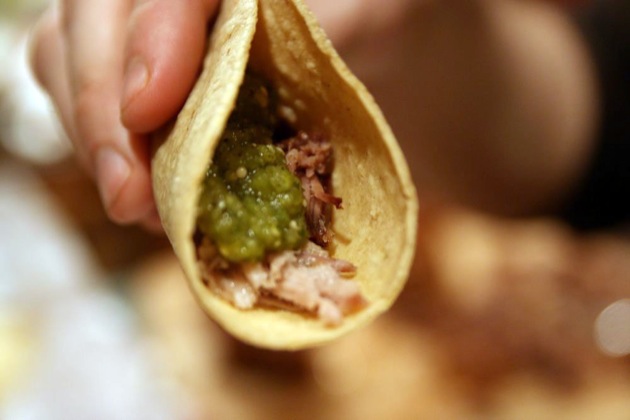 And we were not let down.  The outside of the pork got gloriously crispy and golden while the inside remained as tender as the best pulled pork.  When one bite managed to contain both textures, and when sandwiched into a tortilla and slathered with bright tomatillo salsa, there couldn't have been a much better way to ring in 2009.
The best part?  Like really good bacon, a little bit goes a long way, and the hungry group of 12 couldn't finish them all.
Carnitas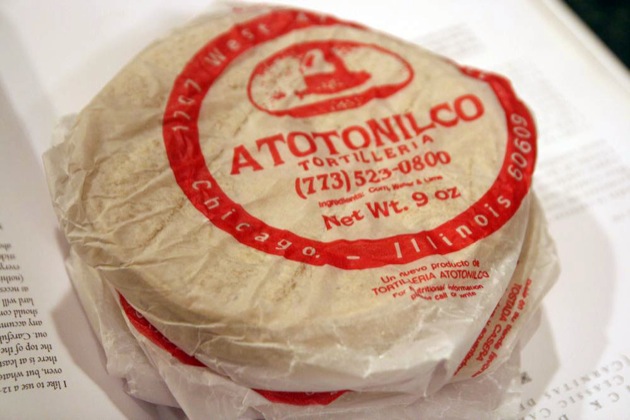 1/4 cup fresh lime juice
1/2 tablespoon salt
2 1/2 pounds boneless pork shoulder
2 pounds lard
2 dozen corn tortillas
salt
Slice the pork into 3 inch slabs.  We ended up with three good sized pieces.  It's important that they all end up roughly the same size, so they cook in the same amount of time.
Toss the pork into a large bowl and then add the lime juice and salt.  Stir the pieces until well coated.  Cover the bowl and set aside for an hour.  Toss the pieces twice over the course of the hour.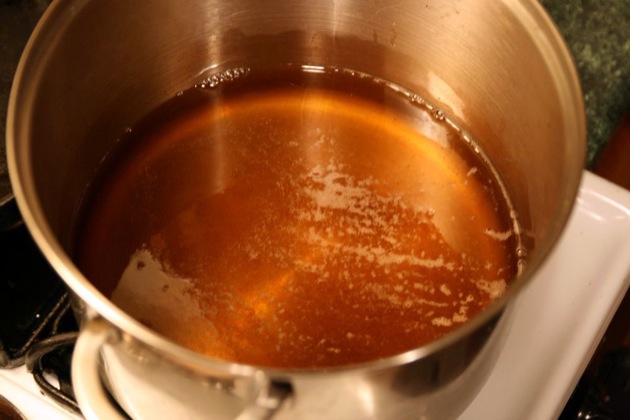 Meanwhile, melt the lard in a large pot over medium heat.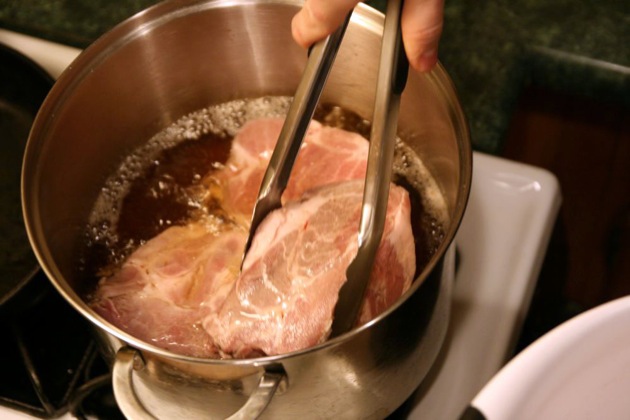 When the hour is up, carefully add the pork to the pot.  The lard should cover the pieces.  After a few minutes, very large and lazy bubbles will pop to the surface.  This is good.  You don't want to have aggressive frying.  Let cook on medium, flipping the pieces occasionally for even cooking, for about 2 hours.  The meat should be very tender when pierced with a fork.  It took us an extra 15 minutes.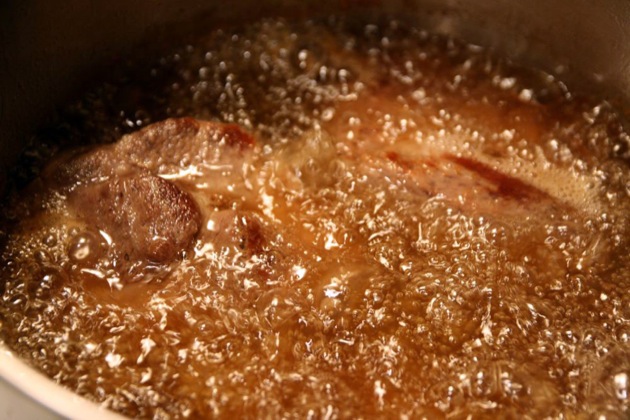 Raise the temperature to medium-high.  The lard will start bubbling furiously and make a lot more noise.  Cook for 30 minutes.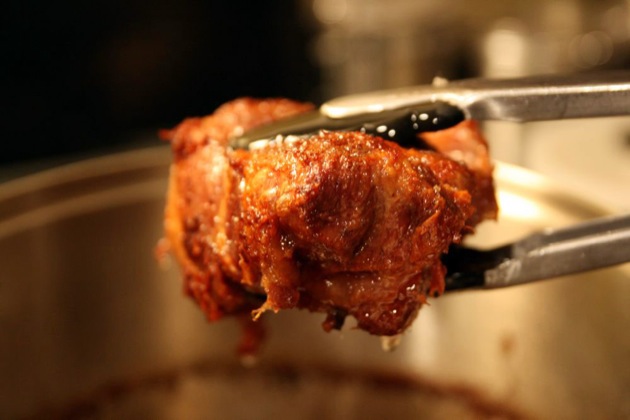 They should come out all nicely browned and golden.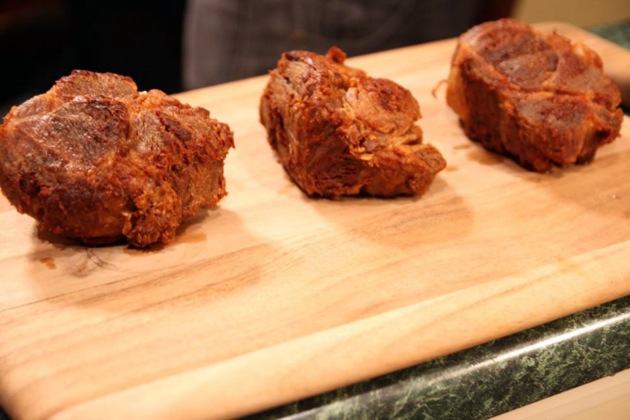 Set them on a cutting board and let sit for 10 minutes or so.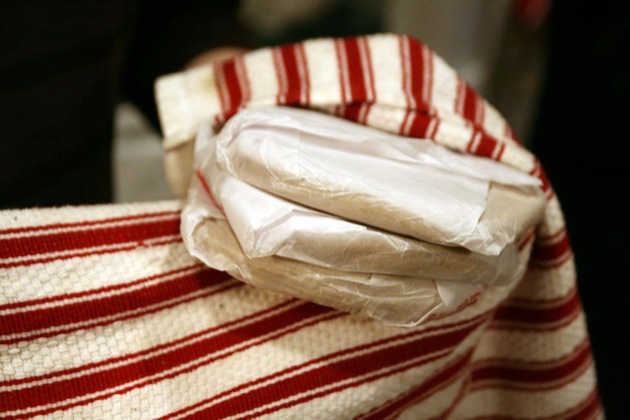 Meanwhile, fill the bottom of another pot with about a 1/2 inch of water and bring to a boil.  Wrap the tortillas in a towel and set in a steamer basket atop the boiling water.  Cover the pot.
Cook for 1 minute.  Then turn off the heat and let sit for 15 minutes or so.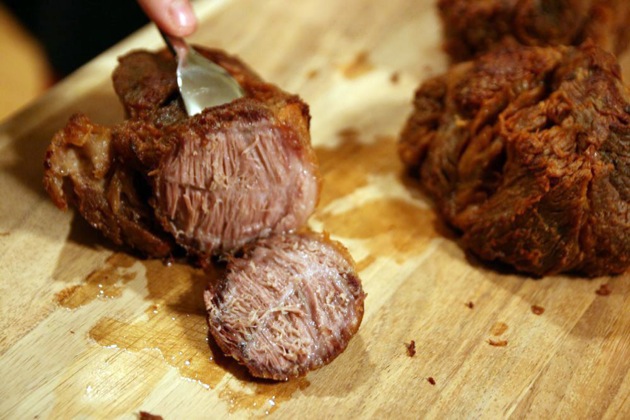 On to the pork.  There is no wrong way to go about this.  You can slice off a bit with a sharp knife.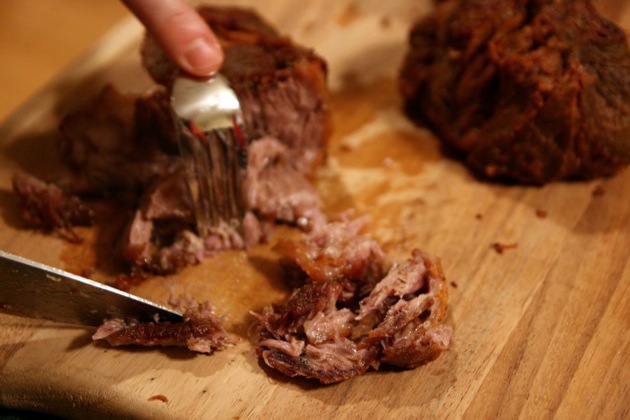 Or pull the meat apart with a fork.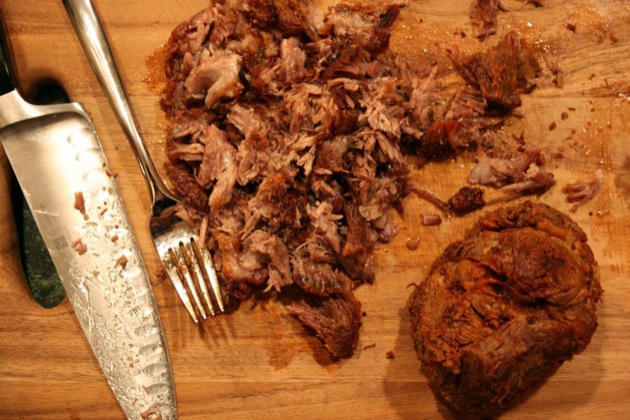 You can even use your hands if you're into it.
Roll up a little meat in a taco, sprinkle on some salt, and top with whatever salsa you like the most.  Keep it simple, though.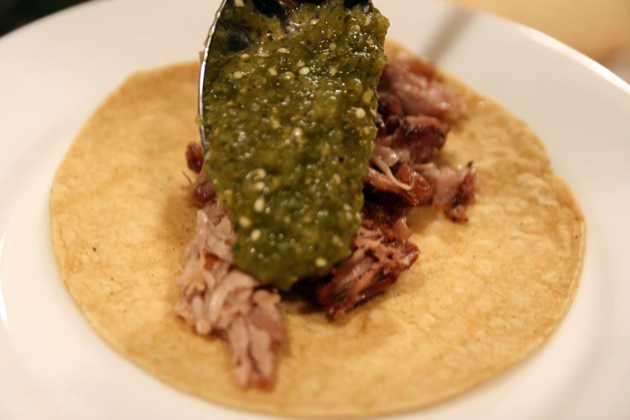 Food,
DIY,
Main Course,
Bacon,
Carnitas,
Corn Tortillas,
Cuisine,
Estonia,
Europe,
food,
Food and drink,
Gold,
Guacamole,
Irish cuisine,
Lard,
Lard,
Mexican,
Mexican,
Mexican cuisine,
New Year's Day,
Pork,
Pork,
Pork Shoulder,
Rick Bayless,
Rick Bayless,
Salsa,
Tacos,
Tomatillo,
Tortillas