Moving beyond pico de gallo into real authentic territory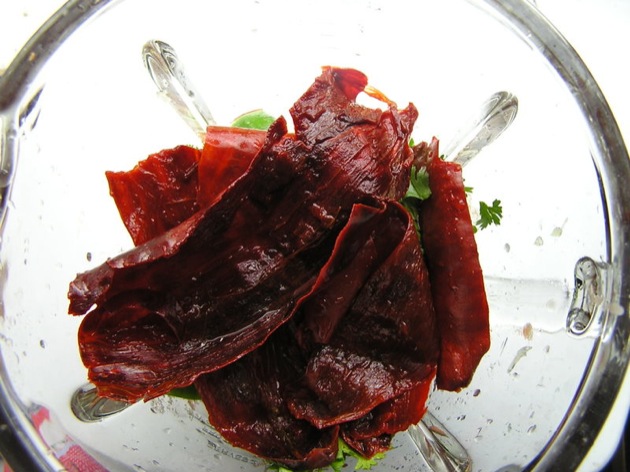 I thought I knew everything there was to know about salsa.  Tomatoes, garlic, onions, jalapenos, lime juice, salt.  Chop, mix, serve.  It's an enormous pain, but the alternative (jarred salsa) just doesn't compare.  Taking the time to chop is a noble pursuit.
That was until Blake visited last weekend.  What he threw together in a matter of minutes turned blood red and clung to every chip like it was struggling for life.  It's madly hot, rich and hopelessly complex - miles away from every salsa I'd tried before.  It's slowly taken over my life.
The fiancee and I have started dreaming about it.  It's the first thing we do when we get home.  I've made three enormous batches of it in less than a week, which has required three bags of tortilla chips and three 28-ounce cans of tomatoes.  It's at once the best salsa I've ever had and also completely antithetical to everything salsa stands for--I'm having a hard time justifying its existence.  There are no jalapenos, only dried guajillos.  It uses canned tomatoes.  Oh, and everything is processed in a blender.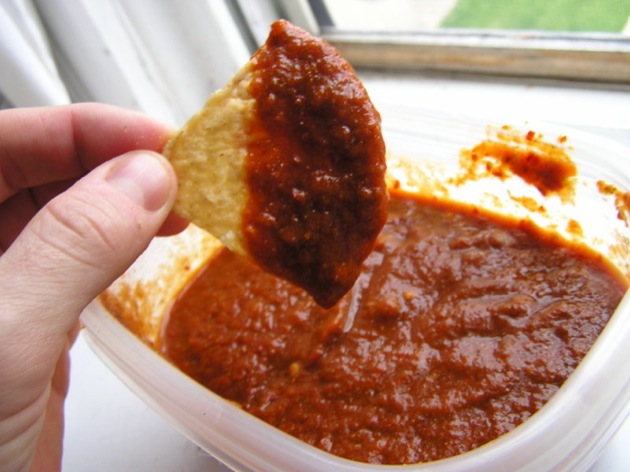 Blake's recipe came straight from the mouth of the Grocery Guy , who made this glorious sauce at a bourbon and barbecue cookout we did last summer.  Blake bugged him for the recipe and Tom e-mailed it, claiming some Mexican line cook had taught him. But it's not the recipe on his website. That one has too much onion and not nearly enough dried guajillos--believe me I've made both.  Consider it the mild version, and while certainly good, it's doesn't scorch your mouth in the same pleasing manner and doesn't have that overbearingly rich chili taste.
Though this recipe is nearly perfect, that hasn't stopped me from tinkering with the formula.  I've added tomatillos (for freshness), fresh tomatoes (instead of canned), and different kinds of chilies (to make it less hot).
They've all completely failed.  I go back to the original. So what's the original?
Guajillo Salsa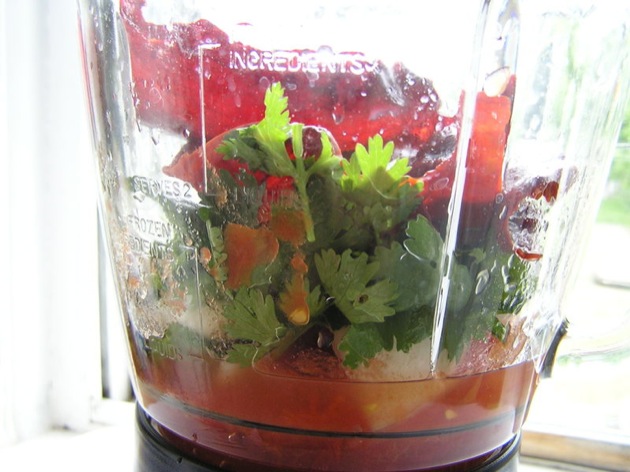 Soak 12 or so guajillo chilies in bowl filled with boiling water for 30 minutes.  When done, remove the stems and the seeds.  Toss in a blender with a 28 ounce can of whole peeled tomatoes , 1 bunch of cilantro , 1/2 an onion , 2 cloves of garlic , and the juice of 3 limes .  Blend until smooth.  Season well with salt.  Let it cool in the fridge to temper the insane heat.
That's it.  It's the easiest salsa I've made, and like I've mentioned above, the tastiest.  So you can blend salsa.  Which I guess isn't so surprising.  Traditional salsas have been made using a molcajete , a mortar made of volcanic rock, for ages.  When ground on the rough surface, the salsa is supposed to have a better texture.  But I don't have one, and the blender works well.
All right, you can blend salsa.  Is there anywhere to go from here?
Surely blended salsas had to be everywhere.  But an intense search just left me confused.  I found a few Rick Bayless recipes, but they seemed to be more of a hot sauce to be dribbled on tacos then a dip for chips.  I also found a couple "quick" salsas for lazy folk, but no one really embraced the blending technique.  I realized the salsa I had eaten for years is all about texture, and blending completely destroys that.  Also if you blend a normal pico de gallo it would become too watery and bland.  Is blending just a cop out?
That's until I stumbled over a post on Chow.com about the greatest salsa ever made .  It was blended.
The author, Helena Echlin, attempted to reverse engineer her favorite salsa from Papalote , a Mexican restaurant in San Francisco, because the owner wouldn't tell her the recipe.  What she came up with is the fussysister to the above mentioned tomboy.  Two kinds of chilies, roasted pumpkin seeds, and it has to be cooked.  In takes entirely more effort than any other salsa I've ever made, but it is blended.  It comes out with a distinct roasted aroma, a deep chocolate body, and bright acidic notes to balance everything out.  It shows that there is so much more to salsa than I could ever know.  It's astonishingly good, though a tad less fun.  It's so complex I never felt the need to inhale the entire bowl. That's probably a good thing.
I know part of my enthusiasm comes because from fresh faced ignorance. Regular chopped salsa certainly has its place.  It's just that these recipes have a body and flavor that I've never tasted before in a salsa, and it's making realize how much I still need to learn about chilies.
The only thing I've changed from the recipe is the roasting of the tomatoes.  I used canned romas instead of fresh because tomato season is not in full swing.  To get the 2 teaspoons of pasilla, I ground the chili in a food processor.
Erstaz Papalote Salsa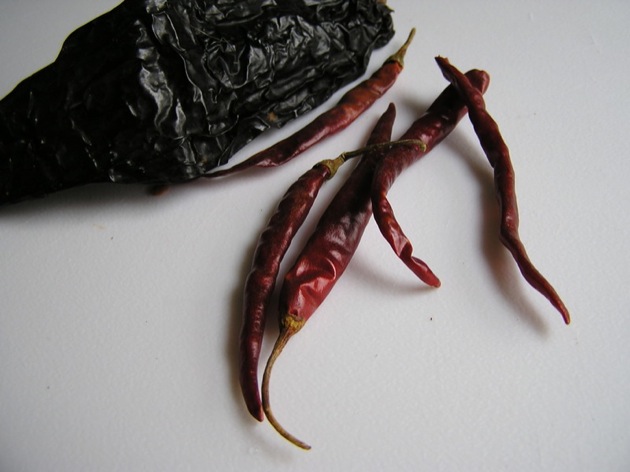 5 canned Roma tomatoes, halved and seeds removed
10 dried chiles de arbol, stemmed, halved, and seeds removed
2 teaspoons dried pasilla peppers
1 tablespoon kosher salt
1 teaspoon sugar
1 1/2 cups water
2 tablespoons unsalted hulled pumpkin seeds
3 tablespoons white vinegar
1/4 cup scallions, minced
1/4 cup cilantro, coarsely chopped
Toss the tomatoes, chile de arbols, passilla peppers, salt, sugar, and water into a large
sauce pan.  Bring to a boil and then reduce to simmer and cook for 20
minutes.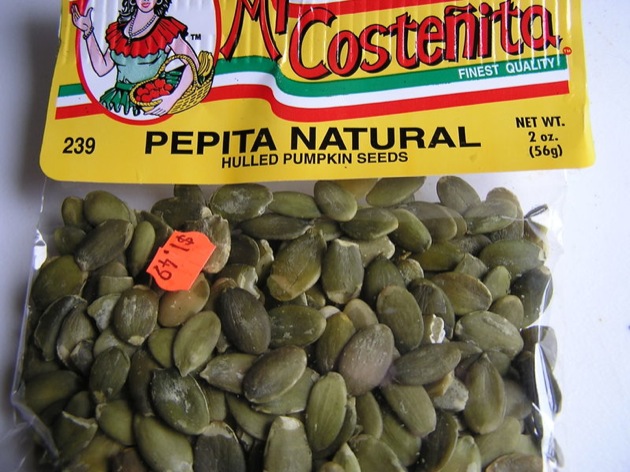 Meanwhile, heat the oven to 350 degrees.  Roast the pumpkin seeds on a baking sheet until slightly browned.  This just takes a few minutes. Keep a watchful eye.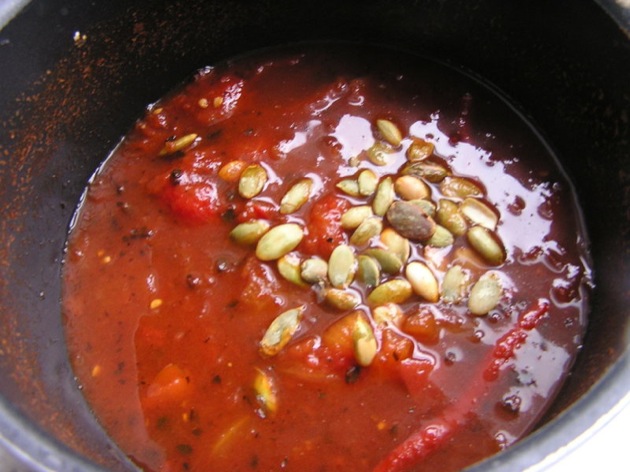 When the 20 minutes have passed, add the vinegar, cook for another minute, then add the pumpkin seeds.
Process the sauce in a blender until smooth.
Transfer to a container, add the chopped cilantro and scallions, and refrigerate until cool.
Food,
Dinner Party,
Agronomy,
Asterids,
author,
Chilis,
Condiments,
engineer,
Entertainment,
Food and drink,
Guajillo chili,
Helena Echlin,
Herbs,
Mexican,
Mexican,
New Mexican cuisine,
Person Career,
Pumpkin Seeds,
Rick Bayless,
Salsa,
Salsa,
San Francisco,
Sauce,
Sauce,
Spices,
Technology,
Tex-Mex cuisine,
Tomato,
Tomatoes,
Vegetables