Check out a better way to make cinnamon rolls.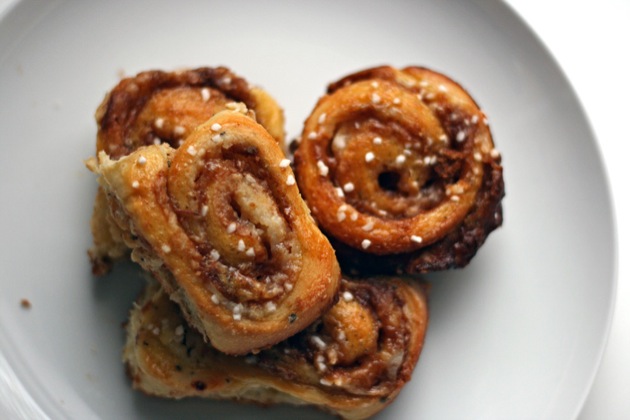 Every Christmas, we eat cinnamon rolls. That's just how it is. When I was little, someone would wake up early and drive over to the Cinnabon store and come back with a gooey dozen, and always make sure there was extra frosting. The things were so big and sweet that it would take most of Christmas morning to finish one, plus three or four glasses of milk. The cinnamon rolls tided us over until the Christmas ham.
At some point somebody in my family wised up, and we started making them instead of buying them. My step dad, Doug, experimented with various recipes over the years until settling on a ludicrously buttery version adapted from Joy of Cooking: forget the fact that the dough is already buttery; he also systematically rolls and folds layer upon layer of it into the dough itself, like a puff pastry. The result is a glorious gut-bomb that we all have grown to love.
My wife Elin's parents are Estonian, and her Christmas baking memories are in the Scandinavian tradition, which means lots of cardamom. A wonderful spice, cardamom has the unmistakable aroma and taste of Christmas--even if you've never tasted if before. It falls naturally into the family of spices that includes nutmeg, allspice, and cinnamon. It simply belongs in baked goods during the holidays.
So it was with this Scandinavian baking tradition in mind--while remembering my own cinnamon roll history--that Elin and I set out to make our own recipe of cinnamon rolls based on a family recipe of cardamom-flecked dough. Taking a cue from the Scandinavian bread technique, which calls for starting the yeast in a warm milk-and-butter mixture and adding flour little by little, we experimented with numerous approaches to achieve both the heady and distinct aroma of cardamom and the gooey, buttery goodness of cinnamon rolls.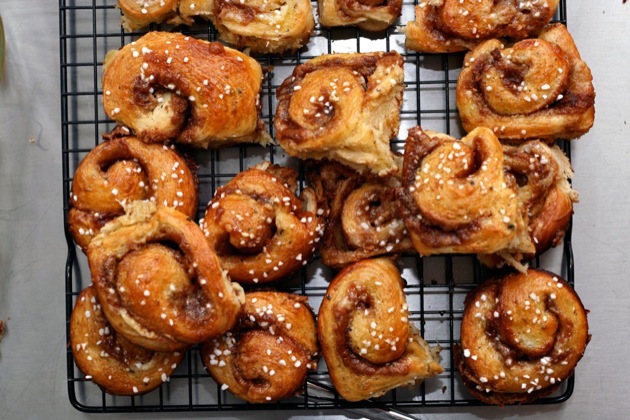 We cooked them in rectangle dishes, then in muffin tins. We painstakingly rolled butter into some of the dough, then left it out of the rest. We made the dough with more cardamom then less. We changed the amounts of lemon zest.  We cooked them in hotter ovens and medium ones. We made them without frosting, put frosting on top, then rolled it inside with the cinnamon.
Finally, after a long, flour-dusted weekend, we uncovered our recipe. Using a milk-based Estonian sweet bread dough gave our rolls a light, airy texture. Moving the frosting (cream cheese based to keep the sweetness in check) from the top of the cinnamon roll to the inside added huge amounts of gooeyness to the proceedings. It also allowed us to keep the rolls neat and compact, topped with "pearl sugar," often seen on Scandinavian pastries.
We'll probably never make cinnamon rolls without cardamom again, because we're so proud of this recipe. It's good enough to be adopted into our own newly-formed family lore. We might have just stumbled on our own Christmas tradition.
Cardamom Cinnamon Rolls
-makes 24 small rolls-
Ingredients
For the dough
3/4 cup milk
1/3 cup sugar
1/2 cup unsalted butter (1 stick) at room temperature.
3/4 teaspoon salt
1 package yeast
1 egg, beaten
3 cups all purpose flour
zest of 1 lemon
two teaspoons whole black cardamom pieces (found inside cardadmom pods), ground in a mortar and pestle or spice blender
For the cinnamon filling
1 cup light brown sugar
1 tablespoon ground cinnamon
For the frosting filling
4 ounces cream cheese at room temperature
1 cup powdered sugar
6 tablespoons (3/4 stick) unsalted butter
For topping the rolls
1 egg, beaten
1/2 cup pearl sugar (look for this in Scandinavian shops...IKEA carries it!)
First, warm the milk in a saucepan until very hot. Meanwhile, put the butter, sugar, salt, and cardamom in a a large mixing bowl. Pour the hot milk into the bowl and stir to combine.
Proof the yeast by putting it into a small bowl with a 1/2 teaspoon of sugar and 2 tablespoons warm water. When it begins to foam, add it to the milk mixture; if nothing happens, start with new yeast and make sure the water isn't warmer than wrist temperature.
Before adding the yeast, add about half the flour and the lemon zest to the milk mixture and stir well with a wooden spoon. Add the eggs and yeast mixture and stir until well-mixed. Continue adding flour and stirring with a wooden spoon until it's too thick to do so. Switch to kneading with your hands, continuing to add flour until the dough no longer sticks to your fingers, but is still quite tacky. It should feel sticky, but not actually stick (the copious amounts of butter help it from doing so). Depending on the type of flour, you might need more -- 1 batch took 3 cups, another 3.5. Knead for ten minutes or so. The dough should be smooth and tacky. The cardamom will smell wonderful.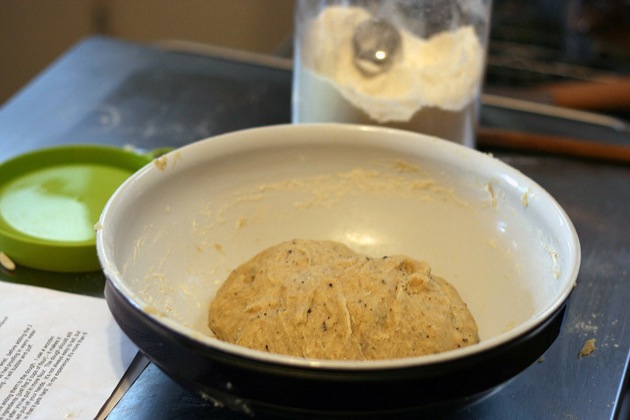 Sprinkle the dough with a little flour and cover with a kitchen towel.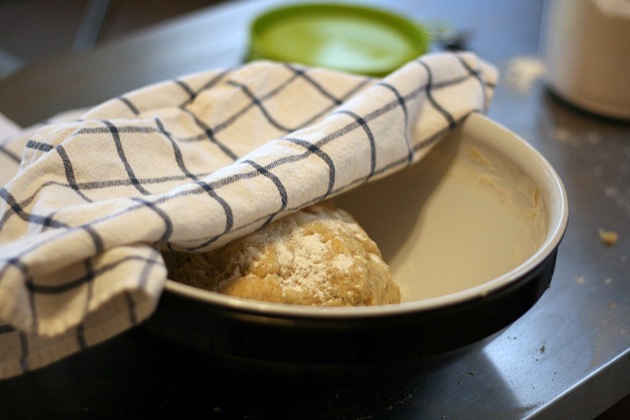 Allow to rise in a warm place for at least an hour, up to two. I found it effective to turn the oven on warm while I was kneading, then turn it off and add the bowl.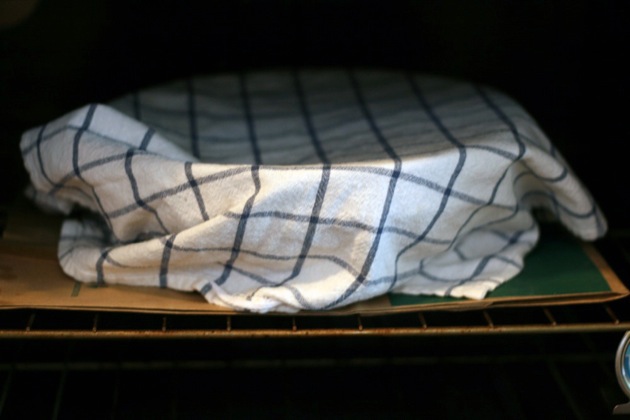 In the meantime, mix together the brown sugar and cinnamon and set aside. Combine the frosting ingredients in a mixing bowl and beat with a hand mixer until smooth, then set aside.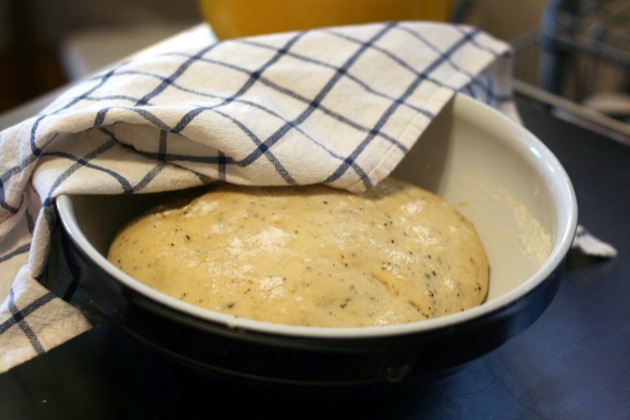 When the dough has risen substantially, about double in size, turn it out onto a lightly floured surface. Divide into 2 pieces and set one aside. Roll one piece into a large rectangle, at least a foot wide and 1.5 times as long. The dough should be about 1/4 inch thick at the most.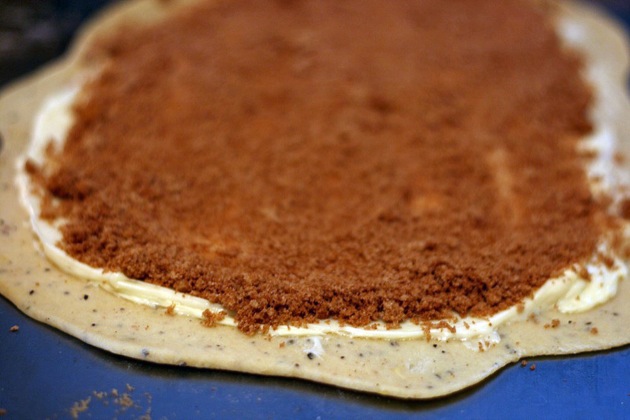 Paint a layer of the frosting, using about half, onto the dough. Sprinkle with half the brown sugar mixture, and roll the rectangle lengthwise into a long cylinder. It's important to use your fingers to continue tucking the sugar mixture into the roll, otherwise much of the sugar can get pushed out to the end. The dough will hold well, so don't worry about tearing it -- the rolls will turn out better if you roll them at least a couple times around.
Transfer the roll to a cutting board, cut side down. Using a very sharp knife (or the rolls will get flattened), cut the cylinder into 1-inch wide pieces. Transfer these to a rectangular baking dish, placing them quite close together so they are just touching. Repeat the whole process with the other piece of dough. In all, the rolls should fill two 9 inch square baking dishes, though we cooked our rolls in a 9 x 13 pan and put the leftover dough in a small pie dish.
In any case, cover with a piece of plastic wrap and a kitchen towel and allow to rise in a warm place for 45 minutes.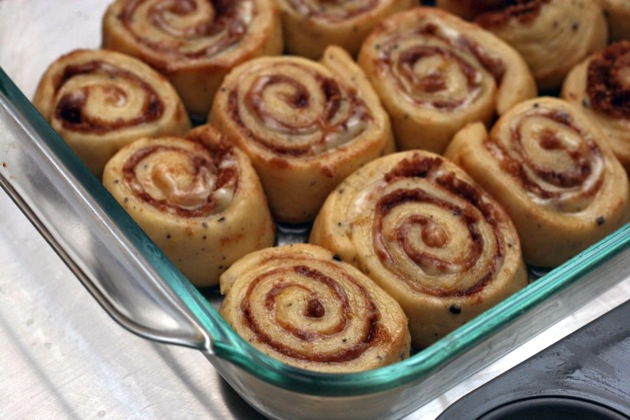 Preheat the oven to 350 degrees. When the rolls have risen, uncover them and lightly paint with the beaten egg, being careful not to press too hard and risk deflating them. Sprinkle liberally with the pearl sugar.

Bake the rolls until just beginning to brown but still gooey on the inside, 15-18 minutes.
Food,
Christmas,
Baking,
Bejgli,
Bread,
Cardamom,
Christmas,
Cinnabon,
Cinnabon store,
Cinnamon roll,
Cinnamon Rolls,
Cinnamon sugar,
Estonia,
Estonian,
Food and drink,
Grains,
Pastry,
Swedish cuisine,
Sweet breads,
Yeast,
Breakfast