The Indian speciality is easier than you think.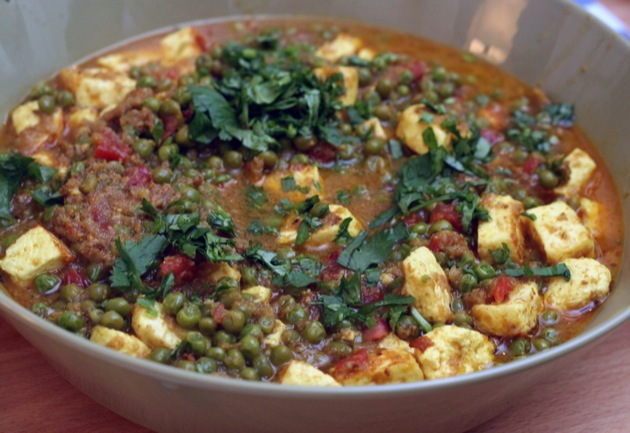 The concept of making cheese has always fascinated me, the idea that you can take milk and add a little acid (or rennet) to magically separate it into curds and whey. Milk seems like such a stable liquid, a wholesome elixir of childhood, but with a little citric acid, lemon juice, yogurt, or rennet it completely de-stabalizes into thin, watery whey and fat chunks of curd.
What you do with the curd presents endless possibilities. In Montreal they stud it into gravy-covered fries to make Poutine, a glorious dish I had the pleasure to sample in a search through Montreal . But usually what the curds become is proper cheese, pressed into molds to age with various bacterial cultures, becoming anything from Cheddar to Parmesan.
There are many cheeses, though, that require no aging or bacterial cultures: ricotta, for example, or Greek feta.
Though Nick has explored making ricotta cheese using citric acid tablets, I was on the search for something made more easily with household ingredients. Ricotta is sometimes made with lemon juice, and I thought about exploring that--but I've recently become fascinated by paneer, which is an Indian cheese that's heavily pressed into cakes and fried.  While ricotta is meant to be fluffy and creamy, all the liquid is mercilesly pressed from paneer to make a dense, crumbly cake. Its taste is clean and milky, and I love how it can be caramelized in a pan -- the combination of savory and dairy is intriguing.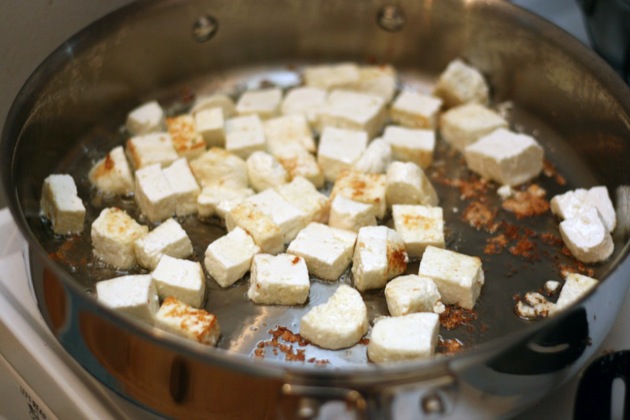 A while back, a good friend of mine in New York from India had his parents in town visiting, and they cooked a lavish meal for a handful of friends. One of the dishes was Mattar Paneer, a simple curry with peas and  paneer (the literal translation is "Peas and Cheese"). His mother was kind enough to email me the recipe, both for homemade paneer and the curry.  The paneer recipe is the only one I've seen that uses yogurt instead of lemon juice or vinegar.
What follows is a step-by-step, fully photographed overview of the process.  It's pretty foolproof, and a lot of fun.
The ingredients needed are as follows:
1/2 gallon whole milk
2 cups plain nonfat yogurt
1 2-ft square piece of muslin or 4 layers of cheesecloth
Makes 8 ounces.
First, pour the milk into a 3-quart or larger saucepan, and heat it rapidly until close to boiling. It is important to stir it often as it heats. In the meantime, measure out the yogurt and whisk it until smooth.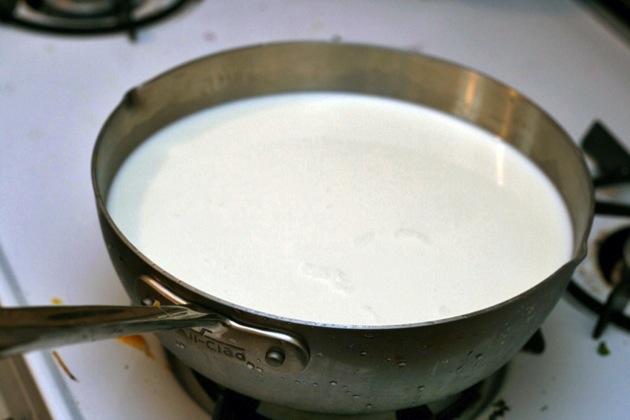 Once the milk is nearing a boil, but before it completely boils and begins to spill over, stir in the yogurt. Continue to stir constantly as the milk begins to separate into curds and whey. Be patient, as this can take some time -- you want to be sure it's completely separated. On my first attempt, I drained off the curds before it had all really separated, so I had a depressingly small amount of curds. The whey should look nothing like milk anymore, and may have a slightly greenish hue to it. If the majority of the liquid in the pan still looks white and opaque like milk (like it does below) the separation process is not complete.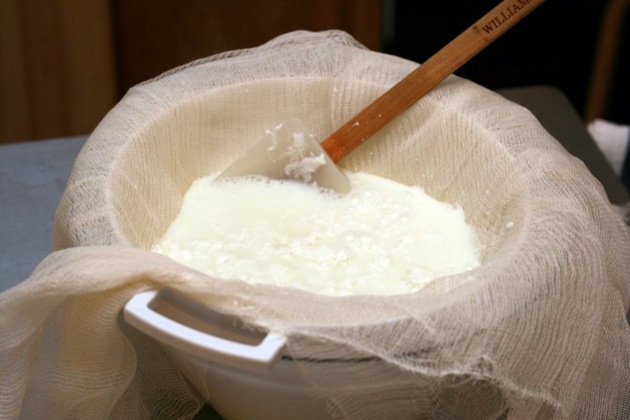 I ended up returning it to the saucepan, and once it heated up again, the remaining curds emerged.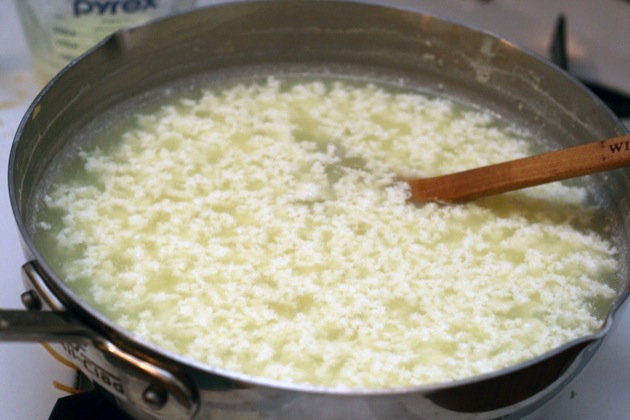 Next, drain the whey from the curds by lining a colander with the muslin or cheesecloth and placing it over a large bowl. Pour the contents of the saucepan into the colander and allow the whey to drain for a minute or so.
With the curds still inside, pick up the corners of the muslin or cheesecloth and transfer to the sink. Tie the ends over the faucet and allow the cheese to continue draining for an additional 5-6 minutes.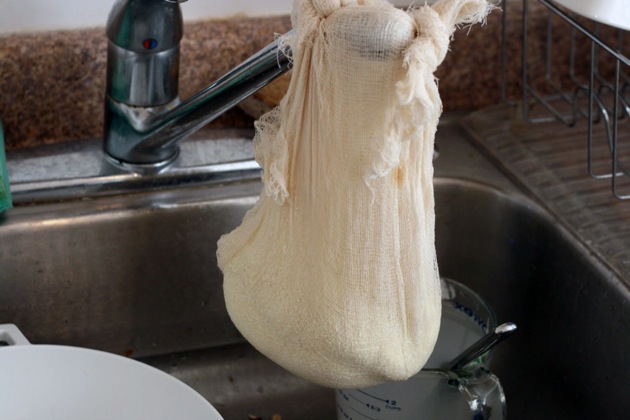 Remove from the faucet and gently twist the cloth ends snugly around the cheese to squeeze out excess moisture, then place the cheese on a dinner plate in the sink. Place another dinner plate on top of the cheese and weight it down with a large pan or water or something quite heavy. More liquid is sure to drain off, so again, do this in the sink. Let it compress for 10-15 minutes.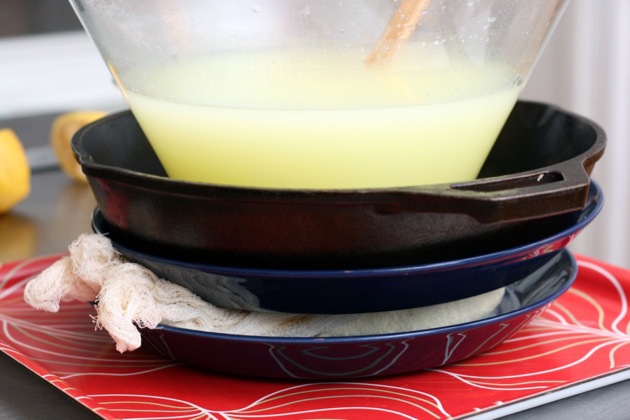 Remove the cheese from the cloth and place on a cutting board. It should be compressed into a chunk. Cut into desired shapes, then store in an airtight container for up to 4 days in the refrigerator, or 2-3 months in the freezer.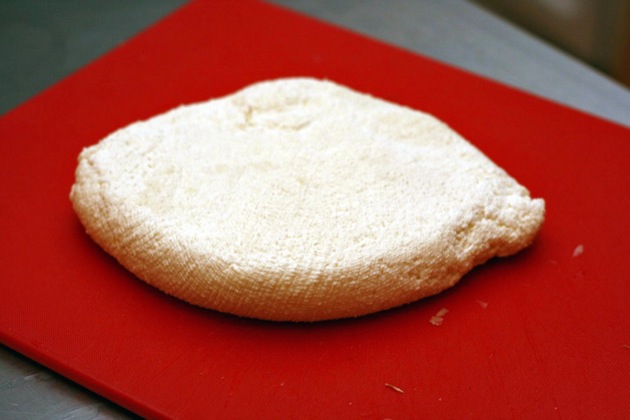 I used my paneer immediately to make the dish I remembered, Mattar Paneer, a fairly easy and traditional curry.  The recipe is below.
What about the Whey?
My goal with this endeavor was to waste nothing and use every part of the milk, including the watery whey that is produced by the cheesemaking. So I did a little Google search of the phrase "What to do with whey?" and eventually stumbled on a suggestion to use it as the liquid for cooking rice, which I did. I didn't notice a huge difference in taste, but the whey is incredibly healthy, so it doesn't hurt. In baking, whey is supposed to be a good subsitute for any recipe that calls for milk, and supposedly makes great breads. I'll have to try that sometime.
Mattar Paneer
450gms/1 lb shelled green peas (or frozen peas)
250gms/ 1/2 lb paneer
2 medium onions (chopped)
6 cloves garlic (crushed)
1 tbspn grated ginger
1 small green chilli chopped
250gms/ 1/2 lb tomatoes (peeled and sliced)
salt to taste
1/2 cup plain yogurt
1/2 teaspoon turmeric powder
1 teaspoon ground coriander seeds
1 teaspoon cumin powder
2 cups water
1/2 cup ghee or vegetable oil
garam masala powder
chopped cilantro leaves
1. Make a paste by grinding together the onions, garlic, ginger.
2. Heat the oil or ghee in a large skillet or saucepan and cut the paneer into 1 inch cubes. Fry the paneer to a light brown and remove to drain on a paper towel.
3. Add the onion/garlic/ginger paste to the oil, along with the green chile, and fry until the paste is golden brown. When it is golden, add the turmeric, coriander and cumin powder, adding oil if necessary to make sure the spices don't burn.  Continue cooking, stirring often, until the flavors marry, a minute or two.
4. Add the tomatoes and keep stirring until the tomatoes are blended into the paste.
5. Add salt to taste and the yogurt, and stir for 5-6 mins over low heat.
6. Add the peas and paneer and pour in the water. Simmer gently for about 20 minutes.
7. Serve sprinkled with garam masala and cilantro leaves.
Food,
DIY,
Main Course,
Agriculture,
Cheese,
Cheese,
Curd,
Curry,
Dairy farming,
Dairy products,
Disaster,
Food and drink,
Google,
Homemade Cheese,
India,
Indian,
Indian,
Indian cuisine,
Milk,
Milk,
Montreal,
New York,
oil,
Pakistani cuisine,
Paneer,
Ricotta,
Whey,
Yogurt