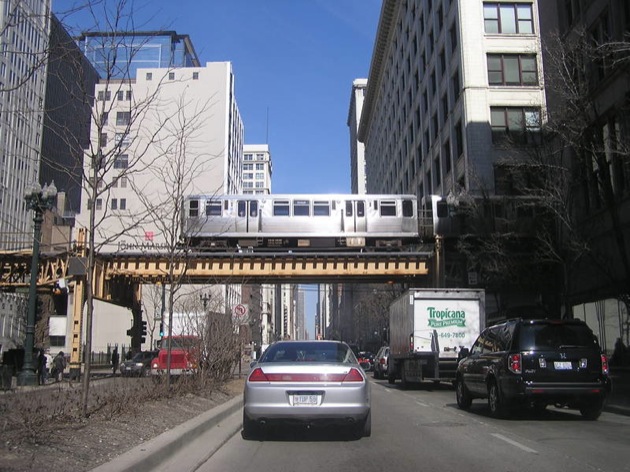 I'm definitely not the first to point this out, but Chicago has some great food.  You know, with all the high accolades for their inventive restaurants and classic comfort foods, and the fact that they are hosting this year's Top Chef , I have nothing new to add.  It's just that over the past weekend Abby and I managed to fit more good food into our bellies than we had any right to do.   If you needed another reason to take a chance on Chicago, here ya go.
I only had two goals while I was there.  I wanted the best Chicago dog available and some genuine Mexican food.   Unbeknownst to me, the Chicago metropolitan area has the second highest Mexican immigrant population outside of Los Angeles.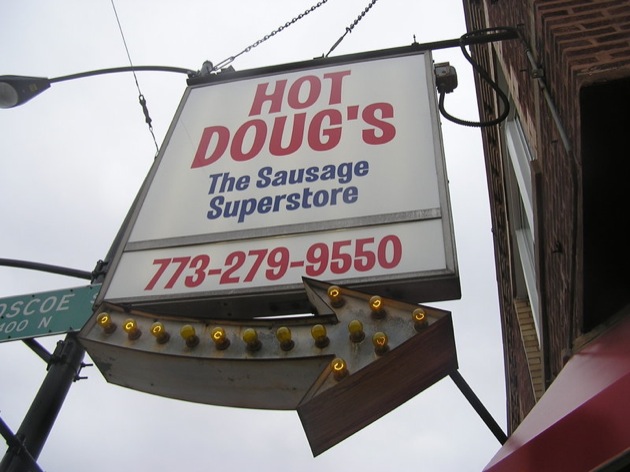 We looked through some guides and noticed that one hot dog place kept popping up. Hot Doug's promised high quality encased meats with fresh toppings.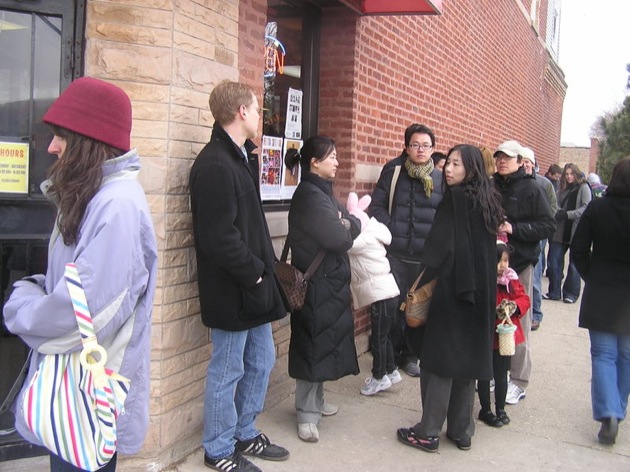 The guides also promised a line.   Of all the qualifiers of a great New York restaurant, an insanely long line for affordable food usually means something good.  Think about it, Shake Shack , DiFara , Burger Joint .  All great places, all with long lines.  I had high hopes.  It took us a good 30 minutes before we even reached the doors.  Inside, the place looks like a spruced up version of Schnack ( R.I.P. ) with bright primary colors and fun quotes on the wall extolling the pleasure of sausages.  We waited another 15 minutes until we got to the counter to order.  It was when I got to the counter that I noticed that on Fridays and Saturdays they have an option of fries fried in duck fat.  Yes...duck fat.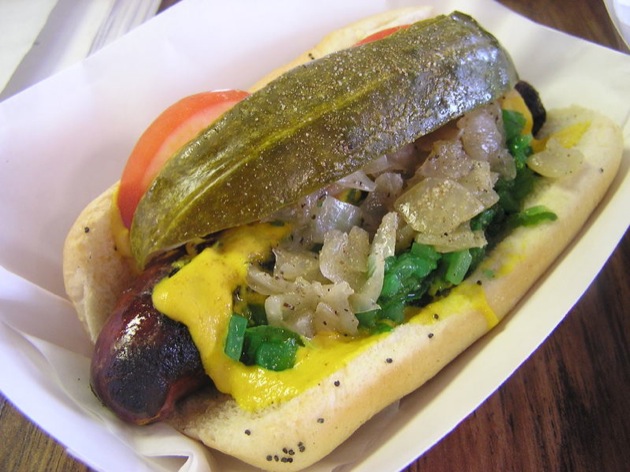 I ordered a regular old hot dog with all the trimmings.  That included mustard, tomato, pickle, grilled onion, relish, and celery salt housed in a bun sprinkled with poppy seeds.  It was easily the best Chicago dog I'd ever had.  I mean, come on.  Do you see how bright that relish is?  Insanely good.  I also had a polish sausage (which is pictured above) called "The Elvis" which is "smoked and savory - just like the king."  It was definitely a heavier dog to get through, but still excellent.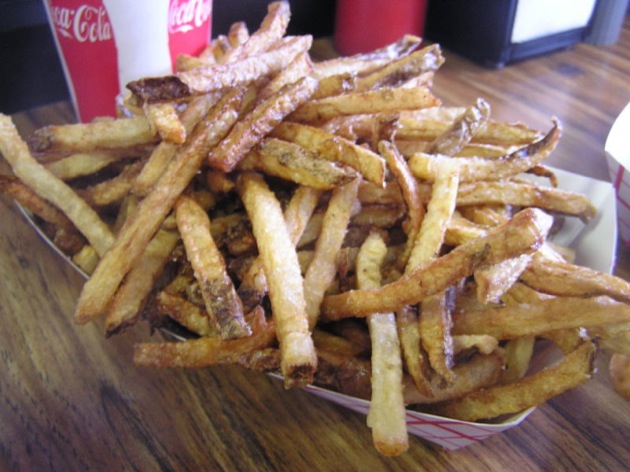 Oh, and those duck fat fries?  Oh man.  Words can't really describe the perfect balance of crispness and deep flavor.   You see all those fries?  Abby and I finished all of those.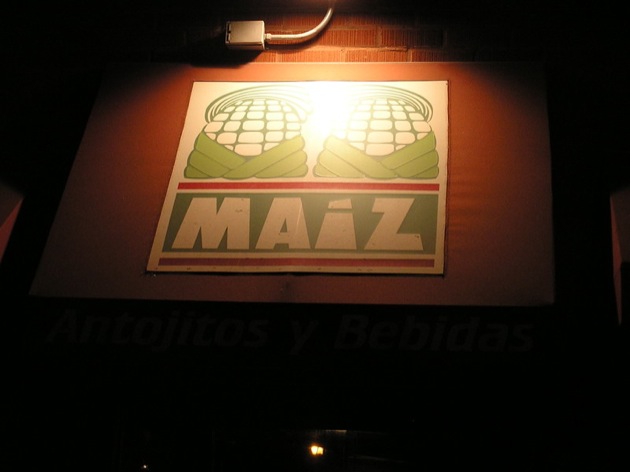 On to the Mexican restaurant.  I thought seriously about hitting up some of the taco stands Serious Eats had recommended , but decided against it when I found a restaurant with a Zagat rating of 25 located blocks away from the Humbolt Park apartment where our friends lived.  It's called Maiz and its focus, as the name suggests, is corn.  It also promised to be cheap.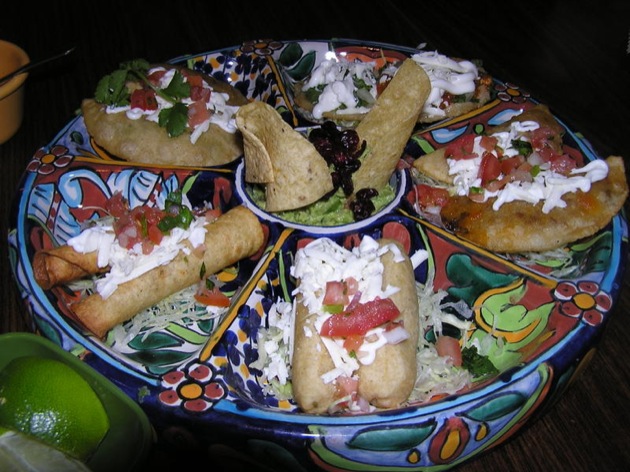 We started with a platter of all things corn.  That included mini-quesadillas, ground beef mini-enpanadas, chicken mini-taquitos, moletes de tingo, picaditas and a side of guacamole.  All of the dishes were incredibly flavorful, and I especially loved the mini-enpanadas.  Though some were definitely greasier than the others, it was very interesting to tackle a whole plate of food almost entirely made of corn.
Ever since I read Michael Pollan's Omnivore's Dilemma , I have been watching my corn intake.  But this is different.  While a meal at McDonald's might unintentionally have corn in nearly every item through high fructose corn syrup and other processed crap, this is all lovingly prepared homemade food that really tries to celebrate the ingredient.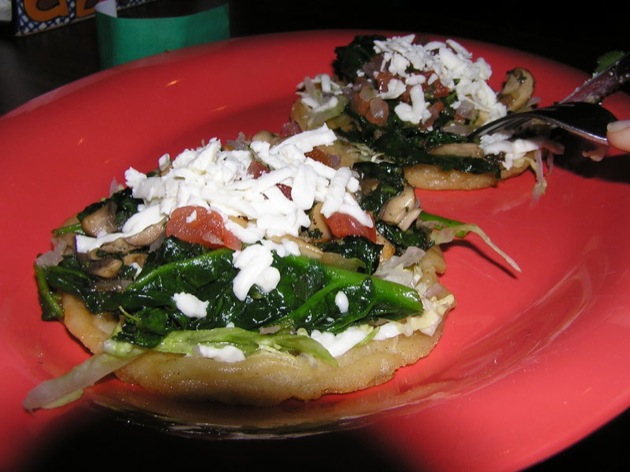 For the main course Abby got the sopes, which are basically little corn cakes topped with different ingredients.  Her's had sauteed spinach and mushrooms.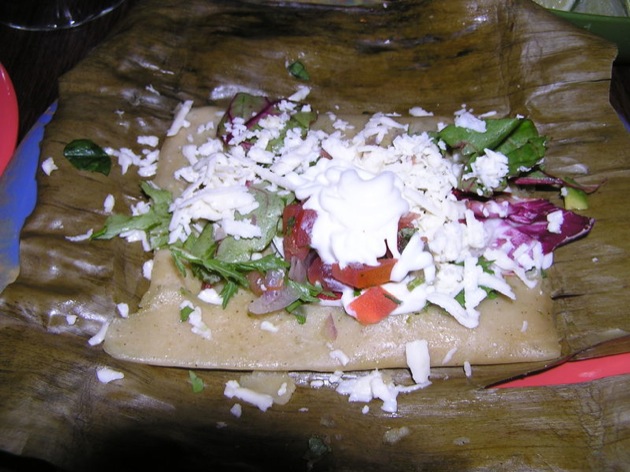 I had the highly recommended tamale.  It's a marinated chicken with a green sauce that is layered in corn and wrapped in a banana leaf.  It was extremely light and slightly sweet.  It was a beautiful dish.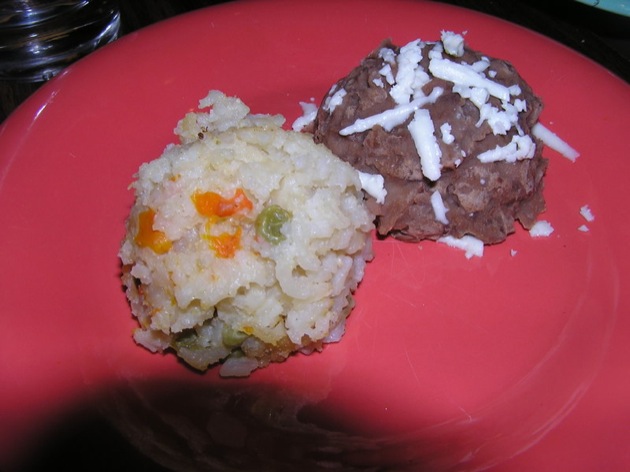 I also ordered a side of rice and beans, thinking I'd get a nice big plate of sloppy beans with loads of rice.  Instead, I got two ice-cream sized scoops.  The beans were deeply flavored, but it was actually the rice that was the most surprising.  As you can tell, the rice became almost mush, which sounds awful bad.  But it was light and aromatic and unlike any rice I had tasted before.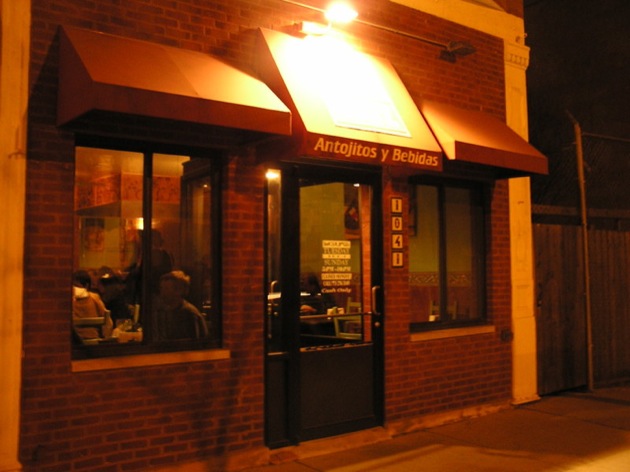 I was surprised a lot at this restaurant.  It was one of those places were all the people sitting next to you ordered interesting looking food that you wanted but had no idea what it was called.  It really was unlike any Mexican restaurant I had been to before.  It made me realize how limited my knowledge of Mexican cuisine really is, and how much I want to learn.  I'll have to come back.
Maiz
1041 N California Ave
Chicago, IL
Hot Doug's
3324 North California
Chicago, IL
Chicago,
Duck,
Hot Dogs,
Hot Dougs,
Maize,
Mexican,
Pork,
Restaurants