This Mexican classic deserves a little love.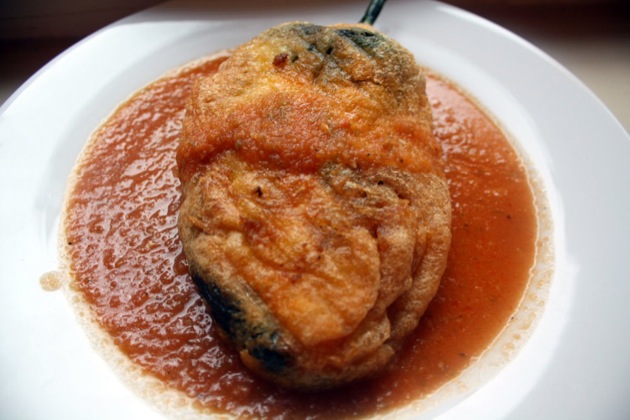 Around hour five, I became terribly exhausted from what felt like continuous marathon of chopping, sautéing, blending, grinding, broiling, stuffing, whisking, dipping, and frying. It was the most complex and curious chile relleno I'd ever laid eyes on and the flavor nearly bawled me over. Every bite revealed layers of flavor, from the salsa, pork stuffing, to the batter. Nothing was an afterthought. Though it doesn't exactly look like the most elegant dish I've made in a while, it was easily one of the tastiest. Had the process not taken hours, nearly frazzled my nerves, and been fraught with so much failure, I might think about making it again.
It started as something of a dare. I had seen what looked like a pretty miserable looking version of a chile relleno on the first episode of this season's Top Chef . Far be it for me to criticize someone on a show that I wouldn't last 5 minutes on, but couldn't help but obsess over the dish. Head judge Tom Colicchio's claimed he actually liked chile rellenos when they are done right. This version had just been a disaster. So what does a really good chile relleno taste like?
My next stop was, of course, Rick Bayless. What, with his recent Top Chef Master win and the advance buzz of his hot chocolate and torta restaurant Xoco ( his method for making hot chocolate is insane ), he's been inspiring me to dig further and further into authentic Mexican cuisine. I began to think back to my first trip to his Frontera Grill. My waiter had tempted me with chile rellenos, claiming that the kitchen only made a few plates per night because they were so labor intensive. One was left. It took a few moments to ponder how good a chile relleno could possibly be, before I was lured away by the suckling pig (jaw-droppingly good). But I've often wondered about it since then.
There was only one way to find out. And that was to make everything from scratch at home.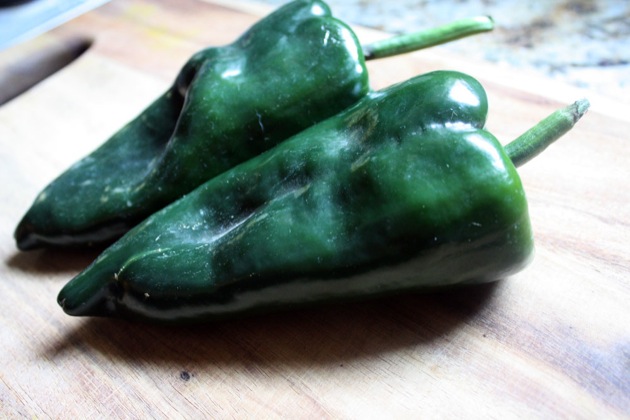 At first, it didn't seem too ridiculous. Bayless recipe in Authentic Mexican only had something like 8 ingredients. But I quickly noticed that two of the items weren't ingredients, but complete recipes I needed to make before I even started. And these weren't exactly straightforward recipes.
Both the salsa and the stuffing used tomatoes. All of the tomatoes needed to be roasted under a broiler until their skin blackened. The pork filling, Picadillo Oaxaqueno, combined those pureed tomatoes with a mixture of ground pork, raisins, and loads of seasonings that took around an hour to stew. It then needed to cool down to room temperature before it could be used. The salsa took the tomatoes, pureed them with usual salsa ingredients. Then they were dumped into a screaming hot sauté pan which thickened the mixture to a crazy orange tone.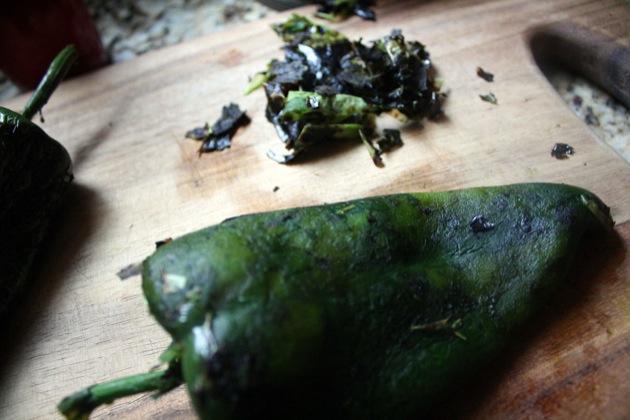 Only then could I start with the actual recipe. This time, the poblano chiles had to be blackened, steamed in plastic bag, and then peeled.
It wasn't until the last step that my recipe started to break down. The batter is odd . Instead of a normal flour and egg mixture, egg whites are beaten until stiff with a little salt. Then egg yolks and a little flour are added. The resulting mixture is light and airy, and different from any batter I've worked with before.
When the chile goes in the oil, the resulting mixture looks an awful lot like a marshmallow floating on top.
The absolute biggest problem I had was with the filling spilling out. I probably worried about it too much. Bayless wrote that if the chiles don't close around the filling that you could "tie" them with toothpicks. I figured I might as well hedge my bets and tie them all up. Perhaps I should have just used less filling, but one simply failed, spilled all its contents out into the oil, and died a horrible death.
The others, as I mentioned above, were utterly fantastic. If you've never experienced what a chile relleno can taste like, I'd definitely recommened the process. Just make sure you have some time.
Minced Pork with Almonds, Raisins and Sweet Spices (Picadillo Oaxaqueno)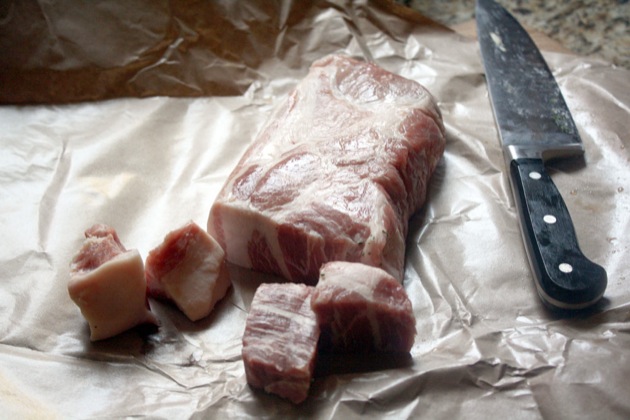 1 1/2 pounds ripe tomatoes
1 1/2 tablespoons vegetable oil
1 medium onion, diced
1 clove garlic, peeled and minced
1 1/2 pounds pork shoulder
1/2 teaspoon black peppercorns
1 inch cinnamon stick
5 cloves
1/4 cup raisins
4 teaspoons cider vinegar
1/4 cup slivered almonds
1 teaspoon salt
Chop the pork into 1 inch cubes. Grind the meat through the largest die of the a meat grinder. Alternatively you could just buy ground pork. That's the easy way.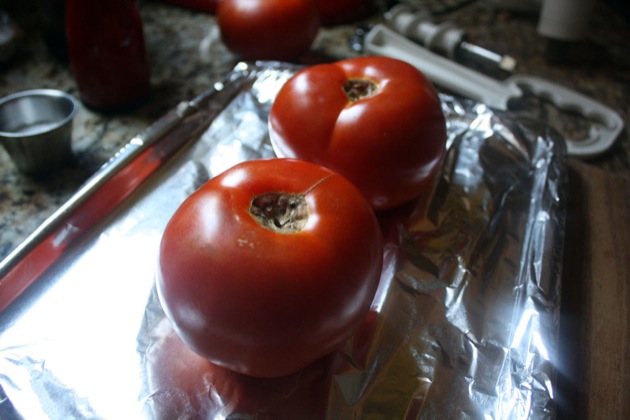 Preheat the broiler. Lay down some foil on a baking sheet. Dump the tomatoes on the sheet, and place under the broiler.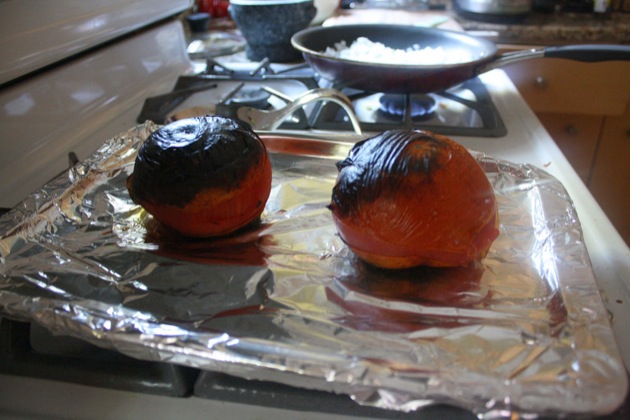 Cook for about 12 minutes, flipping half way through. They should be nice and blackened on each side. Remove the skin and the core. Puree the tomatoes in a blender with 1/3 cup water.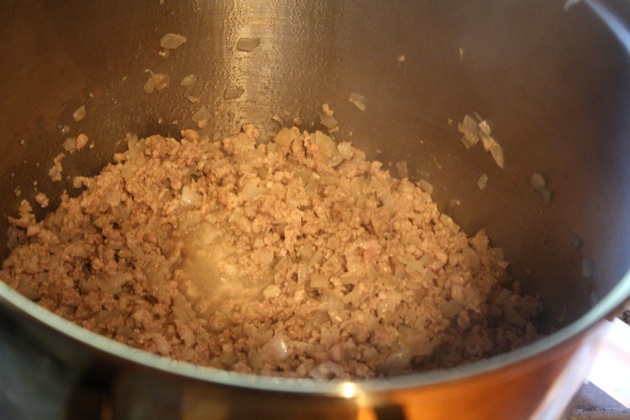 Pour the oil into a skillet set over medium heat. Toss in the onion and cook for 5 minutes. Add the garlic and cook for 2 minutes. Then add the pork and cook until lightly brown.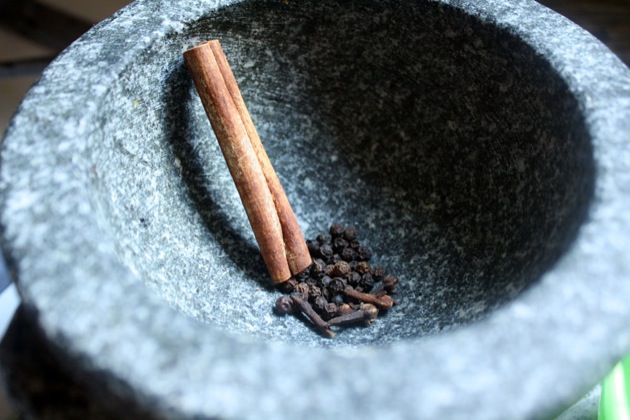 Grind the pepper, cinnamon, and cloves in a mortar.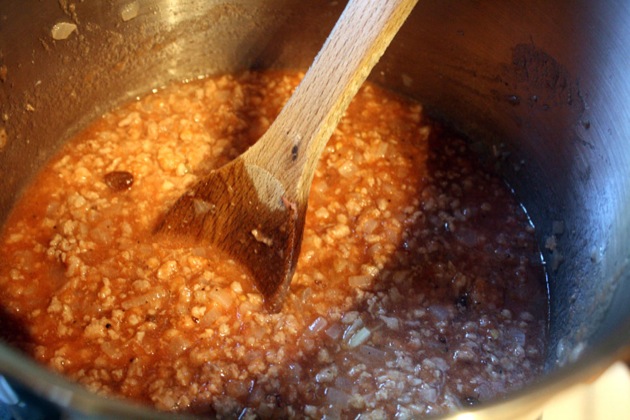 Add to the pork along with the tomato, raisins, and vinegar. Simmer until reduced to a thick, homogeneous mass, about 45 minutes.
Toast the almonds in a 325 degree oven for 10 minutes.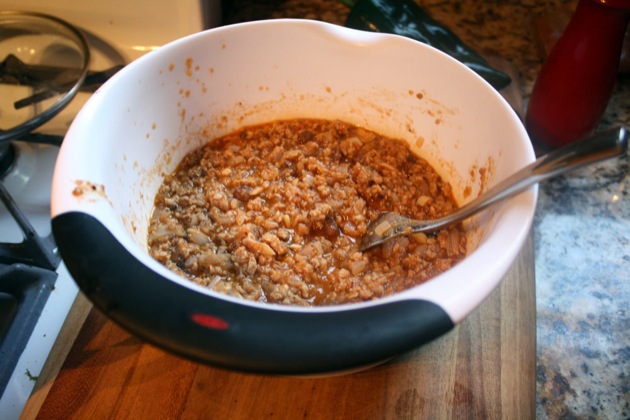 Add them at the end along with the salt. Set the mixture aside and let cool to room temperature.
Quick Cooked Tomato Sauce
1 1/2 pounds ripe tomatoes, roasted
4-5 serranos, stemmed
1/2 small onion, chopped
1 clove garlic, peeled and chopped
1 tablespoon lard
1/2 teaspoon salt
Preheat the broiler. Lay down some foil on a baking sheet. Dump the tomatoes on the sheet, and place under the broiler. Cook for about 12 minutes, flipping half way through. They should be nice and blackened on each side.
Remove and let cool for a few minutes. Then peel off the skin and remove the core. Roughly chop and toss in a food processor.
Add the serranos, onions, and garlic. Process until pureed, but not completely smooth. A little texture is good.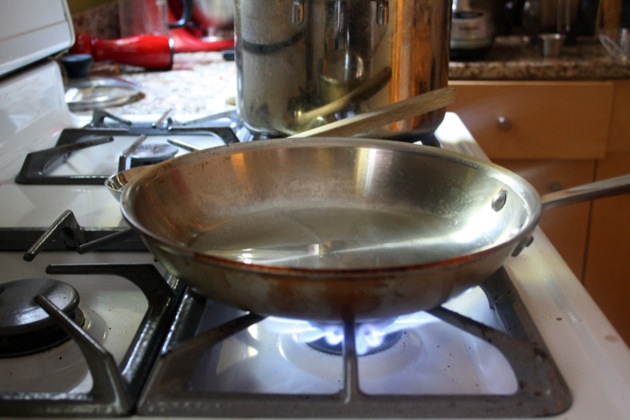 Add the lard to a skillet set over medium-high heat.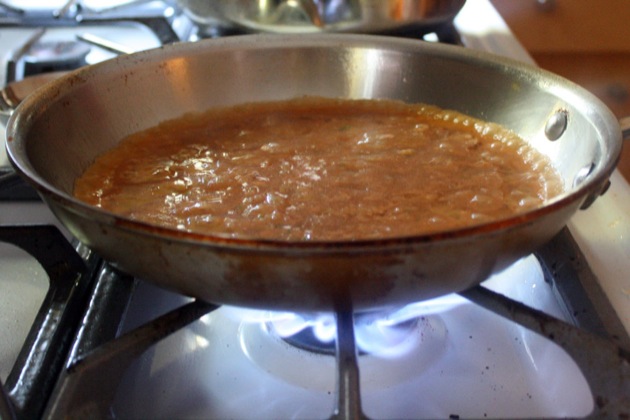 When hot, dump in the sauce all at once. Be careful, it will splatter. Stir well and cook for 5 minutes until it is thick. Season with salt.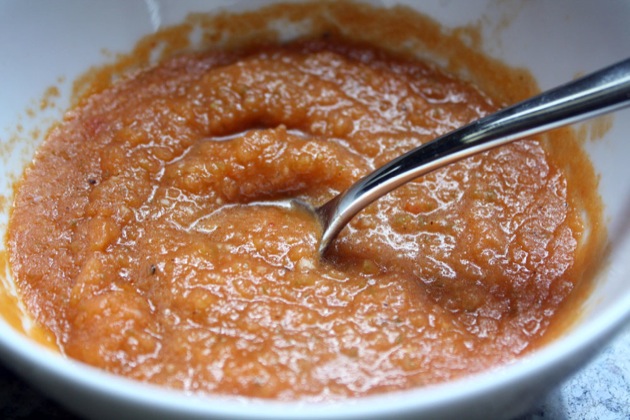 Set the sauce aside.
Chile Rellenos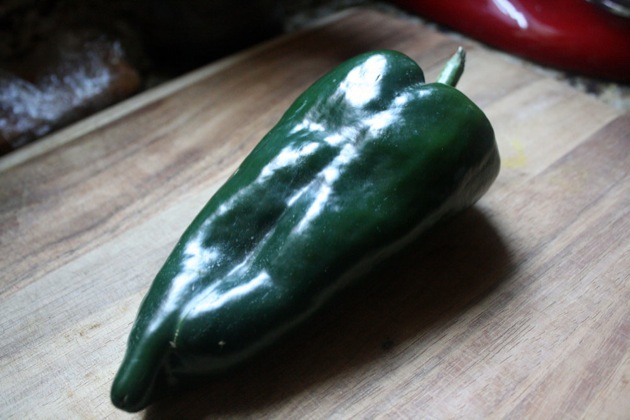 8 large poblano chiles
1 1/2 cups beef broth
Quick-Cooked Tomato Sauce
Minced Pork with Almonds, Raisins and Sweet Spices
canola oil
1/4 cup flour, plus one 1 tablespoon
4 large eggs
1/2 teaspoon salt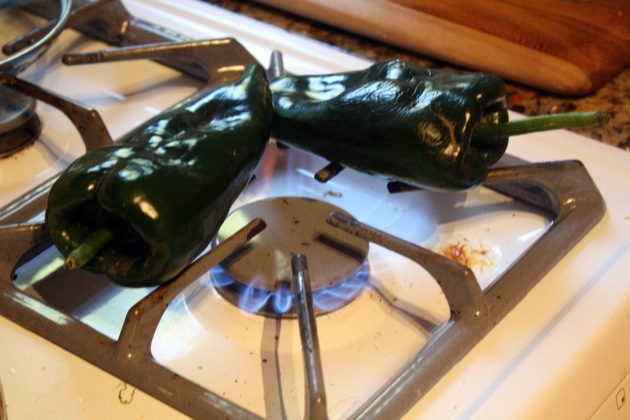 Turn a burner to high heat. Set the poblanos over the flame.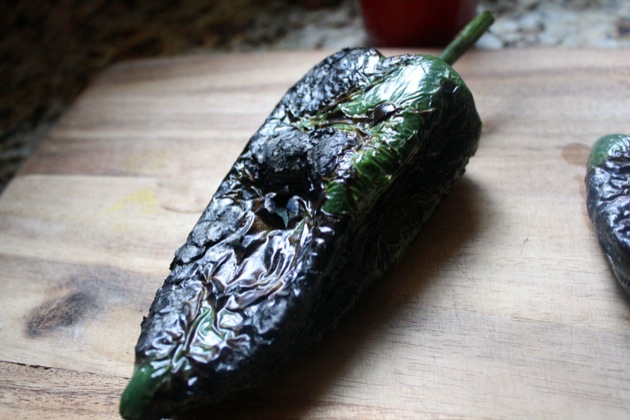 Cook, rotating occasionally, until blackened on all sides. Place in a plastic bag, tie up, and let them steam for 10 minutes or so.

Meanwhile, mix the beef broth and quick cooked tomato sauce in a small sauce pan. Turn the heat to low.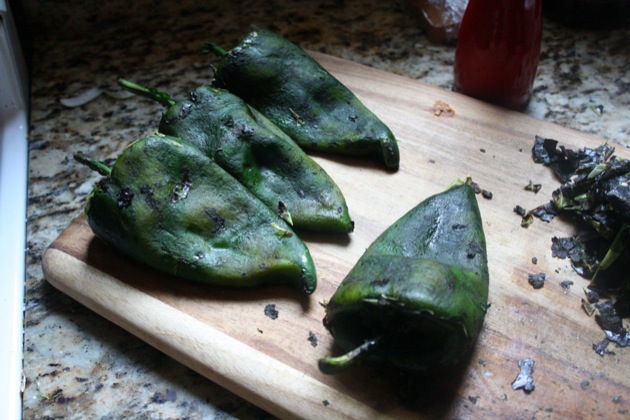 Remove the blackened skin of the poblanos.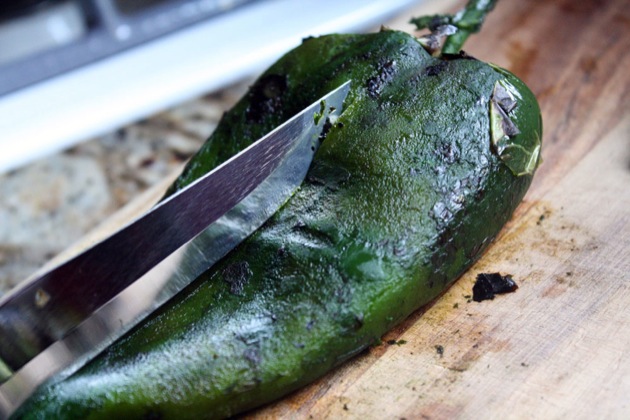 Cut a slit running from from the top of the chile until nearly the point.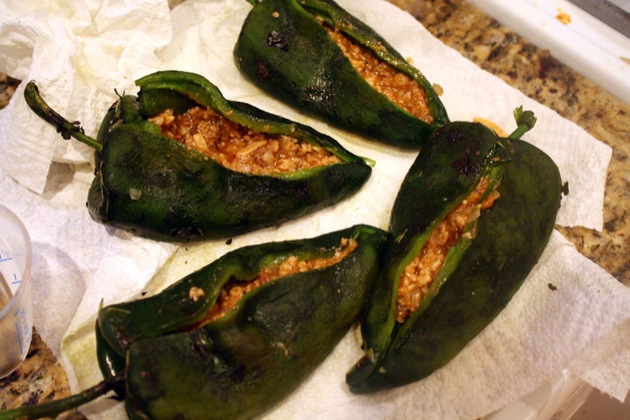 Stuff the chiles with the room temperature pork. Don't over stuff them. Make sure the chiles can still close. Bayless said that if the chiles didn't naturally close tie them up with toothpicks. I think I went a little overboard.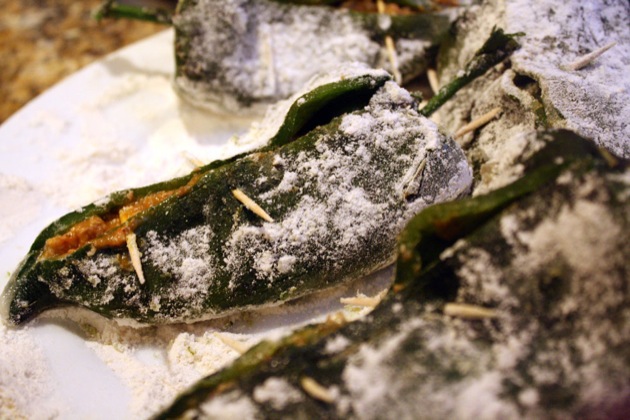 Spread the flour on a plate, coat the chiles with flour.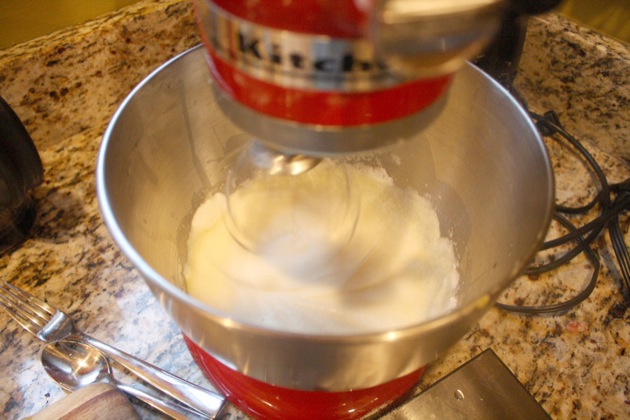 Seperate the eggs. Beat the egg whites and salt with an electric mixer until stiff peaks form. Then beat in the egg yolks and 1 tablespoon of flour.
Pour enough oil into a pot so it comes up the sides of the pot 3/4 inch. Turn the heat to medium high and bring oil to a temperature of 375 degrees.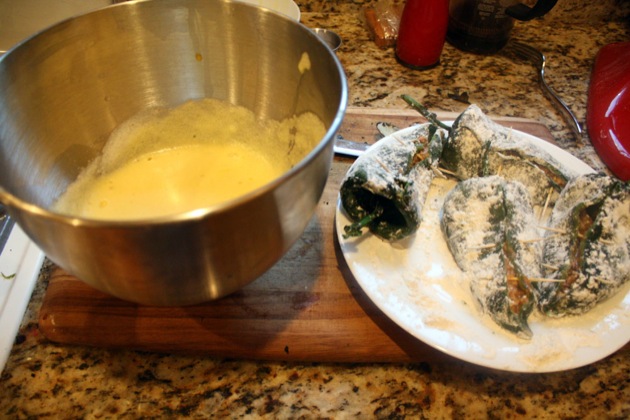 Grap a stuffed chile by its stem, dip in egg batter, and then transfer to the hot oil.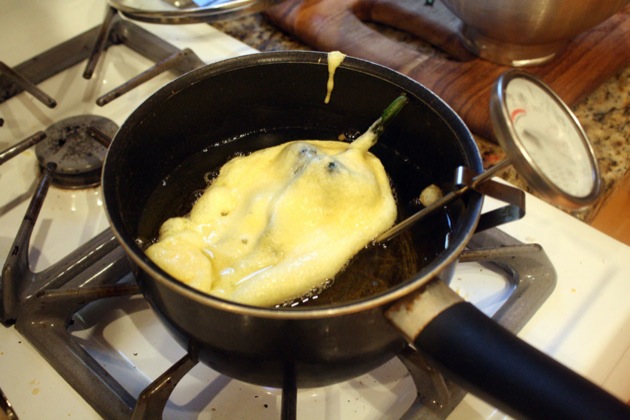 Cook until it is browned underneath. It only took a few minutes, but it will depend on how much oil you use, how crowded the pot is, and other factors. So just stay close and monitor its every move. Once brown underneath, flip over and brown them on the other side. Place a wire rack placed over a sheet pan in the oven set on the lowest heat. Transfer the cooked chile to the rack to keep warm.  Fry the other chiles.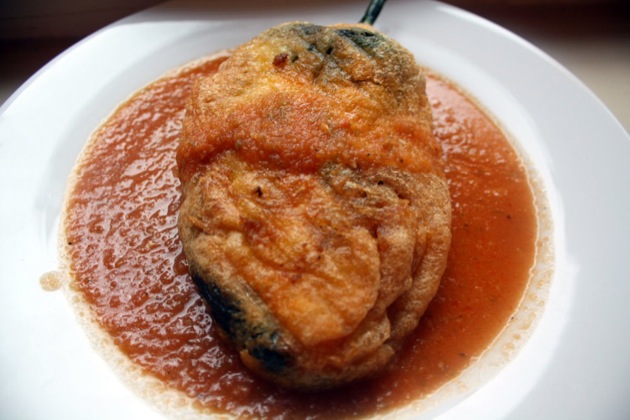 Ladle 3/4 of a cup of brothy sauce on a plate and top with the chile. Spoon some more sauce on top. Serve.
Food,
DIY,
Main Course,
Chef,
Chile relleno,
Chiles,
Chiles,
Chilis,
Cuisine,
Cuisine of the Southwestern United States,
Cuisine of the Western United States,
Egg roast,
Food and drink,
Geography of the United States,
judge,
Mexican,
Mexican,
Mexican cuisine,
New Mexican cuisine,
oil,
Person Career,
Pork,
Pork,
restaurant Xoco,
Rick Bayless,
Rick Bayless,
Sauce,
Tom Colicchio,
Tomato sauce,
Tomatoes,
Torta,
waiter