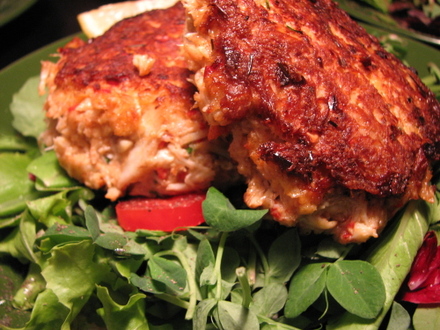 On my way home from work every day, I walk down Lexington Avenue and risk the smell, squeeze, and auditory onslaught that is the Grand Central station subway stop.  I never get to see the beautiful, soaring interior of the actual terminal , which looks like a starry night's sky.  No.  Only the passage where everyone else shoves into this awful, grubby stairway under a Strawberry clothing store that often smells like a sewer.  All to enter the even more crowded 4-5-6 train line (which, incidentally, carries more than the combined ridership of San Francisco, Chicago, and Boston's entire transit systems .)  The 6 minutes in this stairwell, shuffling along, may be my least favorite of my day. I'd even go so far as to say that this particular stairwell may be my least favorite place in New York City.
Why am I tell you this?  Lately, to feel better about myself, I've been avoiding the stairwell altogether.  Just before it is a set of nice glass doors off the street that lead to the Grand Central Market.  Inside is a wonderful, overpriced collection of food vendors, from Murray's Cheese to a butcher called Ceriello to some place called "Dishes at Home" that serves pre-made food like lasagna for people to train home to Connecticut and put into the oven. It's like homemade!
It is also home to one of the most highly respected fish mongers in New York, Wild Edibles .  These guys sell the best stuff out there to the best restaurants.  And they're not afraid to charge for it.  The prices for tuna often approach the $30 mark; even farmed salmon doesn't seem to dip below $20 .  I used to just wistfully admire the glistening fillets on ice, until one day I discovered the oysters at the far end of the stall, which sell for a comparatively modest $2/piece.  If you ask, they'll shuck it behind the counter, hand it to you, and you can slurp it down on the spot.  People stare.  But it's cheaper than eating downstairs . And it's enough slippery pleasure to last the commute.
Eventually I'll get to the point of this story.  Next to the oysters is the crab meat, possibly the most expensive offering of all.  For $39.99 plus tax, you can own one single pound of lump crab meat.
At some point, I decided crab cakes were pretty much out of reach.  I'd eat them every time I went to The Good Fork and that would be that.  This absurd price for crab, I reasoned, is what led the American public to happily chew on Imitation Crab Meat , that rubbery concoction of fish parts, sugar, artificial gums and flavors that my mother used to put in the fettuccine Alfredo.
Then, one day recently, I was in Trader Joe's, a place which sells the type of frozen fish that had Nick waxing poetic last week.  Whistling along with a bag of white popcorn and a tub of ginger snaps, I suddenly encountered this can in the refrigerated section.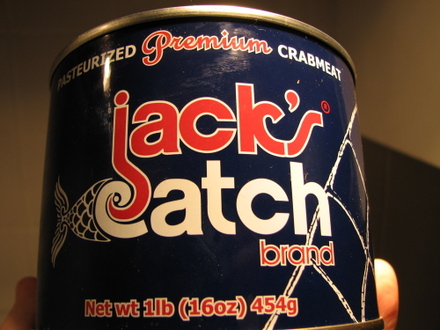 One pound of crab meat. $9.  What on earth?
Wild fantasies came rushing through my head about the possibilities.  Crab ravioli, crab bisque, and of course, crab cakes.  Suspicious but hopeful, I got home and began to research the story behind this mysteriously cheap product.
As it turns out, the crab in this can comes from Indonesia, just like Nick's fish (which also explained why he spent $4.69/lb on his tuna steak).  People who live in former fishing villages are paid next to nothing to catch the crab, handpick the meat, can it, pasteurize it, and ship it to the U.S. (it's never frozen). They're also not paid by time, but by weight, often as low as $100 or $200 a month.  For this reason they're under pressure to work at near-impossible speeds.  An article in the Baltimore Sun describes cramped rooms with 70-plus people ripping apart crabs, tossing legs and shells in every which direction.  "It makes for a dizzying sight unlike any that occurs in nature: crab parts and detritus in a constant state of midair
motion."
Meanwhile, the domestic producers who have been catching crabs in the Chesapeake Bay are going out of business (or selling their crab for over five times the price).  Many restaurants have switched to buying
the imported crab through giant distributors like Sysco , and in fact only 10% of the Asian crab meet ever hits the supermarket; the rest is at Macaroni Grill and Applebees.
My biggest question was, as usual, about taste.  While I'm sure the handpicked local crab was going to be the best, would this still taste good enough?
I combined a couple recipes for this result.  The goal was a simple preparation, pan-fried, that highlighted the crab itself, with a minimum of breadcrumbs and no crazy distracting flavors besides a little classic Old Bay seasoning.  The result?  For my first-ever effort, these were great crab cakes.  We've made fresh blue crabs before , and to be honest, it's a hassle.  Fun for a group maybe, but a frustrating amount of work for not much reward.  When we made them, in fact, we bought too many so I kept them in the fridge with the plan to make crab cakes.  But we never got around to do it: picking the meat is just a huge hassle.  To be able to buy this can of meat, ready to go, is pretty nice.  Thanks, Trader Joe's.
(Imported Crab) Cakes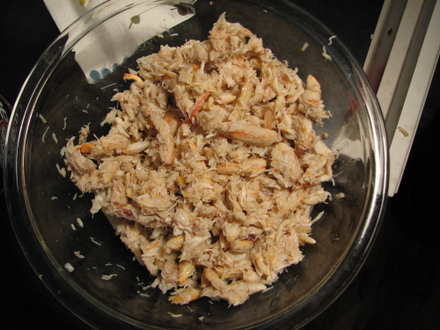 1 pound crab meat
1/4 cup fresh breadcrumbs (just take some crustless slices of unstale white bread and food process it)
one egg
1/2 cup mayonaise
1/4 cup dijon mustard
1/2 cup minced red bell pepper
1 tablespoon Old Bay seasoning, or cayenne, or curry powder
small handful minced chives
salt and pepper
Dump the crab into a bowl and pick it over for any bits of shell (this is what the package says to do).  I didn't find any bits of shell at all, so perhaps this is just a precaution.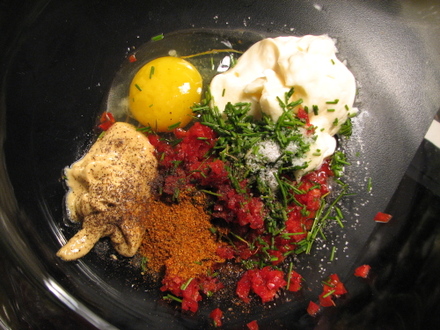 In a separate bowl, combine the remaining ingredients except the breadcrumbs, and mix well.  Add the crab and breadcrumbs, mixing gently until everything's incorporated.  Heat some butter in a skillet over medium high heat.  When the butter foams and then subsides, but before it begins to turn brown, add the crab cakes carefully.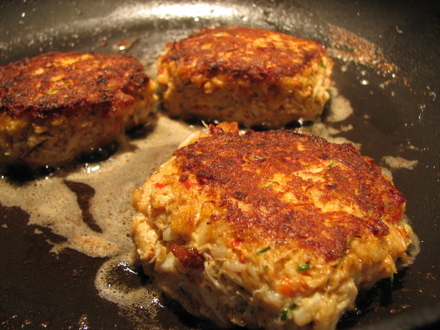 Don't touch them until they develop a nice sear, about 4 minutes.  They should lift away from the pan easily; if they don't, give it more time.  Flip gently and cook equal time on the other side.
Serve with lemon wedges over greens.
Bread Crumbs,
Crab,
Crab Cake,
Eggs,
Mayonnaise,
Seafood