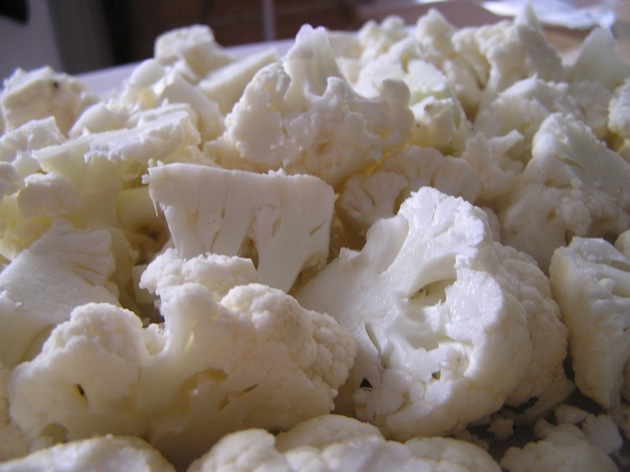 Before this point in my life--some 24 years in--I'd never willingly eaten cauliflower.  Sure, it'd been sneaked into some of my dishes.  But I know for a fact that it has not played an integral role in any dish I've ever made.  A quick scan of our directory reveals only 1 mention of its name, and that was for a curried cauliflower dish that we didn't even cook!  One of Blake's former co-workers provided the content.
Why such neglect?  For me, it is the boring vegetable that is usually confined to some awful vegetable tray and destined to be doused with ranch dressing.  I don't particularly hate the poor thing, but I don't think I've ever thought seriously about it, either.  It never provided inspiration.
But there came a point last week when I looked back and I realized I'd eaten hot dogs , hamburgers, and deep-fried hard shell tacos for dinner.  I got scared.  Not only had a eaten this stuff, but I'd actually had the gall to write about most of it.  What was I turning into?  It was time for a deep cleanse, one where I would cook something ridiculous with an odd combination of vegetables.  It needed to teeter on the edge of complete disaster, one so hideous that I would doubt the recipe, curse the pan, and come close to giving up.  I needed a challenge.
So I pulled out his Babbo Cookbook and searched for something.  And there, amongst the brain ravioli and beef-cheek, was a cauliflower pasta.  So even though I'd never really liked cauliflower and had never cooked with it, I decided to see what trouble I could get in.  Even if it was awful, I'd still have made something without meat.  I could rest again.
I certainly didn't expect to like it.  But there is something about this dish.  The odd combination--a seemingly boring vegetable mixed with the fresh taste of mint, the heat of the pepper flakes, and the
sweetness of the caramelized onion--is staggering.  Take away any element and it wouldn't have been the same.  It even tastes good reheated, which I've never found in a pasta dish.
Any other surprisingly good uses for cauliflower?
Ziti with Tuscan-Style Cauliflower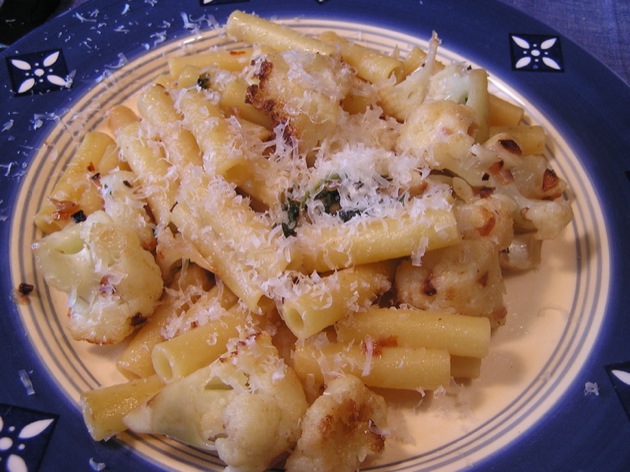 Serves 2 hungry people
2 tablespoons olive oil
1/2 red onion, finely chopped
a large handful of mint, chopped
1/2 teaspoon red pepper flakes
1 garlic clove, minced
1 head cauliflower
1/2 pound Ziti
Pecorino Romano, or a hard cheese of your choice
Adapted from the Babbo Cookbook .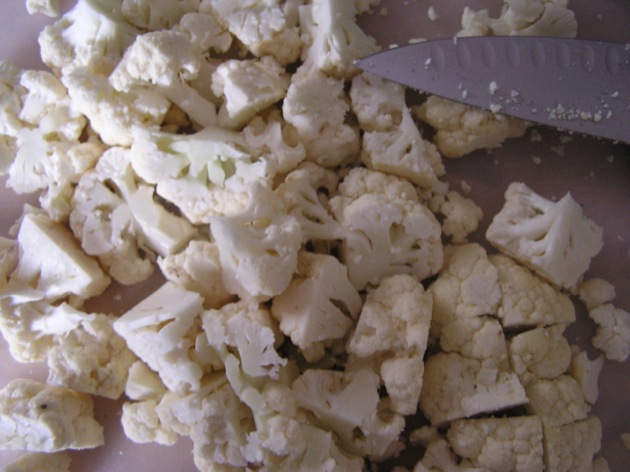 Salt a large pot of water, and bring to a boil.  Chop the cauliflower into 1/2 inch chunks.  Batali likes them a little bigger, but loved the way the smaller chunks caramalized in the pan.
Place a pan over high heat and add the oil.  When it's about ready to smoke, toss in the onion, mint, red pepper flakes, and garlic.  Cook for about two minutes, stirring constantly.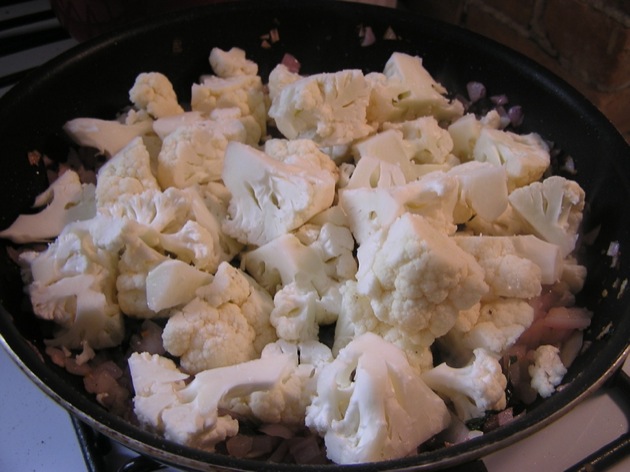 Dump in the cauliflower until it is tender and delicious, about 7 minutes.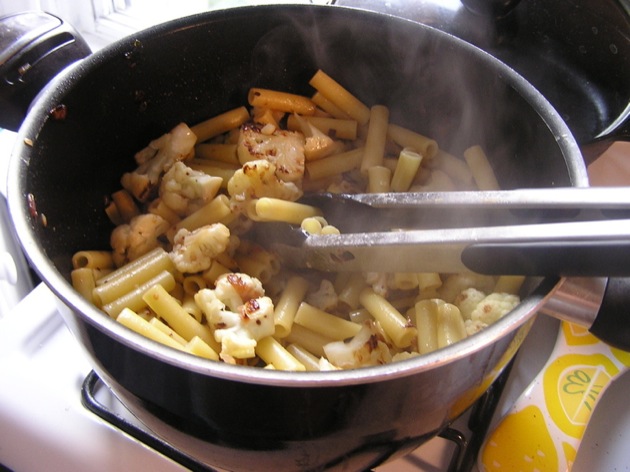 When the pasta is al dente, remove from the water and toss right in the pan with the cauliflower.  With the high heat blazing, cook for a minute or so.
All that is left is to plate, grate some cheese, and marvel.
Cauliflower,
Cheese,
Mint,
Pasta,
Pasta,
Vegetables,
Ziti