Almonds, garlic, and bread are the magic ingredients in this alternative to tomato gazpacho
I heard a lot of complaining this month about Chicago weather, mostly about how cold and rainy it was, and I added my fair share to the chorus. "It's May, already, where's the warm weather?" was a common conversation starter, as weather always is. Apparently, somebody upstairs was listening. This week we have been thrust into what feels like the height of summer: it has climbed repeatedly above 90 degrees, and Chicago has been humid and sticky. The hum of window air conditioners fills the air. Just thinking about cooking makes me sweat.
Nick got your back earlier in the week with a cocktail to cool your nerves, the Silver Fizz , but you have to eat, too, right?
Usually the heat of summer also brings a bounty of produce, so that cooking becomes less about long, slow techniques like braising to squeeze flavor from what's available and more about doing very little to good ingredients. Gazpacho is a perfect example of this: juicy red tomatoes are the base of a cooling soup. On the other hand, it's only May, and tomatoes are nowhere near in season. So I needed a no-heat recipe that didn't require a lot of effort.
That doesn't mean I wasn't tempted, though.  I did go looking for a regular old gazpacho recipe.  But then I found a page in Raymond Sokolov's A Cook's Canon which has not just a recipe for tomato gazpacho, but a "white" version as well.
Hailing also from Spain, white gazpacho relies on stale bread, which you sometimes see in traditional red gazpacho recipes. Yet the bulk of the flavor comes not from tomatoes, but from a fragrant clove of garlic (it is also known as ~~ garlic soup ~~ Ajo Blanco, or white garlic). A couple handfuls of almonds provide body and texture and olive oil joins with sherry vinegar to create richness and acidity. And that's it: blended up to create a soup far more than the sum of its parts.
The rest is simply water, which turns an amazingly milky color as the ingredients emulsify into the soup (a mortar and pestle is traditional, but a food processor makes it especially easy). The final touch are sweet green grapes, which add an essential sweetness and refresh the palate as you eat.
This soup has been a lifesaver this week; I made plenty of it and ladle it out of the fridge as needed. Most recipes I've seen use exactly the same ingredients as Sokolov's recipe, and I deviated from his version by adding plenty more sherry vinegar and half the garlic. I'm a garlic lover, but when it's eaten raw, a little goes a long way.
White Gazpacho (White Garlic Soup with Grapes)
Ingredients
1/4 pound stale bread, crusts removed
1 1/2 cups blanched almonds
1 fat clove garlic, peeled
2/3 cup olive oil
3 tablespoon sherry vinegar
salt to taste
4 cups very cold water
1 pound seedless grapes*
Sokolov calls for individually peeling the grapes with a small knife, which is madness.  You can peel them more easily by bringing some water to boil and dropping them in for 10 seconds, then shocking them in ice water; the skins should slip off just like they do from a tomato.  Or, just leave the skin on and halve them.
Moisten the bread with some water and combine in a food processor with the almonds and garlic.  Pulse until you have even pieces, then add the olive oil slowly while the machine is running to create a smooth paste.  Continue blending as you add the vinegar and a couple teaspoons of salt.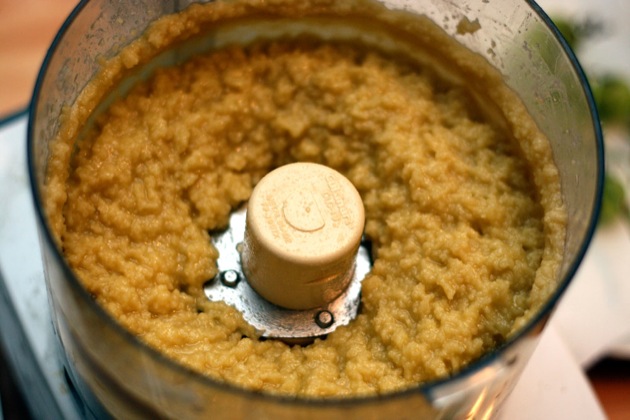 Add as much water as will fit in the food processor while the machine is running, then transfer to a bowl and whisk in the rest.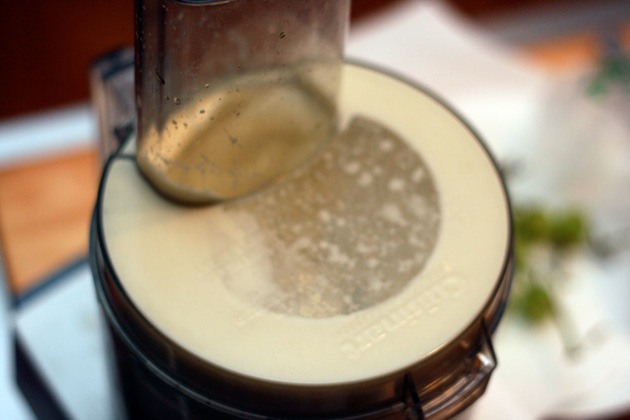 Best to allow the soup to mellow for a few hours in the fridge.  To serve, add the grapes and float some extra sherry vinegar on top (optional).
Food,
Vegetarian,
Soup-Stew,
Ajoblanco,
Almonds,
Andalusian cuisine,
Chicago,
Cuisine,
European cuisine,
food,
Food and drink,
Garlic,
Garlic,
Gazpacho,
Gazpacho,
oil,
Portuguese cuisine,
Soup,
Soup,
Soup,
Spain,
Spain,
Spanish,
Spanish cuisine,
Summertime,
Vegetables,
Vinegar