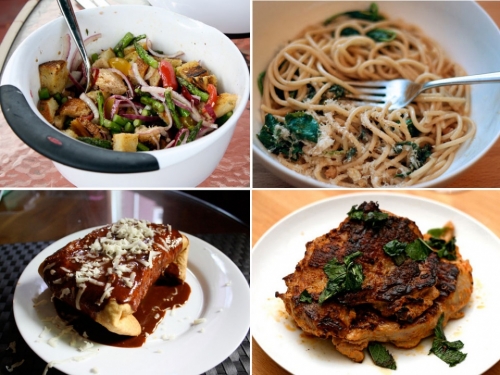 Our weekly roundup of what the two of us have written over on Serious Eats.
"Dinner Tonight" Column
QUICK MEALS TO YOUR TABLE FIVE DAYS A WEEK.
Grilled Asparagus Panzanella
Panzanella is usually based on stale bread and great summer tomatoes, but here grilled asparagus is the backbone, to delicious results.
Pasta with Brown Butter, Capers, Walnuts and Spinach
Nutty brown butter and the tangy punch of capers make for a quick, simple pasta dish ready in the time it takes the noodles to cook.
Cilantro Chicken (Dhania Chicken)
Heaps of cilantro cook down to a dark green sauce, thickened at the end by the yogurt to make a full-flavored and rich braised chicken dish.
Harissa and Yogurt-Marinated Chicken
Spicy harissa is mixed with yogurt to make a remarkably effective tenderizer, and when cooked, it causes the chicken to brown beautifully while also ensuring it stays tender and moist.

Rice and Bean Chimichanga
Suspicious of a dish made of a deep-fried burrito swamped in sauce and covered with cheese, Nick takes a stab at making them properly at home.
Serious Eats Roundup